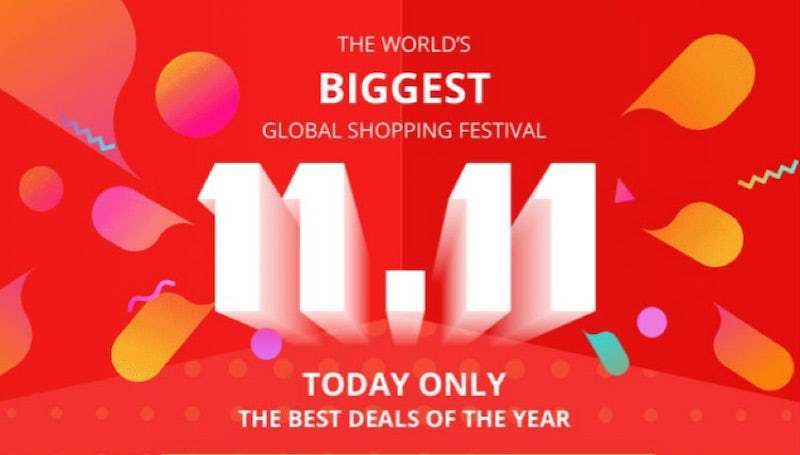 Asia's Black Friday Sale, or what we love to call the Single's Day Sale is getting bigger every year. Moreover, it has also become more popular across Asia, giving us more options to enjoy during 11.11 sale. This year, we are looking forward to welcoming more brands to the big sale event including Shopee 11.11 sale. We are also anticipating to see more local brands joining the fun.
We rounded up some of the sites worth checking and the best deals to snatch from each of them. Consider this your early shopping list for November.
Top Online Sites in Malaysia
Lazada
Across Asia, Lazada is one of the most popular sites to buy basically almost anything! The site has expanded throughout the years, and their inventory list is just getting more diverse. As a matter of fact, when looking for something, we often go to Lazada first before checking out other sources. Lazada is also an active participant in international sale events, including Lazada 11.11 sale. We particularly love their daily flash deals leading to the main big sale event. Flash deals are often done per category, including groceries!
For November, we are looking forward to checking out new gadgets with significant markdowns, as well as tech accessories from international and local brands.
Lazada launches the Lowest Price Guaranteed Campaign!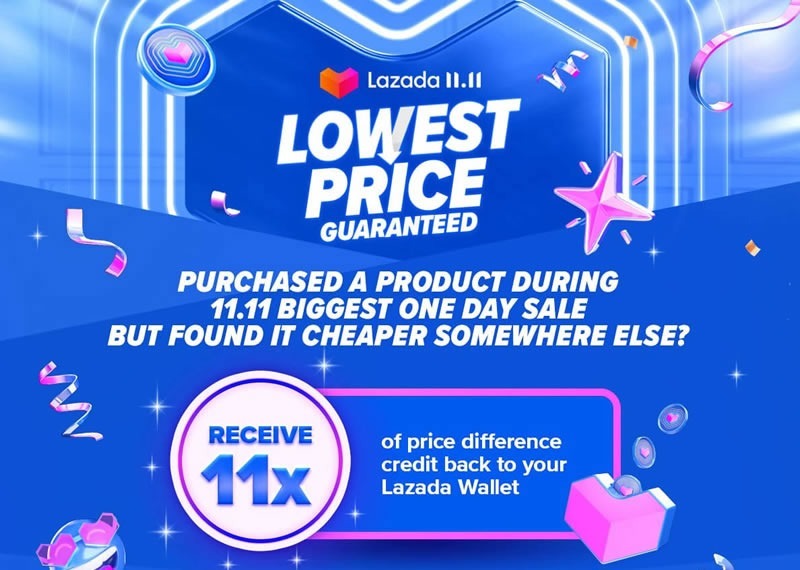 Find out how it works at Lazada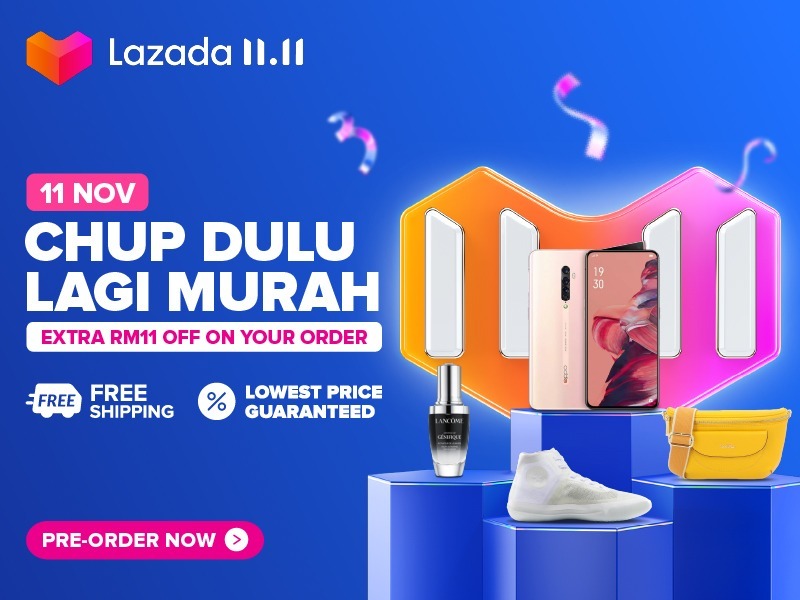 Find Out 19 Credit Card Promo Code for Lazada 11.11
Shopee
Shopee is back with their exciting shopping sale, and we can't wait to share with you our great finds from the Shopee 11.11. In the past years that we have been using Shopee, we can really tell how much improved the inventories have been. So, this November, we are sure to find unique and great deals with Shopee shopping. We are also hoping to find new local brands out there.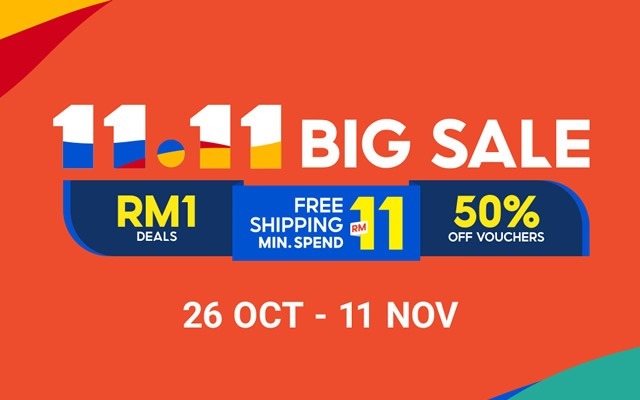 11.11 Big Sale Starts from 26 Oct – 11 Nov
Find Out More 11.11 Big Sale at Shopee
Find Out 10 Credit Card Promo Code for Shopee 11.11
Nile Malaysia
Nile Malaysia has always been every fashionista's haven. Their collection every season continues to improve. One this we love is that most of their selection is appropriate for the Malaysia weather. They also have wide options for different fashion looks, from street style to your business casual. 11.11 sale is the best time for us to buy the collections we failed to get during the regular selling period. We are pretty sure they will be bringing back some of the collections from the earlier part of the year.
Some of the items to not miss during the 11.11 sale are a business or office staples. They never go out of style and are really made from high quality, breathable fabric. It is just important to know their sizing ahead of November.
Zalora
When it comes to shopping interface and experience, nothing still beats Zalora for us. The entire shopping site is just so neat, and they always have fresh inventories. They may not have as extensive options as Lazada, but Zalora is a sure site for quality and specific goods that you are looking for. Throughout the years, Zalora has also built great partnerships with new Malaysian brands, as evident from last year's 11.11 sale.

(28 Oct 2021 – 02 Nov 2021)
Coupon: NEWSAVINGS20
Find Out More Discount at Zalora
What should you look forward to this November? We can think of a lot! First off, check out their latest jewellery, fashion clothes for raya, and accessories collection. Zalora often offers great markdown for these products during big sale events. But, we are also excited to check out sneakers and other athleisure items this year.
Hermo – Double 11 Campaign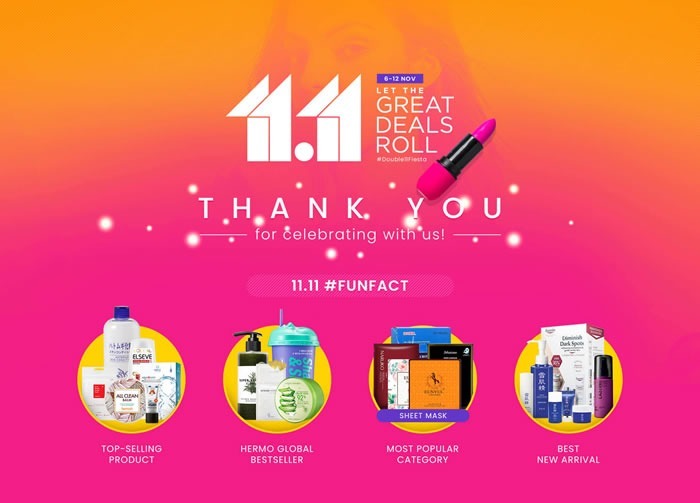 (04 Nov 2021 – 12 Nov 2021)
More than 70% OFF
Find Out More Discount at Hermo
Malaysia's leading online shop for all beauty and skincare needs is also a massive hit during 11.11 Sale. Hermo is widely known to be a one-stop-shop for all the leading beauty and skincare products, both local and international brands. They have made beauty shopping so much easier throughout the years, and we can't wait until the next 11.11 season to hoard on our favourite products. While waiting, we can also start looking at the new brands that they regularly introduce, including those that we do not often see around Malaysia.
More Others 11.11 Deals
Sports Direct – Running SALE | Extra 20% OFF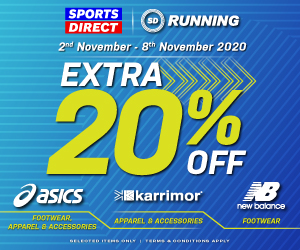 (02 Nov 2021 – 08 Nov 2021)
Find Out More Discounts
Youbeli 11.11 SALE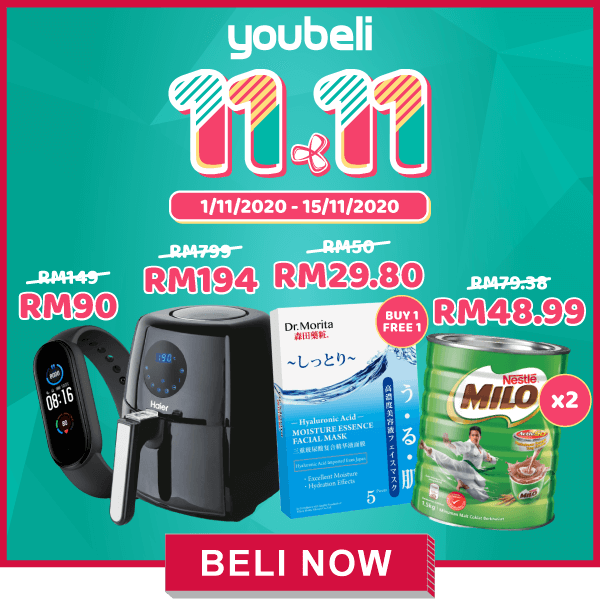 (28 Oct 2021 – 15 Nov 2021)
Coupon Code: RAZERPAY11
Find Out More Discounts
JD Sports – Adidas Originals NMD R1, Free Delivery

(27 Oct 2021 – 02 Nov 2021)
Find Out More Discounts
Althea – 10% OFF Storewide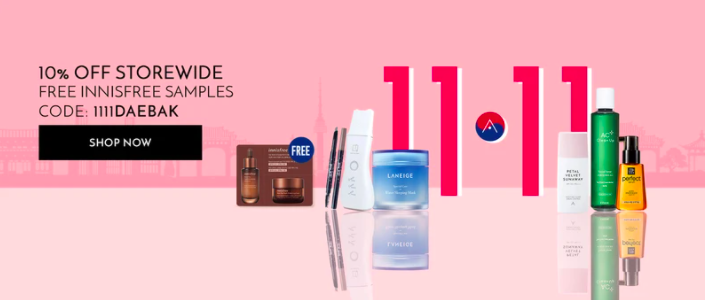 (28 Oct 2021 – 11 Nov 2021)
Coupon Code: 1111DAEBAK
Find Out More Discounts
Some of the new items to look forward to our beauty serums, liquid foundations, and even all marked down Cetaphil products.
Make sure to not miss any early promotion of all the online shopping sites, as well! Collect vouchers, coins, and cashback from your favourite shopping site as these will definitely come handy during the sale season from November to December. Most of these sites will have promotions all year round, especially during holidays and paydays. By participating in these promotions, you just might have enough redeemed vouchers/rebates with you to not have to spend too much come November.
It is important to remember that certain items are best bought on a certain month, as well. So, you might want to schedule your purchases based on the common sale patterns throughout the year. Here's a quick look of some of the sale and promotions to look out for this year:
January: Fitness and Gym Coupons/Packages
With almost everyone making their New Year's Resolution during this month, a lot of fitness gyms will certainly be offering online discounts and great packages. You might want to take advantage of these promotions as they will usually last you until the middle part of the year. Make sure to follow your neighbourhood gyms to stay updated with their New Year Promo.
Speaking of fitness, if you are not the type to go to gyms, you can also buy different sports equipment this month. Still based on the getting fit resolutions, expect a lot of online shops to offer tempting discounts on gym and fitness items. These will usually go back to their normal prices nearing summer. So, better to start early on.
February: Winter Collection Sale
Any gift items like chocolates, flowers, stuffed toys will definitely be overprized during this month. So, the best option is to splurge a little on the home appliance or that knit sweater you have been eyeing since December. Check out your cart and see the amazing discounts you'd get from these items.
March: Skin Care, Summer Essentials
March is quite a lean month for holidays, especially in Malaysia. But, it happens to be that crucial month before the crazy Summer shopping. You can take this month as your chance to check out those skincare products, including sunscreen of course. It is also best to not wait until the end of the month to stock up on those new summer dresses and footwear.
April-May: Spring Clearance Sale
Expect online shops to have the massive sale for the end of the season (at least in the west). One of the things that we love to splurge on during this month, granting we already have our summer essentials covered the previous month, are some home essentials. This could include kitchen organizers, linens, and even home appliances, too! These are the not so popular choices during this month, so you are assured of greater discounts.
Add to that the National Labour Day Holiday. So, local shops will certainly offer promotions to people in different job industries.
August: Independence Day Sale
August is also a great month for sale, because of the two major national holidays in Malaysia. As a matter of fact, this could be the ideal month for you to shop until you drop, at least before the most awaited 11.11 Sale.
It is also officially ending of the summer season, internationally. So, if you are fond of summer fashion, this would be a good month to head on to your favourite online shop.
Patronizing Local Suppliers
It is worth noting that apart from these top shopping sites in Malaysia, a lot of local sellers are also participating in the 11.11 sale 2020. If you already have suppliers or sellers that you constantly follow for your needs and wants, then make sure to check out their promotions leading to this one-day sale in November. They are usually doing this in their own Instagram and Facebook accounts, and as a matter of fact, the discounts can be pretty huge! Last year, we managed to snag high-quality swimwear with up to 70% discount. To celebrate the sale season, you can also start inquiring with them about their upcoming collection, that will come in time for November.
The only downside to shopping directly from the seller's online shops is the payment process and guarantees. However, if these are sellers you trust, this should not pose much of a concern. In fact, there are now a lot of payment gateways available in Malaysia, that will not necessarily put your bank or card information at risk.
With all these shopping options, we hope that you will be equipped enough for the real big event in November. Remember though to assess properly suppliers and sellers prior to buying to avoid bad purchases.
FAQs
What is 11.11 Sale ❓
11.11 Sale is Asia's Black Friday Sale, or what we love to call the Single's Day Sale is getting bigger every year. Click here to find out more.
Who Are The Top Participants In 11.11 Sale ❓
How Much Of Discount ✅ You Can Get From 11.11 Sale Event ❓
Click here for other special sales related articles.
Latest posts by Aaron Tan
(see all)
This article was brought to you by BestAdvisor.my
Disclaimer: This is the opinion of the writer or publication. We only recommend products or services that we have tested and tried ourselves or have done in-depth research with positive external reviews and find them to be useful for everyone. The products/services shown are available upon the publication date. The availability may change from time to time. If some of them are not available, please email us at [email protected] Thank you!
Last Updated on