Last Updated on
The cabinetry in your kitchen plays an essential role in keeping the room organized so that it can efficiently serve its core functions in your home. Cabinets might be a utility, but they also have a dominant visually appeal and a significant effect on the overall aesthetics of the surfaces in your kitchen. No wonder a substantial portion of budgets for remodeling projects goes to the kitchen cabinets.
Success in this investment lies in knowing and exploring the available options to find what best suits your needs and preferences. That means understanding the various types, which is what we shall address in length. We shall start with a brief explanation of the four design choices that govern the extensive array of kitchen cabinet types to choose from.
• Custom Cabinetry
They are an excellent choice when you want something that is nothing short of versatility. Go for this if you want a personalized presentation in your kitchen. The cabinetry will have a distinct style and layout because it is built to your specifications. However, this will come at a cost that could prove weighty on your pocket.
• Semi-custom Kitchen Cabinets
They borrow from the concept used in making custom kitchen cabinets but falling short on personalization. Nevertheless, they are a made-to-order option with a wider variety of choices regarding colors, materials, and styles. Moreover, semi-custom cabinets are worth considering if the customized cabinets are not within your budget.
• Stock Kitchen Cabinets
They are what you find in the home depot or home improvement store. Stock kitchen cabinets are mass-produced, pre-assembled units boosting the trending color, finishes, dimensions, and style options. But they are limited in the range of dimensions; thus, they may not be a perfect fit, forcing you to include fillers for the gaps left between them and your appliances. Stock kitchen cabinets are a cheaper option than custom or semi-custom cabinets.
• RTA Kitchen Cabinets
You can find these ready-to-assemble cabinets in a wide material and price spectrum, with options ranging from particleboard and laminate to hardwood. RTA kitchen cabinets are designed for DIYers. They are packages, disassembled units with all the individual parts and what's needed to put them together.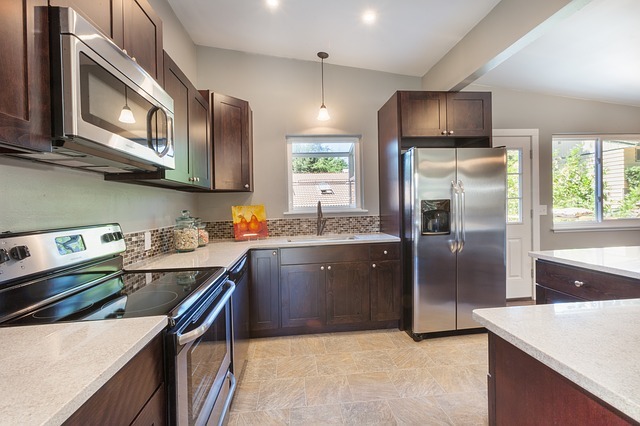 Now let's have a look at some of the beautiful types of kitchen cabinets that are bound to make a significant difference in your home, depending on your décor goals.
Shaker
The shaker cabinetry consists of five pieces of flat panels – four pieces forming the frame, and the fifth is a single flat center panel. It is a classic and straightforward construction that fits in a traditional or contemporary kitchen design. They are an excellent choice if you want quality wood cabinetry with sturdy construction, rail frames, paneled doors, and practical designs.
Flat-Panel or Slab
Simple and stylish; that is the trademark of flat-panel cabinets, also known as slab cabinets. They have hard lines, a minimalist form, and seemingly short of expensive detailing. But it is this design that makes them fit effortlessly into most modern and contemporary kitchens since they can be constructed in different ways.
Beadboard
The cabinets have indented planks that run vertically. The indentions are knowns as beads that give the doors and drawers a texture. As such, they are perfect for a cottage-style kitchen or country farmhouse kitchen. But the crevasses on this type of kitchen cabinets are a challenged to clean and upkeep.
Louvered
They have horizontal wooden slats, mimicking designs seen on interior doors, windows, and some furniture pieces. You should go for louvered cabinets if you are keen on have adequate ventilation. However, keep in mind that they tend to have a hefty price tag.
Inset
The inset cabinets take a different approach, going the opposite of the typical cabinetry. Instead of being having doors set on the outside, these are positioned inside the cabinet frame. They are made with incredibly precise measurements to ensure the doors or drawers sit correctly inside the frame for a smooth opening and closing. Inset cabinetry is a top choice among people that want custom kitchen cabinets.
Thermofoil
You probably would mistake thermofoil cabinets are plastic cabinets. However, they are made from MDF (Medium-Density Fiberboard) and wrapped in a plastic coating, then baked under extreme heat to achieve a permanent seal. As a result, they are a cost-effective option since they have excellent moisture resistance, low maintenance and can last if you do not install them too close to a heat source.
Overall, a lot goes into planning a kitchen design. It would be best if you contend with the faucets, layout, lighting, and décor goals, all of which make up the pieces to the puzzle of finding the perfect kitchen cabinetry. Your kitchen might have different elements that stand out, but the cabinets easily overshadow them. Therefore, you should know which types based on the style and materials will suit your kitchen to ensure the heart of your home has the perfect presentation.
Latest posts by Kathy Wong
(see all)