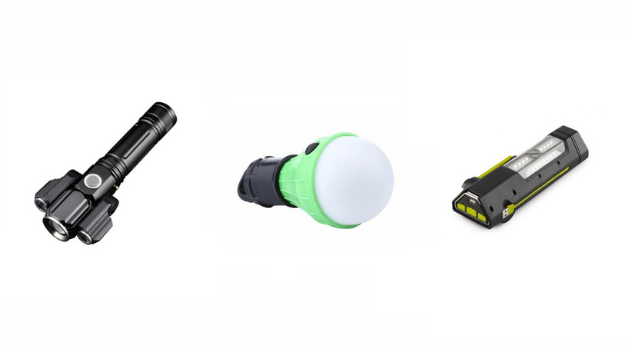 Camping is one of the most enjoyable experience for the outdoor lover. You will be able to enjoy the fresh air, beauty of nature, and fun activities with your friends or family. However, camping without good light can make you feel uncomfortable at the night. It is important to have lighting that can keep you safe and provide a cosy ambience around the campfire.
5 Best Camping Lights in Malaysia
To help you find the best camping light for your next adventure trip, we put together a list of 5 recommended items from our research.
1. EcoSport Emergency LED Light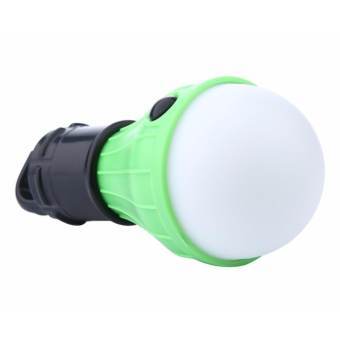 Best hanging light
Made for the adventurous ones, this Ecosport LED light is waterproof, so no need to worry about tent dews or even rain at the campsite. This light will serve its purpose rain or shine.
Why buy this:
Hanging lantern type
Ultra-bright with adjustable brightness settings
Battery-powered
Features/Specifications:
Material: ABS material.
Power Supply : 3 AAA Battery (not included)
Colour: Yellow, Green
Brightness:120LM
LED Quantity: 3
Size: 4.72 x 1.97 inch
It can be sometimes worrisome to be constantly bringing an emergency light with you due to chances of breaking it along the way, but this product is securely made from durable plastic protecting it from cracks and damage.
Check prices on Lazada
2. SH-5800T Rechargeable Lantern Flashlight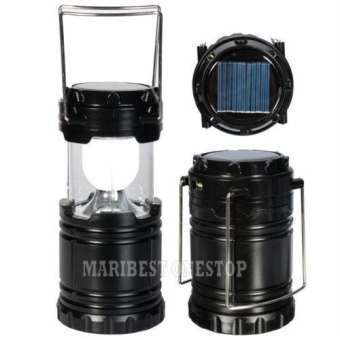 Great rechargeable option
If you are not fond of battery-powered lights, you will love this rechargeable to lantern flashlight that runs on solar power. It is simply perfect for tropical destinations around Malaysia.
Why buy this:
Advanced collapsible design
Portable and lightweight
Serves both as a flashlight and emergency LED light
LED lights have a tendency to be too bright, especially when you use it in a small, enclosed space. This lantern flashlight comes with a bulb shade to achieve a more ambient effect when using it inside the tent.
Check prices on Lazada
3. BTG 24L Emergency Light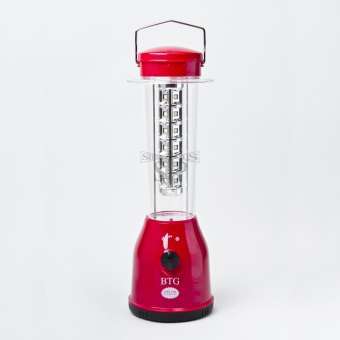 Best battery life
If you're on the market for a durable, portable and cost-effective LED emergency light, then look no further. BTG comes with 56 hours of battery life which is sure to last through your adventure into the unknown darkness. Ease of use with an ergonomic design that has been crafted in more than 14 painstaking detail to form what we believe is the most practical yet technologically advanced lighting tool available today.
For those who are fond of long hikes and camps, it also calls for a heavy-duty camping light. This is probably one of the most long-lasting emergency light in the market today.
Why buy this:
Extremely long battery life.
Hassle-free use.
Feel safe in a power outage, camping trip, or emergency situation.
Features/Specification:
Type of Bulb: 24*0.25W Hi-Power LED Light
AH Sealed Lead-Acid Rechargeable Battery
Wattage: 6W
Battery: 6V 4.5
Battery Life: 56 hrs / 14 hrs with strong light
Charge Time: Approximately 20-24hrs
Light Direction: 360°
Dimensions: 11.7cm*11.7cm*36.5cm
Gross Weight (kg): 1.4
Net Weight (kg): 1.2
Warranty Period: 6-month for Battery only
For such a powerful feature, you'll be amazed at how portable this lamp actually is. It is easy to bring around with you, even if you are trekking for hours.
Check prices on Lazada
4. 500 Lumens Rechargeable Torchlight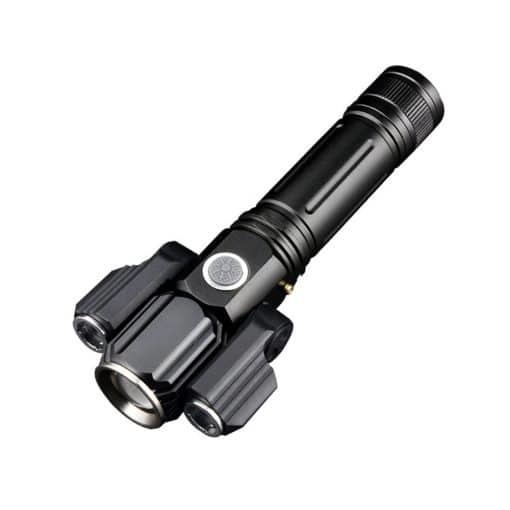 Best compact camp light
Don't be fooled by the small size of this torchlight because it can actually give off a really bright and huge beam with one of its settings. A great investment for those who want to make camping their hobby.
Why buy this:
Can be used for extensive-angle lighting
Can choose from the full beam, near beam, or long-range
Built-in 18650mAh battery
Features/Specifications:
Two auxiliary bulbs
One main light
Observation up to 400 meters
Up to 8-10 hours of different light mode at long-range, near or full beam
Wattage:10W
Flow brightness: 500 lumens
Rotated to 135 degrees for extensive-angle lighting
Working position: 4 modes
Battery capacity: 1860 mAh
Product material: aluminium alloy
Body Material: ABS
Focal Length: Adjustable
It also comes with a flashlight function. Unlike other powerful emergency light, this torchlight takes a shorter time to full charge.
Check prices on PTT Outdoors
5. Goal Zero Multi-purpose Torch 250 Flashlight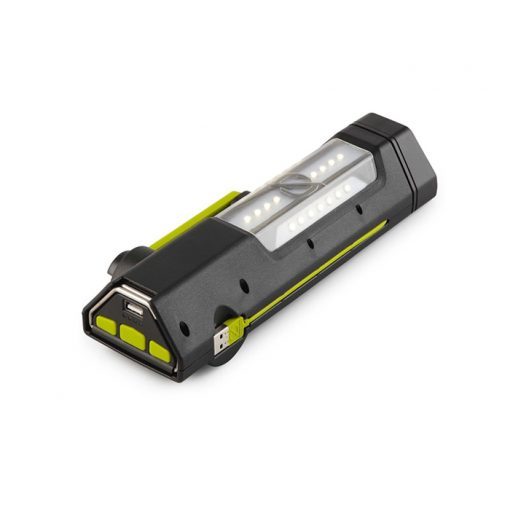 Best multipurpose lamp
We love a versatile product that we can use even when not camping, and this is one of those outdoor products. You can use it as additional lighting for your home, or carry it with you for a weekend camp.
Why buy this:
Comes with USB charging cable
Spotlight function at 180 lumens
Back portion can serve as its own solar panel
Features/Specifications:
Cell Type: Monocrystalline
Light LED (output): 250 Lumens
Flood Light: 70 Lumens
Spot Light: 180 Lumens
Run time flood light: 48 hours (low), 22 hours (high)
Run time spot light: 15 hours (low), 7 hours (high)
Cell capacity: 16.3 Wh (3.7V, 4400mAh)
Shelf life: charge every 3-6 months
Solar rated power: 0.8W
Hand crank: 2.2W (cranking at 120 RPM), 1 minute of crank = 2 minutes of light
Weight: 14.4 oz (408 g)
Dimensions: 10 x 3.5 x 1.75 in (25.4 x 8.9 x 4.5 cm)
Its energy-efficient and a great multi-tasker! We also love that it comes with so many options for recharging. This means that we do not need to bring a dedicated charger for it, especially outdoors.
Check prices on PTT Outdoors
Importance of a camping light
As previously mentioned, camping light is often overlooked camping essential. While some campsites are already heavily developed to have their own lamps installed, it is still a safe decision to bring your own emergency light, especially if you are staying for a night or more.
It will serve as your own eyes around the campsite. With more and more emergency lights getting more portable and long-lasting, there is really not much reason not to pack one in your camping bag. If you want more tips on what to do with your camping lights, read here!
Check out our top recommended camping lights:
FAQs
What are the best camp lights in Malaysia? 🏕️
EcoSport Emergency LED Camping Gear Led Lantern Tent Light Flashlight
SH-5800T Rechargeable 3 in 1 Solar Ultra Bright 6 LED Camping Tent Lantern Flashlight
BTG 24L 56hrs Battery Life Rechargeable LED Emergency Light
What is the difference between a flashlight and camp light?💡
While you can always bring your flashlight with you during an outdoor camp, camping lightings are specifically designed to be lightweight and operate for longer hours. Most of the camping lights also have readily available hooks that you can attach to your tent.
What is the importance of having a camping light during outdoor trail? 🏕️
It will serve as your own eyes around the campsite. With more and more emergency lights getting more portable and long-lasting, there is really not much reason not to pack one in your camping bag.
How much does a camping light cost in Malaysia?
Depending on the type you choose, it costs around RM10.00-25.00
Click here for other outdoor related articles.
Latest posts by Aaron Tan
(see all)
This article was brought to you by BestAdvisor.my
Disclaimer: This is the opinion of the writer or publication. We only recommend products or services that we have tested and tried ourselves or have done in-depth research with positive external reviews and find them to be useful for everyone. The products/services shown are available upon the publication date. The availability may change from time to time. If some of them are not available, please email us at [email protected]. Thank you!
Last Updated on