Last Updated on
Ceiling fans are among the most popular appliances with homeowners across the globe. The many different types and styles mean that they can provide an attractive focal point to a variety of rooms in the home – they can also be used in external areas. In addition, they provide a refreshing cool breeze during the warmer months of the year – and can cut down on household power consumption by reducing the need for air conditioning systems. Those homeowners who are especially concerned with power consumption should consider a DC Motor ceiling fan. These are a relatively new innovation – but can reduce the fans' energy consumption by up to 70%. These fans also boast extremely quiet operation and are more lightweight than the traditional ceiling fans – however, they can be pricey.
However, the sheers variety of ceiling fans make choosing the right ceiling fan a challenge. The variables such as size, power and design make the right choice one that is especially important. Making the right choice is also important given the fact that fitting ceiling fans, especially where multiple units are going to be installed can represent a significant investment. Here are some hints and tips that will ensure that you make the right choice when it comes to purchasing ceiling fans that meet the unique requirements of your home.
The first choice that needs to be made is making sure that the size of the ceiling fan is suitable for the size of the room where they are to be fitted. The size of the ceiling fan can be measured from the tip of one blade to another straight across from it. As a rough guide, a smaller room of around 50 square feet will only need a fan of around 29″. As rooms get progressively larger the size of the ceiling fan should be increased. For instance a room such as a kitchen or a bedroom (around 100 square will need a ceiling fan of about 42″. Very large rooms such as spacious living rooms of around 400 square feet will need a fan of about 56″. The alternative is the install two smaller fans in these very large rooms. This can aid in the control of airflow and also can be a tremendously attractive addition to these larger rooms.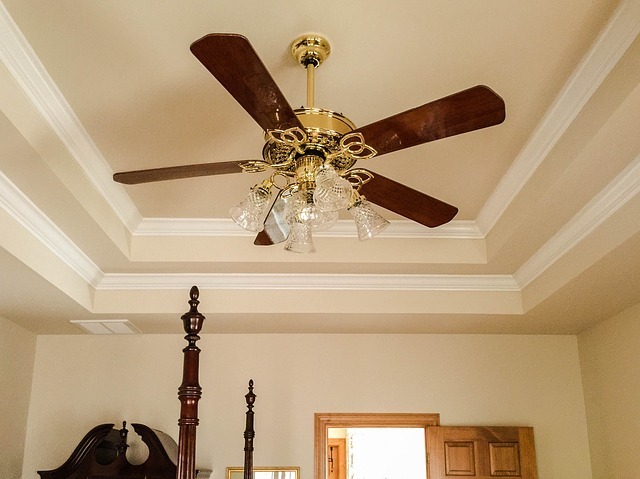 Another important decision is the hanging height of the ceiling fan. In order to optimize airflow and effective operation, it is recommended that the fan should be around eight or nine feet from the floor. If the ceiling is lower a height of at least seven feet from the floor is recommended (it is also worth noting that there are models of fans that can be flush mounted in rooms with lower ceilings). In some homes with high ceilings, an extension rod might be required in order to meet the optimum height requirements.
Houses with sloped ceilings can also use ceiling fans. Most models allow for use on a ceiling with some degree of slope – usually up to 30 degrees. If the ceiling exceeds these limitations many manufacturers can provide sloped-ceiling adaptors/angle mounts.
Adding to the attraction of ceiling fans is the fact that there are numerous models that are available with built-in lights. Many of these models will allow for the level of lighting to be set to match the mood and requirements of the homeowner. Remote controls are one option to set the level of air circulation. However, these may be expensive. the traditional models using a pull chain are perfectly acceptable alternatives, as are the models that have a wall switch.
When purchasing a ceiling fan the homeowner should take note of the output of the fan. The packaging will contain information on the cubic feet per minute (CFM) output. This output can vary even when fans are of a similar size. Another rough guide is that 4,000 to 5,000 CFM will be adequate for smaller rooms. However, for larger spaces, a ceiling fan that has an output of around 6,000 CFM or higher should be considered.
Ceiling fans are a stylish addition to almost any room in the home – and many external spaces. they make sense from a design and power consumption point of view. Homeowners should seriously consider them when it comes to ensuring that those warmer months are simply more comfortable.
Latest posts by Aaron Tan
(see all)