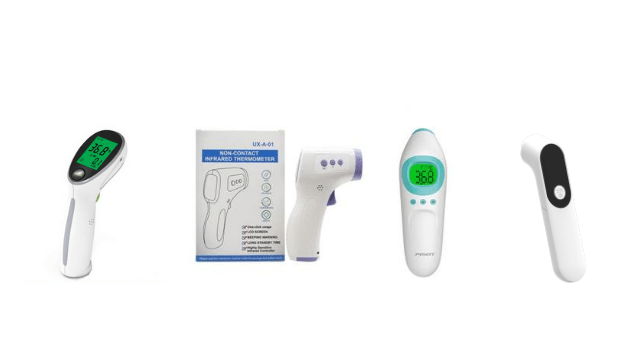 If you wonder whether your baby is suffering from fever or the food is at an appropriate temperature, then a digital thermometer will solve your problem. What is it? A digital thermometer is a device used to take temperature. It has a display window that gives your temperature digitally. It has a thermo-resistor sensor that observes the resistance change converted to temperature in degrees. This is a handheld device and very easy to use.
With so many digital thermometers in the market, one must choose the best and most reliable ones for your baby and other loved ones. Here, we have provided a Digital Thermometer review for Malaysia's ten best Digital Thermometers.
Table of Contents
Malaysia Digital Thermometer Comparison Table

Best Digital Thermometer brands in Malaysia
FAQs
Malaysia Digital Thermometer Comparison Table
10 Best Digital Thermometers in Malaysia
1. OUSON+ Infrared Digital Thermometer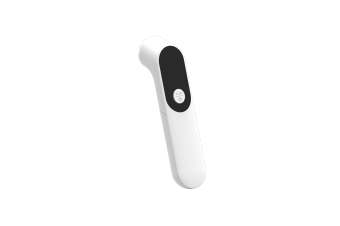 Best choice for checking baby's temperature
OUSON+ Infrared Digital Thermometer is the perfect tool to have on hand for taking baby's temperature. This thermometer is easy to use- just touch a button and take the temperature reading through the ear or forehead. Plus, the LCD screen displays temperatures in clear, precise readings. Keep your little one comfortable and healthy with this affordable and reliable digital thermometer!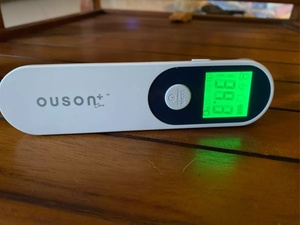 Pros:
8-in-1 available functions.

Forehead and Ambient Ear clock

Easy to note temperature with LCD.
Cons:
There are tendencies of detecting surrounding temperature instead of the body if not used close enough
Check prices on Lazada
Check prices on Shopee
2. SZOEM Kid's Digital Thermometer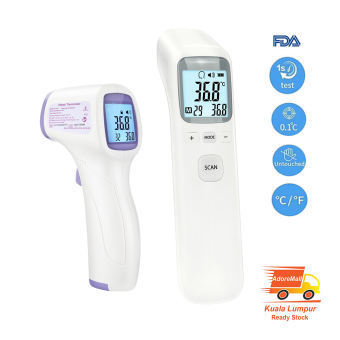 A great choice for children & baby
SZOEM Kid's Digital Thermometer is made with your child's health and safety in mind. The thermometer is constructed with PP material that is safe and reliable. Plus, the distance of measurement is 1-15 cm, making it one of the most accurate on the market. Best of all, it only takes 1 second to get a reading!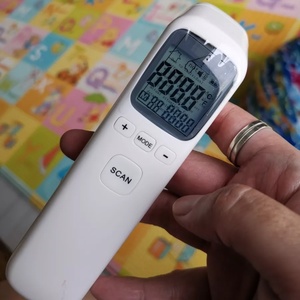 Pros:
No-contact thermometer

Quick measurement

The handgrip is firm and measuring is convenient.
Cons:
Better accuracy when measured through the ears rather than the forehead
Check prices on Lazada
3. Yongrow Digital Portable Infrared Thermometer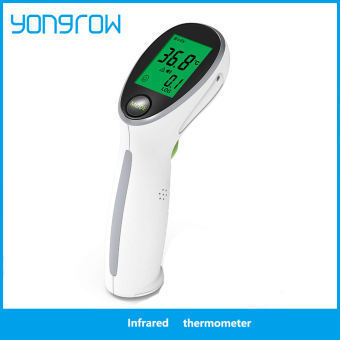 Great accuracy, non-contact
The Yongrow Digital Portable Infrared Thermometer is perfect for anyone looking for an affordable, reliable, and accurate way to take temperatures. The gun-shaped design makes it easy to grip and handle, while the backlit LCD display ensures you can see readings even in low-light conditions. With 34 data storage in memory, this thermometer can easily store readings for future reference. Plus, with non-contact temperature detection, you can take measurements without having to come into direct contact with your subject.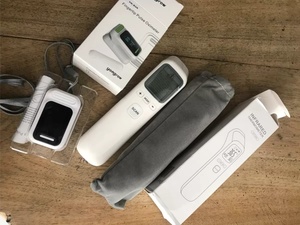 Pros:
Make of material is ABS

It can be used on-ear, forehead, or any hot object to note its temperature.

Can be used for babies, adults, and children
Check prices on Lazada
Check prices on Shopee
4. PISEN LED Digital Non-Contact Temperature Infrared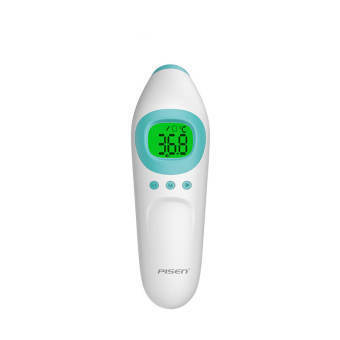 Easy set-up and usage
You are looking for a top-quality infrared thermometer that's easy to use and fits comfortably in your hand? PISEN has you covered! Our LED Digital Non-Contact Temperature Infrared is perfect for non-contact temperature detection, making it ideal for a wide range of uses. Plus, with its large backlit LCD, you'll be able to take readings even in low light conditions.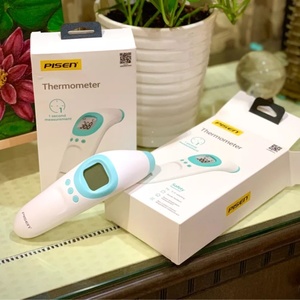 Pros:
Quick and accurate measurement

Non-contact and safe

Easy to note numbers with LCD that is backlit for nighttime.

Stable temperature with IR technology

Measuring range: 34-43 deg C
Check prices on Lazada
5. Thermofast Digital Forehead and Ear Thermometer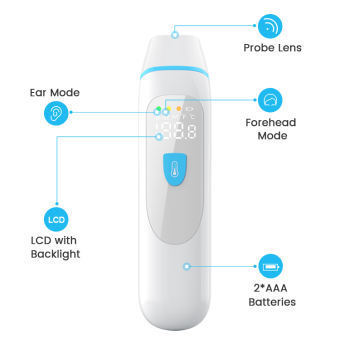 Accurate in detecting fever
Don't let fever get the best of you- take charge with Thermofast! This digital forehead and ear thermometer are ultra-precise, registering temperatures within +/- 0.2 degrees C. It's also an automatic shut off to save battery life, as well as alarm features that notify you when a fever is detected. Plus, it's switchable from deg F to deg C, making it perfect for everyone in your family. With a data memory storage of 32 sets, this thermometer makes taking temperature readings quick and easy- press the button and wait for the beep!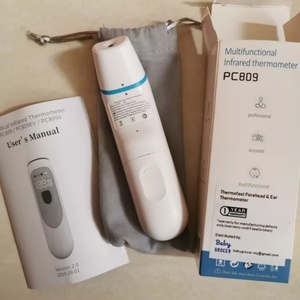 Pros:
It comes with one year warranty

Dual-mode for temperature: 32-42.9 deg C

Reading is precise in a fraction of second
Cons:
Needs to be in a really close range to accurately detect.
Check prices on Lazada
Check prices on Shopee
6. iHealth Digital Thermometer PT3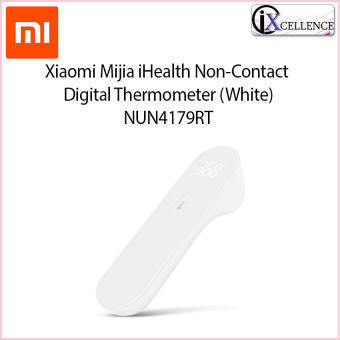 Best home thermometer
The iHealth Digital Thermometer is perfect for keeping your family healthy! This thermometer is automatic shut off, alarm for detecting fever, and US FDA registered for precision measurement. It is switchable from degrees Fahrenheit to degrees Celsius, has data memory storage and recall of 32 sets, and reads quickly with silent backlit LED displays. Plus, it's affordable and sturdy – making it an excellent purchase for any age group!
Pros:
Forehead measurement for temperature

3 cm and less for detecting temperature

+/- 0.2 deg C precision of measurement
Cons:
Needs close contact to detect
Check prices on Lazada
Check prices on Shopee
7. LEPU Infrared Thermometer forehead Body Temperature Measuring Tool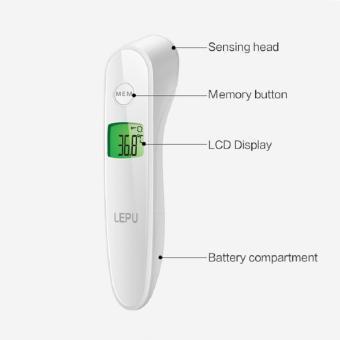 Reliable temperature reading
Are you looking for a quick and accurate way to take your temperature? Look no further than the LEPU Infrared Thermometer. This handy device quickly recalls 99 sets of readings so that you can track your progress over time. Plus, the fever alert ensures that you're never in the dark about your health. And because this thermometer is high in quality, it's perfect for use at home or in clinics.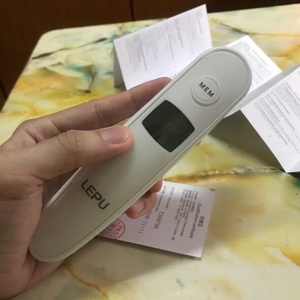 Pros:
Copper probe

It assesses both body and material temperature

It has data memory storage of up to 99 sets
Check prices on Lazada
8. Sunphor BZ-R6 Infrared Thermometer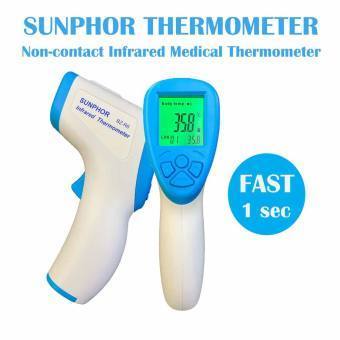 Great for home and clinical use
Taking your temperature has never been simpler than with the Sunphor BZ-R6 Infrared Thermometer. This handheld device uses infrared technology to give you quick and easy readings in Celsius and Fahrenheit. The large, backlit HD LCD screen is easy to read in any light, making it perfect for taking temperatures at night. Plus, the thermometer is clinically tested and highly accurate – perfect for forehead readings.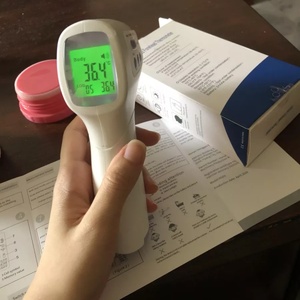 Pros:
Can detect the temperature at a 3cm distance

Have the latest innovation in tech

Automatic shut-down to conserve battery life
Check prices on Lazada
9. Digital IR Thermometer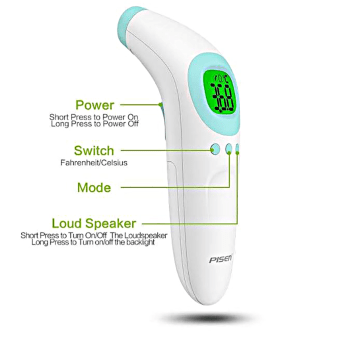 Best choice in hospital settings
This Digital IR Thermometer is perfect for quickly and easily measuring temperatures. With an accuracy of 0.1 ℃, it can sense temperature changes rapidly, making it ideal for use in various situations. Additionally, the non-contact measuring is safe to use, even around sensitive areas or small children. The backlight LCD digital display makes it easy to read numbers, even low light conditions.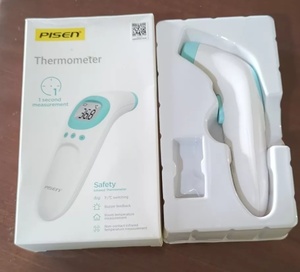 Pros:
Infrared technology offers a more accurate reading

Easy to control specifications

Suitable for any type of environment
Check prices on Lazada
10. Cofoe 3 in 1 Forehead & Ear IR Thermometer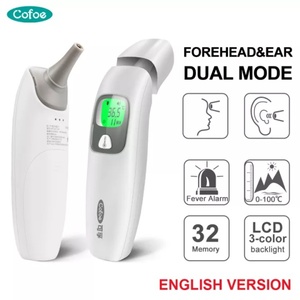 Multiple Usages
Say goodbye to the hassle of taking your temperature the old fashioned way! With Cofoe's 3 in 1 Forehead & Ear IR Thermometer, you can easily and quickly take your temperature either on your forehead or in your ear. Plus, with its tri-colour backlight and 50 groups of memories, you'll be able to keep track of all your temperatures with ease. And for added peace of mind, this thermometer features a fever reminder, so you'll always know when it's time to see a doctor.
Pros:
Highly accurate temperature reading

Multi-usage

Colour indicator for different levels of body temperature
Check prices on Lazada
Check prices on Shopee
Best Digital Thermometer Brands in Malaysia
iHealth
The iHealth system is designed to make it easier than ever for consumers of all ages to take an active role in managing their health. They do this by designing and manufacturing innovative, consumer-friendly mobile personal healthcare products that connect with the cloud so users can easily measure, track, and share vital stats from one accessible location. The company's goal has always been transparency – making sure individuals know precisely what information they need without having any trouble accessing it.
Cofoe
The company is a leader in the medical device industry. Cofoe have developed and produced over 600 categories of products such as 6864 medical consumables, dressings or pain management equipment with 121 patents to their name, including 70 registration certificates for physical therapy goods alone.
LEPU
Lepu Medical Technology, an innovative company based in Beijing with over 1500 employees worldwide, is known for its high-quality products and services. Lepu today strives to become the global leader within their respective industry, including cardiovascular intervention technology development and manufacturing/marketing these devices to patients who need them.
How to choose the best thermometer?
A thermometer is selected based on:
Convenience of use
Accurate readings
Time of response
Measurement units-deg F or deg C
Safety
Sturdy make
Longevity
Price
How to use a digital thermometer?
Follow the steps below:
Reset the thermometer with reset button
Place the sensor at the detection range.
You will hear a beep once done.
The thermometer is displayed on the LCD screen.
It is best to take two readings for more accuracy.
FAQs
What are the best digital thermometers in Malaysia?
Multi-Function Infrared Digital Thermometer for Baby with LCD Display- for multi-functionality with baby
Medical Thermometer Baby Infrared Fever Thermometer Kids laser LCD Non-contact Thermometer- for Non-contact and durability
Yongrow Digital Portable Infrared Thermometer"- for portability
How does a digital thermometer work?
Digital thermometers are powered by infrared technology, thus allowing for contactless reading.
How do I properly use a digital thermometer?
Make sure to reset the thermometer after every use, and wait for the beep sound before removing within the contact range.
How much does a digital thermometer cost in Malaysia?
Digital thermometer costs between RM50.00-RM70.00
Conclusion
As we have seen, there are many different types of digital thermometers on the market. It is important to do your research and find the best one for you and your loved ones. We hope that this Digital Thermometer review has been helpful in narrowing down your choices.
Click here for other health related articles.
Latest posts by Alice Yeoh
(see all)
This article was brought to you by BestAdvisor.my
Disclaimer: This is the opinion of the writer or publication. We only recommend products or services that we have tested and tried ourselves or have done in-depth research with positive external reviews and find them to be useful for everyone. The products/services shown are available upon the publication date. The availability may change from time to time. If some of them are not available, please email us at [email protected]. Thank you!
Last Updated on