Last Updated on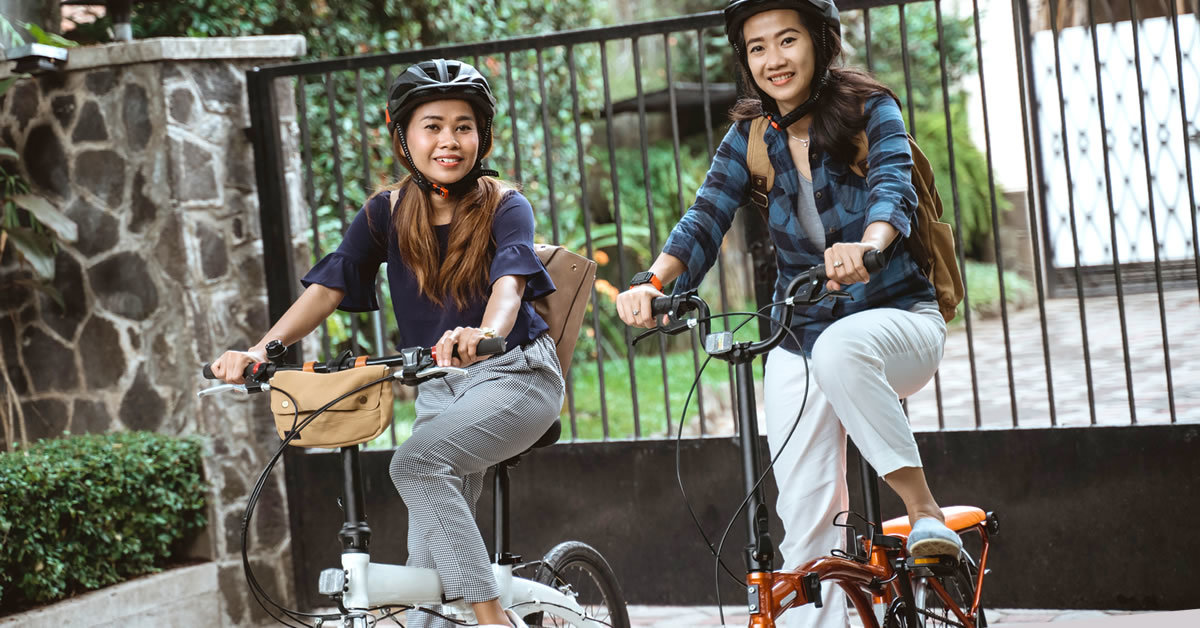 Almost everything is turning portable these days. This is a result of the increasing demand from consumers to have more space-saving stuff. The wide availability of foldable bikes in Malaysia is another great advantage for those who prefer a more affordable way to go around the district, without the hassle of commuting and highway traffic congestion. The fact that it can be folded also solves storage problem inside the house or even your office.
Here are the top 8 best folding bikes in Malaysia:
8 Best Folding Bikes in Malaysia
1. EcoSport Begasso 26 Inch Full Double Suspension Foldable Bicycle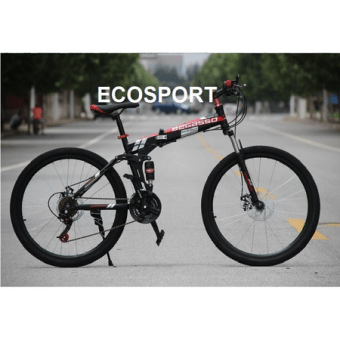 User-Friendly
This bike has been particularly popular among women because of its ideal height along with full suspension for easier and safer driving.
Why buy this
6″Foldable Mountain Bike
21 Speed
Full Suspension (Fork and rear)
High Tense Carbon Frame
Disc brakes (Front and rear)
It is also really easy to assemble and fold, making it one of the most user-friendly bikes out there. Express a bit of your personality with the multiple colour options.
Check prices on Lazada
2. GTE 20 Inch Foldable Bike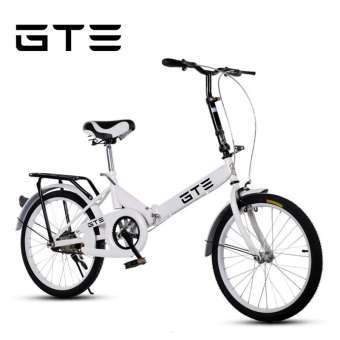 Easy to Maneuver
Want a lighter bike that is also easier to maneuver? GTE offers several size options to fit every height and personal preference. This one is ideal for park strolls and quick errands around the village of the district.
Why buy this
Fast folds like three steps in place
Frame folding buckle
Quick-release seat
No need to spend too much time parking and to fold it before entering a store, because the ingenious design of this bike makes it so easy to fold, almost like having a baby's stroller.
Check prices on Lazada
3. GTE 16 Inch Folding Speed Bicycle Double Disc Brake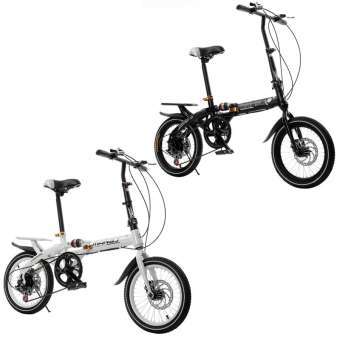 Best for Students
A great option for students who prefer to ride their bike going to school. This model comes with several safety features making it ideal for your kids to use as their beginner bike.
Why buy this
High-quality grip prevents hand slip, and 1-6 variable speed digital display design
Convenient shift control, ergonomic croissant with rubber material
Saddle lifting device
Despite it looking like a beginner bike, this is actually highly adaptive to different road conditions. This preserves most of the bike's parts, especially the chain making it a worthwhile investment.
Check prices on Lazada
4. MARSSTAR 2006 TALUS-I 20 Inches 7 Speed Folding Bicycle
Best Commute Alternative
This will prove to be one of your best travel and commute alternative. With 7 speed settings, you will arrive at your destination almost sweat-free, as you can adjust your resistance depending on your road conditions.
Why buy this
Adjustable seat post
Quick-release latch on the handle
Seconds to fold
The bike will be delivered to you 90% assembled. This means you can definitely use this the same day you receive it. That's how convenient this product is.
Check prices on Lazada
5. MONTBIKE SPORTBIKE [SP328] 26″ Wheels Folding Mountain Bike With 21 Speeds
Best for Adventurous People
This one is for the more adventurous ones who love taking their bikes for long rides. Sustain your momentum with the multiple gear options supported by durable parts of your Montbike.
Why buy this
Foldable at mid-point for easy storage
Front mechanical disc brake combines with rear linear-pull brake for crisp stopping and steady speed control
21-speed shifters for smooth shifting out on the trail
High carbon steel frame for shock absorption
If you buy this online, you also get so many accessories as freebies, including a bike lock and water bottle holder. Now, all that's missing is your next adventure.
Check prices on Lazada
6. Edens 20 Inch Foldable Bike
Best for Teens
Here's another great bike from Eden to gift your teenagers. It's a good way to give them regular physical activity, while also giving them much-desired freedom to just go around the city with their own bike.
Why buy this
Fast folds like three steps in place
Frame folding buckle
Quick-release seat
No need to spend too much time parking and to fold it before entering a store, because the ingenious design of this bike makes it so easy to fold, almost like having a baby's stroller.
Check prices on Lazada
7. Electric Bike Ebike Folding Electric Bicycle 250W Fresco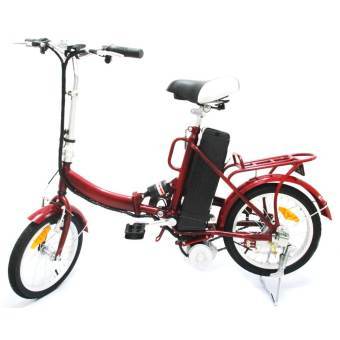 Easy to Maintain
Electric bikes are also getting popular around Malaysia these days. You get the convenience of a motorcycle, except it is quieter and easier to maintain.
Why buy this
250W centred motor
Controller: Pedaling Run/Pedaling-Electric Assist Run
Battery 24V 12Ah Lead-acid battery, with Overload protection, Low voltage protection
Charge Time 4-6 hours
Contrary to the electric motorcycles, this model gives you the option to still use the pedal, especially if you want to put in some physical activity. It's definitely one of the best choices out there, especially for those who plan to use bikes in going to the office. You do not have to arrive in your office out of breath because you can just switch to the electric-assisted mode of your bike.
Check prices on Lazada
8. Nordictrack Folding Bike 26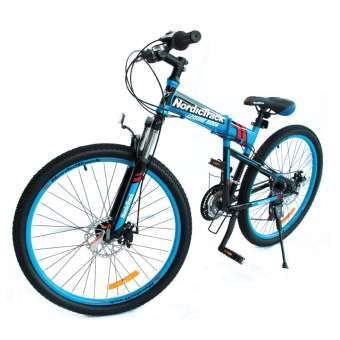 Best for Cycling Enthusiast
This one if for the serious cycling enthusiasts who are looking for a reliable bike they can ride out of town. It comes with all the high-quality materials to keep up with your outdoor adventures.
Why buy this
26″ Kenda tyres with Double Wall alloy rims for extra durability
Shimano 21 speed system for various road conditions
Riser Bird Type Handlebar for added ergonomics
Adjustable Front Fork Suspension for added absorption
It also has front and rear disc brake for maximum safety while driving. Despite it being a portable bike, it has enough room for all other accessories, including a water cage and kickstand.
Check prices on Lazada
The Ultimate Guide to Buying a Folding Bike
It's not a secret that bikes are great for your health, your wallet, and the environment. But if you're not sure where to start, it can be challenging to know which bike is best for you.
Whether you're looking for a bike to commute to work, play with your kids, or simply get a little exercise, there are a lot of great options to choose from. Here's our ultimate guide to buying a folding bike.
Difference between a folding bike and a traditional bike
A folding bike offers the best of both worlds. It's a lightweight, compact bike that's easy to transport quickly folds to the size of a briefcase, and packs down into a small box. You can fold most folding bicycles down in less than two minutes.
Here are the sizes you'll need depending on your bike size and your needs. You'll be happy to know that most bikes come with various levels of foldability. That way, you can find the folding bike that is right for you.
Also, you won't have to pay through the nose for a special folding bike. Depending on your bike size, you may find you need to purchase wheels and a basket separately.
What to Look for When Buying a Folding Bike Before you start shopping, make sure you check out the features and requirements of the bike you're considering.
The different types of foldable bikes
Before you buy a folding bike, you need to understand what these various models are and how they work. First of all, there are two types of folding bikes: hard and soft.
A hard folding bike folds with your hands in a very similar way to a suitcase. This is the most expensive type of bike, but it's also the only one you can truly travel with. On the other hand, a soft folding bike folds with your feet.
Both types of folding bikes are great for folding into a smaller size than most conventional bikes. So, if you're worried about fitting a folding bike into your luggage, then you'll probably want to go for a hard bike. If you're travelling daily and don't plan to bike home each day, then a soft folding bike is a great option for you.
What to look for when buying a folding bike
Here's what you'll want to look out for when buying a folding bike. Let's start with what to avoid.
Avoid bikes with rigid handlebars (i.e. fixed). You don't want something that flexes or bends easily.
Avoid bikes that use a chain to connect both the front and rear wheel. Make sure it has a solid rear wheel so you can easily stop and lock your bike up.
Avoid bikes that have a front disc brake or a rear disc brake. They don't work very well when folding, so the wheel can rotate and damage the rear axle.
Buy a good quality bike. Choose a bike with a sturdy frame, anti-freeze cables, an adjustable seat, a step-through stem, and extra-large rims. A bike with a step-through stem will help you easily fold it.
Check out our best folding bicycles in Malaysia:
Buying a folding bike is fun, convenient, and affordable. It's the easiest way to get outside and hit the pavement. Check out our top recommendation below
FAQs
What are the best brands of foldable bikes in Malaysia?🚴‍♂️
Popular brands include EcoSport, GTE, MONTBIKE, and Nordictrack
How do I choose the right folding bike online?🚴‍♂️
Look for a bike that is easy to fold, almost as easy as a baby's stroller. Cheaper ones are usually only recommended for city driving, while the more expensive ones are built for different road conditions, thus making it a safe bet for long rides.
Can I buy an electric folding bicycle?
Yes, there are available folding bicycles that are already electric-powered.
How much does a folding bike cost in Malaysia?
A decent folding bike will cost around RM 180.00
You might be interested in these articles:
Click here for other fitness related articles.
Latest posts by Aaron Tan
(see all)
This article was brought to you by BestAdvisor.my
Disclaimer: This is the opinion of the writer or publication. We only recommend products or services that we have tested and tried ourselves or have done in-depth research with positive external reviews and find them to be useful for everyone. The products/services shown are available upon the publication date. The availability may change from time to time. If some of them are not available, please email us at [email protected] Thank you!