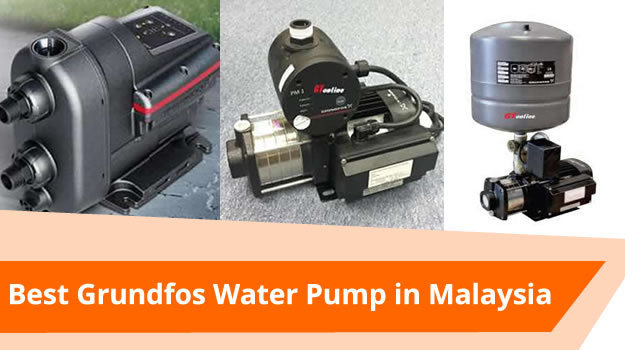 Low water pressure is a problem for many homes in Malaysia (1), especially those living on the elevated parts of the city. Good thing companies like Grundfos have made products that are the perfect solution for your need for a water pump (2).
We have the five best Grundfos pumps (3) in Malaysia listed below. You don't have to struggle to find one to install.
Just check out our product descriptions and pick the one that's going to fit your budget and needs.
| Product | Rating | HP | For No. Room | Price |
| --- | --- | --- | --- | --- |
| Grundfos CMB3-46PM1 | 5/5 | 0.7 HP | 2-3 | $$$ |
| Grundfos CMBE3-62 | 5/5 | 0.7 HP | 2-3 | $$$$ |
| Grundfos Scala 2 | 4/5 | 0.7 HP | 2-3 | $$$ |
| Grundfos CMBE5-62 | 4/5 | 1.0 HP | 5-6 | $$$$ |
| Grundfos CMB5-37PM1 | 4/5 | 1.0 HP | 4-5 | $$$ |
1. Grundfos CMB3-46PM1- Home Booster Automatic Water Pump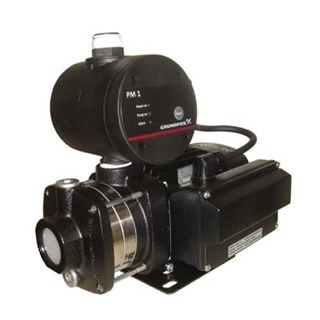 Best of the best
If you are looking for a pressure booster for your home and garden, this advance Grundfos CMB3-46PM1 series is for you. This Danish brand is known for the durability of its products, coupled with efficient technology.
The CMB3-46PM1 is made of high-grade stainless steel, which guarantees its long lifespan.
This water booster is also a quiet worker but is nonetheless powerful. It has built-in power control for low to zero maintenance of the pump.
Why buy this:
Dry Running Protection
Space efficient
Easy installation
Long lifespan
SIRIM Certified
Get your own Grundfos water pump today at Lazada.
Find out more
2. Grundfos CMBE3-62 Automatic Variable Speed Booster Pressure Water Pump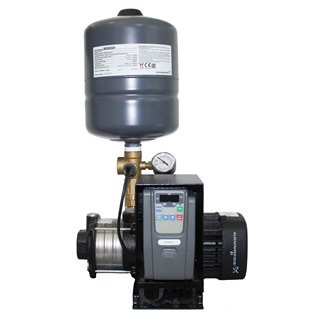 High-End water pressure pumps with automatic variable speed
This water pump is designed to eliminate water hammering with its variable speed drive. Pressure control is driven by an inventer, which makes a durable and reliable choice for your house.
Grundfos is an international brand known for its high-end production of water pumps.
This model of water pump is considered as one of their best product to date, making it a best seller across online shops.
Why buy this:
Auto power restart
Easy installation and maintenance
Overload protection build in the pump
Enclose Class : IP20
Check out this water pump here.
Find out more
3. Grundfos Scala 2 Booster Inverter Pump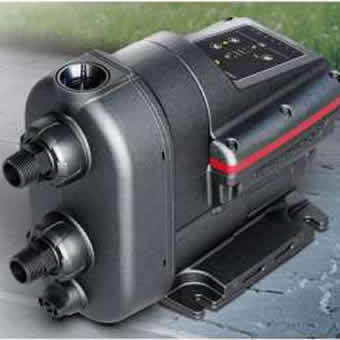 Small & compact design
The new Grundfos pump can regulate the water pressure throughout your home, making sure that all your taps deliver the right water pressure every time you turn them on. You have a full user control with this pump, which makes it the perfect water pump for your household.
Grundfos is a Denmark-based water pump company delivering quality and excellent products to its customers all over the world. Expect that their products are in excellent condition when it arrives in your home.
This product not only controls the water pressure but it also detects problems in your water system. Grundfos water pump for houses is known to be durable devices which can last for years.
Why buy this:
Intelligent pump control
Quiet and Trouble-free operation
Easy set-up and installation
Find out more about the new Grundfos Scala 2 right here.
Find out more
4. Grundfos CMBE5-62 Variable Speed Water Pump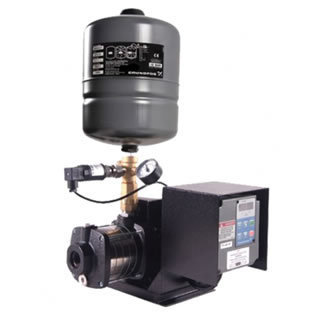 Best for a big house with 5-6 bathrooms
You have a powerful water supply system with the Grundfos CMBE5-62. This product can be used for small house and large houses because of its industry-grade power capabilities.
Homeowners never have to worry about losing water pressure at any time during the day with this powerful water pump. Full water pump system set-up.
Installing this product will help you with large-sized tanks and small-sized tanks. These are installed in urban areas, beach houses, log cabins, and it's also perfect for the backyard garden as well.
People use it for pumping water whether it's drinkable water or rainwater. The product comes complete with the full set-up of a pump, tank, motor, sensors, and user controls. It has built-in safeguards to protect you from any damages as well.
There is an assembly that could help you get more out of the water pump which acts as an accessory. The 45m limit ensures that you get the right amount of pressure even at the top floor of a tall building.
Why buy this:
Self-priming feature
Built-in dry and heat protection
Auto-reset function
Installed pressure tank
Watch this pump work for you today!
Find out more
5. Grundfos CMB5-37PM1 Centrifugal Pump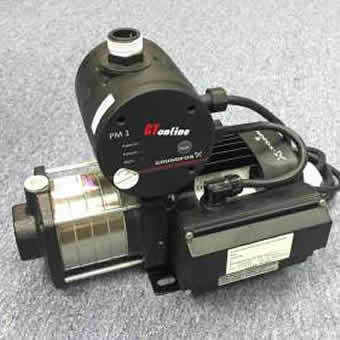 Best for double story terrace house
A durable industrial-grade pump comes in the package of the Grundfos CMB5-37PM1 centrifugal pump. Strong, quality materials make up the CMB5-37PM1 with stainless steel parts that come with a WRAS and ACS certificate of quality.
You can expect the pump to run on the standard power supply available in your area, which makes the Grundfos water pump perfect for any operation. It has 5.6 m3/h GPM which provides ample power for industry-level use.
Why buy this:
Compact design
Easy installation
User-friendly operation
Quiet operation
Safe water operation
Durable construction
Industry grade power
Purchase your very own Grundfos Centrifugal Pump now!
Find out more
Should I get a Grundfos Water Pump?
You definitely should, especially if you are looking for a trusted brand for the water pump that has established an excellent record throughout the years.
Grundfos also offers comprehensive warranty coverage for your peace of mind.
By the way, you might be searching for keywords below and landed here.
– grundfos water pump price malaysia, grundfos water pump malaysia, grundfos pumps price list, grundfos pumps, grundfos pump malaysia, grundfos water pump for house, grundfos booster pump
Here's our top pick of Grundfos water pump for your home:
Grundfos CMB3-46PM1 – Home Booster Automatic Water Pump
Grundfos Scala 2 Booster Inverter Pump
Search at Lazada
References
1 – Malaysia Population (https://www.worldometers.info/world-population/malaysia-population/)
2 – What is Water Pump (http://www.crankshift.com/water-pump/)
3 – Grundfos (https://my.grundfos.com/)
FAQs
❓How much is a Grundfos water Pump?
A Grundfos Water Pump usually ranges from 1,000 – 3,000 RM
❓Why should I buy a water pump? 😕
A water pump helps with the low water pressure especially on elevated places.
❓What are popular models of Grunfos Water Pump?
- Grundfos CMB3-46PM1
- Grundfos CMBE3-62 Automatic Variable Speed Booster Pressure Water Pump
- Grundfos Scala 2 Booster Inverter Pump
- Grundfos CMBE5-62 Variable Speed Water Pump
- Grundfos CMB5-37PM1 Centrifugal Pump
Click here for other home appliances related articles.
Latest posts by Aaron Tan
(see all)
This article was brought to you by BestAdvisor.my
Disclaimer: This is the opinion of the writer or publication. We only recommend products or services that we have tested and tried ourselves or have done in-depth research with positive external reviews and find them to be useful for everyone. The products/services shown are available upon the publication date. The availability may change from time to time. If some of them are not available, please email us at [email protected] Thank you!
Last Updated on