Last Updated on
The kitchen is an important part of a well-functioning house. Many activities that enable the smooth running of a house take place in the kitchen. Due to these full-time activities, the kitchen is prone to tear and wear. There comes a time when your kitchen is really in need of a complete makeover. In any case, renovating your kitchen is simply gifting yourself a brand new cooking space.
A renovation in your kitchen means that you have to organize the items around your kitchen to ensure the project runs smoothly. Your kitchen will also be inaccessible for a while. There are several things you need to do or have in place before the kitchen renovation process begins.
Scrutinize The Layout
It is the first step towards your kitchen's fabulous makeover. Take a look at your current kitchen layout and assess if it is suitable for your current wants and needs. For instance, is the working space enough? Do you still like your window placement? How about the kitchen bar, do you want to change the position of the barstools? Having a clear vision of how you want things to appear right after renovation will guide you adequately to make the right decision.
If you feel that the kitchen could use a new layout, browse through ideas for kitchen layouts that suit the amount of space in your kitchen. Having a specific layout in mind will be a big step towards getting a remodeling contractor that can give you the results you are looking for.
Consult The Contractor
Before starting the project, consult with the contractor. If possible, meet with the kitchen renovation contractor or the person in charge of the renovation. Ask them about the specific dates that the renovation is likely to take place and the duration that the whole process is likely to last. Knowing this will help you plan and have fewer complications once the day arrives. A contractor will be able to tell you which items need to be replaced entirely and also give you a price estimate. Consulting a contractor is also advisable because they will tell you if the idea you have can be executed.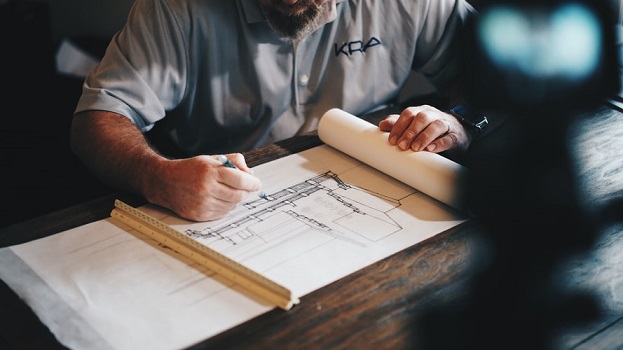 Related Read: How to choose a renovation contractor
Get a Permit
Whether you need a permit for house renovations highly depends on the state laws in your area. If you are planning on extending your property, it is necessary to notify the relevant authority to obtain the necessary papers that allow you to proceed with your renovation. Ask the relevant authority and ensure that you get hold of credible information regarding permits so that your project is not forced to stop halfway because of permit issues. After all, no property owner wants to deal with the frustration of delayed renovation due to a lack of proper paperwork.
Have A Budget
A set budget is another vital step towards actualizing your kitchen renovation. Have a well-planned budget even before contacting the renovation contractor. Having a functional budget will save you from a lot of trouble. For instance, you will be able to know when you are overspending, where to allocate funds, and more importantly the total amount required to complete the whole renovation. Never make the mistake of getting a contractor before you have a budget set aside.
Keep in mind that a kitchen renovation may require you to upgrade some of the appliances that are too old or damaged to be repaired. You should have that in your budget as well as the cost that may come up for the installation of the appliances.
Set Up A Temporary Kitchen Somewhere Else
You will still need to do kitchen duties even during the renovation, so it is best to have a temporary kitchen where you can transfer your utensils and any portable appliances. If you have an outdoor kitchen, you can use it during the time the renovation is ongoing.
While setting up the temporary kitchen, keep the items that you use frequently in a place where you can access them easily. Label your boxes to avoid confusion once the new kitchen is done and you move the items back. It is advisable to set up the kitchen in a place that can support multiple small appliances such as a toaster, microwave, blender, and such.
Having A Plan For Meals
You can opt for takeout, but everybody knows that sometimes you just need a homecooked meal. When you cannot get takeout, you have the option of warming your frozen food. You can take time to prepare various meals and freezing them before the project begins. It is important to have enough meals for the time the project will take.
Finally, make sure that you disconnect any important lines such as gas and plumbing before the project begins. The contractor will most likely check if the lines are disconnected, but it does not hurt to be safe.
Latest posts by Aaron Tan
(see all)