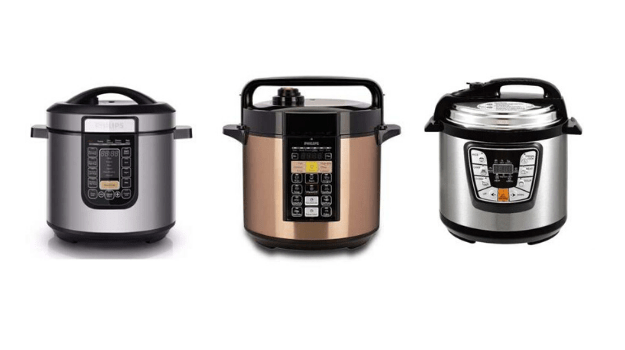 If you've ever been to Malaysia, then you know that the country's obsession with food has made it a hot spot for culinary goods. It's no surprise why pressure cookers in Malaysia is gaining popularity of late. This is all thanks to the increasing number of cooking shows on TV and even in magazines, where famous chefs teach people how to make their favorite dishes using one pot or pan. Many people remember it as the shrieking cooker that wakes them up in the morning. Pressure cookers have undergone substantial improvements over the years, so they are perfect for homes looking for more diverse food preparations that take less time and effort.
Also, a pressure cooker has all the important safety features that help avoid the dangers associated with using it, such as splatters and injuries. If you're interested in buying a pressure cooker but don't know what type will work best for your needs, this guide can help!
Table of Contents
Best Pressure Cookers

Best Pressure Cooker Brands
Benefits of Pressure Cooker
FAQs
Pressure Cookers Comparison Table
(Scroll right for more)
Here are the best 10 pressure cookers in Malaysia that we have tried and tested.
1. Philips Electric Pressure Cooker HD2139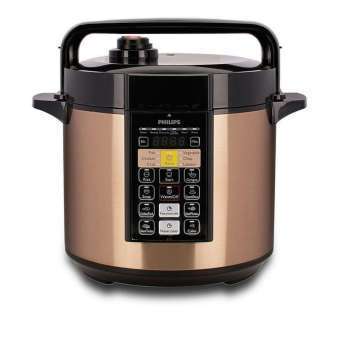 Digital Display
The HD2139 from Philips is a modern multitasking pressure cooker that brings innovations for time-saving and convenience. You can do more than one cooking process in the same device, with 9x safety protection systems to provide peace of mind during operation, and an easy-clean inner lid, which saves on washing up afterwards!
Pros:
Preset-timer for 24 hours

It is a fast, convenient way of cooking healthy meals

Its large screen digital display is easy to read
Check prices on Lazada
Check prices on Shopee
2. Russell Taylor Pressure Cooker

Easy Cleaning
Russell Taylor 6L electric Electric Pressure Cooker is made for this era with its easy-to-read controls and large screen. With its programmable timer, sensitive touch sensor panel and power-efficient Automatic cooking functions meaning you can enjoy delicious food right when it's ready. For cooks who like healthy, quick-cooking, what could be more convenient than having a pot that does all the work for you? The modern 6L electric pressure cooker is one of our favourites because it is easy and safer to use.
Pros:
It is easy to program its timer

It has an innovative design

Nutritional keep warm, child lock system

Automatic pressure release function
This pressure cooker from Russell Taylors is easy to wash because its inner body is made of non-stick pot, so you will never have to worry about the mess after cooking. Get the best price here.
Check prices on Lazada
Check prices on Shopee
3. Philips Pressure Cooker HD2136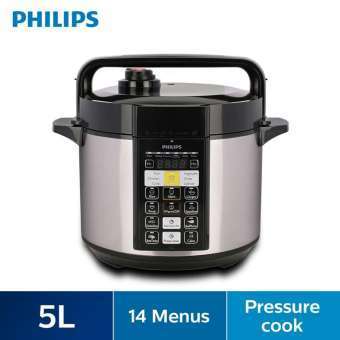 Different Cooking Functions
Owning this Philips pressure cooker 5.0L is like never having to worry about what to eat ever again. With its sizeable digital screen display, fast convenience and easy no-screw function, not only will you come up with tasty meals on the fly, but you'll also be able to make them healthier through this efficient cooking process. It comes in a stunning stainless steel finish so that your kitchen's aesthetics won't suffer either!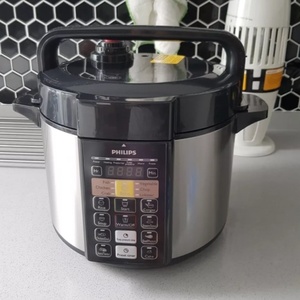 Pros:
Perfect for those who live alone

Occupies a small space

Smaller, however, the functionality is not compromised
Check prices on Lazada
Check prices on Shopee
4. HM10 Electric Pressure Cooker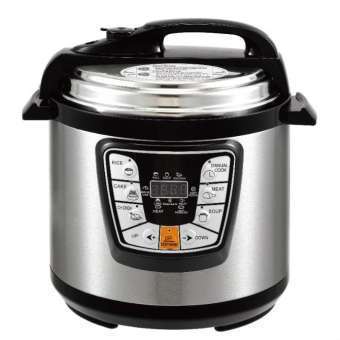 Multiple Pressure Cooking Settings
This 8L to 6l electric pressure cooker allows you to easily expand your normal recipe serving. This is because the package comes with two sizes. It also comes with pre-programmed cooking settings, but you can still manually set the cooking settings to your preference; however, this depends on your recipe's requirements.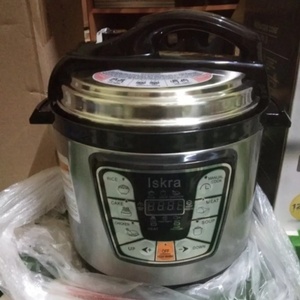 Pros:
Time and Power Saving

24-hour delay timer

Five safety features are built-in (Temperature Limit, Ultra-High Temperature Safe, De-Pressure, Pressure Auto-Relief, Lid Auto-Lock)
You can buy this package online; get it here.
Check prices on Lazada
Check prices on Shopee
5. Panaletrik Pressure Cooker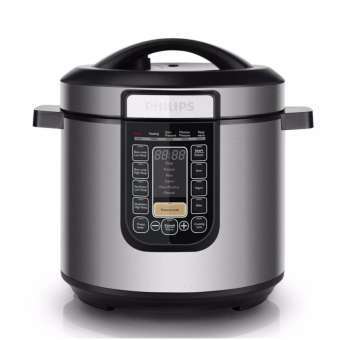 User-Friendly
This is a revolutionary electric pressure cooker from Panaletrik. It takes less time to cook healthy meals, plus you also have the option to slow cook your food through this cooker. Their plug-heads is compatible with Malaysia's. This makes it perfect for Malaysian buyers. Panaletrik Pressure Cooker is the best choice to save money and time while cooking delicious food. You can cook healthier meals due to less leaching of vitamins when water isn't present in the cooking process.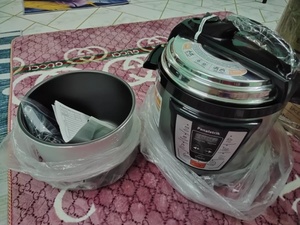 Pros:
The non-stick and durable inner pots

It offers a crispy taste because of the nutritional baking feature

Keep warm rice fresh for 12 hours because of its nutritional keep

Keep Warm Function
This pressure cooker has user-friendly features that include a large digital display. Get this pressure cooker online here.
Check prices on Lazada
Check prices on Shopee
6. Birkeshire Pressure Cooker COMBO PC-260-M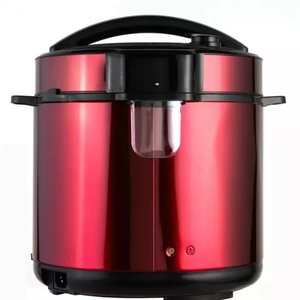 Effortless Functionality
Introducing the Birkeshire Pressure Cooker COMBO PC-260-M! This top-quality pressure cooker is certified for use worldwide and boasts an impressive range of features, making it an excellent value for your money. Seven layers of safety protection keep you safe while cooking, and 36 easy preset combos make creating delicious, healthy meals a breeze. The Keep Warm function keeps your food hot for up to 12 hours, so you can come home to a meal that's ready to enjoy.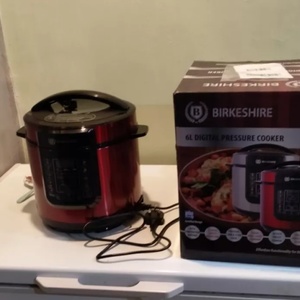 Pros:
User-friendly touch interface

Delay timer for up to 24 hours

Easy usage and care
Check prices on Lazada
Check prices on Shopee
7. Tefal Home Chef Smart Pressure Cooker CY601D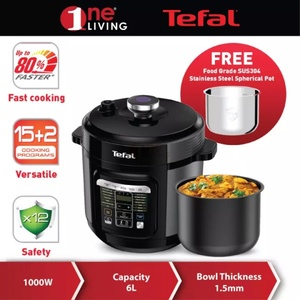 Auto-detects problems
The Tefal Home Chef Smart Pressure Cooker CY601D PC-260-M is the perfect appliance for all of your cooking needs. This appliance can do it all with a powerful 1000 W motor, adjustable temperature, and 15+2 preprogrammed cooking modes! The removable 6.0 L bowl also makes cleanup a breeze. Plus, the built-in timer ensures that your food will never overcook. Thanks to its innovative design and durable construction, the Tefal Home Chef Smart Pressure Cooker CY601D PC-260-M is sure to be a favourite in your kitchen!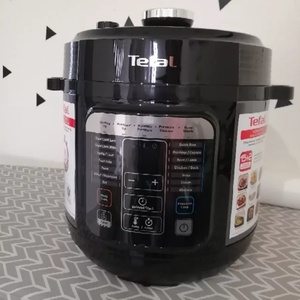 Pros:
Auto diagnosis

Fuse protection

Up to 80% faster cooking
Check prices on Lazada
Check prices on Shopee
8. HIRAKI 6L ELECTRIC PRESSURE COOKER (PC06-109G)
Introducing the HIRAKI 6L electric pressure cooker! This fantastic appliance has 12 multi-use programs, making it perfect for various dishes. The high-pressure setting is ideal for stews and roasts, while the slow cooker is excellent for soups and curries. And if you're in a hurry, the quick cook function will have dinner on the table in no time! Plus, the dishwasher safe inner pot makes clean up a breeze. Make your life easier with the HIRAKI 6L electric pressure cooker!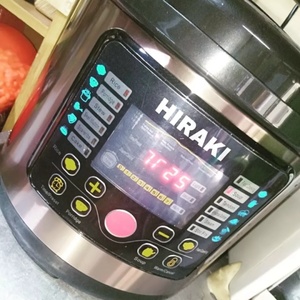 Pros:
12 pre-programmed menu

Keep warm settings

Dishwasher safe for easier cleanup
Check prices on Lazada
Check prices on Shopee
9. Primada Pressure Cooker MPC2550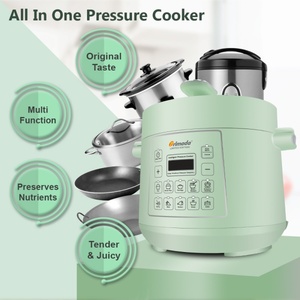 Best for smaller kitchens
If you are searching for a smaller pressure cooker, then this Primada Pressure cooker is the one for you! Primada's MPC2550 pressure cooker is fully automatic with ten menu buttons and a one-touch button. You can make Stir Fry with this cooker, Delay Timer of 24 hours keep warm, 2.5-litre Capacity and Multiple Protection. The product will benefit your daily life and especially the Tender & Juicy function, which holds the food moist and juicy. Press the One Button Pressure Release to have a safe cooking experience.
Pros:
Perfect for those who live alone

Occupies a small space

Smaller, however, the functionality is not compromised
Check prices on Lazada
Check prices on Shopee
10. Taii DESSINI 8L

This electric pressure cooker is a must-have for any modern kitchen! It has a 360-degree heating plate that ensures even cooking, and it comes with ten different functions so you can prepare all your favourite meals. The six-litre capacity is perfect for larger families, and the built-in overheat protection device keeps your food safe. Plus, the stylish design will look great on any countertop.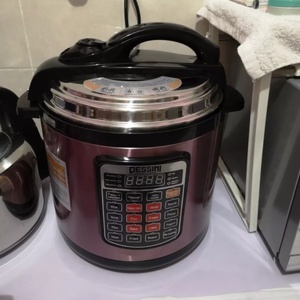 Pros:
Premium safety features

Energy saving

6 pre-programmed menus
Check prices on Lazada
Best Pressure Cooker Brands in Malaysia
Philips
When we talk about household and kitchen appliances, Philips is always on top of that list. Philips is mostly known for the innovations in the electronics they make. This is also true when it comes to their pressure cookers. For example, this pressure cooker comes with a microchip that releases the pressure automatically once the food is cooked.
Russell Taylor
Since the build of Russell Taylors, they were able to capture the heart of multiple households already. With this brand, you are sure to get the value of what you pay for. They focus on quality and excellence with what they provide on the market.
Tefal
When in need of top-notch kitchenware, look no further than Tefal. Like what they say on their page "Innovation is in our DNA" and indeed their products, including their pressure cookers are innovatively designed. They are constantly developing to make every common traditional cookware more convenient for everyone.
Benefits of Pressure Cookers
It is easy to think you do not need a pressure cooker because you already have several kitchen and cooking appliances. However, many people decide to buy elegant rice cookers because the benefits of these pressure cookers outweigh their costs. You can prepare all sorts of meals with this one appliance, including classic favorites like meat stew and rice porridge.
Firstly, it is fast and easy to cook, using a pressure cooker. It also allows you to prepare stew while doing other things, with some models doubling as slow cookers. Pressure cooking pot is made from durable materials making them withstand both the high temperature and pressure required for cooking.
Secondly, it helps preserve the nutrients because the food takes less time to cook. This ensures your meal tastes tastier.
Thirdly, pressure cookers are energy efficient, so they cannot increase your electricity bills.
FAQs
Do I need to release steam when cooking with pressure cooker?
This is not necessary. The pressure inside the cooker will be very high but at the same time, it is sealed tightly enough that no extra steam can escape even if you don't release the steam.
Is it safe to use a pressure cooker?
Yes, provided you follow all instructions and safety measures when cooking with pressure cooker. Always take note of any warning labels on your appliance before using it for cooking purposes.
What are some common things I can cook in my electric pressure cooker?
Zero to hero dishes like soups, stews or meats usually become easier to make using an electric pressure cookers because they come with pre-programmed buttons that allow you to simply set the timer and walk away without worrying about anything else other than flipping on the switch and wait for the timer to go off
Conclusion
So you've read through our list of the best pressure cookers in Malaysia and picked out your next one? Hopefully, it fulfilled all the needs that we talked about to make cooking easier for you. We always love hearing from people who have tried these products too! What did you think of yours? Let us know by leaving a comment below!
Click here for other kitchen appliances related articles.
Latest posts by Kathy Wong
(see all)
This article was brought to you by BestAdvisor.my
Disclaimer: This is the opinion of the writer or publication. We only recommend products or services that we have tested and tried ourselves or have done in-depth research with positive external reviews and find them to be useful for everyone. The products/services shown are available upon the publication date. The availability may change from time to time. If some of them are not available, please email us at [email protected]. Thank you!
Last Updated on