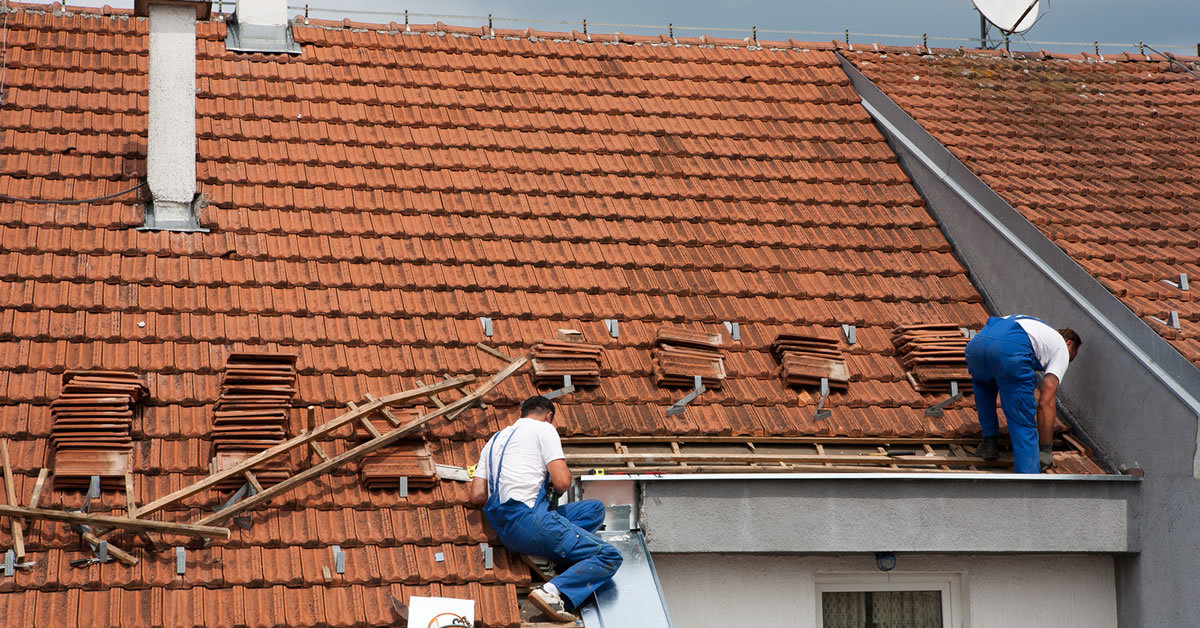 Are you looking for a roof repair company in KL, Malaysia?
Getting the right roof repair company to help you with your needs is not easy. We spent a couple of days to study and review the best roofing company in Kuala Lumpur to save your time.
We check each roof repair firms on their reputation, service rating, reviews and customer satisfaction. Then, we made a comprehensive list of all the best roof repair companies for your ready reference.
We also share the roof repair guide and frequently asked question from consumer like you.
Let's start with the top roofers now.
Top Roof Repair Companies
#1 – Roofing Man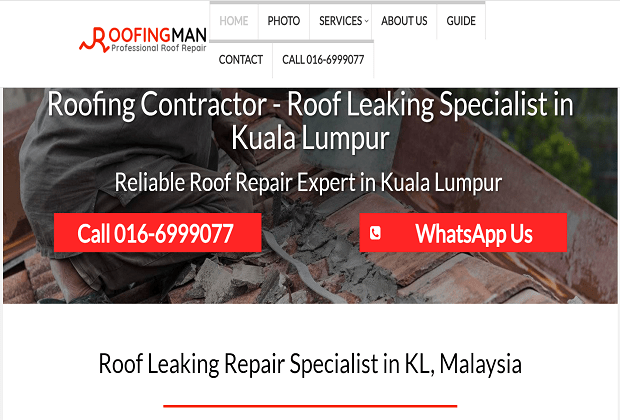 Created with only five employees in 2013, Roofing Man is the creation of a roofing expert who has been working in the roofing industry for 16 years. Due to the demand by residents of Klang Valley, Malaysia for roofing services that are high in quality and reliability, ADE Home Services set up Roofing man and manages it.
There are more than 30 years of combined experience within the company, and in all of Klang Valley, they provide commercial and residential roofing services. Regardless of the roofing budget, they have a solution for it and will handle everything, from adding insulation, roof maintenance, re-roofing, and installing a new roof.
Highlights:
Top Quality Roof Materials
Exceptional Standards And Professionalism
Estimates At No Charge
Customer Reviews:
"My roof was leaking and I direct call to them, they respond very fast and then come immediately. Help me fix the roof leaking and also offer a 3 months warranty. Will find them again.", irvin chooe
"Professional roof specialist arrived at our doorstep on time. They charged less than my previous roof contractor but I got the same quality work. Thank you!", Larry
#2 – XOO Roofing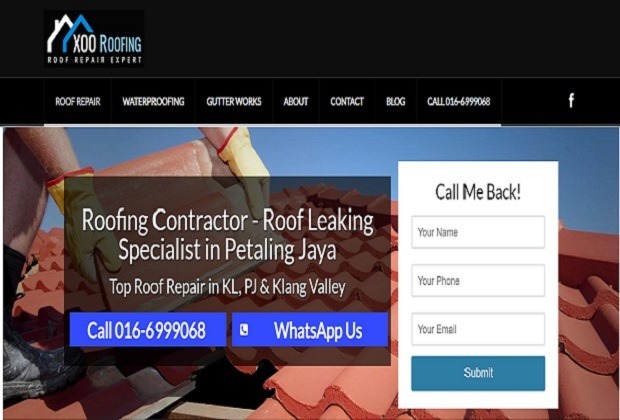 In Malaysia's Klang Valley, the leading provider of roofing services is XOO Roofing. Starting with only five roof specialists, the company grew and in 2015 they became a recognized company. Roofing specialists under the company are properly trained and carry out services in the most professional manner.
Highlights:
Work Is High Quality
A Leading Pentaling Jaya Roofing Specialist
Customer Reviews:
"The rate is reasonable and come with one month warranty. The repair was done 2 weeks ago and so far ok.", Ficciones Chang
#3 – Uncle Roofing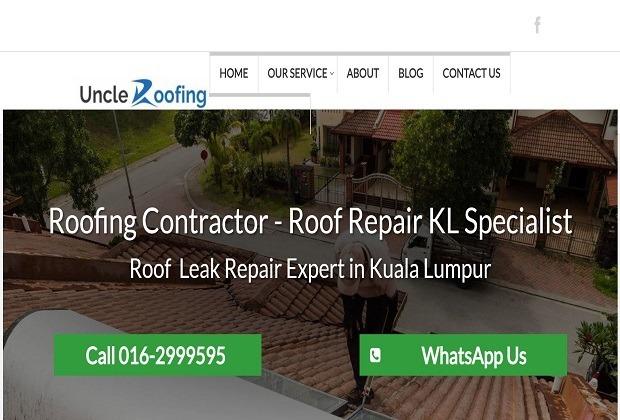 Uncle Roofing began with just five employees in 2017, all following the leadership of a 16 year roofing industry expert. Puchong now operates and manages the company. Everyone in Malaysia's Klang Valley can all rejoice as the company will be able to provide them with roofing services.
Highlights:
The Quality Of Their Materials Is High
Works Hard To Perfectly Plan Each Step
Estimates For Free
Customer Reviews:
"Get the contact of Uncle Roofing from one of my friend. Thanks for your roof repairing service and also your staff polite attitude.", Simon
#4 – KL1 Plumber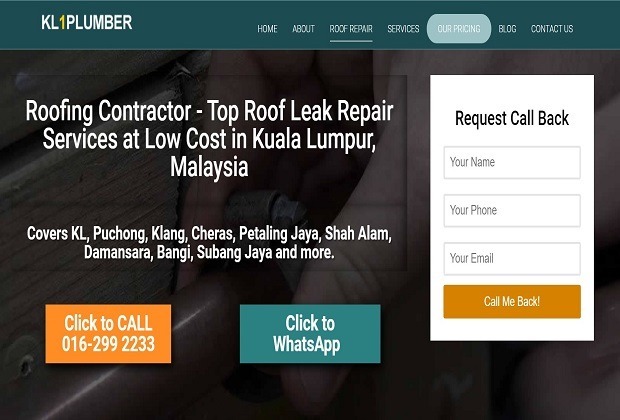 Kuala Lumpur is home to Kl1 Plumber, a local company that provides plumbing services. Hong Seng Plumbing, under the registration of SSM, manages the company's website, kl1plumber.com. Over the decades, they've been able to provide the people of Kuala Lumpur with top of the line plumbing help for any problem that arises. The professional plumbers that work for the company will go anywhere in Kuala Lumpur when they're needed. Many clients who have used the company can vouch for their work.
Highlights:
Reputable Company With Lots Of Experience
Certified And Licensed To Work
Properly Insured
Best For: For clients in Kuala Lumpur
Website: https://kl1plumber.com/roof-repair/
Address: 38-1, Jalan Metro Pudu 2, Fraser Business Park, Off Jalan Yew, Fraser Business Park, 55100 Kuala Lumpur, Federal Territory of Kuala Lumpur
Contact: +6016-299 2233
Email: [email protected]
Customer Reviews:
"The girls answered the phone was nice and polite explained clearly ,technicians are also very polite and professional trustworthy and recommended.", Siti
"Excellent customer service and worker handle the job in a professional manner,if problem regarding roof repair , highly recommend, thank you very much", Rainy
#5 – Mr. Roof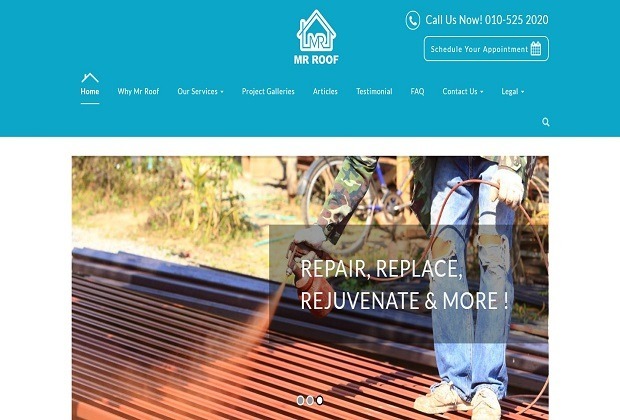 A company known for professionalism and reliability in Malaysia is Mr. Roof. Roof insulation and repair, recoating, rejuvenation, water seepage repair, and roof replacement are all services that the company offers. The quality of the roofing products used by Mr. Roof is guaranteed to be high, and their services can be customized to meed your needs.
They even provide a 10 year warranty for all roof replacements, 5 year warranties for roof rejuvenation services, and 1 year warranties for waterproofing and roof repairs because they are that confident in the quality of their services.
Highlights:
High Quality Materials With A Long Life Span
High Quality Workmanship
Warranty That Covers Years
Quick Service
Team Of Professional Workers
#6 – Hong Seng Plumbing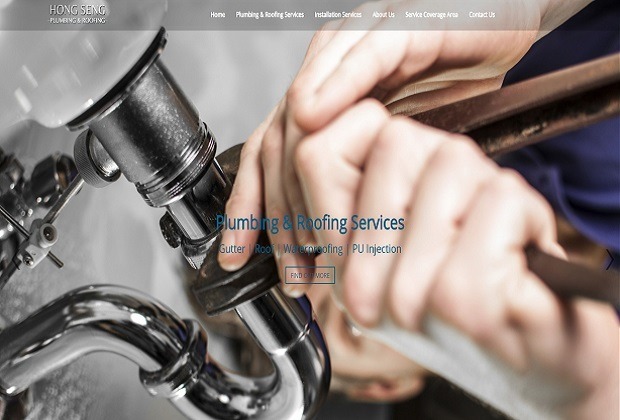 Hong Seng Plumbing is a Selangor based company that installs sanitary fittings and plumbing. They can clear out pipes of any size and fix existing pipes. They also handle waterproofing and repairs on leaky roofs. The prices of their plumbing and sanitary services are affordable enough for anyone to pay. You'll be sure to never have repeating problems when you use them because they're qualified specialists.
Highlights:
Affordable Service Prices
Trained Specialists
Customer Reviews:
"Our family's experience with Cooper roofing has been first rate. Their expertise, customer service and professionalism in dealing with our roofing needs made it a positive one. Highly recommend", William.
#7 – Plumbing Uncle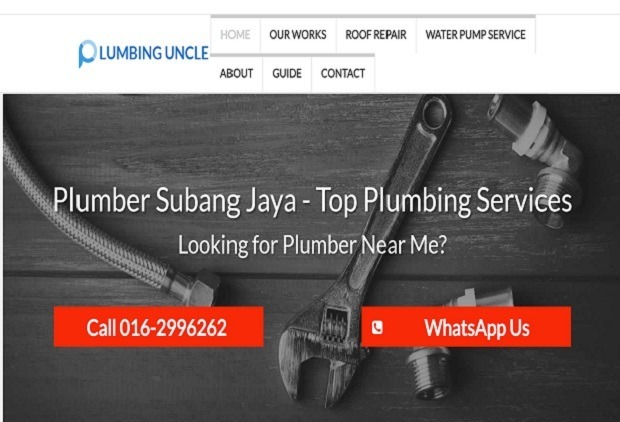 Every problem that a homeowner could possibly have with their home can be taken care of by Plumbing Uncle. The company is able to handle installations on water pipes, pipe repairs, repair jobs on leaky roofs, and even drain cleaning. The workers at the company are all professionals that you'll want to have on your side. They've got the experience and their honest in their work, making them a company that Kuala Lumpur can rely on for home needs.
Highlights:
Everyone Can Get Premium Services
Services That Can Take Care Of Multiple Home Needs
Do you have some other recommendation? Please share with us in the comments.
Popular Video About Roof Leaking
Roofing Repair Guide & FAQs
How To Fix A Roof Leak
Having a leaky roof is one of the most dreaded things for any property owner. A roof leak often means costly repairs and replacements of the damaged roofing materials. Getting a solution for your roof leak is the best way to ensure that the problem does not get worse.
Here are some ways to fix a leaky roof.
1. Locate The Leak
One of the most efficient ways to know the exact spot of the leak is to take a look around the ceiling or attic and check for water stains. If the leak has been there for some time, there could be mold and mildew around the area.
2. Assess The Damage
If you have a shingle roof, check the damaged ones. You need to be certain whether it is a matter of replacing them or repairing them. The areas around the chimney are the best places to start.
3. Try Fixing Them
You can fix curled shingles by straightening them out with any appliance that has heat (beware not to use too much). Use a caulking gun to reattach the shingles to the material underneath. If the angles are broken, you can purchase new ones from a hardware store. Use a bar to pry the old ones out, then set the new ones.
Keep in mind that too much damage is better repaired by a professional. It may seem costly, but a professional is the best bet at a long-lasting solution.
When Do I need To Apply Roof Repairs?
A roof that is provided with timely roofing repairs will be far less problematic. You will want to apply roofing repairs at the first signs of damage. Proper professional roofing repair work will ensure your roof endures through its entire life-expectancy.
In order to provide roofing repairs on time and preserve your investment you will want to conduct regular roofing inspections. There will be times that roofing issues can go undetected until they are too far-gone to ignore. Avoid this by getting very familiar with your roof and its conditions.
If you have never done this before, the best way to begin is by calling in a reputable roofing contractor with plenty of experience with roofs in your local area. Your roofing contractor can help you formulate a plan for roofing inspections.
In addition to a professional inspection twice a year, a homeowner should perform a roofing inspection once every 1 or 2 months depending on the age of the roof. If you have just been through a storm or heavy rain, another inspection should be performed.
Look for signs of disrepair in your roofing materials outside and look for signs that moisture is entering the inside of the home.
Roofing repairs should be performed as soon as any sign of disrepair is detected. Your professional contractor will tell you exactly what to look for based on the type of roofing materials you have and the major risk factors in your area.
What is the most common causes of roof leaks?
The roof is one of the most important parts of a building because it can compromise the integrity of the building. This is why it is important to ensure it is in the best condition possible. There are some problems that will come up from time to time, with one of them being a roof leak.
If you notice a roof leak, you should contact a roofer to fix the problem and prevent further damage. There are many causes of roof leaks, and the roofer is going to have a closer look to determine the exact cause before fixing it.
The most common cause is cracked flashing. Flashing are those pieces of metals under the shingles. They are the water-resistant barrier that prevents water from getting in. If you notice that these pieces have been broken, then that could be the cause of the roof leak.
If you notice mold and mildew in your attic, then it could be a sign that water has gotten inside your home. Attic condensation can cause a roof leak.
If you notice a problem with your roofing, call in a roofer who is going to find the problem and fix it. You will also know how to avoid such problems in the future.
Can You Fix Your Own Roof?
Roofing problems are one of those things you can never ignore because they get worse with time and you will be forced to spend more. This is why you should fix roofing problems as soon as possible. One reason why people choose to do the repair themselves is the cost. You can fix your own roof, provided you know how to do it.
The roofing is not something you can fix using trial and error. A small mistake can be very expensive and you might end up having to call an expert to help you out. This will force you to spend more than what you would if you had hired a roofer in the first place.
There are some roofing problems that are not that complicated, but you need to know what you are getting into before you start fixing them. If you decide to fix your own roof, make sure you always keep your safety and that of your family in mind. If you don't have the right tools, don't do it. You will end up making things worse yourself.
The best option is hiring a roofer to help you with roofing problems, but you can do it if you are experienced with it.
Click here for other local services related articles.
Latest posts by Aaron Tan
(see all)
This article was brought to you by BestAdvisor.my
Disclaimer: This is the opinion of the writer or publication. We only recommend products or services that we have tested and tried ourselves or have done in-depth research with positive external reviews and find them to be useful for everyone. The products/services shown are available upon the publication date. The availability may change from time to time. If some of them are not available, please email us at [email protected] Thank you!
Last Updated on