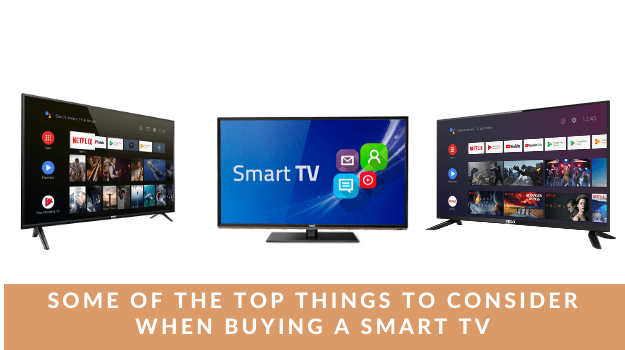 There has never been a better time to purchase a TV. After all, you have so many different options to choose from. However, with the countless available options, it can make it difficult to choose the right TV. If you already have your mindset on buying a smart TV, you will want to know exactly what you should be looking for when purchasing one. Below, we will be going over some of the top things that you should consider when buying one.
Things To Consider When Buying A Smart TV:
1. Resolution
Just like any other TV, you want to look at the TV's resolution. This is going to be the factor that dictates how much you are able to get out of your TV viewing experience. If you are someone who plans on subscribing to Netflix premium to watch your favourite TV shows and movies in 4K or you have a 4K capable Blu-Ray player, you will want to be sure that the TV you are buying is capable of displaying native 4K resolution.
Whereas, if you are only planning on watching cable television and you don't plan on subscribing to 4K streaming or watching 4K Blu-Ray's, you might be able to get by with a 1080p resolution TV which can save you money. That being said, 4K TV's have dropped so much in price, it makes sense to opt for a TV that displays 4K even if its a low-tier 4K television.
2. Operating System
This is another big thing that you have to consider as it will dictate the type of experience you get from your smart TV. There are different options when it comes to smart TV operating systems. Therefore, you will need to choose the one that fits your use-case the most. Some TV manufacturers like LG and Samsung use their own operating systems for their TVs. LG uses its own WebOS and Samsung uses Samsung Smart TV (Tizen).
Then you have popular set-top box operating systems like Roku TV, Amazon Fire TV OS, and Android TV being used in different smart TVs. Each of these options will provide its own unique experience and each come with their own pros and cons. If you are already invested in a particular ecosystem, it might sway your decision one way or another. However, if you are only going to be using it for the popular streaming apps, you will likely have a similar experience across the board.
3. HDR Compatibility
Another thing you should be looking for when you are shopping for a smart TV would have to be HDR compatibility. If you want to take full advantage of your physical and streaming media, HDR compatibility will make a big difference. Watching HDR can really help boost the enjoyment you get out of your favourite media that offers HDR compatibility. It can really make the colours on your TV pop.
By using the criteria above, you should be able to figure out which smart TVs you should be considering. There are countless options and each provides a similar experience. It really comes down to your preference in terms of features and whether or not you are already invested in a particular ecosystem.
Last Updated on
Latest posts by Aaron Tan
(see all)