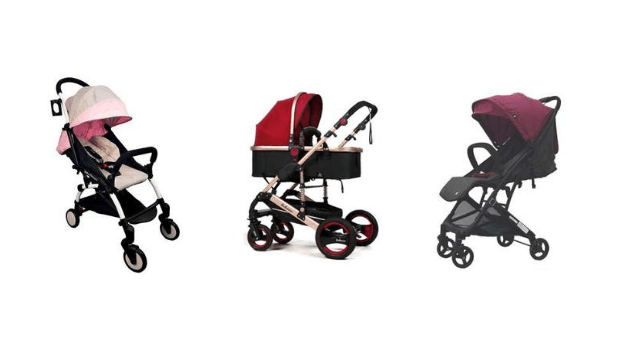 Shopping for baby stuff is now made easier in Malaysia, with almost all items of different sizes already being sold online. One of the most amazing discoveries for us is finding great quality strollers in online shops. With most of these strollers made to be more portable, it makes perfect sense for them to be easily packed for delivery. We have prepared this list of best stroller Malaysia to help you narrow down your choices, regardless of the age and size of your baby.
If you are looking to buy a stroller for your baby, but you are currently stuck at home, here are the best choices that you can find online:
Table of Contents
12 Best Stroller in Malaysia


Is it safe to buy strollers online?
Best brands of stroller in Malaysia
FAQs
Baby Strollers Comparison Table
(Scroll Right for more)
12 Best Baby Strollers in Malaysia
1. Sweet Heart Paris ST260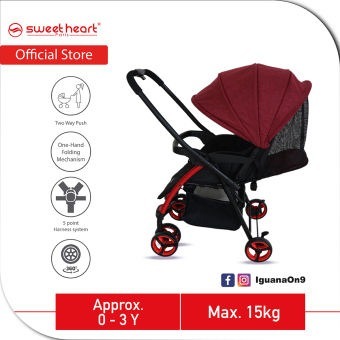 Best lightweight stroller
Here's another favourite from Sweet Heart, the perfect choice for the families on the go. This compact stroller can easily fit in the car seat and light enough to carry around. The dirt-repellent fabric gives your baby added protection from external contaminants that may accumulate the more you use it.
This best stroller Malaysia has it all – sturdy space saver brakes that can also double as parking brake, comfortable front harness made from high quality materials. The rear wheels have locking capabilities so you won't have any problems when navigating through busy shopping malls or crowded areas. There's even an ample storage compartment below the seat where you can easily put your wallet and keys while at the mall.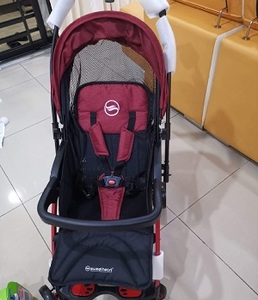 Pros:
One-hand folding mechanism
Reversible Handle Bar
Adjustable Sun Canopy
Adjustable Backrest
Cons:
Seat is a little hard to recline
This best baby accessory works well for busy moms. It is easy to assemble and fold, and it also has a mesh covering as a more secured viewing window.
Check prices on Lazada
Check prices on Shopee
2. OBaby Paris OB011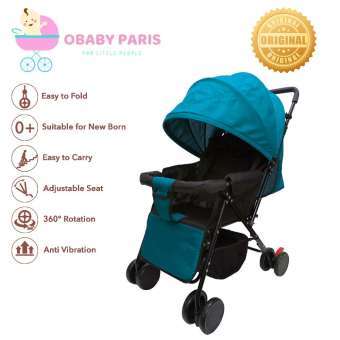 Best for portability and safety
The OBaby Paris is extremely easy to fold, weighs only 14.5kgs, making it easier for most moms with petite built to move around the house without any help. The stroller has one hand steering that allows parents to push and steer effortlessly, thanks to its front wheel swivel abilities which also helps them navigate through very narrow pathways or crowded malls without any problems whatsoever.
This premium stroller is all about full mobility and safety. It is so convenient to bring around with its 360 rotation wheels and strong brake system. Ideal for both indoor and outdoor use. This is also one of the few strollers that can be safely used for heavier babies, even more than 20 kg.
Pros:
Safe and Sturdy Design can sustain weight up to 50kg
Multi-Position Reclining until 175 degrees (100 degrees to 175 degrees)
Spacious, best baby cushion system
5 Points Safety Belt
Cons:
Harder than other models to fold up
Check prices on Lazada
Check prices on Shopee
3. Baby Throne Stroller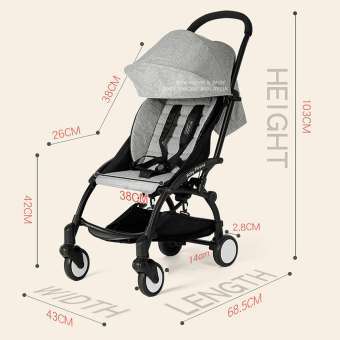 Best for travels
With the Baby Throne Stroller, you can expect nothing but top-notch service. It will come with adjustable safety straps that won't hurt your child's delicate skin. The sturdy frame is also built to last long and it comes with front wheels that are lockable for added stability.
This Best Baby throne used to have limited colour options but we're happy to find more bright colour options online. This is a convenient stroller that also comes with an anti-shock system for the full protection of your baby. The fabric is also water-resistant making it a great option for an outdoor stroll, as well.
Pros:
Wider & more protection.
Safe and Sturdy Design
Easy folding, unfolding and pushing, all one-handed
Front-wheel suspension with anti-shock system
Cons:
Seat is a bit small compared to other baby strollers.
Check prices on Lazada
Check prices on Shopee
4. JOY Kids Tricycle Bike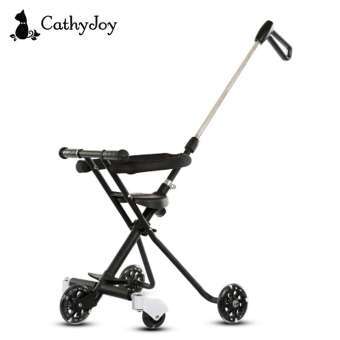 Best for toddlers
It can be quite a struggle to find suitable baby strollers that can fit up to toddler years. They are certainly way too active to put in a regular padded stroller for prolonged periods, so this tricycle-type of the stroller is such a saver for toddler parents. Featuring an all-weather protection, this is the best stroller Malaysia that you can find to keep your children safe and warm even on the harshest of weather. It also comes with front swivel wheels that make it easy for parents to steer their children around without any struggle.
It may look bulky in its full form but it is actually also fully foldable like all other strollers. It's compact enough to bring around whether folded or not.
This model also comes with a twin stroller version shown below.
Pros:
Safety fence for easy grip and prevent accident falling from the tricycle
Easy, Convenient, Portable
Comes in double stroller variation perfect for twins
Cons:
Handle bar might be a problem for older children
Check prices on Lazada
Check prices on Shopee
5. Evenflo Waav Compact Stroller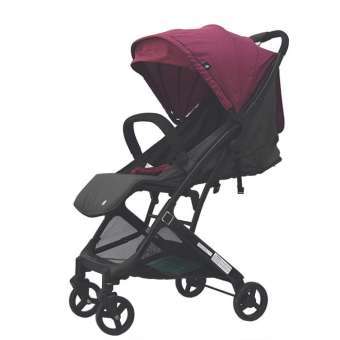 Best for carrying extra luggage
What's better than a lightweight stroller? A multi-functional one that can easily fit in your car seat. Save yourself from bringing extra bags for your baby's essentials and use this same stroller as your bag instead. This model has a lightweight aluminum frame that doesn't compromise the stroller's stability.
The Evenflo Waav Compact Stroller comes with an extra large storage basket below the seat where you can put all your stuff such as bags, toys and even diaper kits. The adjustable canopy provides sun or rain protection needed during any season
As the leading brand for baby stroller Malaysia, you can be assured of its quality and accessible customer support for this product. You'll also find this so easy to assemble the first time, and it can really portable once folded. It fits even small car trunks.

Pros:
Dual Canopy Coverage
Convenience Features like One-Hand Recline and Unfold and Multi Position Seat
Cons:
Difficult to steer using just one hand
Check prices on Lazada
Check prices on Shopee
6. BELECOO B2S Luxury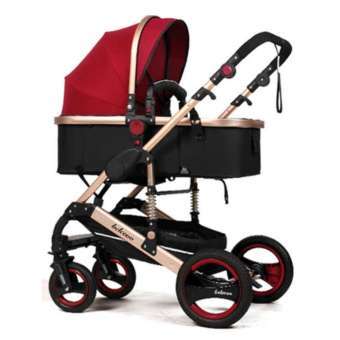 Best for newborns
This model has a large, extendable canopy which will cover you and your child from the scorching heat of the sun. It also comes with a top handle bar that makes it easy for parents to carry or push their kids around without any problem at all. The adjustable safety straps and headrest will keep your baby comfortable even throughout very long strolls in the mall. With its lightweight carbon steel frame, this is one stroller Malaysia that you can rely on anytime.
Along with its attractive designs are all the safety features that will give you peace of mind, especially if you are buying this for a newborn. The design is safe enough to set-up in your car seat, too. This is also made from high-quality steel, which prevents any damages even with constant folding and travelling around. The infant car seat allows you for safe travel with your newborn.
Pros:
Safety Design: Super natural rubber explosion-proof wheels with pedal brake and anti-shock system which will keep your loved one sit or lie comfortably.
Seats designed with 5-point safety belts
High-view & Reversible Seat: Compact high-view stroller with fully adjustable seat for baby to sit or lie. Reversible stroller seat: forward- or rear
Cons:
Can only be used for a limited time due to weight limit
Check prices on Lazada
Check prices on Shopee
7.
Graco Extend2Fit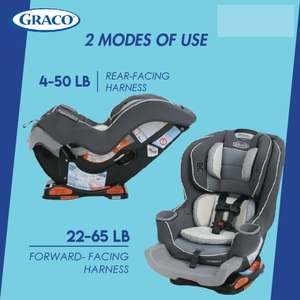 Best for roadtrips
Giving your child more legroom to safely ride in the backseat, Graco's Extend2Fit car seat is perfect for extended trips. The three-position extension panel provides an additional five inches of space, letting your little one stay rear-facing longer.
The Graco Extend2Fit is the perfect car seat for families who want to keep their child rear-facing as long as possible. With a three-position extension panel that provides five inches of extra legroom, your child can ride safely and comfortably until they reach 22 kg. The Extend2Fit is also incredibly easy to install, so you'll be on the road in no time.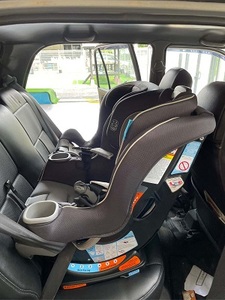 Pros:
Extended rear-facing capabilities
Comfortable ride for child
Easy to install
Cons:
Some parents may find the Graco Extend2Fit too bulky to use in compact cars or taxis.
Comfortably sleeping may also be difficult for younger children who are not used to the extra space.
Check prices on Lazada
8. BBH With Brake System Up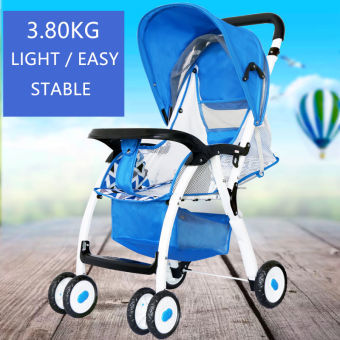 Best for carrying extra luggage
This stroller is lightweight enough to carry around like luggage when not in use. It also comes in entertaining colours that babies and children are sure to love. Enjoy a smooth ride with your little one with this no fuss stroller. We love that it is now made with UV proof canopy, so this is a safe choice for an outdoor stroll with your child.
This stroller Malaysia is built with convenience in mind. The footrest can be easily adjusted for kids aged between 0 and 24 months old. It also features a self-standing compact system, which allows you to effortlessly collapse it down into your trunk compartment without breaking a sweat. This model is best for parents who need an extra set of wheels to complement their growing family. While it looks simple at first glance, people who have tried this push car stroller will attest that it's ergonomic design makes it a great travel companion for parents on the go or those living in small flats/apartments.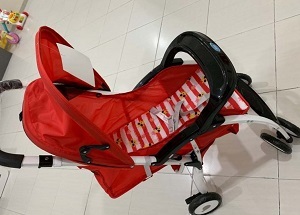 Pros:
Small volume after folding, easy to carry out.
Adjustable canopy, hand joints, may adjust the back of a stroller in a single hand.
The front wheel can be fixed direction, can rotate 360 degrees and shockproof,rear-wheel with linked brake
Cons:
Some users shared that it is not ideal for long walks due to lack of recline
Check prices on Lazada
Check prices on Shopee
9. GTE with Anti-Shock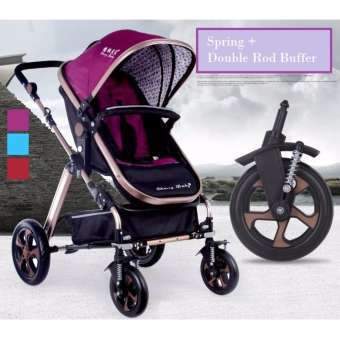 Best among high-end strollers
This got to be one of the most luxurious strollers we've seen online. It is built with Aeration wheels and aluminum tubes for a smoother and more durable body. Your purchase will also already come with a mattress and mosquito net. This is a great option for those who also love going out with their kids at night.
the GTE stroller Malaysia comes with aluminum alloy Aeration wheels that provide improved shock absorption. This makes it easy for your child to sit inside this push car throughout long walks or shopping trips. The multi-position canopy provides sun protection essential during any season. It also has a storage basket below the seat where you can put some luggage like diaper kits and snacks for your baby. As with most models out there, this particular one is made of lightweight materials perfect for extended use without compromising your child's comfort or safety at all.
Pros:
The seat can be adjusted in 3 positions: sitting, semi-lying, and lying down
Sun-proofing fabric, cradle and armrest are all removable
With the top-grade single-foot-brake system, it's convenient to stop the stroller in time
Cons:
Difficult to steer on uneven terrain
Check prices on Lazada
10. U-Baby PRO ST Y1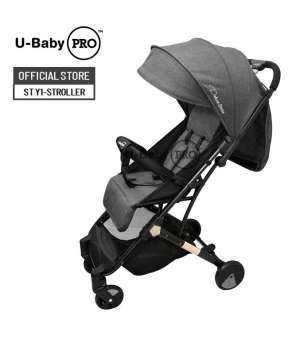 Best for plane rides
Ever wonder if you can bring your stroller inside the plane? Then this is your safest bet! Made for air travels, it folds and unfolds easily and almost without noise. If you are looking to buy a stroller Malaysia with the most outstanding safety and travel features, then you will love the U-Baby Pro. It has a car seat with inbuilt protection from UV rays, comes with shock absorbers on all wheels and an extra large storage compartment under the carriage. This is our best pick if we want to fly around town or go out of the country. The model also folds easily so expect it to be lightweight when carrying it in your hands or in your car boot!
Pros:
Cabin Size with luggage handle
Adjustable Recline(sleeping position)
Absorber Wheel (Reduce bump impact)
Removable Arm Rest
Cons:
Low-quality leather cover. It could have worked better with other materials.
Check prices on Lazada
Check prices on Shopee
11. Bugaboo Ant Aluminum Chassis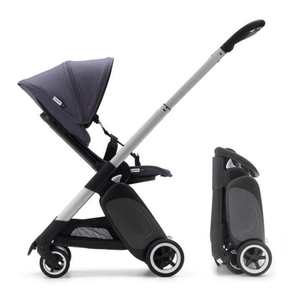 Best premium brand
Bugaboo has really outdone themselves this time! The Ant aluminum chassis is the perfect travel companion. Its compact folded size means it can easily be carried on most airlines, and at just 9.03 x 14.96 x 21.65 inches, it's a cinch to store away when not in use. But that's not all – the reversible seat can be positioned facing you or facing the world, depending on your child's needs at any given moment. Plus, the integrated all-wheel suspension ensures a smooth ride for even the bumpiest of paths. So go ahead, take on the world with Bugaboo – your little one will love every minute of it!
Pros:
Reversible seat position
Smooth ride for child
Compact folded size for carrying and storage
Integrated all-wheel suspension
Cons:
Pricey price tag may be too much for some parents to stomach.
Choice of colors may also be limited, especially if you're ordering online.
Check prices on Lazada
12.
Nuna TRVL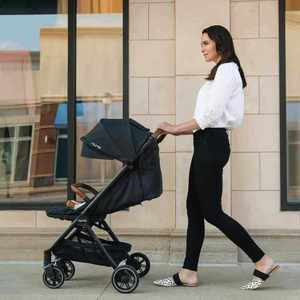 Best for on-the-go parents
The Nuna TRVL is the perfect stroller for on-the-go parents. Thanks to the MagneTech Secure Snap™, the self-guiding magnetic buckle that automatically locks into place, you can easily fold and transport your stroller without any hassle.
And if you need to take your child out of the stroller in a hurry, the Ring adapter folds with the stroller so you don't have to remove it with the car seat. Plus, thanks to its quick, one-handed fold, you'll spend less time packing and more time enjoying your travels.
Pros:
Auto-locking magnetic buckle
Ring adapter for car seat connection
One-handed fold and compact size
Cons:
The Nuna TRVL may be a little heavy and cumbersome for some parents.
Because the stroller lacks suspension, it may not be as comfortable for children to ride in.
Check prices on Lazada
Best Baby Stroller Brands in Malaysia:
Baby Throne is known for it's lightweight, robust and easy to fold strollers. It is also renowned for its unique designs that are available in stylish yet practical finishes. The Baby Throne Malaysia has three different collections which are the Holiday Collection, Metro Collection and City-Best Collection. These collections have four types of strollers which are Umbrella Strolller, Mini Cosmopolitan & S-Line, Vantage Mio Fix & Mio UpFix , CitiGo Single Jogger .
Bugaboo is a brand of prams, strollers and pushchairs that has been on the market since 1994. It is based in Amsterdam . Bugaboo Stroller Malaysia has five different types of strollers which are Cameleon, Buffalo , Donkey , Bee5 & Limited Edition Collection . The different types have three sub-categories which are carrycot, seat unit & chassis.
OBaby is a British brand which specializes in nursery products. It was created by two parents who wanted to make their children's lives easier and more comfortable. OBaby Stroller Malaysia has four different types of strollers which are Stokke Xplory, Pearl , Carry Cot Trolley & Stroller .
Is it safe to buy strollers online?
With most strollers built to be lightweight and portable, you can certainly trust to have it securely packaged even when buying it online. Just make sure to go through all the features of the stroller to make sure that it matches your important needs.
Some strollers can be way too expensive, but it turns out that you won't need all its features. Also check for the warranty coverage of the stroller that you are buying, preferably those with local service centres.
FAQs
What are the best strollers in Malaysia?
Sweet Heart Paris ST88T 2 in 1 Travel System Pram Jogger Pushchair Stroller
Sweet Heart Paris ST260 Lightweight Compact Dirt Repellent Pram Jogger
OBaby Paris OB011 Premium High Foldable Baby Stroller
Can I bring my baby's stroller inside the plane?
Yes, as long as it fits inside the cabin and is TSA approved.
Is it safe to buy strollers online?
With most strollers built to be lightweight and portable, you can certainly trust to have it securely packaged even when buying it online. Just make sure to go through all the features of the stroller to make sure that it matches your important needs.
How much does a regular stroller cost in Malaysia?
Good stroller brands starts from RM 300.00.
Click here for other mum & baby related articles.
Latest posts by Alice Yeoh
(see all)
This article was brought to you by BestAdvisor.my
Disclaimer: This is the opinion of the writer or publication. We only recommend products or services that we have tested and tried ourselves or have done in-depth research with positive external reviews and find them to be useful for everyone. The products/services shown are available upon the publication date. The availability may change from time to time. If some of them are not available, please email us at [email protected] Thank you!
Last Updated on