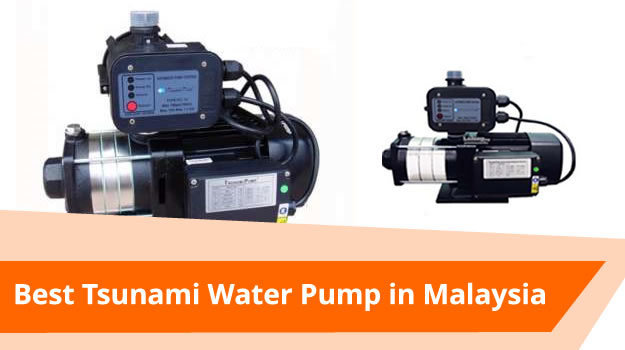 Tsunami is a Malaysian (1) local brand that specialises in water pumps (2) and water boosters for homes, offices, and industries.
While relatively new in the industry, established only in 2007, this local company has strived to focus on advancing its technologies to ensure durable and reliable products for their clients.
Tsunami Pumps are made from the highest quality of materials and have its own safety controls to prevent hazards and accidents while using the water pump.
With this Tsunami Pump, Malaysia has become one of the most renowned names both in the country and even internationally.
We have scouted the top three recommended Tsunami water pumps (3) to narrow down your options.
| Product | Rating | HP | For No. Room | Price |
| --- | --- | --- | --- | --- |
| Tsunami CMH2-30K | 5/5 | 0.5 HP | 2-3 | $$ |
| Tsunami CMH2-40K | 4/5 | 0.75 HP | 3-4 | $$$ |
| Tsunami CMH4-40K | 4/5 | 1.0 HP | 4-5 | $$$ |
1. Tsunami CMH2-30k Home Water Pump (0.5hp)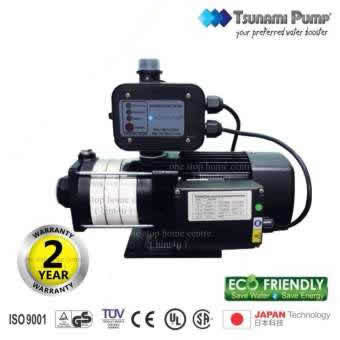 Best for small house
Promises a safe water pump that comes with its own fire-fighting system, the Tsunami home water pressure pump is ideal for every residence.
You can enjoy a seamless water flow without worrying about the safety of your water booster pump.
This maintenance-free automatic water pump also comes with its own thermal control system. It can be used for homes with up to two showers.
Tsunami water pumps also guarantee consistent water pressure even with multiple taps open at the same time.
Why buy this:
Efficient, energy-saving
Voltage :240V 50Hz 1Phase
Multi-stage pump
Splash Proof Protection IP55
You can get this water pump at a discounted price here!
Check The Best Price at Lazada
Check The Best Price at Shopee
2. Tsunami CMH2-40K Home Water Pump (0.75hp)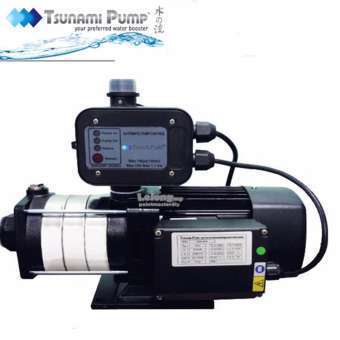 Best of the best
For houses with more bathrooms, this model of Tsunami Home Water pump is for you.
Experience uninterrupted water stream in your entire home with up to 5 bathrooms with this CMH2-40k model of a home water pump.
Tsunamic water pumps are also easy to install. They are made from non-flammable materials ensuring the safety of homes in mind.
Why buy this:
Compact Design
Dry-running protection feature
Low-noise and vibration
Single-phase with thermal protector from T1
Buy this 0.75hp Home Water Pump here.
Check The Best Price at Lazada
Check The Best Price at Shopee
3. Tsunami CMH4-40k Home Water Pump (1 hp)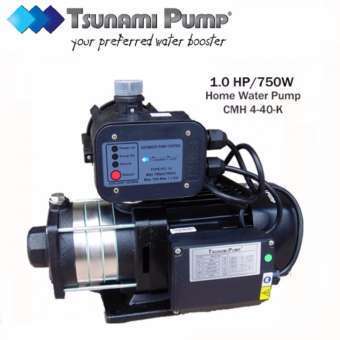 High Power and Capability
For larger properties, this model of Tsunami Water Pump is the more practical choice. Comes with more boosting power, but also built with similar durable materials, this home water pump is a worthwhile investment.
This is a trusted water pump for houses with 4-5 bathrooms. There is no need to worry about water interruptions even when taps are simultaneously running.
Key features:
Quiet Operation, less vibration
Comes with mechanical seal to prevent water leakage
Thermal protector
Made of cast iron for inlet and outlet
Check out discounts for this water pump here.
Check The Best Price at Lazada
Check The Best Price at Shopee
Should I get a Tsunami Water Pump?
If you are looking for a reliable local brand of water pump (Pam air untuk rumah) that guarantees value for money, the Tsunami water pumps are for you.
To get the most suitable horsepower, make sure you assess your home's needs ahead. The right model is usually determined by the number of bathrooms in your house or property.
By the way, you might be searching for keywords below and landed here.
– tsunami water pump malaysia, tsunami pump malaysia
Our Top Recommendation
Here's our top recommended water pump for your home:
References
1 – Malaysia Population (https://www.worldometers.info/world-population/malaysia-population/)
2 – What is Water Pump (http://www.crankshift.com/water-pump/)
3 – Tsunami Pump (https://www.tsunamipump.com)
FAQs
❓Is Tsunami Water Pump a good brand? 👍
Yes. They are made from the highest quality and has its own safety controls
❓How much does a Tsunami Water Pump usually cost?
The price of a Tsunami Water Heater starts at 700 RM, depending on the model
❓What are the top Tsunami Water Pump?
- Tsunami CMH2-30k Home Water Pump
- Tsunami CMH2-40K Home Water Pump
- Tsunami CMH4-40k Home Water Pump
Click here for other home appliances related articles.
Latest posts by Aaron Tan
(see all)
This article was brought to you by BestAdvisor.my
Disclaimer: This is the opinion of the writer or publication. We only recommend products or services that we have tested and tried ourselves or have done in-depth research with positive external reviews and find them to be useful for everyone. The products/services shown are available upon the publication date. The availability may change from time to time. If some of them are not available, please email us at [email protected] Thank you!
Last Updated on