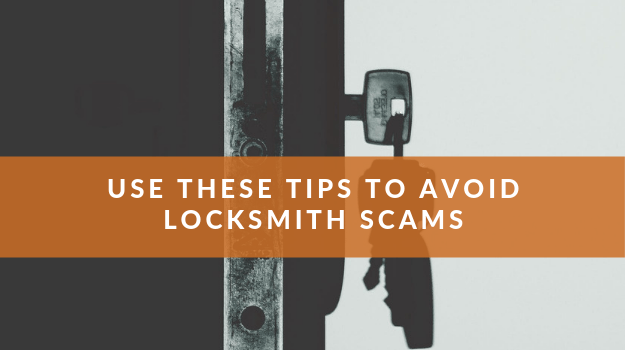 A lot of people simply do not consider how necessary a locksmith might be until the actual need comes up. Most of the time, you just insert your key as needed, and then you're good to go. However, things can happen at times, and when they do, you not only need to make sure that you're getting a reputable locksmith, but that you're also not going to fall prey to a locksmith scam. This is as true as it is for your private home as it might be for your business. Keep reading into the following paragraphs to learn a few things that can hopefully help you out.
Illegal locksmiths sometimes cause annoyances by putting stickers that are hard to remove on private property. They even use fake phone numbers and addresses in order to deepen their scam and avoid getting caught. This is quite a popular tactic and scam for locksmiths that are in the industry for very wrong reasons. If your property, especially your business, has such a sticker, be dubious and verify as much backgrounds as you can.
Many illegal locksmiths will actually operate under many different aliases or business names even if they're only certified or licenced under one name. They'll put out ads using addresses that either don't exist or are assigned to abandoned buildings, as their calls get routed to a national call centre. This makes it impossible to verify their licence, nor can there be any local recourse for action if a scam happens.
As such, you need to verify the local licence of any locksmith prior to hiring them. You can't just take the work of the locksmith for verification. They might get access to your home or business, confidential information, personal belongings, and in some cases, keys, codes, and safe combinations. Anytime that your instinct or gut tells you that something is vague or evasive about their answers to any of your questions, then you might want to follow that instinct. Legal and reputable locksmiths will prove their trustworthiness by satisfying your curiosity and enquiries regarding their legitimacy.
The biggest thing you can do to prevent yourself from falling for a locksmith scam is by not rushing. Fake locksmiths get away with many illegal scams since they catch people when they are in a hurry or jammed up, which means they might rush through the process of choosing a proper locksmith. They might be too upset to look out for themselves, too naive, or just too lazy to take a moment to look into someone's credentials.
Know your local laws about locks and lock-related tools. Lock-picking tools and code readers are illegal in many locations, but a scam locksmith artist might pull one of these tools out and try to claim they're just tools of the trade, when in fact they're a criminal acting like a professional.
Not all locksmith scams are criminal activities; some are just unethical business practises. Be very wary of any locksmith that quotes you one price before raising it once he gets there. Hire someone else if the price went up dramatically.
Don't just hire the very first locksmith that you come across. Call a minimum of three locksmiths prior to settling on just one. Such estimates can help you know the real average costs for locksmithing service so you can be sure you're not dealing with someone who charges too much or too little.
Online resources are always useful for not only finding locksmiths but also good ones. The right locksmith will have a lot of feedback, because a long history doesn't indicate someone who scams people and then moves on.
Always ask for two estimates. The first should be for the work that is described. The second would be for a worst-case scenario. Locksmiths that are valid tend to have a lot of experience and have likely encountered all that can go wrong, meaning they can quote you such a price.
Only get a locksmith that has professional experience in what you need. For instance, a commercial locksmith might not be able to help you with your car, nor could a residential locksmith help you with your office building, unless they handle all kinds of things. It's possible and even good to find locksmiths that do it all, but you want to avoid someone branching out into new areas simply because they're not good enough in one area to get enough business. Some locksmiths start off legitimate and then turn to scamming because they're simply not making enough money.
Locksmiths are typically not a frequent topic of conversation, and yet they play a crucial role in your life. You might need one to get back into your car, restore the security of your home, or even prevent unauthorised access to your business. Whether you need one in an emergency or just for a routine need, you have to occasionally get a locksmith to handle the safety and security of something important to you. As such, you need to make sure you don't fall for a locksmith scam, since you're trusting these professionals with quite a bit. Hopefully, reading this has given you at least some insight and information you can use towards accomplishing this.