We are often told that every skin is different, and we, therefore, should not just follow what influencers are using on their skin. What works for them may only cause irritation on your skin. But Vitamin C serums are exemptions. We dare say because of the strong research along with testimonials that prove how much our skin, regardless of type, just love to soak in Vitamin C.
Vitamin C serum has a wide array of benefits, and most of them are what we have been hoping for our skin. Even skin tone, blur fine lines, remove acne spots, and achieve a natural glow. Among all other skincare ingredients and products marketed these days, Vitamin C is simply the queen of them all. With this, we are excited to share with you our top picks of Vitamin C serum in Malaysia:
1. InstaNatural, Vitamin C Serum, Anti-Aging, 0.17 fl oz (5 ml)
If you are new to Vitamin C Serum, the small packaging of InstaNatural is the best match for you. It gives you a potent Vitamin C concentration to help you experience first hand how it works for your skin.
Hyaluronic Acid
Sea Buckthorn Oil
Ferulic Acid 
Plant Stem Cells
Not Tested on Animals
We love that it is derived from clean and natural ingredients, and is cruelty-free. We are also certain that you will be reaching out for another bottle in less than a month after using this one.
Check prices on iHerb
2. Mad Hippie Skin Care Products, Vitamin C Serum, 8 Actives, 1.02 fl oz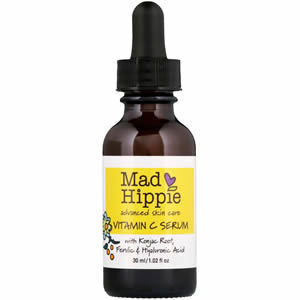 Mad Hippie is another popular brand for natural formulations, so it easily topped our list of Vitamin C serums. If we are to apply something concentrated as a serum on our face, it's reassuring to know that it comes from a brand trusted for its safe formulations.
Advanced Skin Care
With Konjac Root, Ferulic & Hyaluronic Acid
More Actives. More Results.
Vegan
Among its distinct ingredients is the Konjac Root, which according to studies is packed with nutrients, which results to smoother skin texture. It makes a perfect match for Vitamin C's effects on the skin.
Check prices on iHerb
3. Azelique, Serumdipity, Age Refining Vitamin C Facial Serum, 1 fl oz
The formulation is gentle enough to use the serum both day and night. In fact, while being used to using Vitamin C during the day, including this in our nighttime routine gives us a really supple skin the morning after!
Stabilized Vitamin C
Brightens & Lightens Skin
Reduces Appearance of Fine Lines, Wrinkles & Age Spots
Promotes Biosynthesis of Collagen
We love that it comes in a darker bottle, as well. Vitamin C serums tend to change in consistency faster due to its nature to oxidize, but this packaging protects the product long enough until you finish the bottle.
Check prices on iHerb
4. Now Foods, Solutions, Purifying Toner, Vitamin C & Acai Berry, 8 fl oz (237 ml)
Who doesn't love a multi-functioning skincare product! Anything to skip the steps but still reap the benefits, and that what this purifying toner does.
Brightening System
Removes Pore Clogging Residue
Paraben-Free
Gluten-Free
Infused with a substantial amount of Vitamin C, you can already proceed to your moisturizer right away. Since it's in water form, your skin will also absorb it faster and better.
Check prices on iHerb
5. Advanced Clinicals, Vitamin C, Anti-Aging Serum, 1.75 fl oz (52 ml)
Promises advanced formulation that can reduce the appearance of age spots in a month with consistent use. The tandem of Vitamin C and Ferulic Acid also guarantees great anti-aging properties.
Promotes a Firmer Looking Complexion
Ferulic Acid Supports a Luminous, Youthful Radiance
K3 Vita C, a Proven Antioxidant Visibly Reduces the Look of Age Spots
Improves Skin Tone and Diminishes the Look of Wrinkles
Ferulic Acid, a Natural Antioxidant, Guards the Skin against Environmental Damage
The high concentration of Vitamin C can leave stingy feeling on the skin, but this contains aloe vera for a more soothing feel.
Check prices on iHerb
6. Yeouth, Vitamin C & E Serum, 2 fl oz (60 ml)
Vitamin C may interact with a lot of elements, including Niacin, which can reduce its effectiveness. But when paired with the right vitamins/minerals you are on your way to glowing skin. And Vitamin E is one of the best pair for Vitamin C.
Hyaluronic Acid
Fragrance, Sulphate, Paraben, Cruelty, GMO-Free
Hyaluronic Acid is also essential in promoting hydration in your skin, so you will not have that tight and dry feeling after applying this serum.
Check prices on iHerb
7. Derma E, Firming DMAE Serum, Alpha Lipoic Acid and C-Ester, 2 fl oz (60 ml)
Derma E products have proven effective throughout the years. This is one of our favourite premium products from the brand, which effectively brightens without irritating the skin barrier.
GMO-Free
Eco-Ethical
Cruelty-Free
Ethical Beauty
Gluten-Free
It leaves your skin firm, not tight. This is an important difference because skin firmness means it is still getting enough hydration, but with lesser breakouts and opened pores.
Check prices on iHerb
8. Jeffrey James Botanicals, The Light Age-Defying C Serum, 1.0 oz (29 ml)
It lives up to its name as the "The Light", as it effectively brightens your skin. The effect can be visibly noticed as early as two weeks of use.
Good For All Skin Types
Cruelty-Free
Paraben & Sulfate Free
Gluten-Free
It contains 18% Vitamin C, which makes it a really potent serum. With this, it acts fast in curbing signs of aging and hyperpigmentation in your face. The Hyaluronic Acid that comes with it leaves skin supple
Check prices on iHerb
9. Andalou Naturals, Get Started Brightening, Skin Care Essentials, 5 Piece Kit
Wanting to switch up your skin care routine? We highly suggest switching to this Vitamin C enriched kit from Andalou Naturals. The kit comes with the best products from the brand, all with great focus on antioxidants and skin brightening.
1 Cleanse – Meyer Lemon Creamy Cleanser .8 fl oz (24 ml)
2 Exfoliate – Pumpkin Honey Glycolic Mask .5 fl oz (15 ml)
3 Tone – Clementine + C Illuminating Toner 1 fl oz (30 ml)
4 Hydrate Day – Probiotic + C Renewal Cream .4 fl oz (12 ml)
5 Nourish Night – Purple Carrot + C Luminous Night Cream .4 fl oz (12 ml)
Soak in the natural goodness of fruit-derived ingredients while getting the maximum benefits of Vitamin C in all the products. The results? Skin so bright and healthy!
Check prices on iHerb
10. Dear, Klairs, Freshly Juiced Vitamin Drop, 1.18 fl oz (35 ml)
Korean skin care products are so popular and for some great reason! This is one of the best selling Korean Vitamin C serum and mainly because of its consistent positive effects on its users.
Pure Vitamin C Essence
Centella Asiatica Extracts
Yuzu Extracts
Grapefruit Extracts
All these ingredients do not only focus on skin brightening but also in facilitating collagen production. This improves your skin elasticity, which is the key to youthful skin. The 35 ml bottle comes a long way, too since you do not really need much for a single application.
Check prices on iHerb
11. It's Skin, Power 10 Formula, VC Effector with Vitamin C, 30 ml
Reduce enlarged pores, prevent fine lines, and protect your skin from free radicals with this Power 10 formula.
With Vitamin C Derivatives
Skin Safety Tested
Brightening effect, pore-tightening effect.
We love the light, non-greasy consistency of this serum. It almost feels like an essence so the skin absorbs it really quickly. Safe to use day and night.
Check prices on iHerb
12. Jason Natural, C-Effects, Hyper-C Serum, Anti-Aging Daily Spot Treatment, 1 fl oz (30 ml)
Another favourite from Jason Natural is this spot treatment infused with lots of Vitamin C and other natural extracts for a clearer complexion.
Powered by Ester-C
Anti-Aging Daily Spot Treatment
Inhibits Discoloration for a More Even Tone
Multi-Antioxidant Defense
No Parabens or Phthalates
One of the best things about Jason Natural is that you have the peace of mind that what you are getting are only from the safest sources. The brand has been producing natural skin care products since 1959, after all.
Check prices on iHerb
How Should I Use Vitamin C Serum?
You can easily add Vitamin C serum between your skin care routine. Ideally, it should be applied after your toner and before moisturizer. If you are using one or two serums, it would be best to apply the one with the lightest consistency. Wait for at least 5 minutes for the serum to be fully absorbed by your skin before moving to the next step of your routine.
We highly recommend not missing out on Vitamin C during the day because it will protect your skin from all the free radicals and pollutants. However, we do not see any reason not to reapply it at night, as well, especially if you are using serums that come with hydrating factors. Finally and more importantly, make sure to put on sunscreen when applying Vitamin C serum.
Check out our top products choices of Vitamin C serum in Malaysia. These are all available for purchase online, too:
You might be interested in these articles:
Click here for health-related products.
FAQs
What are the best brands of Vitamin C Serum in Malaysia?
The best sellers for Vitamin C serum in Malaysia include Insta Natural, Mad Hippie, Advanced Clinicals, Dear Klairs, and Azelique.
What are the benefits of Vitamin C serum?🥰
Vitamin C serum has a long list of skin benefits but on top of its functions are reducing dark spots and fine lines, protecting the skin from free radicals, and boosting skin elasticity.
Can I use Vitamin C serum everyday?🍋
Yes, this serum is safe to use everyday. Just make sure to not apply it on the same day as your other active acids to reduce chances of skin irritation.
How much does vitamin C serum cost in Malaysia?
For a typical 30-50ml bottle of Vitamin C serum it will cost around RM 100.00.