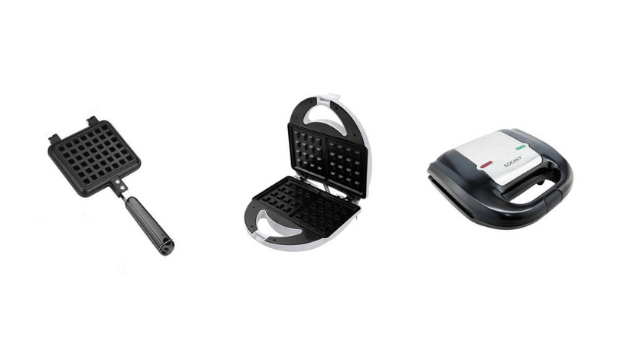 A waffle maker is a small appliance that is made to create the perfect waffle efficiently for a quick breakfast. Now, which one is the best waffle maker for you? If you are looking for the best machines to make delicious, fluffy and golden brown Belgian-style waffles at home, then you have come to the right place. In this comprehensive review, we will be taking a look at some of the best waffle makers available in Malaysia right now. So whether you are a beginner or an experienced chef, read on to discover which machine is perfect for you!
With all the different types but also pretty similar features, we took the time and compared products, here are what we think the top 9 best waffle makers in Malaysia.
Table of Contents
Waffle Maker Comparison Table

Best Waffle Maker Brands
Waffle Maker Buying Guide
Do I really need a waffle maker?
How do I pick the best waffle maker?
How to maintain Waffle Makers
FAQs
Malaysia Waffle Makers Comparison Table
1. Russell Taylors Belgian Waffle Maker WM-25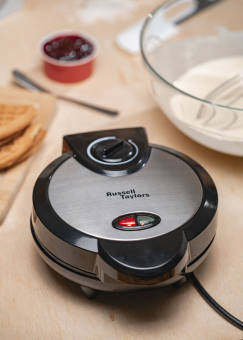 Non-Stick Pan
The Russell Taylors WM-25 Belgian Waffle Maker is the perfect appliance for making delicious, warm waffles. The non-stick pan ensures that your waffles come out perfectly cooked every time, without having to grease the cooking surface. The temperature control settings make it easy to find the perfect temperature for your batter recipe, and with a timer that can be set for up to 60 minutes, you can walk away and come back to a fresh, hot waffle.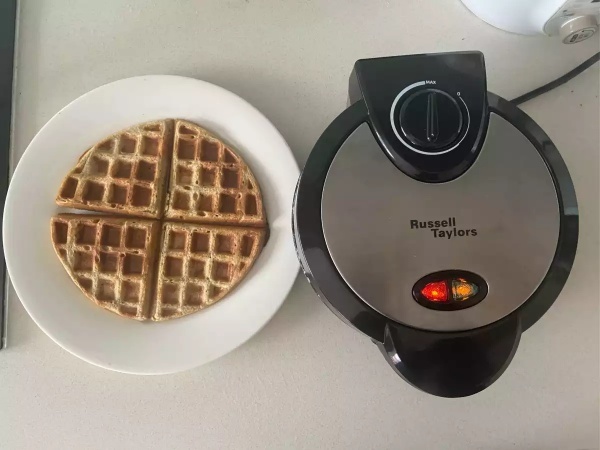 Pros:
Allows the making process to be as enjoyable as eating it

Doesn't take much space

Easy to clean
Cons:
It may not fit specific aesthetics
Check prices on Lazada
Check prices on Shopee
2. Electric Waffles Maker Bubble Egg Cake Oven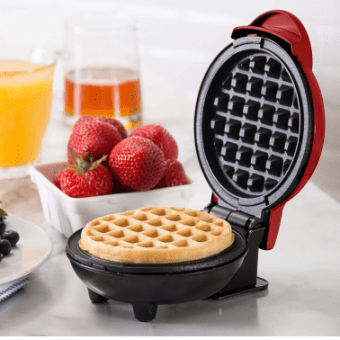 Portable and Lightweight
Introducing the Sokany Electric Bubble Waffle Maker – the easy way to enjoy fluffy, delicious waffles anytime, anywhere! This mini waffle maker is perfect for making individual-sized waffles, and its compact size means it's easy to store and transport. Plus, the included panini grill attachment means you can also cook up delicious paninis, potato pancakes and more. Whether you're at home or on the go, the Sokany Electric Bubble Waffle Maker is a must-have addition to any kitchen.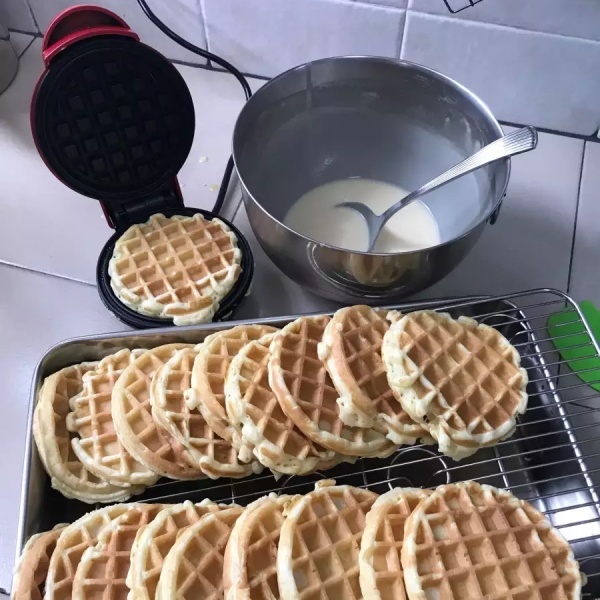 Pros:
Heats up fast

Must have for small apartments and dorms

Perfect for on-the-go
Cons:
As this is a smaller sized waffle maker, it may not be the best for families
Check prices on Lazada
Check prices on Shopee
3. Electric Sandwich maker Waffle Maker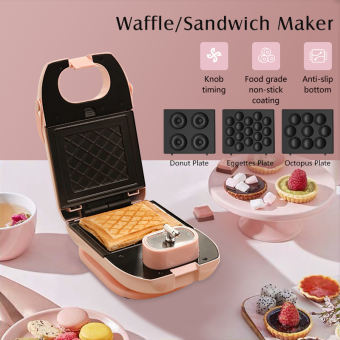 Even Press for the Heat
Looking for a new way to make your sandwiches? This electric sandwich maker is perfect for making all kinds of delicious, creative sandwiches. With five non-stick plates, this waffle maker can also be used to make doughnuts, eggettes (for bubble cones), and even octopus sandwiches! The fixed buckle ensures an even press for the heat, while the non-slip foot keeps it safe and stable.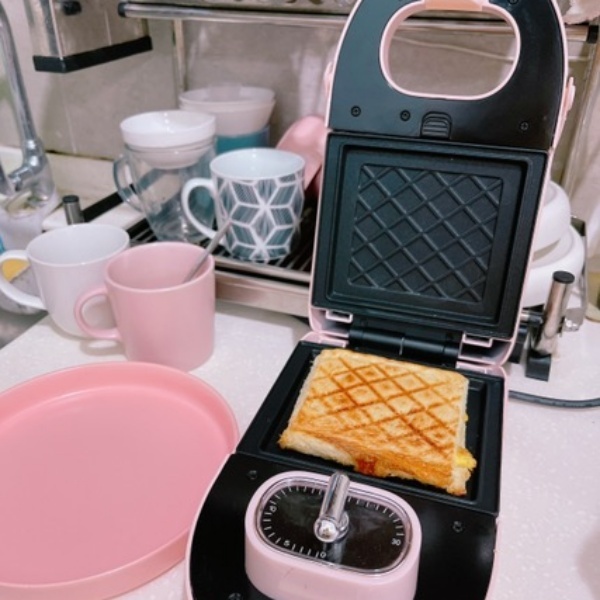 Pros:
Various safety features

Avoid overcooking and burning your waffles

Aesthetically pleasing
Cons:
Bit expensive compared to the other choices
Check prices on Lazada
Check prices on Shopee
4. Kenwood Sandwich Maker SMP84C0WH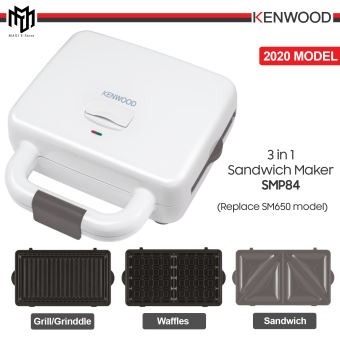 Look no further than the Kenwood Sandwich Maker! This handy appliance features dual cooking plates that let you create delicious, evenly-cooked waffles or sandwiches with ease. Plus, the ergonomic design makes it easy to carry and store, while the rubberized feet prevent accidental slips. And don't forget about the cool-touch handles – perfect for avoiding accidental burns.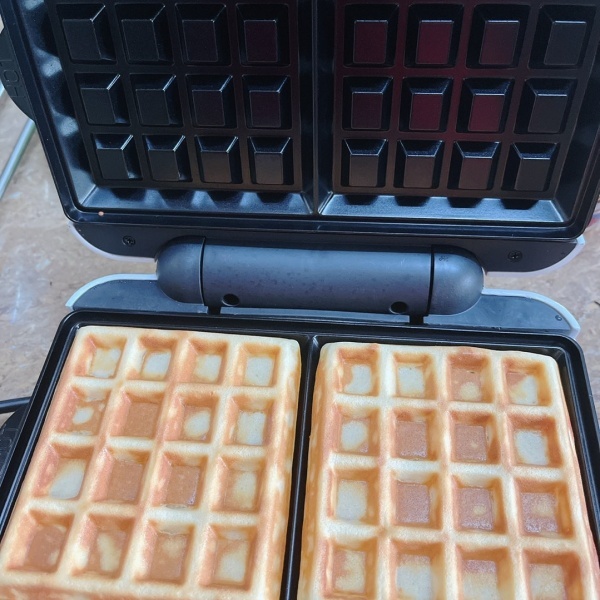 Pros:
Easy to carry around

Minimalist look

Opens flat for the easier cooking process
Cons:
Although the open flat feature is convenient for taking waffles out, it may be messy when pouring the batter
Check prices on Lazada
Check prices on Shopee
5. Hanabishi Waffle Maker HA-5638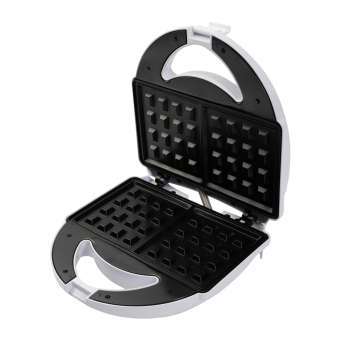 Cool to Touch Handle
Do you like the waffles from your favourite café? Now, you can make them yourself at home with the Hanabishi Waffle Maker. This iron griddle has a non-stick surface that makes cooking easy and cleanup a breeze. The adjustable thermostat ensures that your waffles come out just the way you like them – crispy on the outside and fluffy on the inside. Plus, the cool to touch handle means you can enjoy your delicious creation without burning your fingers.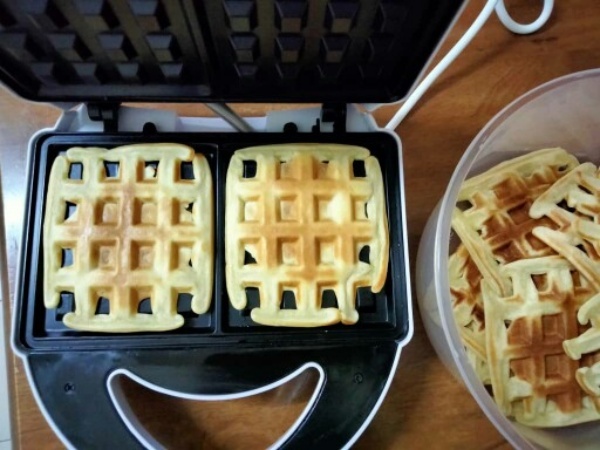 Pros:
Safety thermal cut-off

Heat insulated outside

Easy to clean
Check prices on Lazada
Check prices on Shopee
6. Non-Stick Waffle Pan Maker – Stove Top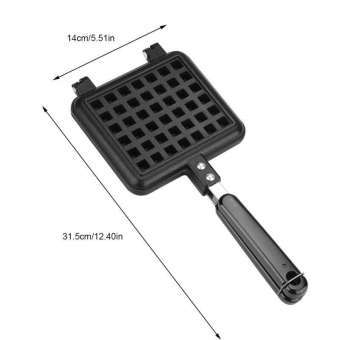 Best for Stovetop Cooking
This is for those who would prefer stovetop cooking this is for you guys. No electricity is required, just an open flame can give you the perfect waffles. The product requires no electricity; therefore, it can easily be used by anyone. Not only is it suitable for stovetops but also for the oven. You have the option to make waffles with only a stove or an oven. Imagine making waffles around a campfire (well if you guys like waffles in the night, but waffles is perfect any time of the day).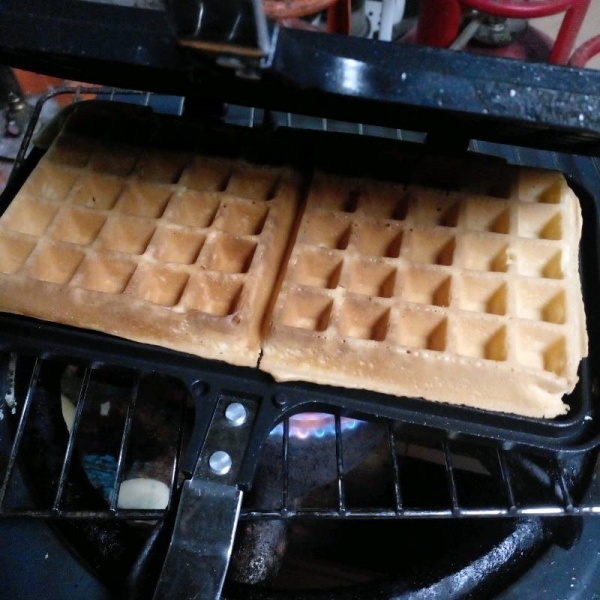 Pros:
Made of aluminium and aluminium alloy, high quality, food-safe, solid and durable.

Non-toxic, non-stick, healthy and environmentally friendly, simple to use and easy to clean.

The handle is made of aluminium alloy, anti-hot, easy and convenient to grip.
Check prices on Lazada
Check prices on Shopee
7. SOKANY KJ-108 Waffle Maker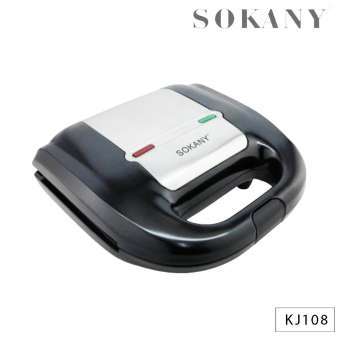 Easy to Clean
The SOKANY KJ-108 Waffle Maker is the perfect way to make cafe-style snacks and breakfast at home. The easy-to-clean removable plates and cool-touch housing make it a breeze to operate, while the LED lamp ensures that your waffles come out perfectly crispy and fluffy every time. Plus, the KJ-108 stands upright for compact storage when not in use!
Pros:
Multipurpose

Removable plates so it's easy to clean

Easy to store as it can stand upright
This heats up quickly but also to the perfect temperature to make the perfect crispy and fluffy waffles. This can also stand upright when not in use for compact storage.
Check prices on Lazada
Check prices on Shopee
8. Russell Taylors Waffle Maker WM-30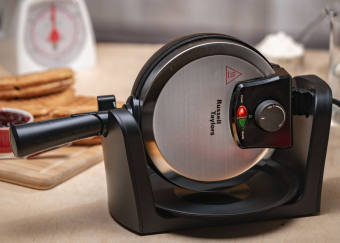 Best for Belgian Waffles
You can bake Belgian waffles at home in minutes with this revolutionary and ever durable waffle maker, featuring a new feature with the flipping mechanism that helps you to cook waffles evenly with just a wrist flip. In the kitchen, it should be the field with variety. With the many different features packed into one waffle, there will be loads of room to explore different recipes and create fun in the kitchen.
Pros:
A removable drip tray to avoid making a mess in the countertops with excess batter

Foldable handles in order to create a more efficient storing

Dishwasher safe for easy clean-up
Check prices on Lazada
Check prices on Shopee
9. KEITH KITCHEN – Commercial Electric Waffle Maker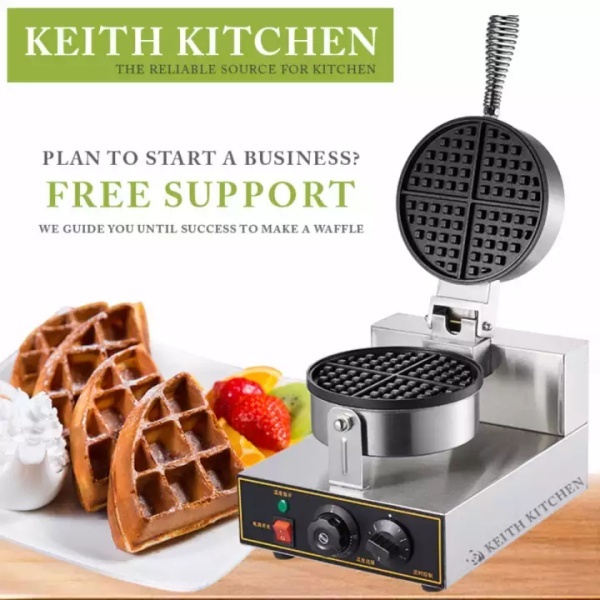 Best for Commercial Use
Made with durable stainless steel construction, this Keith Kitchen Waffle Maker is designed to last and features an internal temperature protector for safety. It's also easy to use – just lift up and down the handle to release or lock the cooking plates, and the braking surfaces are easy to clean. Plus, it comes with a handy timer so you can keep track of your cooking progress. Whether you're looking for a new breakfast option for your cafe or need a reliable waffle maker for your catering business, the KEITH KITCHEN electric waffle maker is a great choice.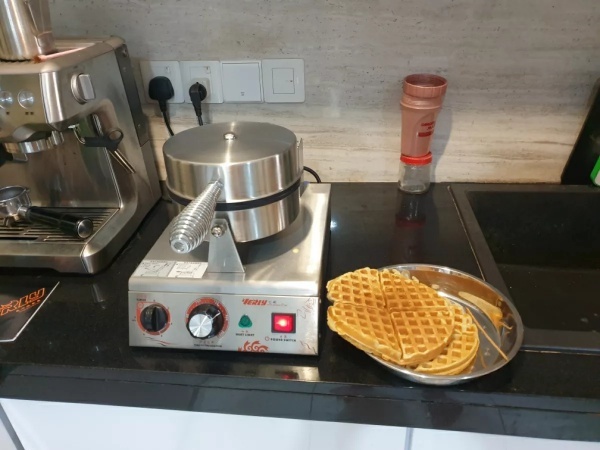 Pros:
Perfect for commercial use

Heavy duty and highly durable

Easy to handle
Check prices on Lazada
Check prices on Shopee
Best Waffle Maker Brands in Malaysia
Russel Taylors
Russell Taylor, the owner of this company is committed to creating innovative products that are not only household-name quality but also provide total solutions. He'll leverage what makes their suppliers strong and use research from consumers in order for them to come up with new ideas Multi faceted innovation – it's all about being there when you need something tailored just right! A key part of Russell Taylor Brands philosophy goes back on sustainability efforts by maintaining a clean environment while saving natural resources which has become an integral element towards success story within business world today.
Hanabishi
Hanabishi is a top manufacturer of electrical home appliances in the market. They offer great quality products online which you won't find anywhere else! Since they put so much effort into their manufacturing process, all Hanabishi's machines are tested and approved by SIRIM before being sold on local retail shelves or exported overseas for other countries' markets – making sure that each customer gets their very own VIP treatment.
Keith Kitchen
Keith Kitchen Essentials is your one-stop shop for all of the foodservice equipment and supplies you need to run a successful restaurant. From tabletop solutions like dishes, flatware, glasses/plate covers -they've got it covered! To front room necessities such as seating charts or cleaning chemicals they'll help keep things running smoothly behind closed doors.
Buying Guide – Price, Features, and Maintenance
Waffles are a great breakfast food, but their appeal doesn't stop there. They also make for a delicious snack or can be served with ice cream at a kid's birthday party.
A waffle maker creates the flat, round cakes that everyone knows and loves. The key difference between a waffle maker and other cooking appliances is that it has one extremely hot surface on which the batter cooks, whereas stovetops or ovens have multiple surfaces on which food can be placed. When heated, this metal plate gets very hot that evenly cooks your batter. It has become a favourite among households with kids. If you are intrigued about this small but terrible kitchen addition, this buying guide is for you.
Do I really need a waffle maker?
This depends on your lifestyle. These appliances come in a variety of styles and brands designed to suit different types of cooks. If you love waffles then a waffle maker is an excellent choice. However, if you are not a big fan of the breakfast treat or do not make them very often, it may be wiser to invest in other kitchen appliances that you find yourself using more often.
Waffle makers are best for people with a hectic lifestyle. It lets you multitask while you prepare your food whether it is for breakfast or snacks.
How do I pick the best waffle maker?
To make your first experience with a waffle maker a pleasant one, it's important to pick a brand or model that is easy to use. Go for waffle makers with a one-touch operation, and ideally with a timer to prevent burning your food.
Another crucial consideration is the number of servings it can make. If you are cooking for one person, then the mini waffle maker is the best choice. And if you have a big family or love to host parties, opt for one with bigger plates so you can make more servings at once.
You will also encounter two main styles of waffle makers: electric and stove-top. Electric ones are the easiest to use as they heat up automatically and cook quickly. On the other hand, stove-top waffle makers take a bit longer but require much less attention during cooking.
During the first few times of using a waffle maker, whether it is electric or gas, you may find yourself trying to figure out the right temperature for your waffle. This is totally normal and based on the user's experiences, you will eventually get the hang of your waffle maker settings after at least two tries.
How to maintain waffle makers?
It's a general rule that you should never put your waffle maker in the dishwasher as this will cause it to rust. Instead, these appliances need manual cleaning with mild liquid soap and warm water. Let it dry completely before storing it away from any source of moisture. Since most waffle makers come with non-stick coating, it's also best to refrain from washing it while the surface is still hot to avoid the residue of your batter sticking or stain your coating. Overall, waffle makers are not much of a headache to maintain.
FAQs
What should I look for in a waffle maker?
The most important feature is to ensure that the plate is non-stick so it is easier to maneuver. It is also good to find waffle makers that have heatproof handles to avoid burns.
Should I stick spray oil on my waffle maker?
Yes! Although it is non-stick, it is still a great step to spray oil or brush a small amount of natural oil.
Is it worth it to get a waffle maker?
If you are a big fan of waffles, then yes! It is a bright idea to invest in a good waffle maker. There are also multiple food that you can cook in a waffle maker, especially if you are staying in a dorm, it is a great appliance to get.
How much is a waffle maker in Malaysia?
Waffle makers cost around RM 75.00 in Malaysia.
Conclusion
The best waffle maker in Malaysia is the one that will help you make the most out of your kitchen appliances without costing too much money. By taking some time to consider what you want, there's no reason why you can't find the perfect waffle maker for your home or business! Read our list of recommended products or check out our buying guide again if you've forgotten any points, then start shopping for your new best friend!
Click here for other kitchen appliances related articles.
Latest posts by Kathy Wong
(see all)
This article was brought to you by BestAdvisor.my
Disclaimer: This is the opinion of the writer or publication. We only recommend products or services that we have tested and tried ourselves or have done in-depth research with positive external reviews and find them to be useful for everyone. The products/services shown are available upon the publication date. The availability may change from time to time. If some of them are not available, please email us at [email protected]. Thank you!
Last Updated on