Based in Malaysia, Alpha manufactures water heaters in a variety of styles including both traditional storage-tank water heaters and on-demand water heaters. Their products are available for both commercial and residential use, with quality that is comparable to other well-known brands throughout the world. The next time you need a water heater for your home or business, these models are an excellent option.
The section below takes a closer look at the top five Alpha water heaters currently available:
1. The Smart 18I Plus Rain Shower By Alpha With Inverter DC Pump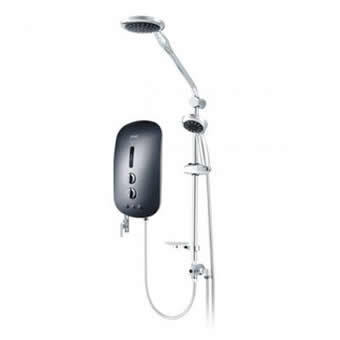 If you are ready to upgrade your existing water heater, this smart rain shower with its own water heater from Alpha is an excellent option.
A built-in thermal shutoff feature
Automatic testing
Nylon glass fibre to prevent shocks
Splash-Proof IP25 casing
Electronic control of the water temperature
The smart features of this water heater maximize safety, removing a lot of the worry associated with other water heaters. You can buy this water heater from Alpha here.
Check prices on Shopee
Check prices on Lazada
2. The LH-5000 EP Shower Water Heater By Alpha With Booster Turbo Pump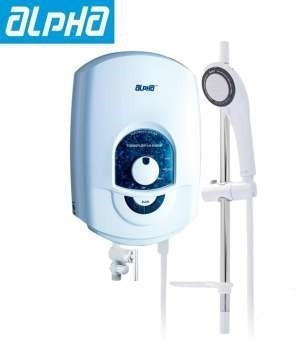 This water heater has some excellent features including a built-in thermal cutoff. In essence, this means that if there is an unusual increase in the temperature of the water, the power to the water heater will automatically turn off.
Built-in shock protection thanks to the nonconductive nylon fibre inside the water heater.
A double-relay ELSD
Strong water pressure that can be adjusted
The special booster turbo feature increases the water flow, enabling you to shower more quickly while also providing a more enjoyable showering experience. You can purchase Alpha water heaters through the Internet here.
Check prices on Shopee
Check prices on Lazada
3. The IM9EP Plus Rain Shower Water Heater From Alpha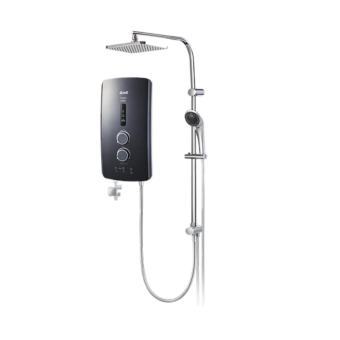 Not long ago, Alpha came out with a line of water heaters that had a matte finish. If you were a fan of those models, then you may also enjoy these IM9 water heaters, which feature metallic or sparkly designs. The company also enhanced the rain showerhead to provide a better experience.
AC booster pump
The IM9EP and IM9i models come with a pump activator
A flow switch system
A thermal shutoff
A double-relay ELSD
In terms of versatility, the showerhead on this model is one of the best that we found in all of the different water heaters that we tried. If you are interested in purchasing this model for your own home, act quickly to buy one here before they are gone.
Check prices on Shopee
Check prices on Lazada
4. The EZYi Water Heater From Alpha With A DC Pump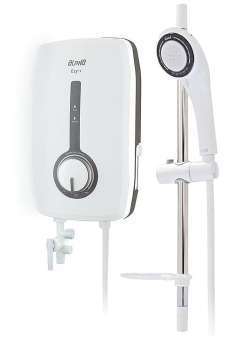 In terms of energy efficiency, this is the most efficient model manufactured by Alpha. It can save you as much as 70% over a traditional water heater.
Electronic control of the temperature
A hand shower with five different settings
A DC pump
The design of this water heater makes it both safe and energy-efficient. This can save you a lot of money while also ensuring that nothing goes wrong with your water heater. You can get it for an affordable price here.
Check prices on Shopee
Check prices on Lazada
5. The IM9I Rain Shower Plus Water Heater By Alpha With DC Pump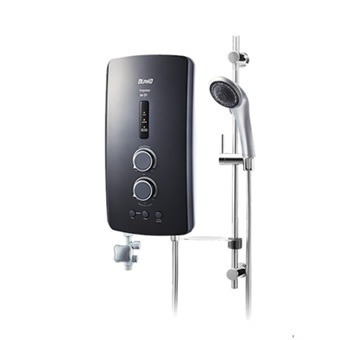 This water heater is designed to save both power and water, making it one of our top picks from Alpha. Like their other models, it has a beautifully designed rain showerhead.
A 10-year warranty against leaking
A 5-year warranty for the DC pump and heating element
Quiet operation thanks to the DC pump
A heating element that was manufactured in the UK
4X water flow rate
This water heater was designed with efficiency in mind. If anything goes wrong and the temperature starts to rise unexpectedly, the water heater will automatically reset itself. This model is available at a reasonable price here.
Check prices on Shopee
Check prices on Lazada
Related Searches:
Alpha water heater review, alpha smart 18i, alpha water heater smart 18i, alpha water heater price
Additional Information About Alpha Water Heaters
Alpha is a company that manufactures top-quality water heaters. Unlike many of their competitors whose models are overpriced, however, Alpha water heaters are affordable. The quality of their products has enabled them to sell their water heaters throughout the world, including on other continents apart from Asia.
Alpha has always focused on innovation, which can be seen in the Smart Revo Series, a line of smart water heaters that they recently introduced.
The topwater heaters from Alpha that we recommend include:
You might be interested in these articles:
Click here for other home appliances related articles.
Latest posts by Alice Yeoh
(see all)
This article was brought to you by BestAdvisor.my
Disclaimer: This is the opinion of the writer or publication. We only recommend products or services that we have tested and tried ourselves or have done in-depth research with positive external reviews and find them to be useful for everyone. The products/services shown are available upon the publication date. The availability may change from time to time. If some of them are not available, please email us at [email protected] Thank you!
FAQs
Is Alpha a good water heater brand? 👍
Yes. Alpha is one of the leading water heater brands not only in Malaysia, but worldwide. They even recently introduced a new line of smart water heater
How much does an Alpha Water heater cost?
An Alpha water heater usually costs 300-600 RM, depending on the model.
What is a good Alpha Water Heater model?
- The Smart 18I Plus Rain Shower By Alpha With Inverter DC Pump
- The LH-5000 EP Shower Water Heater By Alpha With Booster Turbo Pump
- The IM9EP Plus Rain Shower Water Heater From Alpha
- The EZYi Water Heater From Alpha With A DC Pump
- The IM9I Rain Shower Plus Water Heater By Alpha With DC Pump