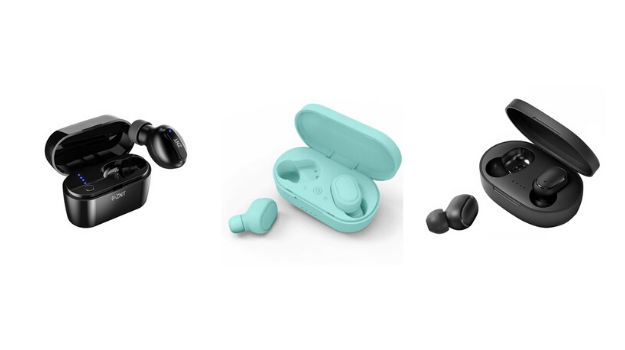 With everything getting more mobile these days, it makes perfect sense to also have all our other gadget accessories join the trend. Nothing spells mobile more than a wireless connection. We've seen a lot of new innovations lately, from wire charging to portable projectors. But what has remained a staple throughout the years is a good old and reliable wireless Bluetooth earphone.
Here's an updated list of all the Bluetooth wireless earphone in Malaysia that you need to get your hands on this year:
1. Inpods12 12s Wireless Earphone Bluetooth 5.0 TWS Macaron Color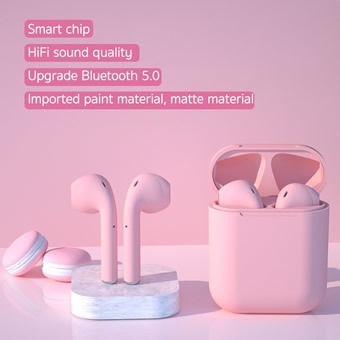 These days, the wireless earphone will literally mean no wire and just the earbuds. The risk though is finding a high-quality version of these ear pods. These eye-candy Inpods certainly pass the quality requirement, too.
Compatible with iPhone and Android phones
8 colour variations
1-2 hours of playtime
For a minimal price, you definitely get what you pay for with this product. The matte finishing also makes it less prone to slipping.
Check prices on Lazada
Check prices on Shopee
2. AMOI V8 Wireless Earbuds Bluetooth Earphones TWS Stereo Headset Bass LED Display Touch Control Headset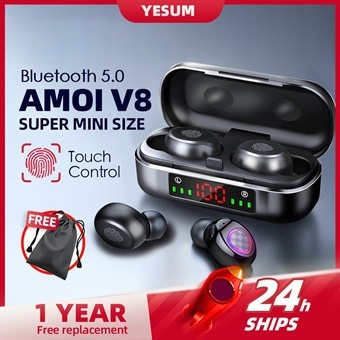 If you are looking for multi-functional wireless earphones that you can swiftly control, you will love this product.
Super mini size, easy to carry
With ultra-low latency game mode
Graphene bass diaphragm, HIFI high-frequency technology,
Touch to summon Siri and Android Assistant to make your life easier.
It's rare to find earpods with these multiple functions and within this price range. So, don't miss buying this online for less than RM50.
Check prices on Lazada
Check prices on Shopee
3. Wireless Earphone Bluetooth 5.0 TWS Android Iphone Universal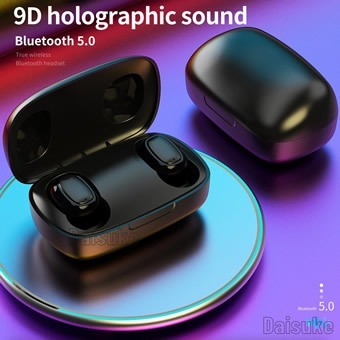 We're all about versatility these days. You really wouldn't want to have two separate earphones for each phone. So we picked products with universal connectivity.
Longer transmission range and low energy consumption
HiFi sound quality
Touch control enabled
You can also pick among three colour variations for this earphone, to perfectly match your style and phone.
Check prices on Lazada
Check prices on Shopee
4. i12 Wireless Earphone Bluetooth TWS 5.0 Inpods Android Iphone Universal
Another important feature of Inpods is its grip, whether it is in your ear or while you are trying to fix it. We love how stable this Bluetooth earphone is, especially with its matte feel.
Automatic pairing
HIFi sound quality
Touch control enabled
No need to spend too much on quality Inpods and this product is proof. Enjoy your music hands and wire-free for less than RM20.
Check prices on Lazada
Check prices on Shopee
5. T&B Professional 3D HiFi Wireless Bluetooth 5.0 Earphone TWS Touch Control Sport Earbuds with Mic
This is one of the most affordable Inpods we've found that already comes with its own mic. The sound and output quality is great, too!
Clear, High-quality audio listening experience and smooth bass response to enjoy all styles of music.
Compatible with iPhone, Xiaomi, Huawei, Samsung, any other smartphone supported Bluetooth.
Light and great for sports, walking, running
Easily take your call or simply enjoy your music while outdoors. This wireless Bluetooth earphones definitely delivers.
Check prices on Lazada
Check prices on Shopee
6. AMOI Smart Touch Digital Display F9 Mini Bluetooth 5.0 Earphone True Wireless Hi-Fi Headset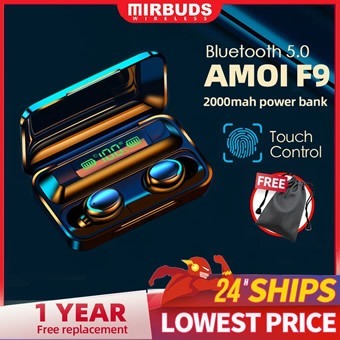 Headphone Airpods 4.8
For a more premier ear pod choice, you will definitely enjoy more of your smartphone's content with AMOI. It's got a LED display for all its status and command and it is a wide range earphone.
8D surround sound, 5.0 dual-ear chip, large capacity, true wireless Bluetooth headset
Graphene bass diaphragm, HIFI high-frequency technology, 10MM dynamic speaker unit
Two connection methods: single/double free to use, single-ear listening to enjoy alone
The best part about this ear pod is that it works on both iOs and Android phones. Great value for money, indeed.
Check prices on Lazada
Check prices on Shopee
7. M1 Bluetooth earphone Headsets Bluetooth Wireless Earbuds 5.0 TWS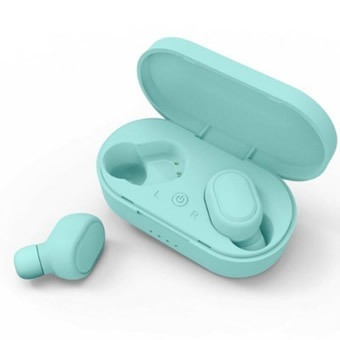 Comes in cute pastel colours and is safe to use for outdoor activities. We love the wide range reach of this Bluetooth earphone, as well as its stability when worn – all for a budget-friendly price.
Portable and small size, easy to carry and use.
Bluetooth 5.0, faster and more stable, brings you excellent music experience.
HD hands-free call, ensure your safety when you driving or running.
With charging box, you can use it as mobile power
One of the main issues of wearing earpods for too long is that they can be uncomfortable. But not this one, with its ergonomic design.
Check prices on Lazada
Check prices on Shopee
8. A6X TWS Wireless Earphone HiFi Bluetooth 5.0 Voice control Sport Headset Stereo 4.8
Elegant and high-quality earphones that are now locally available in Malaysia. It's one of those premier choices that you can find online. Once you start using this, you'd find yourself not needing other wireless earphone, again.
Dustproof and waterproof
Double-eared split design, single and double ears are free to wear.
Automatically pair: Will automatically pair, power on after taking out from the 280mAh charging box.
One button control
It pairs with almost all types of devices without issue. We've even used this for our netbook and it delivers the same sound quality across devices.
Check prices on Lazada
Check prices on Shopee
9. Xiaomi HAYLOU GT1 Pro TWS Wireless Earphones Bluetooth 5.0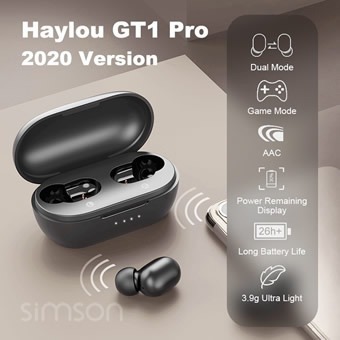 Xiaomi has always been the best middle ground for quality and affordability. The brand gives you more than what you pay for and focuses on features that matter.
Dual-mode function
Gaming mode
Faster transmission, better sound quality
Up to 5 hrs playtime
One of the best features is definitely longer playtime. Most earpods do not exceed 3-hour playtime for both pods so this is a welcome innovation from Xiaomi, as usual.
Check prices on Lazada
Check prices on Shopee
10. ZNT N3 Bluetooth 5.0 Auto Connect Single Mini Wireless Earphone – Black
Easy operation and fast connection. It can also remember your device so no need to constantly try to connect after initial pairing.
N3 earbud focus
Perfect ear fit
8 times faster data transmission
It already has an embedded microphone, as well. It also works for both Android and iPhone.
Check prices on Lazada
Check prices on Shopee
What Should I Look For In An Earpods
Earpods now come in so many variation and every price range. You can now buy wireless earphones for less than RM 20 while there are those that still currently sell at RM 50 or more. It's important to first determine what you will need the earphone for, including the key activities that you will be doing while using it.
This means that you need to consider whether earpods are designed for outdoor use and whether the design is stable enough to not fall off during certain activities. It would also be best to find ear pods with touch control for more convenience, as well as embedded microphones. To date, you should not settle for ear pods with less than Bluetooth 5.0 connectivity. You will find this worthy when finally connecting your unit to your phone.
Check out these best wireless earphones available in Malaysia today:
AMOI V8 Wireless Earbuds Bluetooth Earphones TWS Stereo Headset Bass LED Display Touch Control Headset
You might be interested in these articles:
Click here for electronics-related products.
This article was brought to you by BestAdvisor.my
Disclaimer: This is the opinion of the writer or publication. We only recommend products or services that we have tested and tried ourselves or have done in-depth research with positive external reviews and find them to be useful for everyone. The products/services shown are available upon the publication date. The availability may change from time to time. If some of them are not available, please email us at [email protected] Thank you!
FAQs
What are the best brands of bluetooth earphones in Malaysia?
Some of the popular brands for bluetooth earphones in Malaysia are AMOI, JBL,Xiaomi, and ZNT.
How long is the playtime for bluetooth earphones?
It will generally depend on the type of earphone that you have, but playtime is usually between 2-5 hrs.
Can I use bluetooth earphones in flight?
Yes, you can use your bluetooth earphones in flight, as long as it is already declared safe to use your devices.
How much do bluetooth earphones cost in Malaysia?
Bluetooth earphone's price is starts from RM100.00 and can be as expensive as RM1000.00