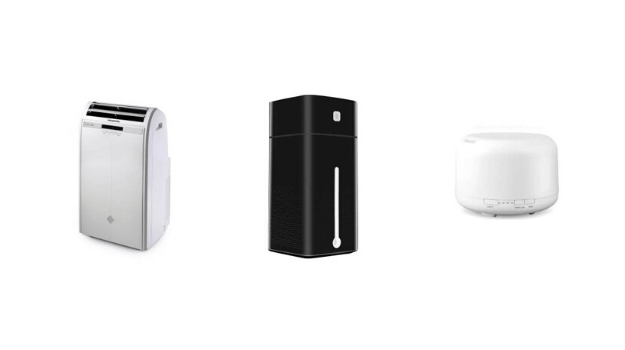 When temperatures rise, air conditioners create a much more comfortable indoor environment. Spending a lot of time in air-conditioned spaces, however, can negatively affect the body. The dry air created by air conditioners can impact not only the eyes and skin but also the respiratory system. Individuals most at risk of developing problems like these are people working in air-conditioned spaces or anyone who leaves their air conditioner on while they sleep at night.
Using a humidifier is one of the best ways to counteract the drying effect of air conditioners. The section below highlights the six leading humidifiers currently available for purchase in Malaysia.
1. Muji-Style Ultrasonic Air Humidifier
In Malaysia, holistic treatments are becoming more popular as a way of promoting better health and wellness. Essential oil diffusers are an essential part of that movement. This Muji-style essential oil diffuser can also be used as a humidifier.
Safe to use with essential oils
Built-in LED mood lighting
A 500 mL capacity
An electrical plug that is compatible with outlets in Malaysia
Using this humidifier at night can promote better sleep. It also can result in less dryness and throat irritation in the morning. You can pick up one of these humidifiers here.
Check prices on Shopee
2. Ultrasonic Air Humidifier Essential Oils Recommended, Air Purifier & Aromatherapy Diffuser
This humidifier is unique in that it also acts as an air purifier. This combination is rare to find at this affordable price point.
A plug that is compatible with electrical outlets in Malaysia
Seven LED lights on the 2019 model
A compact, space-saving design
Although the level of air purification provided by this unit is not as good as a standalone air purifier, it still can improve the air quality in small spaces. You can purchase this air humidifier here.
Check prices on Lazada
3. 500 ML Ultrasonic Air Humidifier Malaysia Model
This humidifier is perfect for anyone who needs to add moisture to the air in their office or their bedroom. Due to its 500 mL capacity, this model can run all day without needing to be refilled.
Suitable for aromatherapy
Constructed out of a PP material that is safe
Very low power usage
A built-in LED mood light
Thanks to its small size, this humidifier is easy to fit into a standard bedroom or office. With a built-in mood light, it is ideal for creating a relaxing atmosphere, making it easier to sleep. This is particularly true when it is used in conjunction with a sleep-inducing essential oil. Priced much lower than many humidifiers, it is an excellent deal. You can purchase this model here.
Check prices on Lazada
Check prices on Shopee
4. The REDBUZZ Color Cup Home/Car USB Humidifier, Air Purifier, And Diffuser
Since humidifiers and diffusers are so popular, it isn't surprising that they are also available for cars. Unlike standard air fresheners for cars, these diffusers also add moisture to the air.
Fits easily in a standard vehicle cupholder
Available in three pastel shades
Shuts off automatically when the water is gone
Can be used safely with essential oils
Has built-in LED lights for using it at night
Create a more relaxing experience when driving by diffusing calming oils into your vehicle. These diffusers are a great way to help your car smell better without relying on artificial chemicals. You can purchase one of your own here.
Check prices on Lazada
Check prices on Shopee
5. 1000 ML Air Humidifier Diffuser (Aromatherapy) And With Color-Changing Lamp
This humidifier is ideal for large rooms. Thanks to its high capacity, it can be used for anywhere from 9 to 10 hours at a time. It also shuts off automatically.
Can be used as a lamp thanks to the built-in mood light
Safe to use with essential oils
Longer-lasting and more effective at humidifying due to the nano-mist function
This humidifier not only is extremely quiet, but it also gives off a very fine mist. It does an excellent job of combating dry skin – especially when you use it at night while you sleep. You can get a great discount on one of these humidifiers here.
Check prices on Lazada
Check prices on Shopee
6. Ultrasonic Air Humidifier With A 200 ML Capacity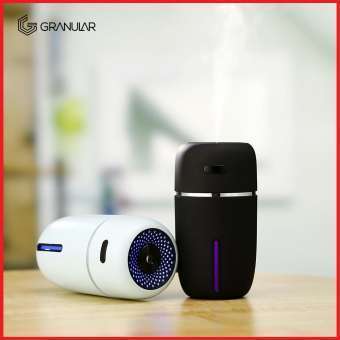 Ultrasonic air humidifiers are the preferred choice if you plan on using the humidifier to diffuse essential oils. Humidifiers like these do a better job of distributing the oil into the surrounding air.
A spillproof design that is ideal for use during the night
The ability to control the amount of mist
Built-in LED lights with a variety of options
To help the essential oil last as long as possible, you can choose an intermittent setting for the mist. Opting for this setting also makes it easy to control how much of the oil you breathe in overtime. This model is extremely popular. Don't miss out – pick up one of your own today.
Check prices on Lazada
Check prices on Shopee
The Advantages Of Using A Humidifier In Your Home
When you first start using a humidifier, you should see a big difference in how you feel after as little as a week. This is particularly true if you spend a lot of time in air-conditioned spaces.
Air conditioners dry out the air. Humidifiers combat this effect by adding moisture back into the air. This can reduce symptoms like allergies, dry skin, and respiratory issues.
Humidifiers also keep wood furniture and flooring from cracking due to dry air. Using one of these humidifiers in your home can help protect your property and your belongings.
Take a closer look at the best humidifier in Malaysia that we recommend the most:
You might be interested in these articles:
Click here for other home appliances related articles.
This article was brought to you by BestAdvisor.my
Disclaimer: This is the opinion of the writer or publication. We only recommend products or services that we have tested and tried ourselves or have done in-depth research with positive external reviews and find them to be useful for everyone. The products/services shown are available upon the publication date. The availability may change from time to time. If some of them are not available, please email us at [email protected] Thank you!
FAQs
What are popular brands of Air Humidifier? 🤨
Muji, Ultrasonic, and Redbuzz are the leading brands of Air Humidifier in Malaysia
How much does an air humidifier cost? 😄
The usual price for air humidifier starts at RM30
What are the top air humidifiers?
- Muji-Style Ultrasonic Humidifier And Aroma Diffuser
- Ultrasonic Air Humidifier, Air Purifier & Aromatherapy Diffuser
- 500 ML Ultrasonic Air Humidifier
- The REDBUZZ Color Cup Home
- 1000 ML Aromatherapy Diffuser And Air Humidifier With Color-Changing Lamp
- Ultrasonic Air Humidifier With A 200 ML Capacity