Last Updated on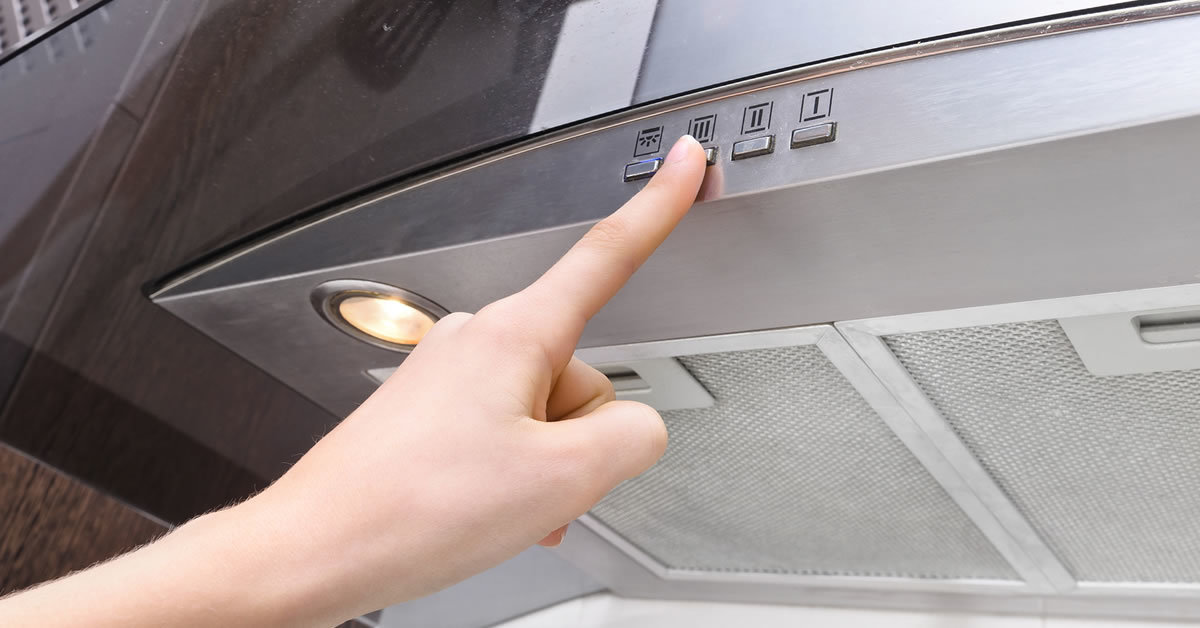 8 Best Cooker Hoods in Malaysia
Kitchen cooker hoods are important for many reasons including protecting your kitchen from smoke and grease. They can also help with ventilation, as well as giving a nice aesthetic to the kitchen. In this post we'll take a look at 8 different types of cookers that have been popular in Malaysia over the last few years.
The best part? We've done all the hard work for you by comparing specs, features, prices, and reviews so you don't have to!
Let's dive in!
Table of Contents
Best Cooker Hoods in Malaysia

How Do You Choose The Best Cooker Hoods in Malaysia?
FAQs
1. Elba Cooker Hood EH-J9088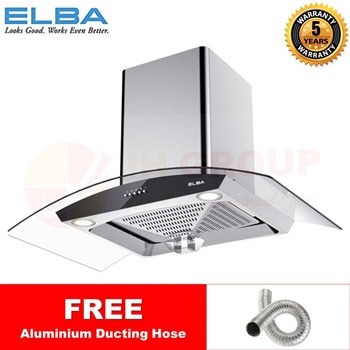 Best of the best chimney cooker hoods
This cooker hood is also known as a range hood is remarkably easy to use with its push-button controls, washable pyramidal-shaped filter with oil cups, three fan speeds, charcoal filters, recirculation/exhausted air operation—you'll never want another stove again! And we haven't even mentioned the modern LED that lights up like a spotlight every time you preheat!
Why buy this:
Durable, long lasting tempered glass.
Easy to clean cooker hood.
Long life span.
Strong suction power of 1,400m3/hr for heavy cooking
Satisfied with the purchase of a high-quality product that will last for years and be easy to maintain.
Features/Specifications:
3-speed Selection
Push Button Control
Maximum Suction Power: 1,400m3/hr
Comes with innovative surround suction technology
Motor Power (W)270
Tempered Glass
Burner Rating: 4.2kW + 4.2kW + 1.5kW
Safety Valve: Safeguard against leak of gas
Product Dimension (W x H x D) (mm) :895 x 549-1,029 x 500
Customer Reviews:
"Fast delivery, item delivered in one piece. Nice product. Looking good but not install yet. "
This is one of the most elegant cooker hoods we've seen in Malaysia so far.
Check prices on Lazada
Check prices on Shopee
2. Midea MCH 76MSS Slim Cooker Hood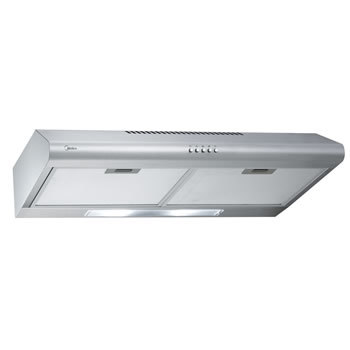 Good value of money
Step up your kitchen's game with Midea Slim Cooker Hood. Available in stainless steel, you'll be ready for anything from baking to frying! With variable speed air control and easy installation, it's the perfect accessory for any budding chef. Plus, take care of pesky odors with a charcoal filter – just push a button! This is one of the most slim cooker hoods in Malaysia.
Why buy this:
Eliminates odours from your kitchen.
Easy to install in an average size kitchen.
The stainless steel looks sleek and modern.
Features/Specifications:
Stainless Steel
Maximum Suction Power: 900m3 /hr
Push Button
Duct Out Or Recirculating System
Two Aluminium Filters & Two Charcoal Filter
Twin Motor, Bigger Power
Washable Filter x 2
Customer Reviews:
"Everything is going well and I really happy with it..little bit noisy buy overall is okay…tq"
It is already multi-functional for its price, with two key operating programs. Regardless of which one you choose, you are guaranteed the same quality filtration.
Check prices on Lazada
Check prices on Shopee
3. ELBA Kitchen Hood EH-E9122ST (BK)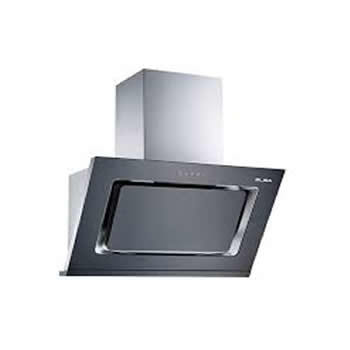 Stainless steel cooker hood
The ELBA Cooker Hood EH-E9122ST is a sleek, powerful cooker hood that will both improve the look of your kitchen and save you time on cleaning. With an automatic timer that can be set for up to 4 hours, as well as a charcoal filter, you'll never have to worry about cooking smells staying in the air.
The sensor touch controls give you precise control over how much or how little it blows out while those pesky grease spots are covered with stainless steel convenience panels and quick release clips so they're no longer an issue.
This lightweight hood comes with improved turbo speed that can catch up with your cooking, so even getting the most of it! The recirculating system ensures that not only grease fumes but also bad smells are whisked away from you during cooking.
Why buy this:
Improved Turbo Speed & strong suction power
Automatic timer control
LED Sensor Touch Control.
No bad smells or grease to getaway.
Features/Specifications:
LED Sensor Touch Control
Strong Suction Power :1,400m3/hr
Automatic Timer Control
With Charcoal Filter
2-Speed Selection
With Elongated Oil Cup
Fully Sealed Motor
5 Year Motor Warranty
1 Year General Warranty
Customer Reviews:
"Good customer service. Even call customer for delivery arrangement. None other seller done that before. Good packaging. No yet installed. Hopefully everything going well."
Check prices on Lazada
Check prices on Shopee
4. ELBA Chimney Hood ESH-J7695 (BK)
Slim cooker hood for small kitchen
The Elba ESH-J7695's dual motors deliver strong suction power for an easy push and pull. Compact in design, this model is space-efficient to essential as much kitchen real estate as possible.
The powerful vents offer easy installation and mobility around the kitchen for everyday cooking needs. It also comes with a charcoal filter that helps keep your kitchen smelling fresh and trap grease while simultaneously eliminating unwanted allergens from the air. Easy cleaning too!
With its sleek and smooth facade, blending warm stainless steel with tasteful curves of clear-glass trimming, this hood more than just functions brilliantly – it effortlessly becomes part of the modern kitchen décor thanks to Elba's signature style.
Why buy this:
Filters and ventilates your kitchen with the power of two motors.
Comes with a charcoal filter to keep your kitchen smelling fresh.
Features/Specifications:
Speed Range: 1,100 rpm
Motor Power: 150W
Suction power: 900m3/hr
Twin Motor
with round and elongated oil cup
Venting Type: Updraft
With 2 fan speeds
Weight: 12.5kg (N.W: 11.5kg)
Carton Dimension (mm): 825 (W) x 580 (D) x 215 (H)
Product Dimension (mm): 750 (W) x 510 (D) x 120 (H)
1-Year ELBA Warranty
Customer Reviews:
"The product was wrapped with bubble and received early by j&t…. Hopefully the product will be function well because not use it. Thank seller for your clear explanation & time."
Available in a variety of colors and configurations to suit your needs, this hood features two sleek motors, charcoal filters for cutting down on odors, and suction power to boost airflow.
Check prices on Lazada
Check prices on Shopee
5. MiluxMHS-S430 Stainless Steel Slim Cooker Hood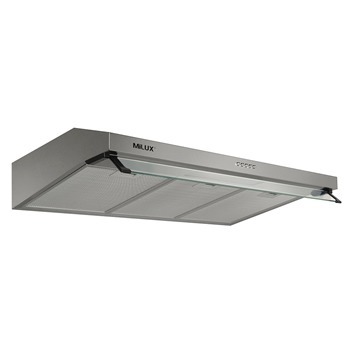 Best cooker hood for easy maintenance
The slim and modern design of the Milux Stainless Steel Slim Cooker Hoods is made for those with tight spaces.
With three speed options and a 750 m³/hr suction power, you're able to keep your stovetop clean and clear no matter how much bacon you cook! Plus, it comes with a charcoal filter that keeps odours at bay while capturing impurities like grease or food particles.
Why buy this:
Keep your stovetop clean and clear with this stainless steel filter.
The sleek, attractive design will add a touch of elegance to any kitchen.
3 layer aluminium multi-layered grease filter that strains out any particles.
Features/Specifications:
72cm Wide Slim chimney hood with Front Glass
Suction power: 750 m³/hr
Stainless Steel Body
With 2 x 80W Motor
3 Layer Aluminium Grease Filter
3-Speed Push Button
With 1 x 40W Normal Light
With Charcoal Filter
Customer Reviews:
"Trusted seller and awesome service, very good product and worth the money and fast delivery"
Check prices on Lazada
Check prices on Shopee
6. Rinnai Slim Cooker Hood RH-S139-SS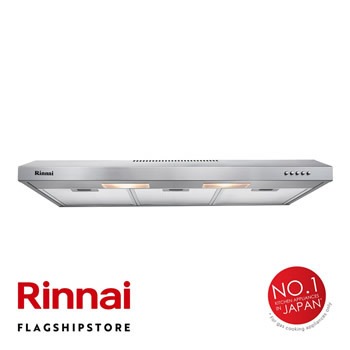 Best chimney cooker hood with aluminium mesh
With powerful suction, the Slim Cooker Range Hood from Rinnai easily handles whatever you throw at it. Its aluminium mesh filter is also safe to wash in the sink, so there's no need for harsh chemical cleaners.
The push-button control panel allows you to set three preset speeds and create an ideal climate that complements your cooking style. The exterior can simply be wiped by a damp cloth, while the aluminium mesh filter is washable.
Why buy this:
Eliminate smoke odours and grease.
Slim design for space efficiency.
Easy to maintain the exterior.
Powerful suction power for a clean kitchen.
Features/Specifications:
Suction Power: 340m3/hr
Filter: Aluminium Mesh
Extraction Mode: Ventilated/Recirculation
Settings: 3-Speed
Control Panel: Mechanical (Push) Control
Oil Cup: No
Light: Halogen Light
Timer: No
Dimension: W 898mm; D 500mm; H 100mm
Check prices on Lazada
Check prices on Shopee
7. ELBA Chimney Cooker Hood EH-G9026ST (SS)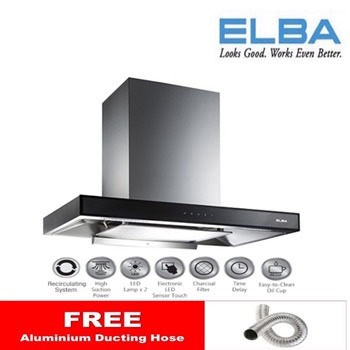 Affordable Elba chimney cooker hood with LED sensor
The Elba EH-G9026ST has the style and function of a modern hood. It is equipped with an LED sensor touch control, so you can select low or high fan speeds via your fingertips on its sleek top panel.
You'll never have to worry about bad smells coming off the stove again, as this model also comes with a charcoal filter and turbo speed recirculating system. And it's made from a premium stainless steel chassis which is not only durable but also elegant enough to harmonize well in any kitchen design set-up.
Why buy this:
The stainless steel chassis & tempered glass will last you for years.
Strong suction power
No more worrying about cooking smelly food!
Features/Specifications:
Suction Power: 1400 m³/hr
2-speed Selection
LED Sensor Touch Control
Automatic Timer Control
Control Panel : Invisible Sensor Touch
Surface Material/ Furnishing: Stainless Steel & Tempered Glass
Extraction Speed Level: 2
Filter: SS Pyramid Baffle Filter
Charcoal Filter: Yes
LED Lamp: 2x2W
Total Power: 224W
Motor Power: 220W
Voltage : 220V – 240V
Frequency: ~50Hz
Product Dimension (L x W x H) (mm) : 897 x 511 x 558 / 808
Customer Reviews:
"Brand new and original. Item is as advertised. Packed well. Fast processing and shipping. Good price. Recommended purchase."
Check prices on Lazada
Check prices on Shopee
8. Milux Slim Cooker Hood MHS-S430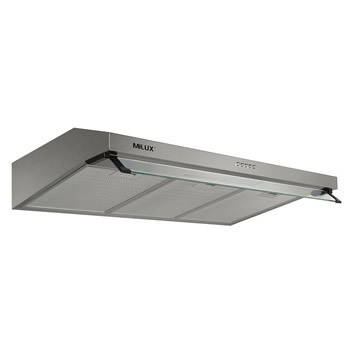 Slim chimney hood with front glass for easy cleaning
It comes with both aluminium and charcoal filter for thorough filtration. It effectively captures grease with a suction power of 750 m³/hr. You can simply adjust its fan speed and suction power depending on what you are cooking for that day.
With this incredible cooker hood, you'll be able to cook all the dishes you love while keeping your kitchen cleaner. The sleek design – with its aluminum and charcoal filter – will keep your air free of unpleasant odors, and the suction power will last for years. With its unobtrusive front glass, it is easier to maintain.
Why buy this:
Slim and lightweight, so it's easy to install as well as use.
It also has a front glass panel that looks sleek and modern.
You can choose from 3 different fan speeds depending on what you are cooking for the day
Features/Specifications:
Power : 200 Watt
90cm Wide Slim Hood with Front Glass
Suction Power : 750 m³/hr
3 Layer Aluminium Grease Filter
Stainless Steel Body
3-Speed Push Button

With 2 x 80 Watt dual Motor

With 1 x 40 Watt Normal Light
With Charcoal Filter

Size (L x W x H) : 895 x 480 x 135 mm
Customer Reviews:
"I would give 5-star if not for the loud noise. Other than that, this is value for money. a. Installation was easy b. 2 modes available, with our without outlet duct c. All stainless steel construction d. Easy to clean wire mesh and easy to remove activated carbon cartridges."
Check prices on Lazada
Check prices on Shopee
Why Should I Buy A Kitchen Exhaust Hood?
A cooker hood may not be one of the most exciting kitchen tools to have, but they turn out to be one of the most essential – in terms of the overall health of the household. It is even more necessary in the kitchen within an enclosed space, which is basically what majority of Malaysia's residential spaces look like.
Because of this, ventilation during cooking may not be as good, thus the need for a cooker hood to absorb all the grease and steam from the stove. It'll give you cleaner and fresher air inside the house, despite all-day cooking.
How Do You Choose The Best Cooker Hoods in Malaysia?
There are hundreds of cooker hoods on the market. Choosing the right product to suit your needs isn't easy. Your research is crucial to selecting a quality product at an affordable price. This article provides information on what you need to consider when choosing a cooker hood for your home or commercial organization.
Cooker hoods are available for extraction and recirculation needs. The extraction model is the most efficient and long-lasting solution for your needs. A recirculation hood will simply filter the air through a metal filter and a sort of charcoal filter. No external vent is needed for this type of hood. Extraction model hoods are the most popular in the market. These hoods can extract a maximum of 650m3/h at full power. Choose the right product depending on your needs and budget.
Kitchen hoods have a certain noise level. Silent cooker hoods emit as little as 30 dB(A) on minimum power & 55 dB(A) on maximum. The noisier hoods emit 70 dB(A) or more. The noise level of the hood is another important consideration when investing in a quality cooker hood.
The height and width of the product are also important when investing in kitchens hoods. The hood should always be wider than your stove. Look for a hood that is about 1.5 times the width of the cooking area. You should mount the hood sufficiently high for it to do the job properly. It should allow plenty of headroom while you cook.
These are some of the most important factors to consider when shopping for a cooker hood for your home or commercial organization.
Find out about in this video:
Check out the best cooker hoods (range hoods) in Malaysia today:
FAQs about cooker hood
What are the best brands of cooker hoods in Malaysia?
The top brands of cooker hoods in Malaysia are Elba, Midea, Rinnai, and Milux.
What does a cooker hood do?
It cleanses your indoor air quality by absorbing the toxins released from cooking. It also eliminates grease and moisture from the kitchen.
Does the Cooker Hood Have to Be of the Same Size as the Cooker?
Ideally, the cooker hood should be at least the same width or wider than your cooker. This ensures that the extraction area covers everything under it and provides the best opportunity for capturing all the smells and grease from cooking.
If the hood has a perimeter extraction method, however, then this type of hood can be actually slightly smaller than the cooker if they need to be. This is due to the fact that perimeter extraction has greater efficiency.
It is generally advisable to first check with the kitchen hood manufacturer regarding sizing. If possible, however, you should always try having a cooker hood at least of the same size if not slightly bigger to give it the best chance of performing its function.
What type of cooker hood filters available in the market?
All cooker hoods have at least one type of filter, but some have more than one, the difference is in whether they are a closed or open system. Every cooking hood has a grease filter, which is a filter that keeps grease from getting into the system and building up. For hoods that vent to the outside, this is the only filter and is generally very easy to access and clean. Hoods that don't vent to the outside have another filter, generally a carbon filter, where the air gets recycled so that odors and contaminants can be removed before the air is circulated again.
Is An Kitchen Extractor Hood Able To Get Rid Of Smells?
A kitchen hood is typically built-in kitchens and they are the ideal addition to any homeowner who enjoys cooking. They can be found right above the stove, but it is not uncommon to find them in other areas of the kitchen.
These types of hoods are constructed to rid homes of smells, greasy smoke, grease and steam when food is being cooked. They can also help to remove excess heat from the kitchen that results from cooking food at high temperatures.
By keeping the air in the kitchen fresh, you will be able to be more efficient when cooking and preparing food.
Click here for other kitchen appliances related articles.
Latest posts by Kathy Wong
(see all)
This article was brought to you by BestAdvisor.my
Disclaimer: This is the opinion of the writer or publication. We only recommend products or services that we have tested and tried ourselves or have done in-depth research with positive external reviews and find them to be useful for everyone. The products/services shown are available upon the publication date. The availability may change from time to time. If some of them are not available, please email us at [email protected] Thank you!