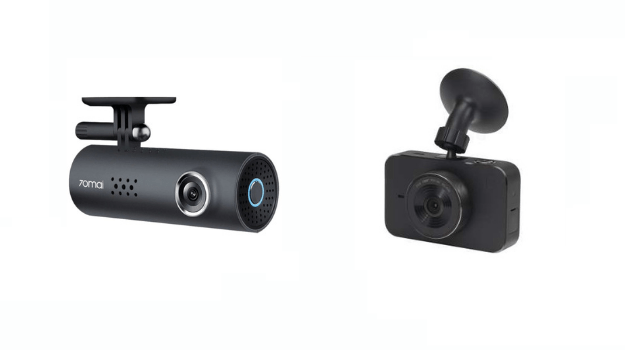 Admittedly, we are one of those people who took a while before giving in to the need of installing a car dashcam. Traditional and old-time drivers have long been using cars without the need for a dashcam, so why buy now? However, the convenience and protection that dash cameras provide are simply hard to resist. We have rounded up the best dash cams readily available here in Malaysia.
Table of Contents
Best Dashcam Comparison Table
Top Dashcam Brands in Malaysia
Why Invest in A Dash Cam?
Conclusion
FAQs
Dashcam Comparison Table
(scroll right for more)
1. South Ocean Full HD 1080P Car DVR Double lens Dash camera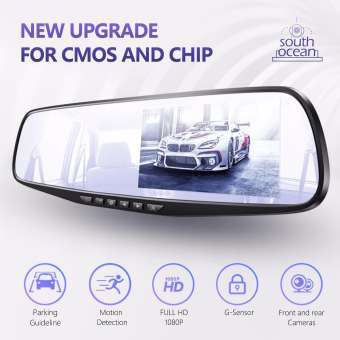 With Anti Glare
Among the features that we love about this dash cam is its anti-glare effect, which makes it easy to see the details even in high noon clearly. One of the best advice we got when we were new to looking for dashcam is to pay more attention to the lens quality, which will is not necessarily reflected on the resolution details. This camera has one of the best lenses that we've tried.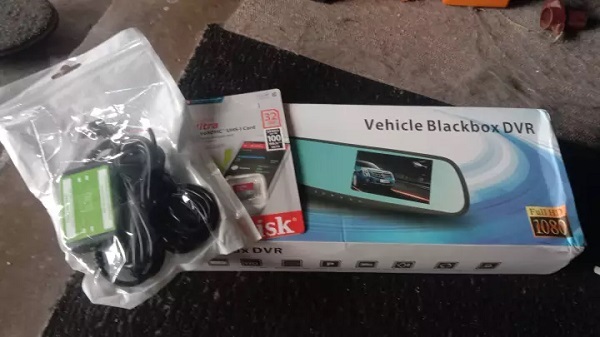 Pros:
Seamless loop-cycle recording function
Motion detection function
G-sensor function
Cons:
Check prices on Lazada
Check prices on Shopee
2. 70mai Dashcam Pro Plus+ A500S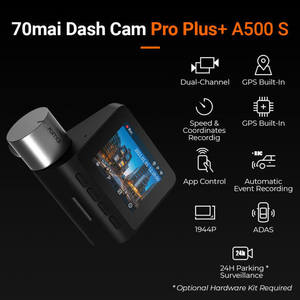 Built-in GPS
Looking for a reliable dashcam that can also keep you safe on the road? Look no further than the 70mai Dashcam Pro Plus+ A500S. This top-of-the-line dashcam comes with built-in GPS and Glonass tracking, so you can always keep tabs on your speed and location. It also features ADAS safety warnings, which will help you stay aware of your surroundings and avoid accidents. And if anything happens when you're not driving, Parking Mode* will kick in to automatically record any hit-and-run collisions. With the 70mai Dashcam Pro Plus+ A500S, you'll have 24/7 protection while on the road.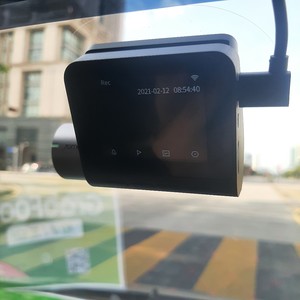 Pros:
Driving Safety with ADAS
1944P Super High Resolution
Stunning Shots Day & Night
Cons:
Advanced Driver-Assistance Systems needs about 5 minutes calibration
Check prices on Lazada
Check prices on Shopee
3. Xiaoyi Yi Compact DashCam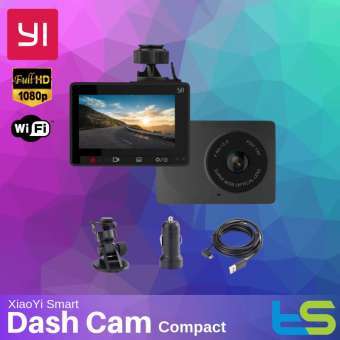 Compact Design
Some people may not be huge fans of those overbearing dashcams, so we are glad to have found this compact design, without compromising the quality of images. Introducing the Xiaoyi Yi Compact DashCam! This full HD car camcorder is perfect for capturing high quality video footage while you're on the road. With a 130 degree angle and Wi-Fi connection to your smartphone, it's easy to keep an eye on what's happening both in front of and behind your vehicle. Plus, with its compact size, it's easy to install and take with you wherever you go.
Pros:
Full HD 1080p Car Camcorder
2.7″ inches Color LCD
130 Degrees Angle
High-quality image and voice recording
Cons:
Suction mount not very sticky
Check prices on Lazada
Check prices on Shopee
4 . IROAD NX-7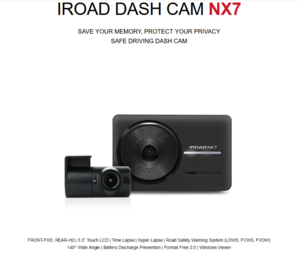 With Time Lapse
Iroad's NX-7 is the perfect dash cam for ensuring that all events are captured while driving. The CMOS image sensors provide stunning 1080p front and 720p rear recording, even in low light conditions. Plus, the 140-degree wide angle lens gives you a clear view of what's happening around your vehicle. Plus, with the automatic event recording at 30fps, you'll never miss a moment of your journey.
Pros:
With hyper-lapse
Road Safety Warning System
Intelligent Night Vision
Cons:
Installation can take timee
Check prices on Lazada
Check prices on Shopee
5. GOQ D90 Tricam 3 Lens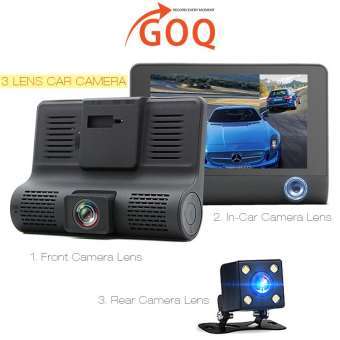 3 Lens Camera
Here's another 3-lens camera that we love. Regardless of the lighting, you are still sure to get the best view and images, with broader coverage, as well. Plus, it comes in a really elegant packaging so you would not regret including this in your car's interior. Xiaoyi Yi Compact DashCam is the perfect addition to your car. With WDR technology, you can take pictures and videos in all kinds of light. The Screen Saver Support feature keeps your screen from turning off while you're driving. The G-Sensor helps you to record information about any accidents that occur. And finally, the Motion Detection Support makes sure you capture every moment on video.
Pros:
Picture In Picture Mode (PIP)
Motion detection Support
Parking detection Support
Waterproof Review Camera
Cons:
Buttons can be a bit hard to press
Check prices on Lazada
Check prices on Shopee
6. South Ocean Dual Lens Car Camera Dash Cam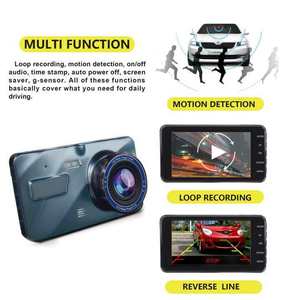 With Driver Assistance
South Ocean is always generous when it comes to the features of their dash cams. One distinct feature that we highly recommend is their advanced driver assistance system, which can readily detect lanes, sending out warnings when the car is off lane. This camera has one of the best lens that we've tried.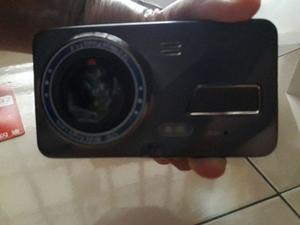 Pros:
Seamless loop-cycle recording function
Motion detection function
G-sensor function
Cons:
Some user reported overheating when used for too long
Check prices on Shopee
7. DDPAI Dash Cam Z40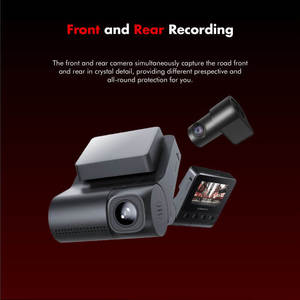 Realcube Image Technology
The DDPAI Dash Cam Z40 is the perfect way to keep your car safe while you're on vacation, or just running errands. The built-in GPS makes it easy to find your car in a crowded parking lot, and the 24 hour Parking mode ensures that even if you can't keep an eye on your car, it's still being monitored. With the Super Capacitor, you never have to worry about your dash cam shutting down in the middle of a recording. And with the Advance Driving Assistance System (ADAS), you'll be alerted if there's danger ahead.
Pros
Front and rear recording
1944P Resolution
Dual Channel Storage
Cons
Check prices on Lazada
Check prices on Shopee
8. Xiaomi Mijia Dash Cam 1S Starvis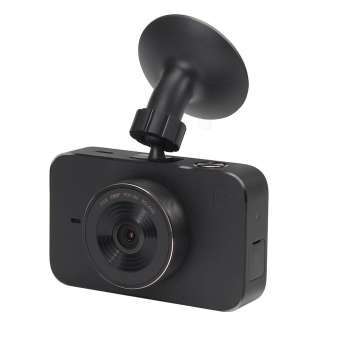 Slim and Elegant
What attracted us first to this dashcam s its slim and elegant product design. You wouldn't believe the powerful functions that it can perform round the clock. It is also already Wifi enabled so you can monitor and store recordings remotely. You can buy this Xiaomi Dash Cam here. The Xiaomi Mijia DashCam is the perfect choice for drivers who want to have a reliable video recorder to capture any accidents or incidents that happen on the road. The dashcam features 3D noise reduction post processing for super clear low light video, wide dynamic range to capture more detail, and electrostatic sticker mounting for easy install and uninstallation without leaving mark. The dashcam also has collision detection to activate collision video recording then save in a sperate video file to ease of checking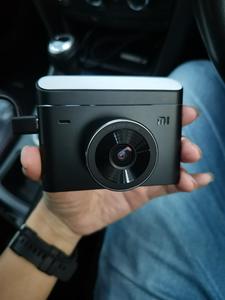 Pros:
3-inch screen and F1.8 aperture
140 degrees wide-angle and 1920 x 1080P resolution
Adopting MSC8328P chip
Cons:
Check prices on Lazada
Check prices on Shopee
' target='_self' size='medium' align='aligncenter']Check prices on Shopee[/thrive_link]
9. Garmin Dash Cam 46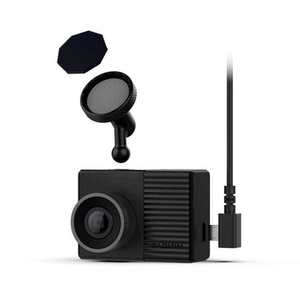 Discreet Dashcam
The Garmin Dash Cam 46 is a small and inconspicuous camera that mounts on your windshield. It has a high-quality 3.7 megapixel camera that can capture 1440p video, even in low-light conditions. The Dash Cam 46 is GPS-enabled with automatic incident detection, which saves video footage on impact to show when and where events happened.
Pros:
GPS-enabled
With voice control
Small and inconspicuous
Cons:
Check prices on Lazada
Check prices on Shopee
10. GOQ D200 Touch Screen Dual Lens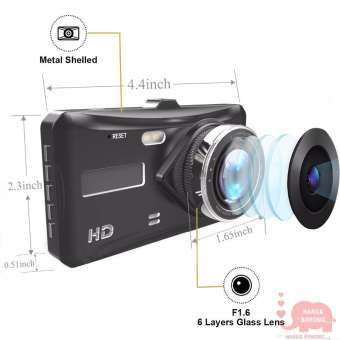 Touch Screen
Looking for a reliable and high-quality dash camera? Look no further than the GOQ D200 Touch Screen Dual Lens! This camera not only records in 1080P FULL HD, but also features a 4-inch IPS high definition screen display for easy viewing. Plus, the dual lens allows you to record both the front and rear of your vehicle simultaneously. And for added safety, there's even a Picture In Picture mode that lets you view both the front and rear views at the same time.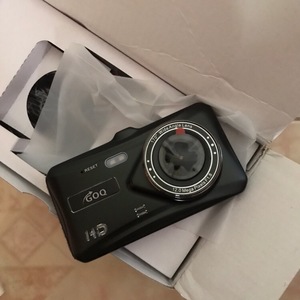 Pros:
Rear Lens is an optional choice for installation.
Picture In Picture Mode (PIP)
170° Wide Front Lens
Cons:
A bit complicated to install
Check prices on Lazada
Check prices on Shopee
Top Dashcam Brands in Malaysia
Garmin
The Garmin Dash Cams are truly excellent and come with top-quality video that is also super easy for someone who isn't very tech savvy or knows what they're doing in terms of coding! It may not have all those bells and whistles at an affordable price point either but if simplicity matters most then this should definitely serve your needs.
IRoad
IROAD is a premium Korean car camera manufacturer that makes some of the best selling brands in hot and humid climates like Singapore, Malaysia, Hong Kong, and Australia.
Xiaomi
Xiaomi Dash Cams are few of the best in its price segment not only because it has an incognito design and useful features like motion detection, lane driving assistance. It also comes equipped with a de-fog algorithm that captures clear video even when conditions are extreme!
Why Invest in A Dash Cam?
As mentioned earlier, dash cam may not always be one of the first accessories that a traditional driver can think of investing it. However, apart from providing a clearer and safer view of the road, dash cams actually offer a more important element – accountability.
Dashcams are meant to record your car's activity, and this data can be beneficial in case of road accidents. This also solves the longstanding problems with insurance fraud. Dashcam owners reported having better peace of mind since installing the accessory in their car. Most dash cams come at realistic and friendly prices and are easy to install, so this should not take too many resources unlike other car upgrades and accessories.
Conclusion
Dashcams are becoming increasingly popular in Malaysia, as drivers here appreciate the added security and peace of mind that these devices provide. If you're still on the fence about installing a dashcam in your car, we hope that our list of the best dash cams available in Malaysia will help make your decision easier. All of these cameras are high-quality and have received positive reviews from users, so you can be sure that you're getting a good product no matter which one you choose. Have you decided on a dashcam yet?
FAQs
How long does a dash cam last when recording ?
If you're looking for a way to capture every moment of your day, whether it be an accident or not! A Dash Cam is the perfect investment. This small device can hold approximately up 2 hours worth on one 16GB Micro SD card before overwrite old recordings at 1080p HD recording rate - which will provide enough room when capturing any incidents
Does dashcam work even when the engine is off?
Dash cams are a great way to capture footage of your journey, but many people have found that their camera doesn't work when the car is off. Luckily there's an option for round-the clock protection with some dash cam models coming equipped with fittings which connect directly into battery power and allow them operate even if you don't have any keys in order!
Do I need wifi or internet for my dashcam?
Dash cams videos are stored on a device's memory, usually an SD card. Some models allow you to wirelessly share the video with others or download it onto your computer for easy access at any time!
Click here for other home living related articles.
This article was brought to you by BestAdvisor.my
Disclaimer: This is the opinion of the writer or publication. We only recommend products or services that we have tested and tried ourselves or have done in-depth research with positive external reviews and find them to be useful for everyone. The products/services shown are available upon the publication date. The availability may change from time to time. If some of them are not available, please email us at [email protected] Thank you!
Last Updated on