Last Updated on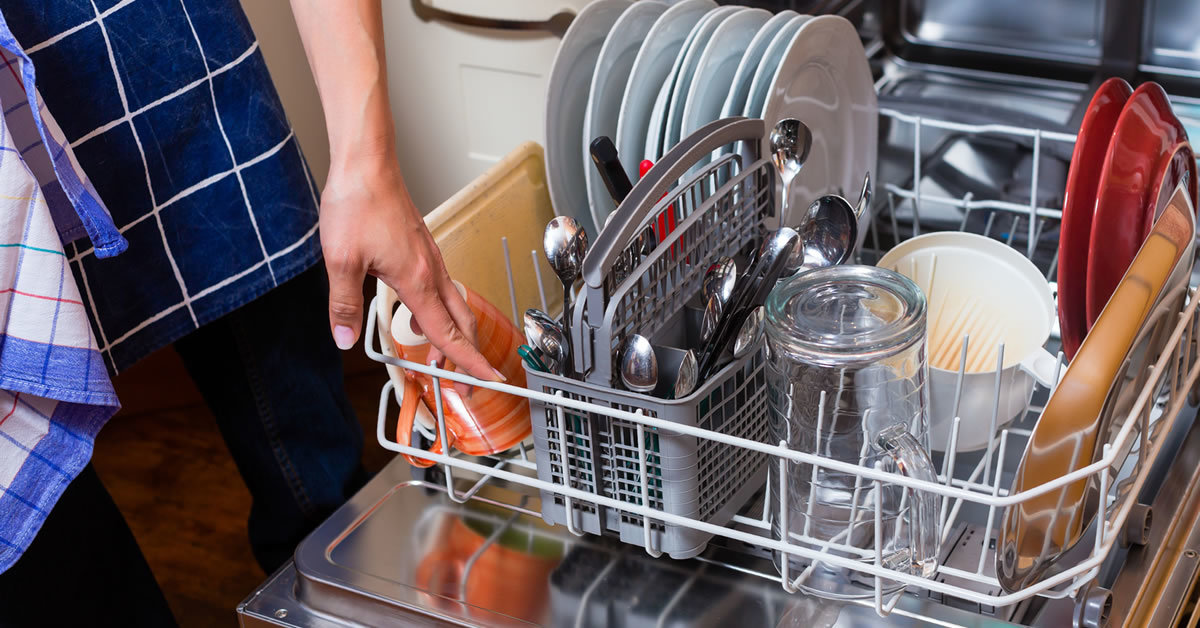 If there is one extra appliance that I splurged on with no regrets, it would be our dishwasher at home. If you've spent most of your life manually doing the dishes, an additional dishwasher machine may seem unnecessary. However, once I finally gave in to owning one, there is just no going back to manual dishwashing.
The key is to find a reliable dishwasher with great consideration for your kitchen space. This way, you are guaranteed to be able to make the most of out of your purchase. Here's a quick guide to the best dishwashers you can find in Malaysia.
9 Best Dishwashers in Malaysia
1. Beko Dishwasher Review of DFN05R11W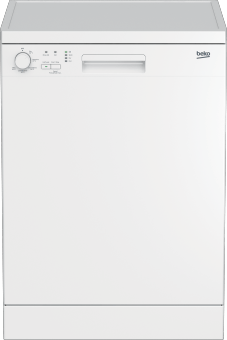 Energy Efficient
This dishwasher is on top of our list mainly due to its energy efficiency. One of our main considerations prior to switching to a dishwasher is its impact on our electricity and water consumption, and fortunately, Beko fit these qualifications.
Why buy this
A+ Energy Efficiency
Clean & Shine™ Programme
Salt and Rinse Aid Indicator Lights
Folding Cup Racks
Another benefit of this dishwasher is that you do not have to try to hard to clean its filter since its easily accessible. There are over 10 washing settings in this dishwasher so you are guaranteed that all your dining ware are covered.
Check prices on Lazada
Check prices on Shopee
2. Panasonic NP-TR8HQMY Dish Washer Machine
Compact Size
Panasonic has always been an easy brand to trust when it comes to durable and functional appliances. This dishwasher certainly did not fail expectations, either.
Why buy this
Big capacity within a compact size
Standard storage capacity: 45 items
Water Consumption Approx. 11L (standard washing program)
It's definitely also really compact in size so you can easily place in your kitchen counter without sacrificing too much space.
Check prices on Lazada
Check prices on Shopee
3. Giselle Dishwasher KEA0205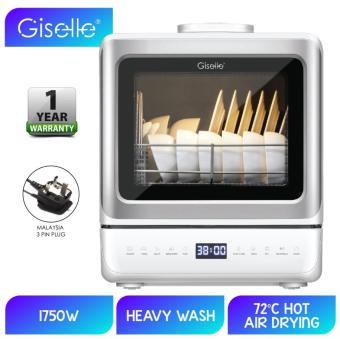 Best Heating System for Dishwasher
Here's another cute but incredible dishwasher we love. It has a transparent glass window so it makes it even more fulfilling to have your greasy dishes being washed.
Why buy this
38 Minutes (Normal Wash)Capacity
6-8 sets tablewarePumo Lift
7 meters of Heating System
Dual Heating SystemTemperatur
Giselle offers one of the best heating systems for dishwashers. So easy to set according to the types of dishes that you want to be cleaned up.
Check prices on Lazada
Check prices on Shopee
4. Toshiba Dishwasher Malaysia Model DWS-22AMY – Countertop/Table Top Design
Ventilation Effect
Even if you are living in an apartment, it does not mean you cannot own a dishwasher. Doing the dishes alone can be exhausting so you will find this tiny dishwasher as a huge help.
Why buy this
22 washing capacities
360 degree of upper and bottom water spray arm
Drainage pipe
Only 5-litre consumption
It comes with a ventilation effect too ensuring that dishes are free from germs and moulds that commonly accumulate in a moist environment.
Check prices on Lazada
Check prices on Shopee
5. BOSCH Dishwasher SMS46GW01P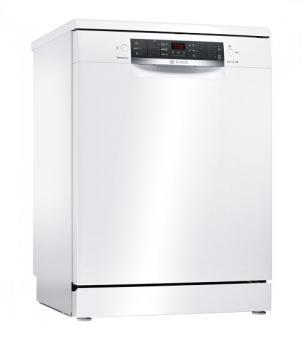 Large Capacity
Here's a great bet for family homes. It's a durable and large capacity dishwasher. It is designed for long-term and heavy use without consuming too much electricity.
Why buy this
High energy efficiency and low water consumption
SuperSilence: Low operating noise at only 46 dB(A).
MachineCare: Maintains the wash quality and reliability of your dishwasher throughout its lifetime.
This dishwasher comes with a high-pressure sprayer for optimum yet safe cleaning of your dining ware.
Check prices on Lazada
Check prices on Shopee
6. Electrolux Dishwasher Malaysia Model ESF6010BW Compact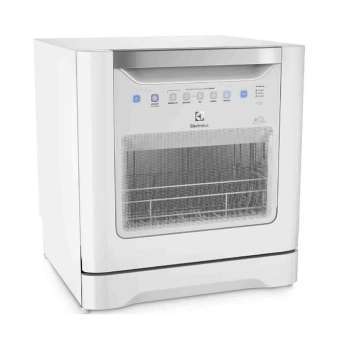 Anti-Leak Feature
It looks like your typical dish rack that can easily fit your kitchen counter, but this is one of Electrolux latest dishwashers that come with powerful and functional features to make sure your dishes are squeaky clean.
Why buy this
6 automatic washing programmes
LED indicators
Anti flood and leak device
No need to worry about the mess caused by water droppings due to the anti-leak feature. It also dries using residual heat drying for a more hygienic finish.
Check prices on Lazada
Check prices on Shopee
7. Kelvinator DishWasher KDW728JW
Anti-Flow Sensor
This is one of the most premium dishwashers we have found in the market. It really feels like one of those you see in the movies. The external and internal packaging of this product screams of great quality.
Why buy this
6 Wash programs
Electronic soft touch
Digital Time Remaining Display
Water Flow Sensor
Independent anti flow sensor
Conceal heating element
One of the best things about owning this dishwasher is how safe it feels – both for your dishes and for the user. It is also being sold at a steal-worthy price online.
Check prices on Lazada
8. Teka Free Standing Plate Dishwasher LP2 140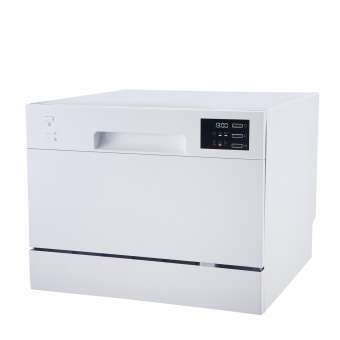 Best for Small Space
Another great dishwasher finds for small spaces. It fits enough dishes but does not consume your entire kitchen space.
Why buy this
Freestanding compact dishwasher
Electronic control panel
Digital display
Place Settings: 6
Washing programs: 6
Adjustable water temperatures
This compact dishwasher is certainly packed with lots of features that are present in its larger and more expensive counterparts.
Check prices on Lazada
9. Xiaomi Mijia VDW0401M Dishwasher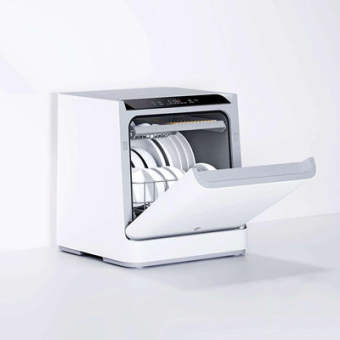 Doubles as Sterilizer
Xiaomi has recently been expanding their line of electronic appliances and so far, their dishwashers are among the most trusted products from the brand.
Why buy this
Sterilization&disinfection dual-effect clean, 99.99% sterilization rate
6D double spray system
Support Mijia APP and Xiaomi voice control
It can be used for dishwashing, sterilization, disinfection, drying and storage
Once again, Xiaomi delivers more than what you pay for. We love how this doubles as a sterilizer but at a much lower price point.
Check prices on Lazada
Check prices on Shopee
Important Benefits of Owning a Dishwasher
One of the most surprising things I discovered about dishwashers is that they actually use less water than how we manually do things. When I first saw how it works, I was worried about the water waste but based on our bill and a bit of research, dishwashers are designed to be more water-efficient.
Apparently, it saves you so much time in washing your dishes, while also being assured of thorough, germ-free cleaning. The washing settings are totally customizable depending on the dishes you are dealing with.
Check out our best dishwashing machines in Malaysia and its price here:
FAQs
What are the best brands of dishwasher in Malaysia?
Beko, Panasonic, Giselle, Toshiba, and Bosch
What is the advantage of owning a dishwasher?
High quality dishwashers ensures thorough yet gentle cleaning of your dishes, not to mention all the time and effort you save from no longer doing it manually.
How do I know which items I can put in the dishwasher?
Most high quality dining and cooking ware are now made to be dishwasher safe. Nonetheless, make sure to check with the product label if they are safe for dishwashers.
How much does a dishwasher cost in Malaysia?
Dishwashers cost around RM 1,500.00 in Malaysia.
You might be interested in these articles:
Click here for other home appliances related articles.
Latest posts by Kathy Wong
(see all)
This article was brought to you by BestAdvisor.my
Disclaimer: This is the opinion of the writer or publication. We only recommend products or services that we have tested and tried ourselves or have done in-depth research with positive external reviews and find them to be useful for everyone. The products/services shown are available upon the publication date. The availability may change from time to time. If some of them are not available, please email us at [email protected] Thank you!