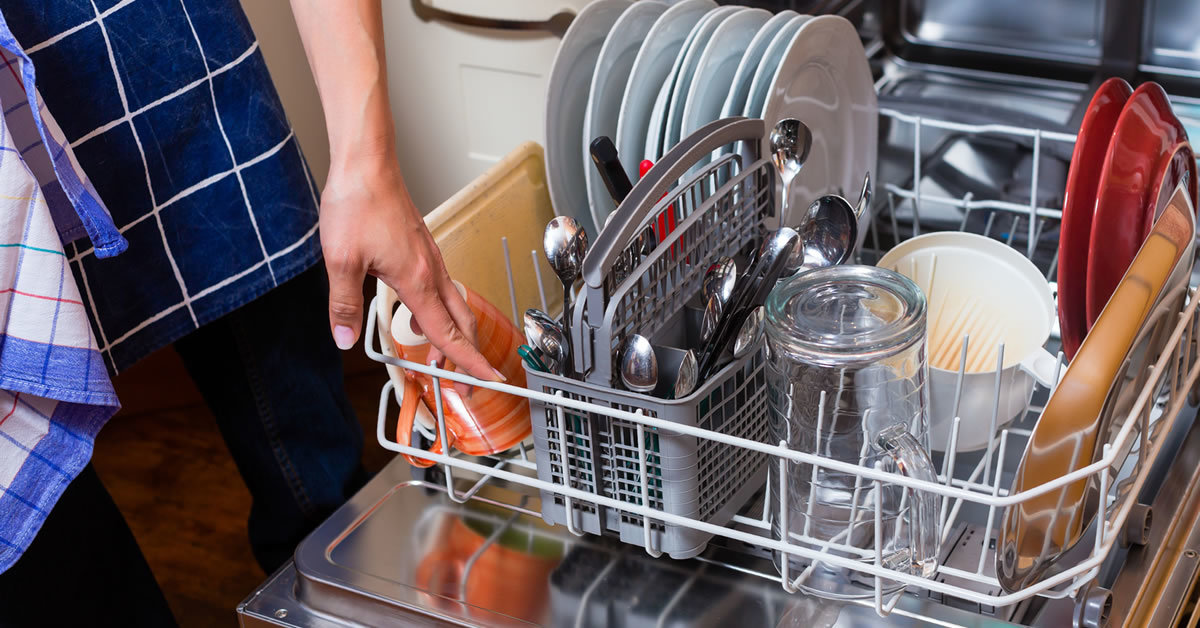 If there is one extra appliance that I splurged on with no regrets, it would be our dishwasher at home. If you've spent most of your life manually doing the dishes, an additional dishwasher machine may seem unnecessary. However, once I finally gave in to owning one, there is just no going back to manual dishwashing.
Table of Contents
9 Best Dishwashers in Malaysia

Best Dishwasher Brands in Malaysia
Important Benefits of Owning a Dishwasher
FAQs
The key is to find a reliable dishwasher with great consideration for your kitchen space. This way, you are guaranteed to be able to make the most of out of your purchase. Here's a quick guide to the best dishwashers you can find in Malaysia.
Malaysia Dishwasher Comparison Table
9 Best Dishwashers in Malaysia
1. Beko Dishwasher DFN05R11W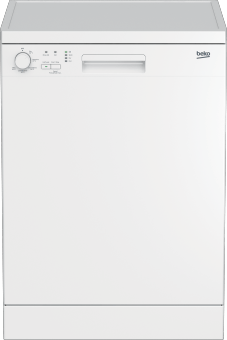 Energy Efficient
This dishwasher is on top of our list mainly due to its energy efficiency. One of our main considerations prior to switching to a dishwasher is its impact on our electricity and water consumption, and fortunately, Beko fit these qualifications.
Pros:
A+ Energy Efficiency
Clean & Shine™ Programme
Salt and Rinse Aid Indicator Lights
Folding Cup Racks
Cons:
Another benefit of this dishwasher is that you do not have to try to hard to clean its filter since its easily accessible. There are over 10 washing settings in this dishwasher so you are guaranteed that all your dining ware are covered.
Check prices on Lazada
Check prices on Shopee
4. Giselle Dishwasher KEA0205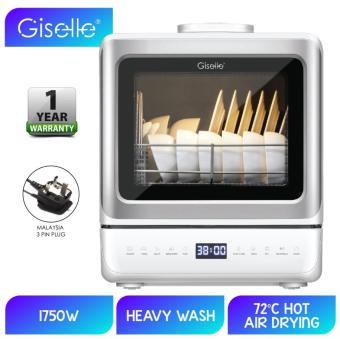 Best Heating System for Dishwasher
Here's another cute but incredible dishwasher we love. It has a transparent glass window so it makes it even more fulfilling to have your greasy dishes being washed.Giselle offers one of the best heating systems for dishwashers. So easy to set according to the types of dishes that you want to be cleaned up.
Pros:
38 Minutes (Normal Wash)Capacity
6-8 sets tablewarePumo Lift
7 meters of Heating System
Dual Heating System Temperature
Cons:
Drying function not as effective as free standing or built-in ones
Check prices on Lazada
Check prices on Shopee
3. BOSCH Dishwasher SMS46GW01P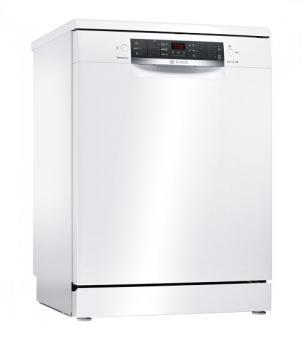 Large Capacity
If you're looking for a dishwasher that can handle the heavy use of your family, this is it! This model has been designed with durability in mind and will not break down easily. It also consumes less electricity than most other models so no more high energy bills just because they have an H2O setup at home. The input sentence discusses how people should be able to find durable appliances which are large enough capacity wise .
Pros:
High energy efficiency and low water consumption
SuperSilence: Low operating noise at only 46 dB(A).
MachineCare: Maintains the wash quality and reliability of your dishwasher throughout its lifetime.
Cons:
Bigger learning curve to learn how to start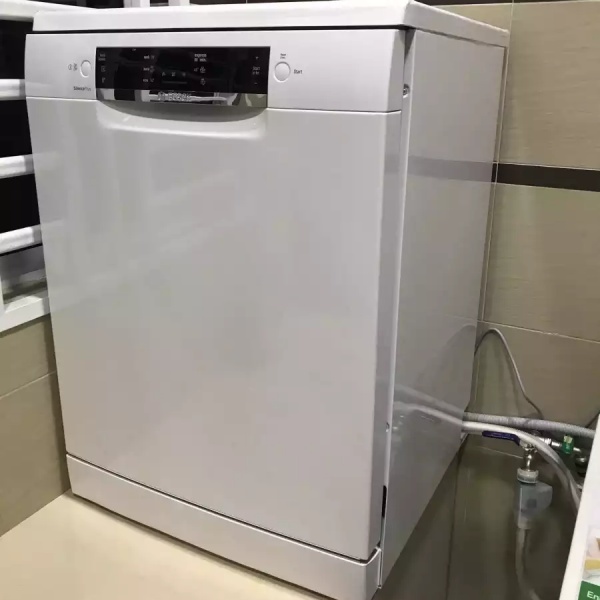 This dishwasher comes with a high-pressure sprayer for optimum yet safe cleaning of your dining ware.
Check prices on Lazada
Check prices on Shopee
4. Electrolux Dishwasher Malaysia ESF6010BW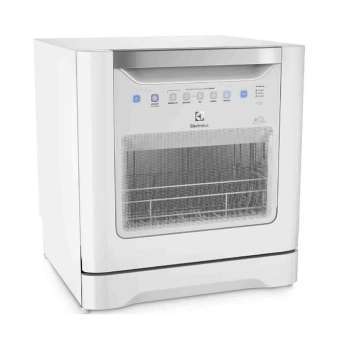 Anti-Leak Feature
It looks like your typical dish rack that can easily fit your kitchen counter, but this is one of Electrolux latest dishwashers that come with powerful and functional features to make sure your dishes are squeaky clean. No need to worry about the mess caused by water droppings due to the anti-leak feature. It also dries using residual heat drying for a more hygienic finish.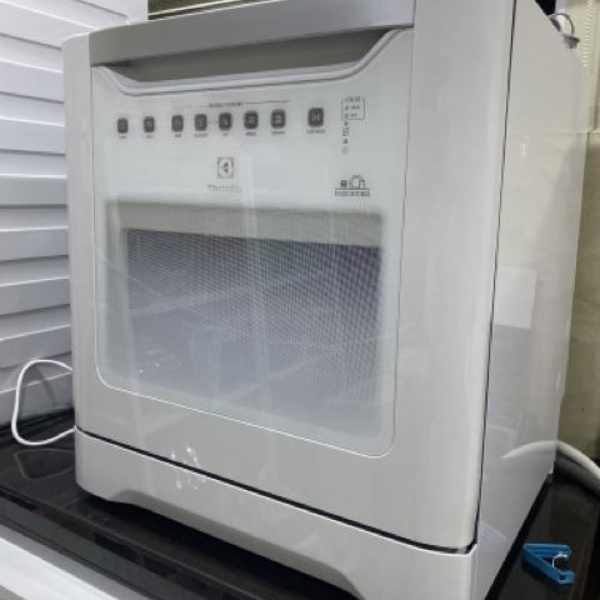 Pros
6 automatic washing programmes
LED indicators
Anti flood and leak device
Check prices on Lazada
Check prices on Shopee
5. Xiaomi Mijia VDW0401M Dishwasher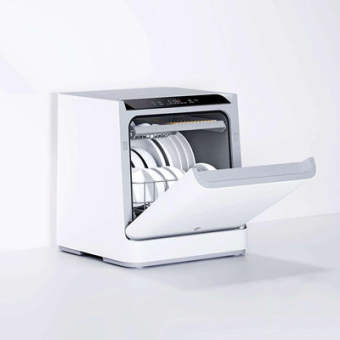 Doubles as Sterilizer
The Mijia 6D dishwasher can do it all! It has a sterilization rate of 99.99%, and its dual spray system makes sure your dishes are cleaner than ever before with six different nozzles to choose from – including one that shoots water up above so you don't have any more dirty plates on hand while also disinfecting everything in sight at once.
Pros:
Sterilization&disinfection dual-effect clean, 99.99% sterilization rate
6D double spray system
Support Mijia APP and Xiaomi voice control
It can be used for dishwashing, sterilization, disinfection, drying and storage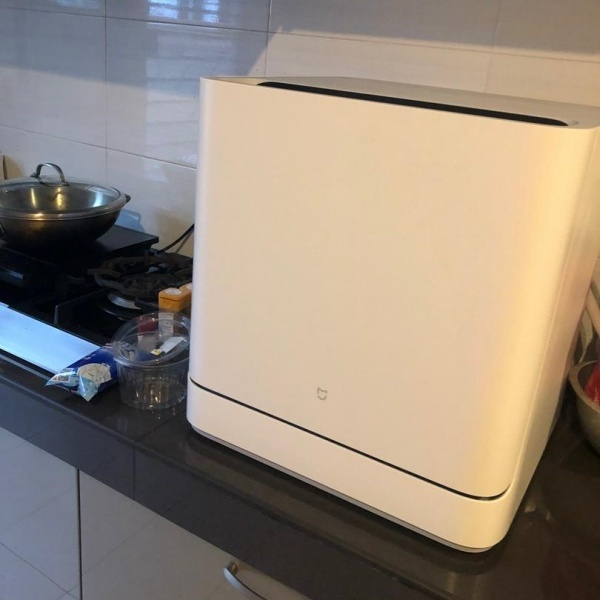 Once again, Xiaomi delivers more than what you pay for. We love how this doubles as a sterilizer but at a much lower price point.
Check prices on Lazada
Check prices on Shopee
6. Toshiba Table Top Dishwasher DW-08T1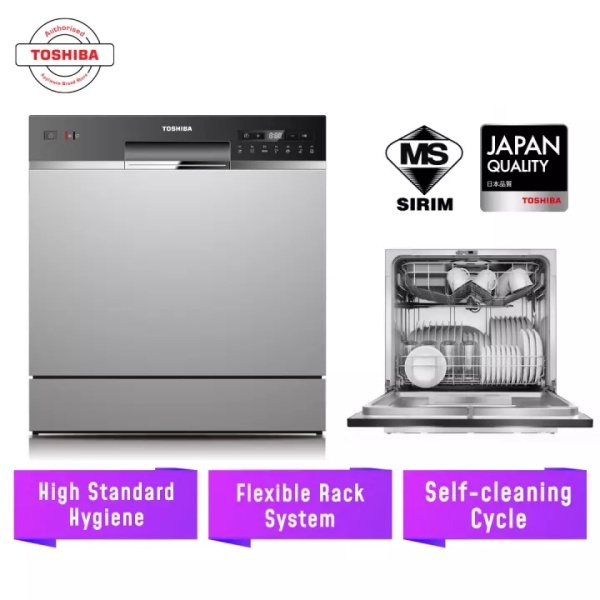 Highly Hygienic
The Toshiba Table Top Dishwasher DW-08T1 offers high standard hygiene and flexibility with its rack system. The self-cleaning cycle ensures that your dishes come out clean and bacteria-free, while the anti-bacterial filter prevents any nasties from building up. The sleek LED panel makes it easy to keep an eye on your dishwashing progress.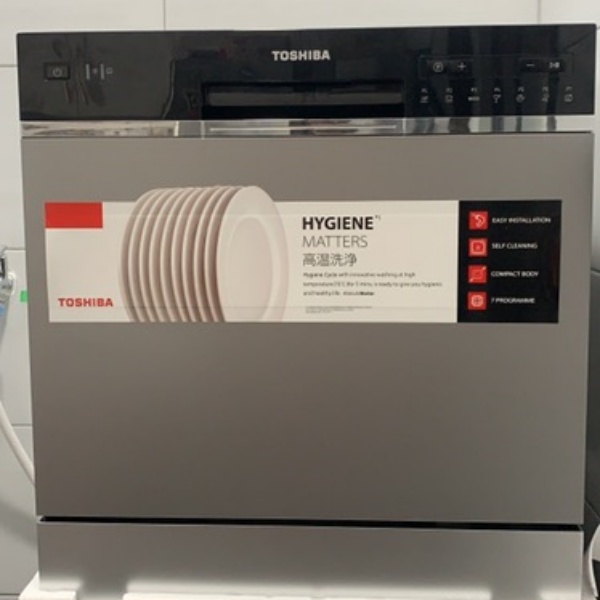 Pros:
Water leak systems

Effortless Eco-washing

Clear display panel
Check prices on Lazada
Check prices on Shopee
7. Toshiba DW-14F2(BS)-MY Free Standing Dishwasher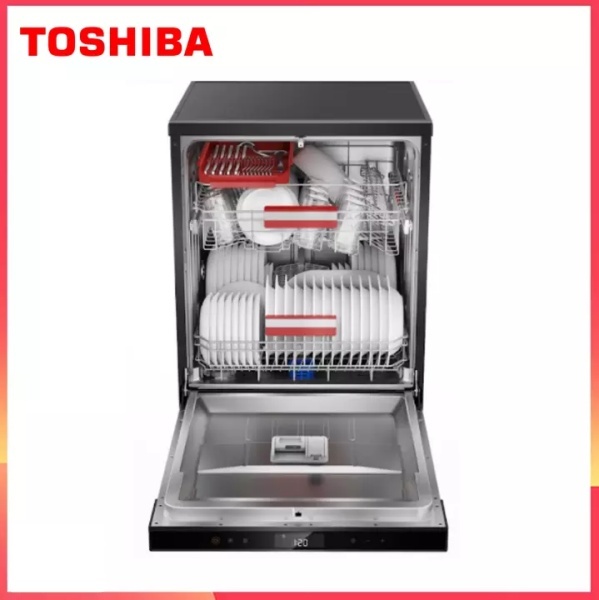 For Large Loads
The Toshiba DW-14F2(BS)-MY is a free standing dishwasher that's perfect for families with 12-14 members. It has an impressive 14 place setting capacity, and comes with a range of features to make dishwashing easier than ever. There's an anti bacterial filter to keep your dishes clean and bacteria-free, as well as an off-peak wash function that helps you save money on your energy bills.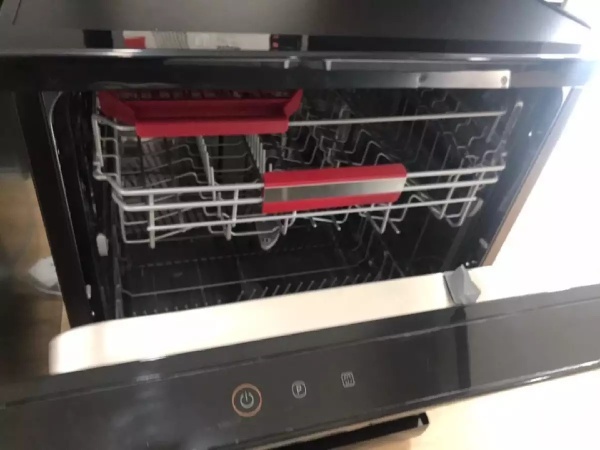 Pros:
Self-Cleaning

Leak protection system

Child lock
Check prices on Lazada
Check prices on Shopee
8. BORASL German Automatic Dishwasher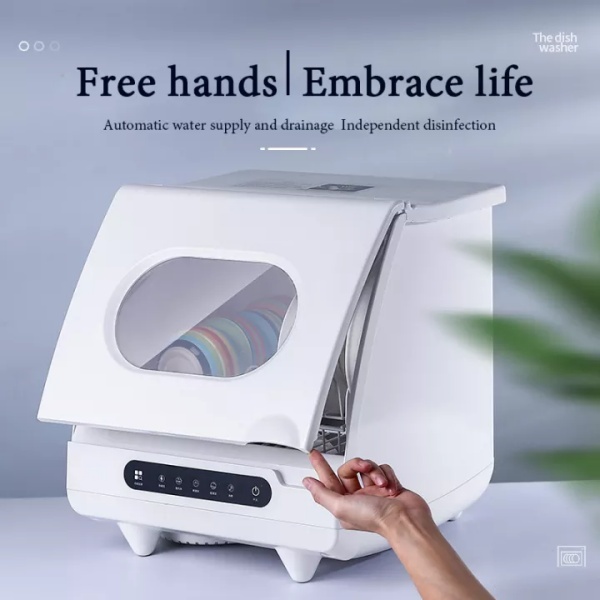 UV Sterilization
For cooks and chefs all around the world, this 8-person dishwasher is a lifeline. With powerful jets that reach all the way to the bottom of even the deepest pieces and a high temperature of 70 degrees that won't melt your plastics or foam cups, the 360-degree rotating jet washing system washes dishes fast and efficiently. A double layer of reverse spray will cover every inch of your flatware, and 3D spraying will ensure that nothing slips through. Include antibacterial properties blended into two disks at the start and end of each cycle, as well as integrated disinfection and utensil sterilization.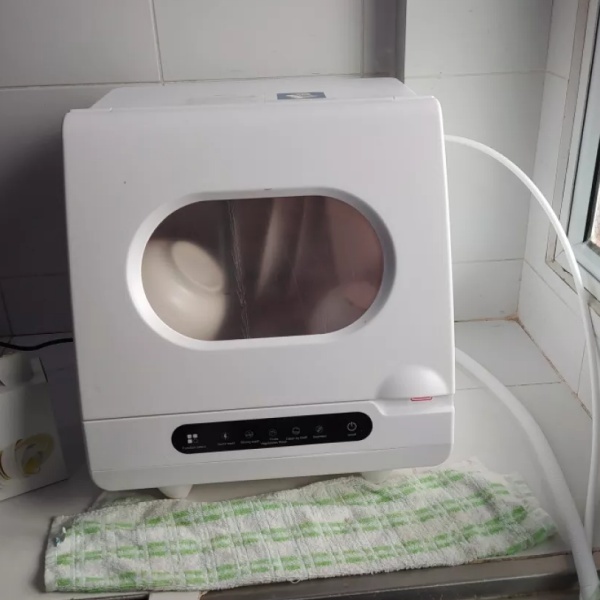 Pros:
6 different programs for different wash settings

60 minutes washing for comfort

Adjustable tableware size
Check prices on Lazada
9. BEKO DIN46X30 BUILT-IN DISHWASHER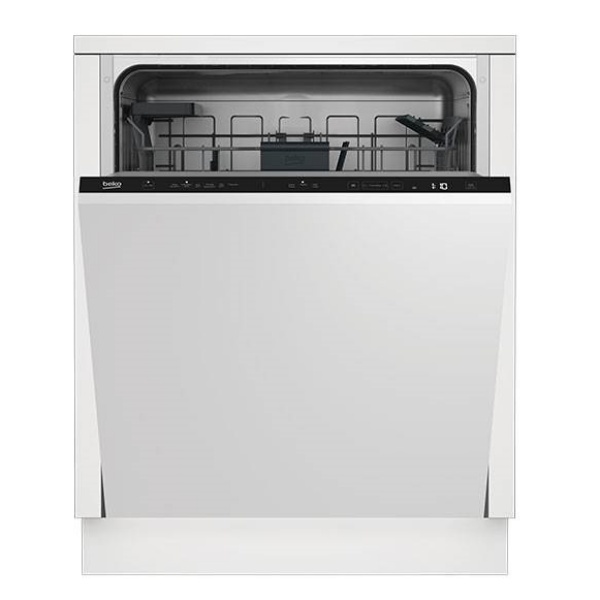 Energy Efficient
The BEKO DIN46X30BUILT IN DISHWASHER is the perfect addition to any kitchen! Its SelFit feature ensures the door stays stable at any angle, while the sliding Cutlery Basket gives you more room for pots and pans. The Sliding Detergent Dispenser makes it easy to open the dispenser lid, and the Easy-fold Plate Support provides extra room for pots and pans. Plus, this dishwasher is fully integrated and has a size of full-size. It also has an energy efficiency class of A+++ and a noise level of 48 dBA.
Pros:
LED display

Manual Adjustment for time delay for up to 24 hours

Flexible Half-load feature
Check prices on Lazada
Best Dishwasher Brands in Malaysia
Beko
Beko dishwashers are the toughest in their class, and they've got some awesome features to match. Tired of high electric bills? Their ENERGY STAR®-praiseworthy design means you won't be paying through your nose with expensive power rates! Can't hold a conversation while someone runs circles around preparing dinner? The quietest models can make less than 39dB so as long it's not too loud for comfort then there's no problem whatsoever – just enjoy being able to put down the noise, after all this machine does provide excellent cleaning performance anyway.
Bosch
The durability of a Bosch dishwasher is nothing if not outstanding. Every part, from metal to plastic and even rubber will be tested thoroughly before going into production so that they can make sure each one has been proven durable enough for any task imaginable!
Electrolux
Electrolux dishwashers are efficient and provide you with a long list of features that will make your life easier. Our AAA-rated models only use 10 litres per full load, while still delivering great performance! Some also have an auto-off function so they can be disconnected after the cycle finishes without wasting any water or energy-saving everyone has some money at home too!
Important Benefits of Owning a Dishwasher
One of the most surprising things I discovered about dishwashers is that they actually use less water than how we manually do things. When I first saw how it works, I was worried about the water waste but based on our bill and a bit of research, dishwashers are designed to be more water-efficient.
Apparently, it saves you so much time in washing your dishes, while also being assured of thorough, germ-free cleaning. The washing settings are totally customizable depending on the dishes you are dealing with. Read further to know the importance of having a dishwasher.
FAQs
What is the advantage of owning a dishwasher?
High quality dishwashers ensures thorough yet gentle cleaning of your dishes, not to mention all the time and effort you save from no longer doing it manually.
How do I know which items I can put in the dishwasher?
Most high quality dining and cooking ware are now made to be dishwasher safe. Nonetheless, make sure to check with the product label if they are safe for dishwashers.
How much does a dishwasher cost in Malaysia?
Dishwashers cost around RM 1,500.00 in Malaysia.
Conclusion
In the end, it's not about what other people think of your purchase. It's about you and your needs. If a dishwasher is something that would make your life easier or more enjoyable in some way, don't wait any longer to get one! Don't worry if an additional appliance seems unnecessary at first glance; before long, you may find yourself wondering how you ever managed without one.
Click here for other kitchen appliances related articles.
Latest posts by Kathy Wong
(see all)
This article was brought to you by BestAdvisor.my
Disclaimer: This is the opinion of the writer or publication. We only recommend products or services that we have tested and tried ourselves or have done in-depth research with positive external reviews and find them to be useful for everyone. The products/services shown are available upon the publication date. The availability may change from time to time. If some of them are not available, please email us at [email protected]. Thank you!
Last Updated on