When it comes to shifting to a healthier lifestyle, nothing beats reducing fats and oil in our overall diet. While frying things seem like that fastest way to prepare food, but it does not have to be the only option. With a reliable food steamer, you can start preparing healthier yet tasty steamed dishes minus the hassle.
Table of Contents
Best Food Steamer Comparison Table
Top Food Steamer Brands in Malaysia
What to look for in a food steamer?
Conclusion
FAQs
Food Steamer Comparison Table
(scroll right for more)
It's one of your best investments if you want to eat healthy, without really sacrificing food quality. Fortunately, food steamers are not that expensive to buy in Malaysia. Here are your best choices of food steamers in Malaysia:
10 Best Food Steamers in Malaysia
1. Trio 2 Tier 10L TFS18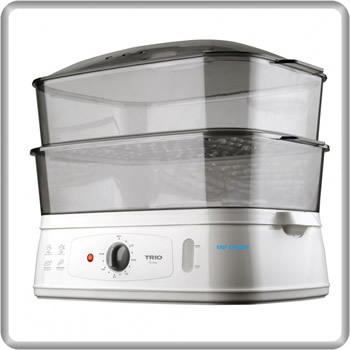 Best for Dumplings
If you are fond of dumplings and buns, you need to get your hands on this food steamer. This means unlimited access to your own homemade steamed dishes, without the need to make major re-arrangements in your kitchen because it is compact enough. It's best to go for food steamers with a double heating system since it is more time and energy-efficient.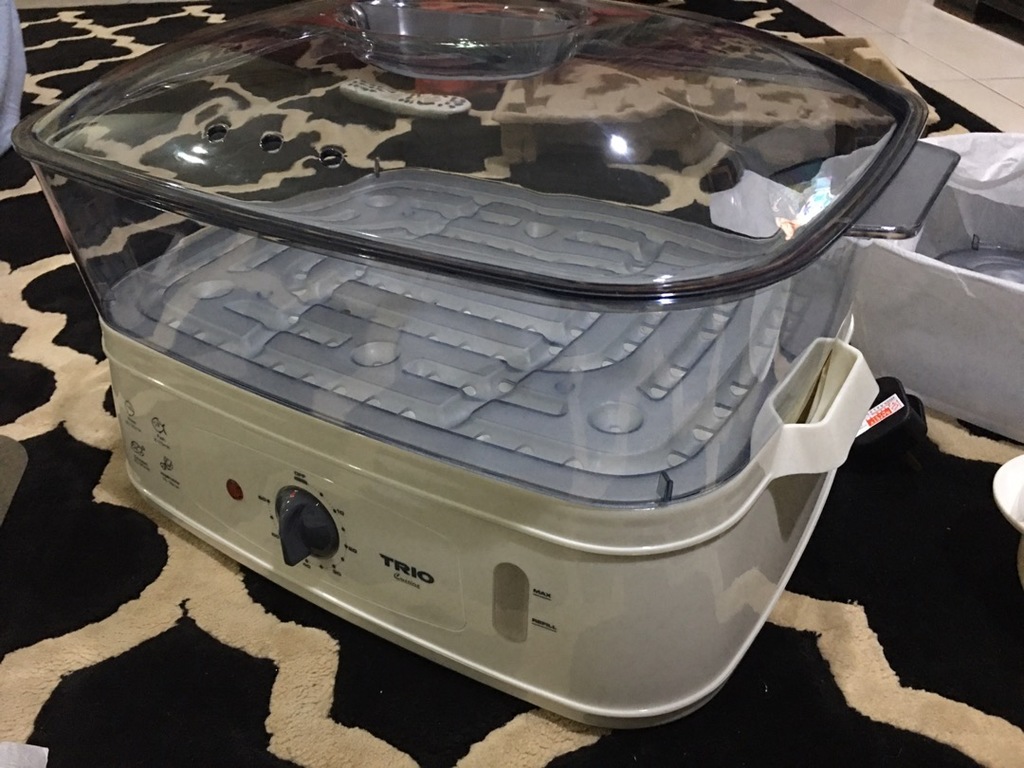 Pros:
An external water-fill system with see-through reservoir
Fully collapsible steaming trays
Double Heating System- for rapid heat
Cons:
Not ideal for small servings
Check prices on Lazada
Check prices on Shopee
2. Philips Daily Collection Steamer HD9104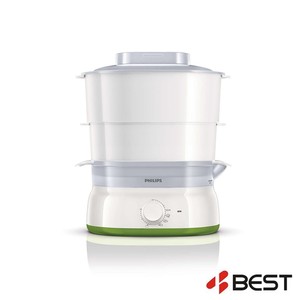 With Aroma Infuser
With the Philips steamer, you can now add delicious aroma of your favorite spices and herbs. Simply pop them into one of these special vessels for some serious kitchen magic that will make even more taste in food! The heat from boiling water releases all those delicate aromas right onto whatever it's cooking; giving everyone an opportunity to enjoy themselves with mouthwatering flavours at every bite they take.
Pros:
With Aroma Infuser
Easy to fill with water
2 baskets to steam with
Cons:
Plastic case may not be for everyone
Check prices on Lazada
Check prices on Shopee
3. AKIRO Big 30cm 3 Layers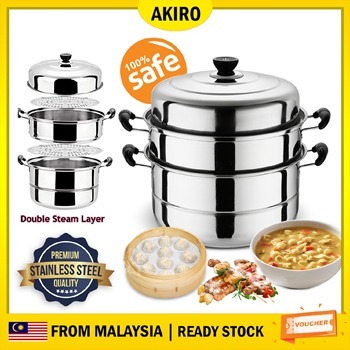 Insulated and Anti-Skid
For those in a bigger household, it is best to invest in a larger food steamer to save more time and energy. Ideally, go for those from 28 cm or more such as this one from Akiro. Akiro really ensured to pack this food steamer with handling safety, making the product family-friendly.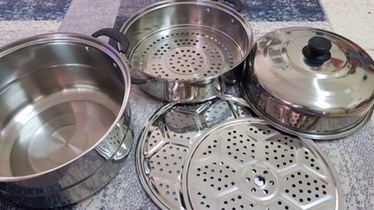 Pros:
Stainless steel structure double boiler capacity
Vented hole lets steam escape preventing boiling over
The filtered water is convenient and the large capacity
Cons:
Not ideal for large servings
Check prices on Lazada
Check prices on Shopee
4. Morgan Steamer 2 Tier 28L Nutristeam MFS-29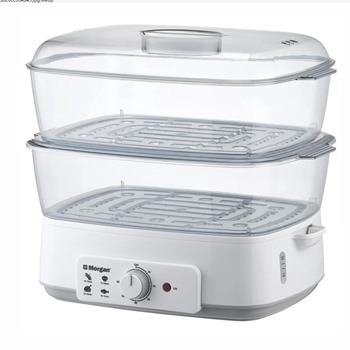 Best for Chicken and Vegetables
Whether it's a whole chicken or just some steamed vegetables, this food steamer is reliable enough to thoroughly cook your food. It heats rapidly and consistently making it suitable for serious meal preparations. Having this at home proves that frying is not the only option when it comes to fast and easy meal preparation.
Pros:
Come with double heaters
Exterior water refill funnel with water level indicator
Anti-dry thermostat protection
Cons:
Takes time to steam due to large size
Check prices on Lazada
Check prices on Shopee
5. Panasonic SR-Y22FGJLSK/RSK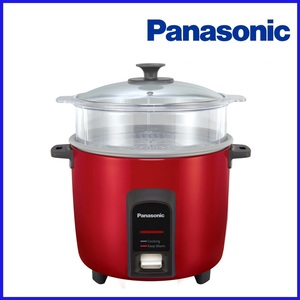 Multipurpose
The Panasonic SR-Y22FGJ is a perfect choice for those who want to make their meals more special. With easy cooking and cleaning features, you can cook up 2 different dishes at once! You won't even need another pot when it comes time eat your delicious meal – just put some rice in this guy then wait until its done before adding anything else on top (or inside). The durable exterior means that no matter what happens during transport or storage–the hardiness will stay ut intact so long as they're taken care off properly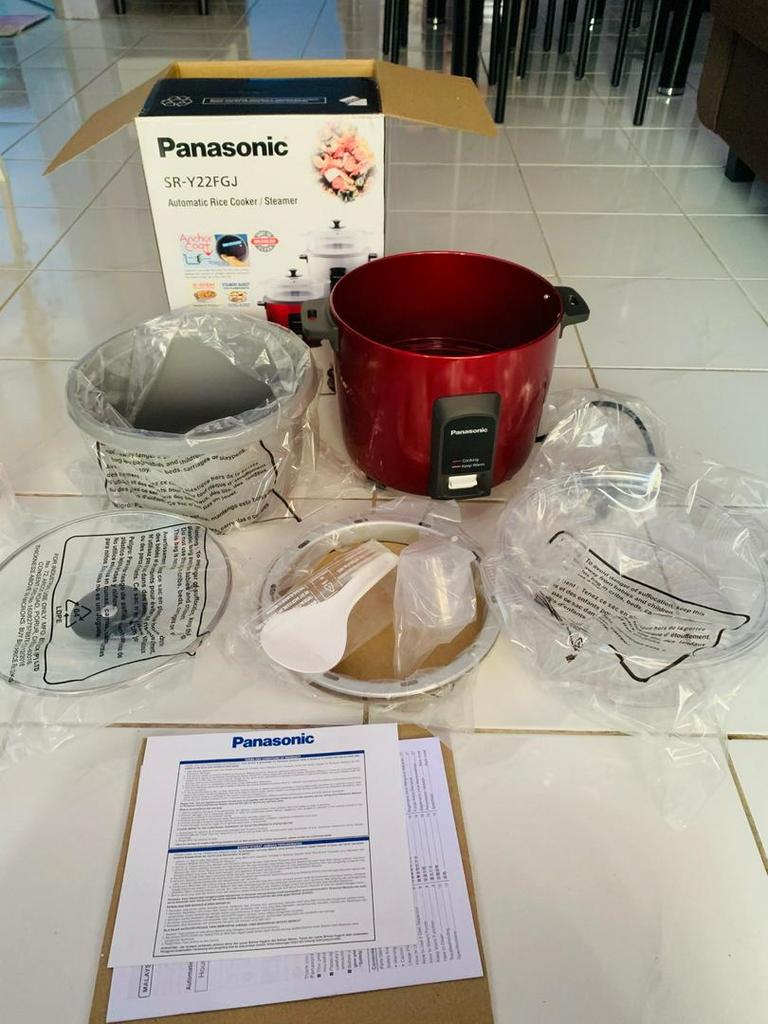 Pros:
Dual Purpose
Non stick coated pan
5 hours of keep warm function
Cons:
Check prices on Lazada
Check prices on Shopee
6. Tefal Minicompact Steamer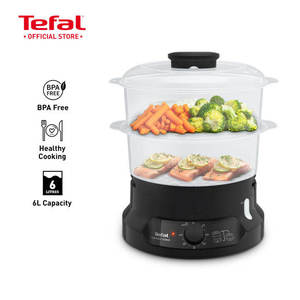 Space Saver
With the Tefal Minicompact Steam Cooker, you can cook tasty and nutritious meals without any of the hassle. It's an ultra-compact format that frees up space on your countertop for other things in life while still delivering healthy cooking results with 2 bowl multi tier steaming capabilities which let cooks utilize their time more efficiently by cooking different ingredients at once – all powered through BPA free bowls!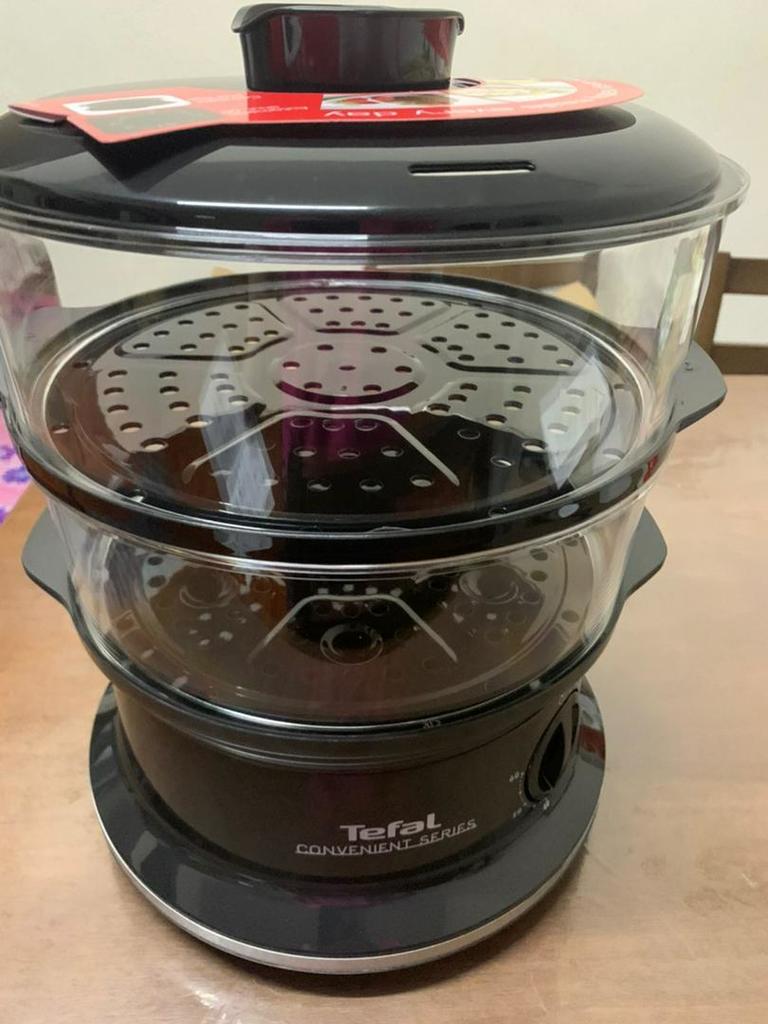 Pros:
Ultra Compact Storage
Auto shut off timer
BFA Free Bowls
Cons:
Check prices on Lazada
Check prices on Shopee
7. Tefal VC1401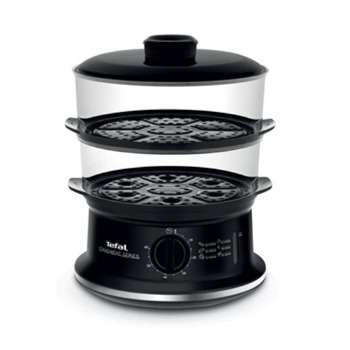 Plug and Use Food Steamers
Make sure that great flavours are properly infused in your food with this portable food steamer from Telfal. You can prepare your favourite meals conveniently from anywhere with this plug and use food steamer. It is also safe to use even for those new too cooking with its consistent temperature and timer.
Pros
Easy cooking with a mechanical timer
Automatic stop after cooking
Visible water level
Cons:
Check prices on Lazada
Check prices on Shopee
8. Milux MFS-8001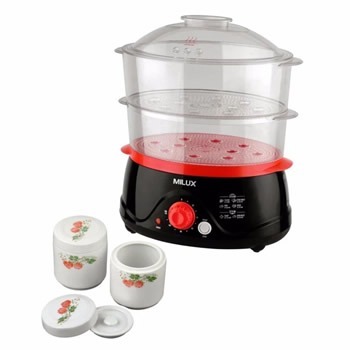 Detachable Parts
Rapid steam release plus a boiler function. You get your money's worth with this steamer. All parts are detachable as well giving you more cooking options. No need to worry about the possible burning of food, too. It comes with auto dry protection, which means it officially shuts off when the water runs out.
Pros:
Timer setting, No need to look after the fire (traditional)
Easy to clean Design
Double tier steamer basket
Cons:
Check prices on Lazada
Check prices on Shopee
9. Hesstar HFS-3M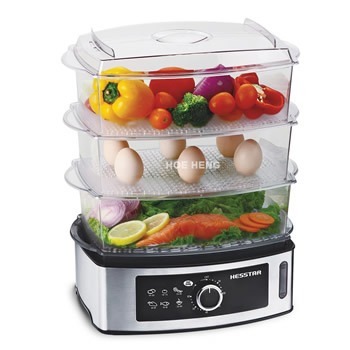 Time-Saving
Steaming may not be as fast and easy as frying, but with multi-tasking food steamers like this one from Hesstar, you still can definitely save more time, but with more food prepared. The design ensures that food is cooked fast and thoroughly no matter how many dishes you are trying to cook.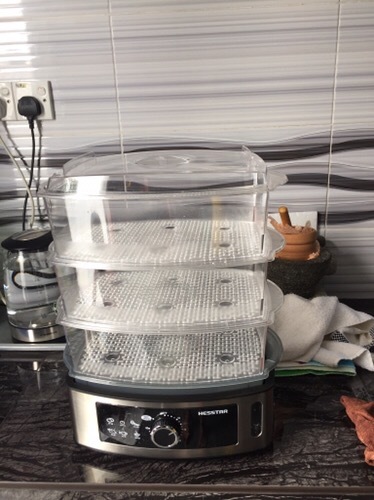 Pros
3-tier storage
Keep Warm Function
Faster Steam Production
Cons:
Some users report one side steams faster
Check prices on Lazada
Check prices on Shopee
10. Elba 10L EFS-G1035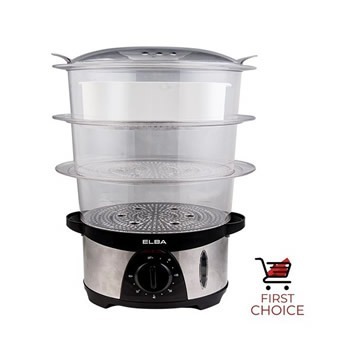 Best for Large Group
For those who find themselves preparing food for a large group of people, you can now showcase a variety of healthy meals with fewer efforts with this large capacity food steamer. It is made from the high-grade external body so no need to worry about it getting rusty over sustained use.
Pros:
Capacity: 10L 3
Detachable Baskets
Stainless Steel Body
Cons:
The plastic material is not as thick
Check prices on Lazada
Check prices on Shopee
Top Food Steamer Brands in Malaysia
Trio
Trio is a company that has been around for years and they still make great products. They use high quality materials, durable designs so you don't have to worry about breaking them anytime soon (or ever), user friendly functions.
Elba
With their attention to design and continuous pursuit of excellence, Elba appliances have always been known as a brand that showcases the "Made in Italy" style. Now they offer their customers access too excellent quality at surprisingly great price tags!
Panasonic
The brand Panasonic has been producing high-quality products for over 100 years. They are known to be durable and affordable, which complete the house of their consumers in line with what they promise–to give happiness!
What to look for in a food steamer?
Food steamers are undoubtedly a great investment for better and healthier food. So, now that you decided to buy yourself one, what exactly should you look for?
One of the most important features to look for in food steamers is multi-functionality. It just makes it more worth it to have new cookware that can help you prepare two or more dishes in one go. You also need to know whether the size of the pot of the food steamer matches that of your existing stove.
You may also opt for electronic food streamers if you do not want any more pots in your kitchen. Finally, it is better to find a food steamer with rapid heating and steam release feature to ensure that your food is cooked well every time.
Conclusion
If you're looking for a healthier way to cook, a food steamer is the perfect option. They're affordable, easy to use, and can help you prepare delicious and nutritious meals in no time. Have you chosen the food steamer for your kitchen? If not, be sure to check out our selection – we have something for everyone!
FAQs
What are the best food steamers in Malaysia?
Pengukus Steamer Cookware Pot Periuk Kukus Steam Pot 2 Layer High-Quality Stainless Steel
Trio Food Steamer 2 Tier 10L TFS18
Stainless Steel Food Steamer Cooking Pot 28cm 2 Layer
Can I use my rice cooker as a food steamer?
Yes. Most rice cookers now come with a steaming tray for added functionality.
How do I choose a food steamer? ❓
One of the most important features to look for in a food steamer is multi-functionality. It just makes it more worth it to have new cookware that can help you prepare two or more dishes in one go.
How much does a food steamer cost in Malaysia?
Food steamers cost around RM100.00 - RM 150.00
Click here for other kitchen appliances related articles.
Latest posts by Kathy Wong
(see all)
This article was brought to you by BestAdvisor.my
Disclaimer: This is the opinion of the writer or publication. We only recommend products or services that we have tested and tried ourselves or have done in-depth research with positive external reviews and find them to be useful for everyone. The products/services shown are available upon the publication date. The availability may change from time to time. If some of them are not available, please email us at [email protected]. Thank you!
Last Updated on