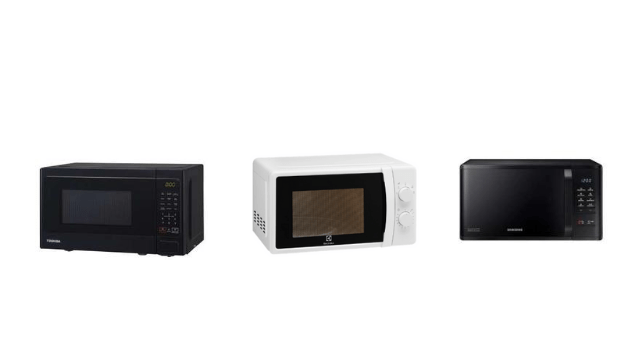 Who does not love the convenience and warm food facility? For a modern and efficient kitchen, a microwave oven is one of the essential home appliances. Microwave ovens are very quick to use and give you so many benefits such as defrosting the food, heating, and cooking various recipes in healthier ways.
Depending on your power setting, you might even be able to save up to 45% in energy costs compared to other cooking methods. For those who are trying to avoid fried dishes, having a microwave at home is also a convenient addition to the kitchen.
There are so many popular brands and models of microwave oven Malaysia. To get the best one, here is a full list of top 1b best microwave ovens in Malaysia.
Table of Contents
Best Microwave Oven in Malaysia

Best Microwave Brands in Malaysia
Choosing the Best Microwave Ovens for your Home
Tips on using Microwave
Our top recommended microwave in Malaysia:
FAQs
Malaysia Microwaves Comparison Table
Top Microwaves in Malaysia
1. Sharp Microwave R207EK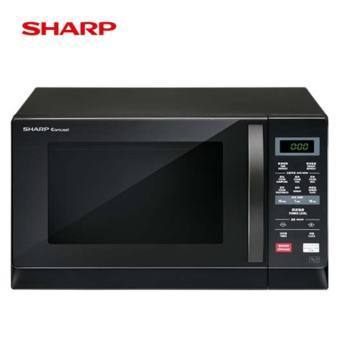 Best for Low-Fat Menus
Sharp is a reliable brand for microwave ovens. If you're looking for cleanliness, convenience and power in the kitchen, look no further than Sharp's Microwave Oven 20L R207EK. This microwave features a new hairline design and comes with two auto menus to streamline your cooking process. Moreover, it is energy-saving and has a large 20l capacity.
Cooking expert or not, you'll find that cooking has never been easier with the Sharp Microwave oven. With 2 Auto Menus, this microwave can accommodate any dish you're cooking.
This particular model of Sharp is very much efficient and convenient as well. You can eat the low-fat menus with this microwave oven. The convection cooking facility can give you a uniform result. It can replace your need for a traditional electric oven.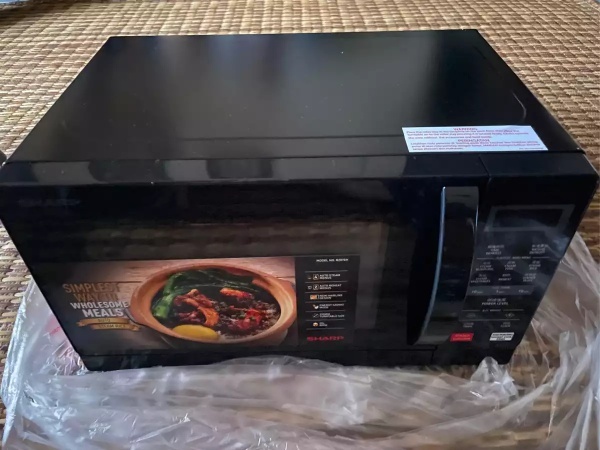 Pros:
This microwave oven has a steam menu facility.
Time defrost key is there.
Weight defrost key is there.
Smart touch screen panel.
Cons:
Check prices on Lazada
Check prices on Shopee
2. Samsung Microwave Solo 23L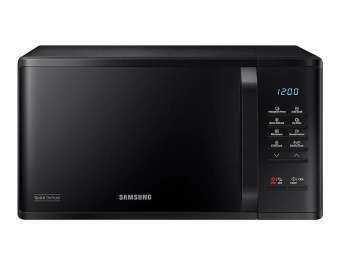 Convenient and Faster
It is one of the convenient microwave ovens. It can defrost and cook 20% faster than other appliances. You can get a durable ceramic interior. The interior is scratch-free and easy to clean as well. This microwave oven has so many advanced features.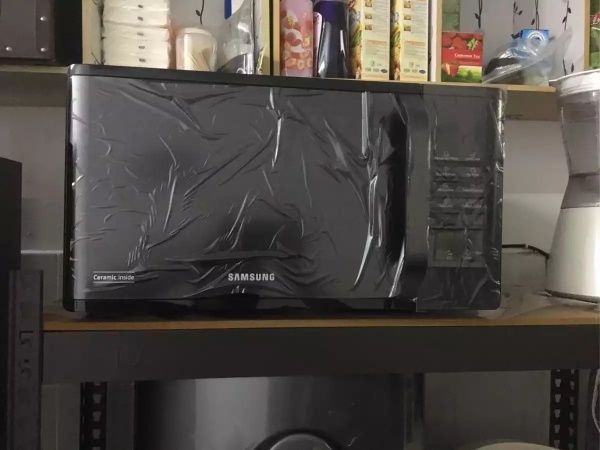 If you need to thaw your turkey in a hurry, the Quick Defrost setting is here to save the day. It's also great for reheating leftovers, and if you need to cook something from scratch, you can easily program it with the touch of a button.
And when it comes time for cleanup, the Deodorization setting can help freshen up your kitchen with a light scent that lingers for hours.
Pros:
Quick and fast automatic defrost option.
Long-lasting and durable ceramic interior with bacteria protection.
Deodorization setting to remove the bad odour from inside of the microwave oven.
Comes with high-tech features.
Child safety lock feature
Cons:
Check prices on Lazada
Check prices on Shopee
3. Sharp Microwave Oven R213CST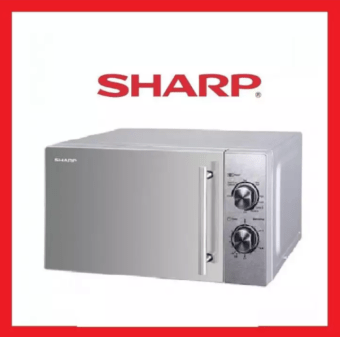 Best microwave oven for easy grilling
It is quite different and unique as per the look. The attractive silver design of this microwave oven differentiates it from all other microwave ovens in this list. It comes with the 20L facility. This microwave oven is best for a 4-person family.
This product is very easy to use. But our favorite feature is the "Eco-Save" function that automatically adjusts the cooking time depending on previous use to save you energy.
Pros:
This microwave oven comes with 20L capacity.
Looking very much stylish and perfect for modern kitchens.
Different 5 power levels with maximum 35 mins setting.
The weight guide can help the user to set the time of defrosting.
Cons:
Glass doors is not as resistant to impact
Check prices on Lazada
4. Toshiba Microwave MW2-MM21PF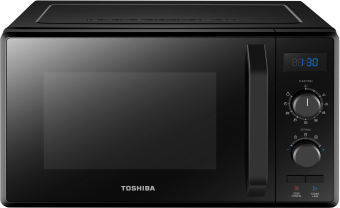 User-Friendly
Toshiba is one of the trusted companies for electronic appliances. This all-black colour microwave is very much popular in the market. This is perfect for those who want to prepare healthy meals in a hurry. The 21L capacity makes it easy to cook food without the need for constant monitoring while its end cooking signal makes it easy to know when food is done.
The oven also has slip-proof oven feet and a quiet operation to keep the noise down while you enjoy your meal. You can get a 1-year warranty with this microwave oven.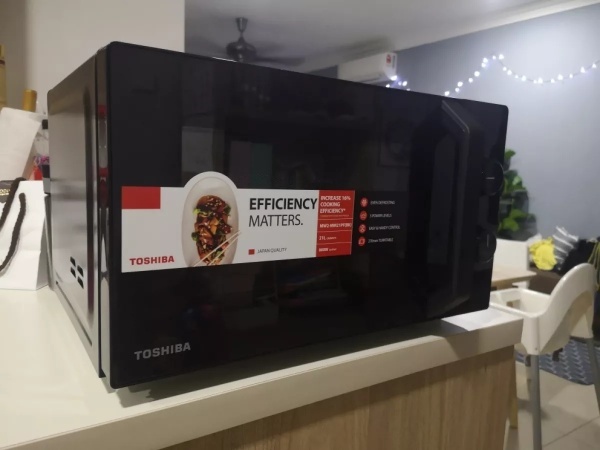 Pros:
Pull handle type open system for easy usage.
5 power settings.
High-tech mechanical control type.
Check prices on Lazada
Check prices on Shopee
5. Midea Microwave MM720CXM BK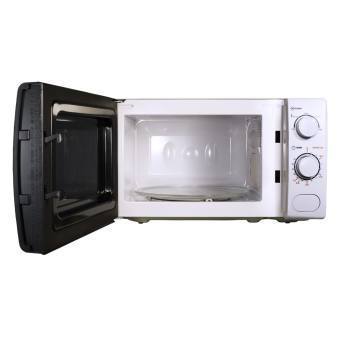 Affordable and Quality
Midea is another popular company of electronic products and their microwave ovens gathered great reviews so far. It is very much simple to use as it has only two control dials of power and time. For its price, this is one of the best microwave ovens for anyone looking to save power while cooking.
The new and improved Midea Microwave 20L has a timer that automatically shuts off the microwave when your desired cooking time is reached. The thermostat controls allow you to customize your cooking temperature from low to high, and the push button door allows for easy access.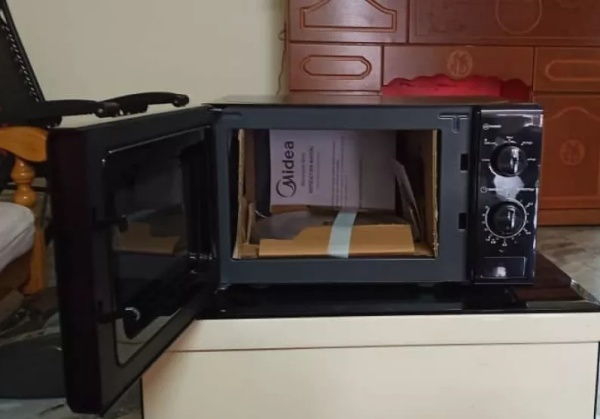 Pros:
This microwave oven is a solo countertop type.
The output power of this particular microwave oven is 700W.
Comes with defrost function.
Timer function facility.
Check prices on Lazada
Check prices on Shopee
6. Electrolux Microwave EMM20K18GWI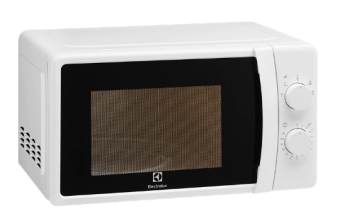 Easy Usage
Some things are just better when they're easy. Like microwaving your favorite frozen dinner. The Electrolux Microwave 20L does it all with a one-touch defrost and easy to clean enamel coating for quick and easy cleanup. Plus, with the Auto-Off Timer and room to fit a full-size dinner plate, you'll be spending less time in front of the microwave and more time at the table.
If you want to make the family-sized noodles or soup, then this microwave from Electrolux is the best option. You can easily adjust the buttons of this microwave oven as per your convenience.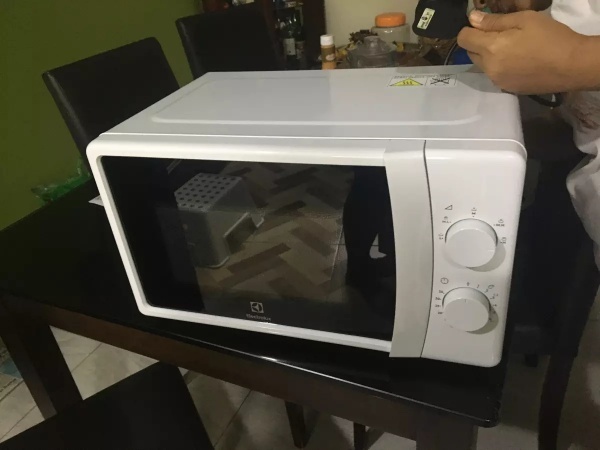 Pros:
The mechanical knob can give you an easy usage option.
You can get the quick to defrost timing.
You can get the 5 different adjustable power levels.
The door handle for comfortable and easy usage.
Check prices on Lazada
Check prices on Shopee
7. Toshiba ER-SGS20 Microwave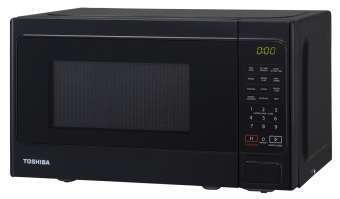 9 Different Auto-Cooking
The Toshiba ER-SGS20 Microwave takes the best of both worlds and combines microwave and grill functions to offer a variety of cooking capabilities. The microwave function offers a variety of speed settings to prepare your food just the way you like it, while the grill function allows you to prepare delicious foods with a crispy crust.
The 9 Auto Cooking Menu system provides a variety of different choices to meet your needs and is programmed to cook your food just right every time. The child lock feature of this model will allow parents to keep their little ones from entering the kitchen while they are making dinner or heating up something on hand in a hurry.
Pros:
You can get the grill function facility
You can also get the child-lock facility with this microwave.
You can also get the facility to express cooking in 1 to 6 minutes.
9 auto cook features
Interested to buy this? You can check this out online below:
Check prices on Lazada
Check prices on Shopee
8. Morgan Electric Microwave MEO-602RC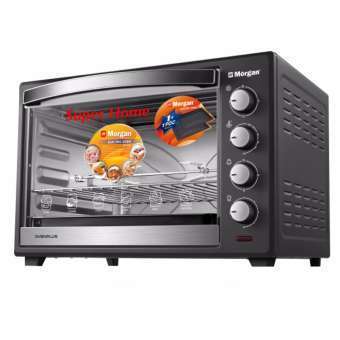 Best for Baking, Grilling, and Toasting
If you're looking for an easy-to-use microwave with manual control and a simple design, then look no further. The Morgan Microwave has a sleek, compact design that takes up minimal counter space. It also features easy operation with a defrost function that automatically adjusts the power level for quick and even heating.
This microwave can give you to spice up your cooking skills and inspire you to try new and innovative dishes. You can also check the microwave review of this particular microwave. This microwave is perfect for grilling, toasting and baking as well.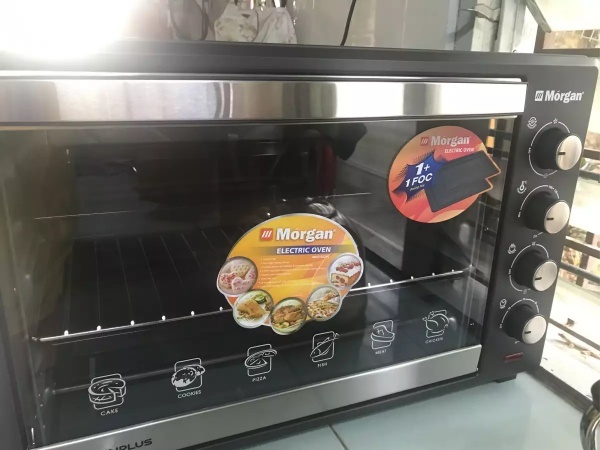 Pros:
You can get six different function selectors.
This microwave has a big and convenient capacity to deal with large and more varieties of food items.
It is designed with durable stainless steel.
Check prices on Lazada
Check prices on Shopee
9. Panasonic Microwave Oven NN-ST34HBMPQ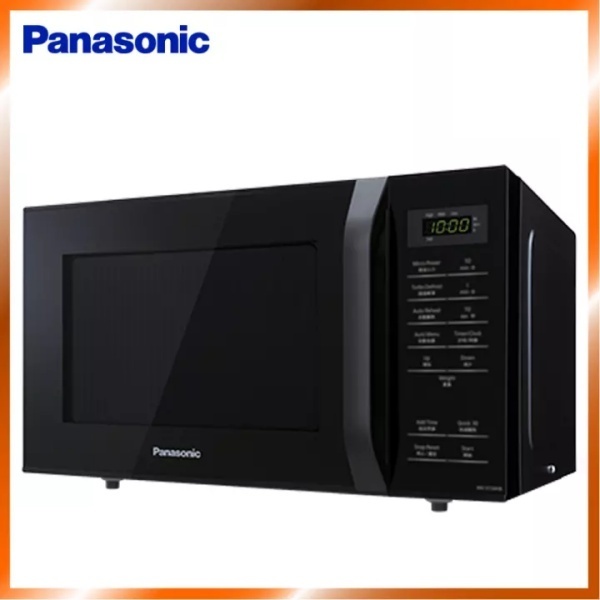 Quick Minute Button
Introducing the Panasonic Microwave Oven NN-ST34HBMPQ – perfect for anyone who wants to cook delicious, healthy meals quickly and easily. This microwave oven has 9 Auto Menus, so you can choose from a variety of pre-programmed cooking options. It also has a Quick 30 Function which allows you to cook food in just 30 seconds. Plus, with its 800W power rating, this oven will have your favourite dishes ready in no time!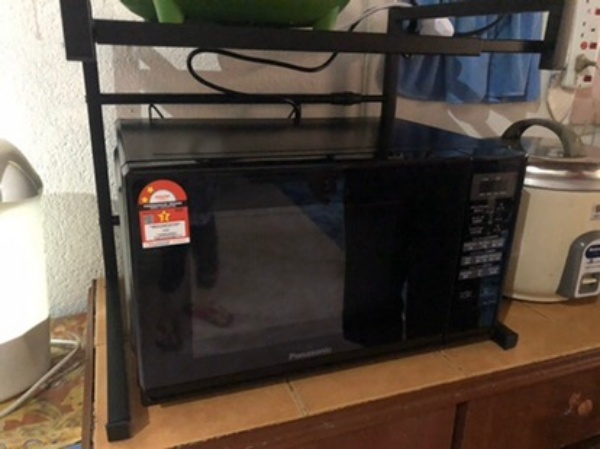 Pros:
9 Auto Cooking Menu

Quick 30 Button

Easily add time with the Add-time button
Check prices on Lazada
Check prices on Shopee
10. Samsung Microwave Oven MW100J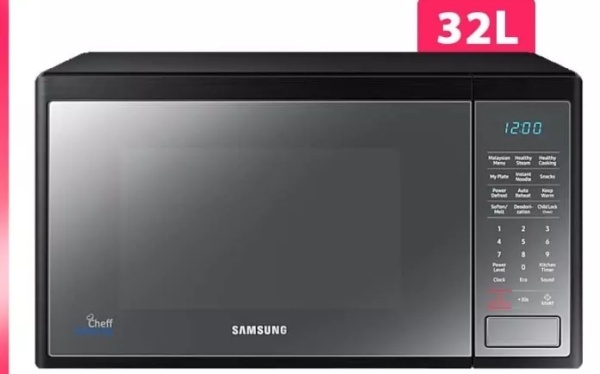 Eco- Friendly
Think outside the oven! With this Samsung microwave oven, you'll be able to quickly cook your food and then warm it up without using a lot of energy. The ceramic enamel cavity ensures that your food will come out tasting great every time, and the healthy steam option lets you cook vegetables or fish perfectly.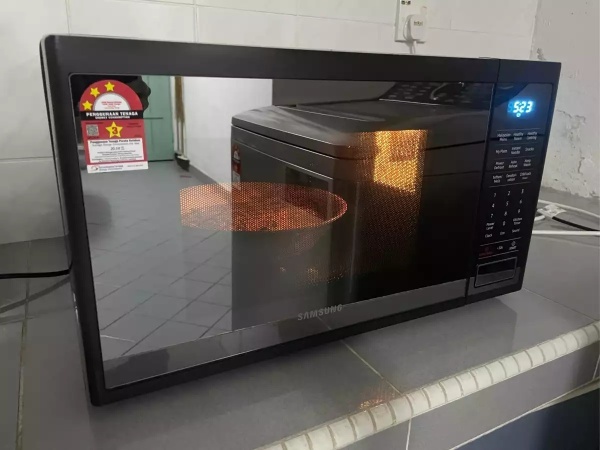 Pros:
16 different pre-sets

Easy defrost and melt

40% lower energy consumption
Check prices on Lazada
Check prices on Shopee
Best Microwave Brands in Malaysia
Sharp
With a global strategy in place, Sharp companies are able to ensure that they have an efficient supply chain from R&D and engineering through procurement all the way into distribution. This helps them maintain the competitive edge with consumers everywhere while contributing positively towards Malaysia's industrial development specifically within the electronics & electrical sectors where employment has been on rising over recent years.
Samsung
Samsung follows the philosophy of putting people first, making sure that they are happy and healthy with their work environment. They believe in contributing positively towards a better future for everyone by offering environmentally conscious products as well leading others into sustainable living practices
Midea
Midea is a high-tech company that manufactures home appliances, HVAC systems and other technologies. They have over 10 brands under their umbrella including Midea Kitchen Equipment Company Limited (HKCC), which produces cooking equipment for restaurants as well as hotels; Haier Automotive Electronics Co.; Sanyo Electric China Sales Corp., among others to name a few. MIDEA groups business goes beyond just household devices.
Choosing the Best Microwave Ovens for your Home
Before choosing a microwave, you need to check some important factors such as follows:
Wattage and power consumption
Counter-top facility or built-in
The capacity of the microwave
Various ranges of features
There are some microwave oven features which you may not necessarily need given your cooking routine. So, instead of spending on those features, make sure to simply focus on safety features including end cooking notice and child lock. Size will also matter in terms of storage and usage. We'd personally go for those that can fit up to 10 inches plates for a more convenient cooking.
Tips on using Microwave
You should always follow the manufacturer's guidelines for proper usage. Apart from this, you need to follow some more tips:
You should always use the microwave-safe containers
Microwaves will heat food up in half the time of a regular oven. When you use the microwave-safe containers, they won't melt or warp either keeping your food and your microwave safe.
You should check for leakage.
You should be checking for leakage at least once every three months to make sure your microwave is safe. This is a simple maintenance task that can really help to keep the appliance running reliably.
You should clean the microwave after usage
Most microwave oven models are now made to be easy-maintenance. Meaning, it is now easier to keep them clean and dry after every use. This is important in ensuring that your oven does not develop any stain and foul smell through time.
FAQs
Factors to consider in choosing microwave?
Wattage and power consumption
Counter-top facility or built-in
The capacity of the microwave
Various ranges of features
What are the safe ways to use microwave oven?
-You should always use the microwave-safe containers.
-You should check for the leakage.
-You should not operate the machine while the door is open.
How much does a microwave cost in Malaysia?
Depending on the brand and type, the best microwave ovens in Malaysia should cost around RM 250.00
Conclusion
If you are in the market for a microwave oven, hopefully, this list will give you an idea of what to look for. Depending on your needs and budget, any of these ten models would be a great choice. With so many benefits to using a microwave oven, it's hard to go wrong with one of these appliances. Have you tried cooking with a microwave before? What are some of your favourite recipes?
Click here for other kitchen appliances related articles.
Latest posts by Kathy Wong
(see all)
This article was brought to you by BestAdvisor.my
Disclaimer: This is the opinion of the writer or publication. We only recommend products or services that we have tested and tried ourselves or have done in-depth research with positive external reviews and find them to be useful for everyone. The products/services shown are available upon the publication date. The availability may change from time to time. If some of them are not available, please email us at [email protected]. Thank you!
Last Updated on