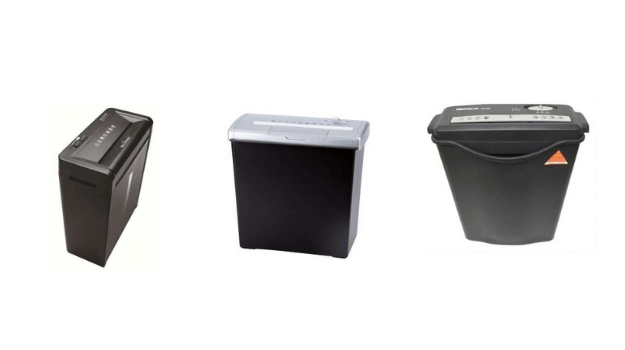 With most of us finally having to time to gradually transition to our new normal, one of the first few activities that we noticed getting more urgent is sorting and getting rid of old files. After all, nothing fuels productivity better than having everything sorted out, and that includes feet-long of files we have probably neglected throughout the years.
Having an access to paper shredder whether at home or in your office gives you the peace of mind that all possible personal and confidential information will be exposed with your bags of garbage. The best thing is, you are not just throwing paper away, you are also preparing them for more purposes by shredding them.
Interested to buy a paper shredder? Here are the best paper shredders available in Malaysia.
1. Professional Paper Shredder Cutter Machine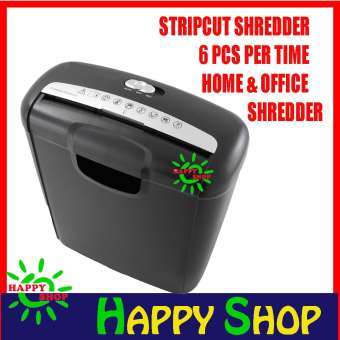 You have probably seen this a lot from office supply shops and it is now finally available to purchase online.
Fully Metal Cutter
Lown Sound Function
Reverse Sensor
Some paper shredders will need you to remove other non-paper elements including staple wires, but this product can cut through paper clips and staple bullets. It's convenient and compact enough to store right beside your desk.
Check prices on Lazada
Check prices on Shopee
2. MKP Paper Shredder/Paper Cutting Machine Straight Cut for Home and Office use SHP-S5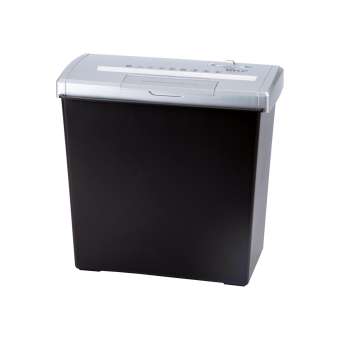 Looking for a heavy-duty paper shredder for your small office? Go for this MKP Paper Shredder. It has a large capacity waste bin perfect for communal use.
Capacity: 7 sheets
Card / CD: 1 pc at a time
Shred size: 6mm
Shred speed: 2.8m/min
Waste Bin size: 10 litre
Despite its large capacity, it still comes in a compact packaging so you can be sure that it won't take too much space in your office.
Check prices on Lazada
Check prices on Shopee
3. GEOMASTER Office Paper Shredder Cutter Machine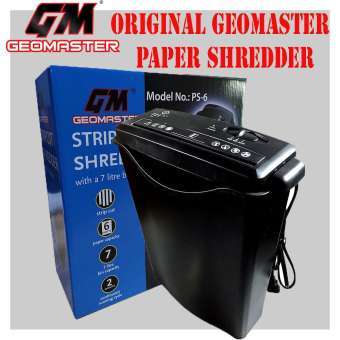 A powerful and high-quality paper shredder ideal for both office and home use. It's one of quietest paper shredders in the market today that's why we chose this for our house.
Sharp & Strong Cutter Blade
Fast Speed Shredder
Can shred Staples Bullet/ Paper Clips
6 Sheets Per Shred
The bin capacity is decent enough for regular use at 7 litres. Makes major sorting day so much easier.
Check prices on Lazada
Check prices on Shopee
4. TRENY Paper Shredder Cutter Machine strip cut-LM-106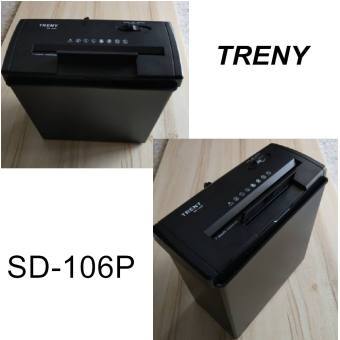 Wondering how you can probably dispose of those stocks of CDs that have been unused for months. You can use this shredder for that too. Whether you need to shred multiple pages of paper, credit cards, or CD, TRENY can do it smoothly for you.
6mm shred size
6 pages of paper at a time
10-litre waste bin
Despite its large capacity, this paper shredder is really easy to move around. We know how important this feature is especially in an office set-up.
Check prices on Lazada
Check prices on Shopee
5. SOONYE WS0106 Small Shredder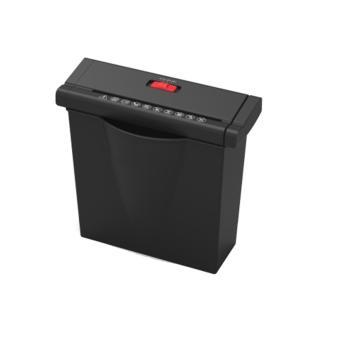 We love anything portable when it comes to office supplies and especially electronic ones. This was a great deal that we found online.
7 Liter waste bin capacity
Hidden blades for utmost safety
Reverse function
For such a compact paper shredder, this is packed with great features that make shredding paper convenient and safe at the same time. The overheating and overloading function gives you more peace of mind in using this.
Check prices on Lazada
Check prices on Shopee
6. Heavy-duty Paper Shredder Machine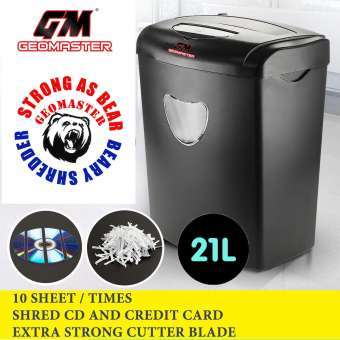 Now, let's move to more serious workers. We highly recommend this for office use where there multiple people who may need to use the paper shredder on the same day.
Home shredder with CD shredding capability in the separate CD slot.
Shreds staples and paper clips, credit cards & CDs.
11 sheets paper cut(70g)
Despite the hard work that this paper shredder does, you'll be amazed by its low-noise feature, even when shredding CDs.
Check prices on Lazada
Check prices on Shopee
7. Auto Power Paper Shredder Cutter Electronic Machine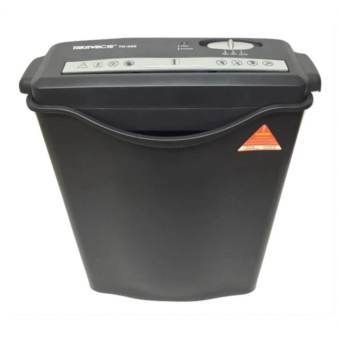 This efficient machine makes your job a lot easier with its user-friendly interface. No need to be intimidated with how to operate it because it is fully automated.
Can Shredd 5-6 Sheets Per Times
Professional In Small Office & Home Use
Low Sound Cutting
This is an ideal shredder for home use. The packaging makes it safe to place inside the house even with kids and pets.
Check prices on Lazada
Check prices on Shopee
8. Soho Paper Shredder Machine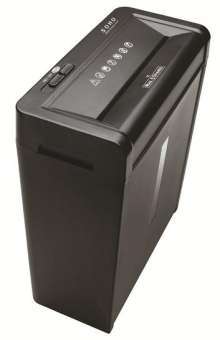 Finally, we included this affordable yet great quality paper shredder on the list because it gives the best value for money among all the products featured.
Sheet Capacity: 5 sheets of A4 copy paper
Cut Type: Crosscut
Security Level: 4 x 40mm
Bin Capacity: 13 litres
With overheating protection and large capacity but a price of less than RM 200, this is definitely a steal!
Check prices on Lazada
Check prices on Shopee
How to Recycle Shredded Paper
Wondering what to do with all those shredded papers? Don't just throw them away. Here are more creative ways to make the most out of your shreds.
Send to a recycling centre – if you know a local recycling centre near you, they will be more than happy to receive your sack loads of paper shred.
Gift wrapping and packaging – paper shreds can make gift boxes look extra. Create that more suspense effect in your packaging by layering it with paper shred. You are also protecting your precious gift at the same time.
Donate to animal centres – your trash could already be comfortable bedding for the shelter animals.
Here are our top paper shredder recommendations:
FAQs
What are the best paper shredders in Malaysia?
Professional Paper Shredder Cutter Machine
MKP Paper Shredder/Paper Cutting Machine Straight Cut for Home and Office use SHP-S5
GEOMASTER Office Paper Shredder Cutter Machine
Can I buy paper shredder for home use?
Yes. There are now paper shredders designed to fit even small spaces at home. They are also extremely portable for easier transfer and storage.
Can I recycle shredded paper?
Yes there are many ways for you to prevent simply throwing away loads of shredded papers. You can send it to your local recycling center, donate to an animal shelter, or save them for future gift packaging.
How much does paper shredder cost in Malaysia?
Paper shredder typically cost around RM 200-300
Click here for other home living related articles.
This article was brought to you by BestAdvisor.my
Disclaimer: This is the opinion of the writer or publication. We only recommend products or services that we have tested and tried ourselves or have done in-depth research with positive external reviews and find them to be useful for everyone. The products/services shown are available upon the publication date. The availability may change from time to time. If some of them are not available, please email us at [email protected] Thank you!
Last Updated on