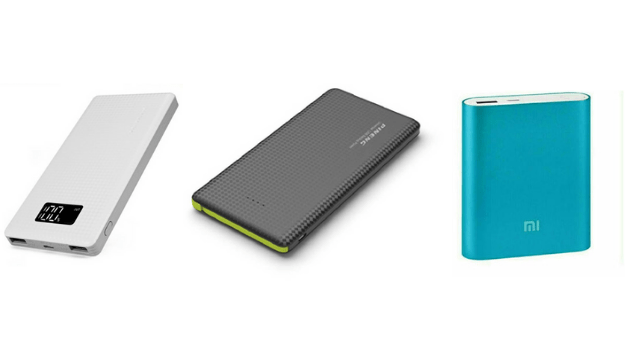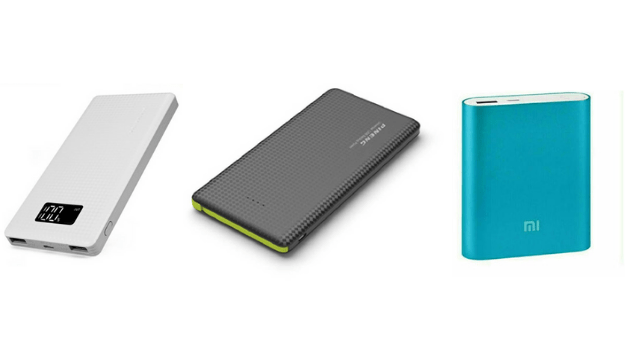 New gadgets call for new accessories. This, unfortunately, includes our precious power banks. Those that we both from years ago seem to not be reliant enough for our new gadgets.
With most people constantly on the go and bringing more than one gadgets, a heavy-duty power bank becomes even more necessary. The minimum requirement now is at least 10000 mAh, to fully serve as a great back up.
Table of Contents
Best Powerbanks in Malaysia

Buying the Best Power Bank 2020 Model
Best Power Bank Brands in Malaysia
FAQs
Are you planning to upgrade your power bank? Here's a quick review of the best 10 power banks that you can buy in Malaysia.
Malaysia Powerbank Comparison Table
10 Best Powerbanks in Malaysia
1. Anker A1223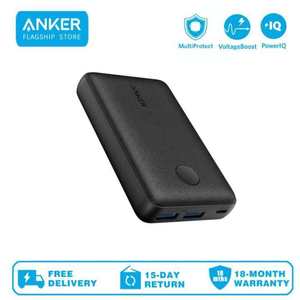 Best powerbank for iPhone
This little powerhouse of a power bank is perfect for on-the-go charging. It's compact and portable, so it'll fit comfortably in your palm, and its high speed charging will get your devices back up and running in no time. Plus, you can charge two devices at the same time! Whether you're out for a day trip or on a business trip, don't leave home without this essential piece of tech gear.
Pros:
Multiple device charging
Compact, light
Cons:
Lacks voltage conversion
Short battery cycle time Price range:
Check prices on Lazada
Check prices on Shopee
2. UGREEN ATL PD
Best for Nintendo Switch
Looking for a fast-charging power bank that can keep up with your busy lifestyle? Look no further than the UGREEN 10000mAh ATL PD! This powerful little device has two fast-charging output ports, so you can juice up your devices quickly and easily. The Type C port supports 20w power delivery 3.0 fast charging, while the max output power can reach 5V/3A,9V/2.2A,12V/1.5A.
Plus, the UGREEN 10000mAh ATL PD comes with an 18-month warranty, so you can rest assured that your purchase is backed by quality assurance. Don't miss out on this must-have accessory!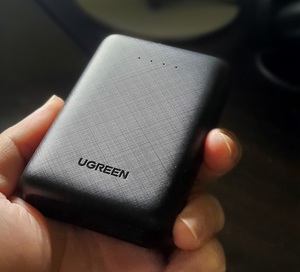 Pros:
Multiple device charging
Compatible with almost any device
Optimal performance even after 500 cycles
Cons:
Unclear safety measures in term of overheating or overcharging
Check prices on Lazada
3. Aukey PB-XD13
Best fast charging power bank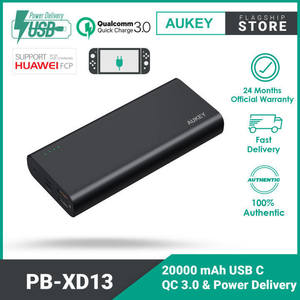 Why carry a separate charger for every device when you can have one that does it all? With Aukey's PB-XD13, you can fast charge your USB-C devices and charge low-current devices all at the same time. Plus, its built-in safeguards protect your devices against excessive current, overheating, and overcharging.
Whether you're on a business trip or on vacation, this charger is perfect for keeping all of your gadgets powered up.
Pros:
Fast charging
Can charge multiple devices simultaneously
All-in-one design
Cons:
Check prices on Lazada
Check prices on Shopee
4. ROMOSS PEA40 Zeus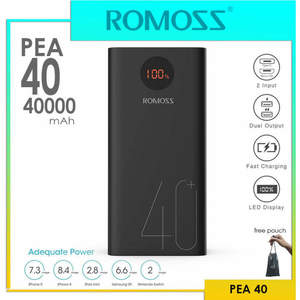 Best high-capacity powerbank
Check out the ROMOSS PEA40 Zeus 40000mAh! This high-capacity charger features dual output and input, allowing you to charge two devices at once. It also has fast charging capabilities, so you can power up quickly.
And with its built-in intelligent safety system, you can rest assured that your devices are well protected. Plus, the digital LED screen makes it easy to keep track of your remaining power level.
Pros:
Two-in-one charging
High capacity
Led display to monitor charge level
Cons:
Way too heavy for everyday use. Best for long-travels
Check prices on Lazada
Check prices on Shopee
5. TOPK I1006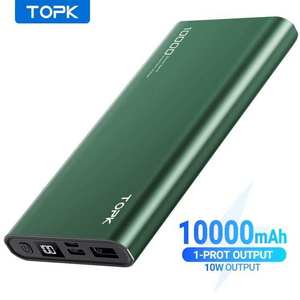 Best affordable powerbank
This TOPK I1006 power bank is perfect for when you need a quick charge on the go. With 10000mAh of capacity, it can extend your phone's battery life by up to 3 times, and with fast charging capabilities, it can quickly juice up your device no matter what port you're using. Plus, the metal shell makes this power bank tough and durable enough to take with you wherever you go.
If you're looking for a quality power bank to keep your devices powered up on the road, look no further!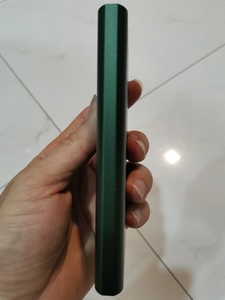 Pros:
Durable metal casing is built to last
High capacity
Cons:
The shell can feel too hot after hours of use/charging.
Check prices on Lazada
Check prices on Shopee
6. Huawei Powerbank
Best universal powerbank
Charge your devices on the go with this 20000mAh Huawei Powerbank! This powerful powerbank has multiple device charging capabilities, and comes with a quick charge 3.0 feature to help speed up charging times.
The lithium polymer battery is also compatible with a variety of phone models, and includes its own cellphone stand for easy use. Plus, the LED light indicator shows you how much power is left in the bank, so you'll never be caught without a charge again.
Pros:
High capacity
Multiple device charging capabilities
LED light to show remaining power level
Cons:
Weighs a bit more than others on the list.
Check prices on Lazada
7. Pineng PN-886 Power Bank: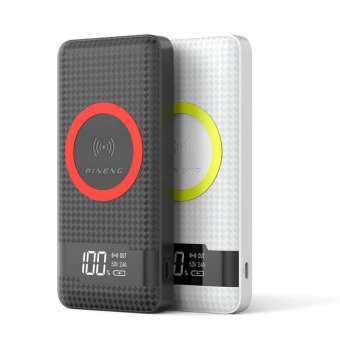 Best for wireless charging
With its 3.0 technology, it can charge your devices faster than ever before. Plus, its wireless charging capabilities make it easy to keep your devices powered up without having to fumble with cords.
And if you need to charge more than one device at a time, no problem! The PINENG PN-886 has two USB ports so you can easily juice up both your phone and tablet simultaneously. Finally, the LED display unit provides at-a-glance information about how much battery power is left in the bank, so you'll always know when it's time for a top-up.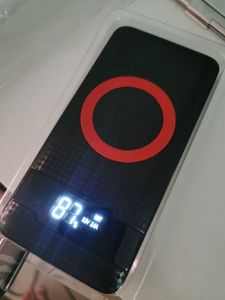 Pros:
Wireless and dual-device charging capabilities
LED display so you can easily track remaining power
Cons:
No quick charge capability for devices with USB-C ports.
Check prices on Lazada
8. Cute Cartoon We Bare Bears 20000 Mah Mini Portable Version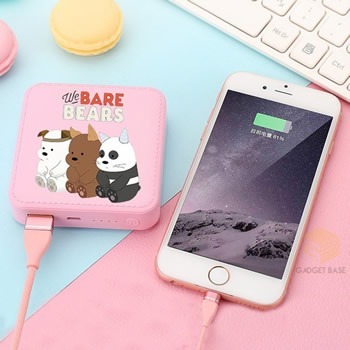 Best cheap powerbank
Looking for a high-capacity powerbank that's affordable and fun? Check out our We Bare Bears Mini Powerbank! It comes in several fun colors and has a built-in battery capacity of 20,000mAh. Plus, it charges devices quickly with an input of 2A/5V and an output of 2A/5V.
Pros:
Fully charges in less than 6 hours
High capacity
Multiple device input and output charging capabilities
Cons:
Drains faster than other brands
Takes a long time to be fully charged
Check prices on Lazada
Check prices on Shopee
9. Pineng PN-963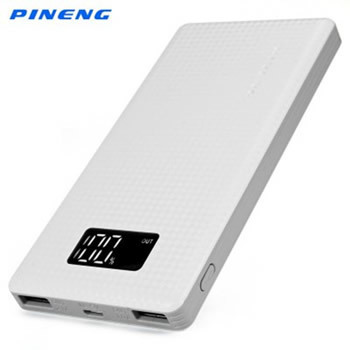 Best powerbank for long travels
Looking for a reliable and convenient way to keep your devices powered up on the go? Look no further than the Pineng PN-963 Powerbank! This powerful 10000mAh battery can provide up to 6300mAh of charging power, making it perfect for charging two devices simultaneously.
With its built in USB cable and lightning connector, you'll never have to worry about losing your charging cables again.
Pros:
Built-in USB cable/connector
Multiple charging
Large power output
Cons:
Weighs quite a bit for its size.
Check prices on Lazada
Check prices on Shopee
10. XiaoMi Power Bank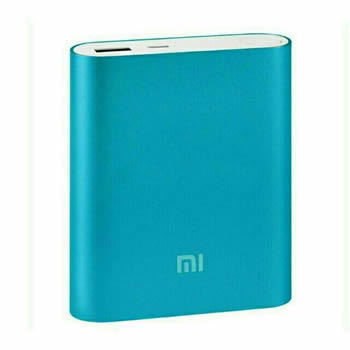 Best reviewed powerbank
Need to keep your phone charged while on the go? Look no further than the XiaoMi 10400mAh Powerbank! This handy little device is perfect for keeping your smartphone powered up while you're out and about. It features an aluminum casing for durability, and world-class circuit chip protection to keep your devices safe. Plus, it has a simple design that's compatible with all smartphones, and comes with a free original silicone cover (color random).
Pros:
High Capacity
LED screen shows remaining power level
Silicone case makes it easier to bring around
Cons:
Have to press the power button twice for low capacity devices.
Difficult to use when charging multiple devices at a time.
Check prices on Lazada
Check prices on Shopee
What You Need To Know Before Buying the Best Power Bank 2020 Model
Almost all powerbanks from reputable brands are designed to be durable and safe. However, it efficiency and overall performance will greatly depend on how much you know the needs of your phone, as well as your charging activities.
A little and simple trick is to check if power banks are almost the same size as your phone's battery. This means that even those pocket power banks can actually be a great match for your phone. You can also check the battery size and charger specifications of your phone. This will ensure that you get the most out of the fast charging feature of your powerbank.
Best Power bank Brands in Malaysia
Romoss is a China-based brand that specialises in charging solution products. They are one of the leading powerbank manufacturers, with their latest model – the Powerstation series – receiving mostly positive reviews all over the internet. Their complete line of powerbanks are suggested to be good buys for everyday usage.
Even though it is not as popular as Xiaomi or Huawei, Anker has been producing quality external battery chargers since 2011. With almost fifteen different models available on Lazada alone, there's bound to be something for everyone's taste and smartphone type here especially because they have high-speed powerbanks which are exclusive to Apple users only!
Aukey is another China-based company that has been taking the world by storm with their affordable powerbank offerings, some of which are even available at only RM 20. Their higher capacity powerbanks have also received good feedbacks from customers, especially their 20000mAh model known as PB20001C.
There are many other brands out there that you can trust but these ones listed above should help you narrow down your choice if you're looking for something reliable
Conclusion
With so many options out there, it can be overwhelming to find the right powerbank for you. We created this list of 10 products that are perfect for different lifestyle needs and budgets. Whether you need a portable charger with solar panels or something more affordable, we have something on this list for everyone. If your still not sure which battery pack is best suited for your needs, feel free to refer back to our blog post.
FAQs
What are the best brands of powerbanks in Malaysia?
Some of the best brands of powerbanks in Malaysia are Xiaomi, Romoss, Pineng, and Yoobao.
Where can I buy power banks in Malaysia? ❓
You can shop power banks from your local gadget store. You can also conveniently buy them online, just make sure that they match your phone's battery requirements.
What should I consider in buying a powerbank?
Among the things you need to consider are the output and input of the powerbank. You also need to make sure the capacity of the powerbank matches your phone's charging requirements.
How much is a power bank in Malaysia?
A good power bank will cost anywhere between RM80.00-150.00
Click here for other electronics product related articles.
This article was brought to you by BestAdvisor.my
Disclaimer: This is the opinion of the writer or publication. We only recommend products or services that we have tested and tried ourselves or have done in-depth research with positive external reviews and find them to be useful for everyone. The products/services shown are available upon the publication date. The availability may change from time to time. If some of them are not available, please email us at [email protected]. Thank you!
Last Updated on