Last Updated on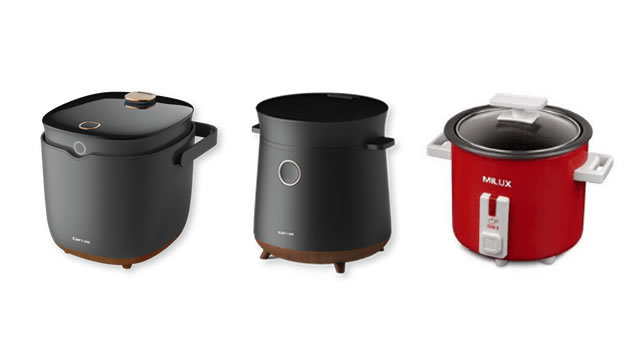 Rice cookers are one of the many appliances that can be found across each home in Malaysia and are even thought of as being an essential staple. Rice cookers save time and provide an easy yet effective and convenient approach for cooking rice. So whether you're in favour of white rice, brown rice, or any other dish prepared with rice, your cooker can make the task easier.
After rice cookers came on stream, they've become widely popular. This led to development and production from several manufacturers ranging both locally and internationally. To make your job of choosing a rice cooker easier, we've prepared 15 of the best rice cookers that are recommended by our appliance experts.
1. Corvan Multi-functional Rice Cooker C20 2L (Best Overall)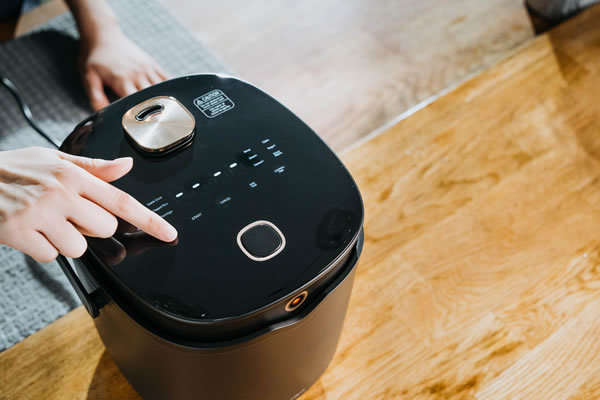 One rice cooker, 12 smart programs
Healthy rice is usually too dry and plain tasting, while normal white rice is known as the main culprit of excessive sugar intake among Asians. . With a single press on the button of Corvan Multi-functional Rice Cooker C20, you will get to enjoy tasty and fluffy rice minus up to 35% of sugar. A seamless and intuitive digital control panel makes the cooking program selection very simple and easy to navigate
Sit back and let this cooking machine do all the work, with 12 smart programs that cook from quick to more intricate dishes. You can even set up a schedule for it to be ready when it suits you best – 24 hours in advance!
It's a breeze to cook with its automated temperature sensing and control, and a detachable inner lid is perfect for easy cleaning after cooking. And they made this a super value buy by making it affordable! So what are you waiting for? Buy your own now before stock runs out!
Why buy this:
Makes perfectly cooked and delicious low sugar rice
Cooks up to 10 portions at once
Keeps your kitchen counter free from clutter with an elegant and modern design
Easily cooks a wide range of dishes with 1 machine
Intuitive digital technology for easy programming
Strong after-sales support
What we don't like:
If you are cooking rice with the low sugar program, you need to cook twice for more than 4 people.
Customer Review:
"Best rice cooker ever ❤️❤️ I have 2 old rice cooker. This one looks so cool & futuristic makes my kitchen look so ✨atas✨. Bought together with the CORVAN Air fryer."
Check prices on Shopee
Check prices on Lazada
2. Corvan Multi-functional Rice Cooker C15 1.5L (Best for small families)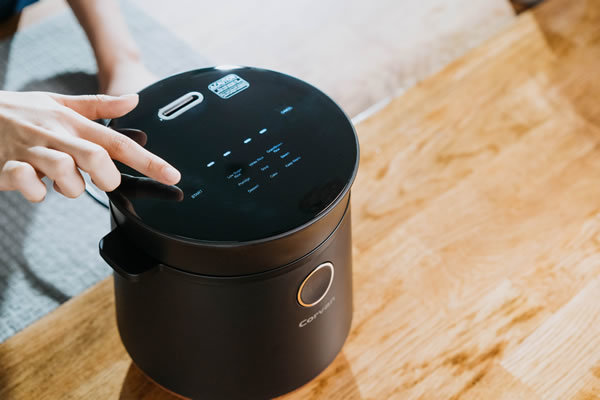 The perfect device for fluffy rice
The exquisite looking Corvan Multi-functional Rice Cooker C15 is streamlined with innovations for a smart cooking experience. It combines seamless touchscreen technology and intelligent automation features to give you effortless steaming, boiling, baking and more.
With eight automated cooking programs such as Porridge, Soup or Cake–plus the much talked about low-sugar rice that reduces up to 35% of sugar content compared to the same rice cooked with conventional rice cookers For those of us who are always on the go before work or school in the morning (or perhaps working late night shifts), Corvan is programmed to let you schedule a time for when it will cook, so no need to worry about overcooking your food or constantly setting timers!
The multi-layer PFOA-free non-stick coating technology ensures easy clean-ups. . With a cool touch body and safety mechanisms like automatic keep-warm when cooking is completed, this rice cooker will provide peace of mind whether you've got other things on your plate or dealing with the crying baby. There are also handles for better portability and easier handling and operating – just mix and enjoy! Get yours today!
Why buy this:
Cooks rice with less sugar than conventional rice cookers
Has a variety of cooking programs for different types of food
Modern design that looks elegant in any kitchen
It makes cooking easier and more enjoyable
Strong after-sales support
What we don't like:
When you use a steam basket for the low sugar rice program, it can cook food for 3 people. If you have more than 3 people, you will need to do it twice.
Customer Review:
"Love love love the rice it makes! Fluffy and juicy. I will miss my home cooked rice whenever i eat out from now on :((((( Exploring all the functions of this rice cooker! Even have schedule function! I cook before work so come home straight go cook dishes and start eating!"
Check prices on Shopee
Check prices on Lazada
3. Philips HD3115 Daily Collection Jar Rice Cooker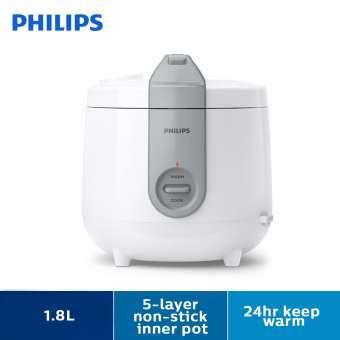 Extra Versatile
Philips has heard the call by rice lovers all over the nation, and they've designed this all-new rice cooker that is sure to surpass the expectations of your family. The HD3115s design is perfect since it offers true convenience for those who're just getting into using a rice cooker.
This rice cooker is a must-have for anyone that wants their fluffy rice to be perfect every time. The non-stick pot is easy to clean and the anti-scratch inner pot will keep it looking like new, even with daily use. The 5-layer pot conducts heat more evenly, meaning you'll never burn your rice on the bottom again. And thanks to the generous 15-cup capacity and keep warm feature, you'll never run out of rice or heat again.
Why buy this
Has a specially designed advanced heating system for smart heating
The cookers pot is coated with both anti-scratch and nonstick coatings
Can be set to keep rice automatically warm
Fitted with layered copper for perfectly even cooking
The Philips cooker also comes with a steaming basket and tray making it extra versatile for other food items. Preparing healthier meals has never been better and the after-sales services offered make it one of the best on the markets currently available in Malaysia.
Check prices on Lazada
4. Panasonic SR-E28A 2.8L Rice Cooker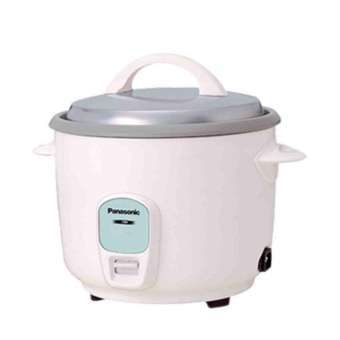 Operability Quality
If you're like any rice lover out there, we know that your day wouldn't be complete without a bowl of fluffy, perfectly cooked rice for one of your meals. The SR-E28A from Panasonic made a list because it's known for exceptional quality. Just like other rice cookers from this manufacturer, the SR-E28A doesn't disappoint.
While being on the commercial side, this beautifully crafted rice cooker can still be used at home for your everyday cooking tasks. Most if not all, Malaysians are hearty rice eaters and wouldn't want to be without their very own rice cooker.
Why buy this
Easily serves large or medium families
Comes fitted with a thermal fuse
Has a 2.8-litre cooking capacity
Crafted from stainless steel
Another great perk of the SR-E28A is that it's easy for just about anyone to use. The best features of this rice cooker are its flawless functions, and the design and operability quality.
Check prices on Lazada
Check prices on Shopee
5. MILUX MRC-703 Mini Rice Cooker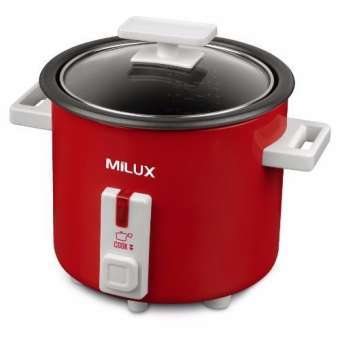 Tough and Durable
The newest on the MILUX line is their all-new MRC-703 that was engineered with the toughest and durable materials. There's also a specially designed safety feature that prevents hazardous kitchen moments that make us all cringe. So if you're looking for something reliable, then the MRC-703 is perfect for you, and it will give you many years of fine service.
This mini and portable rice cooker is also a great travel companion. It won't take too much space in your car and prepare just enough rice for the whole gang during your outings. The pop of color is a definite bonus, too!
Why buy this
Cooks up to 0.3 litres
Coated with nonstick coating
Supports cooking functions for various meals
Ergonomic design
The included steaming tray is 100% food-grade
So if you're interested in a rice cooker that does it all, then you'll be interested in purchasing the MILUX Classy Cooker today. The MRC-703 can also be easily stored in your cabinets.
Check prices on Lazada
Check prices on Shopee
6. GC Rice Cooker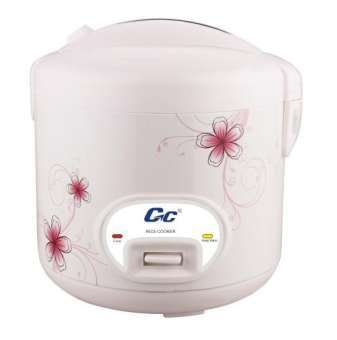 Doubles as Steamer
No matter the size of your kitchen, the GC cooker is a good rice cooker that can handle the task. The GC comes fitted with all the features that you'll ever need from your rice cooker, and you'll be able to enjoy perfectly cooked meals with your family. This cooker even doubles as a steamer allowing you to prepare meat and healthier alternatives for your family.
Why buy this
No need to check your rice cooking constantly
Fitted with a steaming tray that can be easily removed
Constructed from aluminium
Cooks up to 1.8 litres
So if you're interested in having your very own rice cooker, this is highly recommended for you. It offers quality and features, making it one of the best out there.
Check prices on Lazada
Check prices on Shopee
7. Tefal RK5001 Rice Cooker With Fuzzy Logic Technology
AI Tech Making
If you're looking for a smaller cooker with tons of resourceful features, then the Tefal RK5001 is perfect for you. This cooker is ranked highly among the best rice cookers in the Malaysian markets. If you didn't know already, the RK5001 utilizes its own AI tech making the cooking process easier as you serve up perfectly cooked batches of rice for your family and guests.
Why buy this
Cooks up to 0.5 litres
Durable and built to last
Compact
Runs on Fuzzy Logic Tech
Facilitates 11 functions all with one rice cooker
If you're interested in serving delicious meals like that of noodles, porridge, soups, and everyone's favourite rice congee, then the Tefal is just perfect for you. When you purchase this product, you're guaranteed 100% quality.
Check prices on Lazada
Check prices on Shopee
8. Midea MG-GP18B Rice Cooker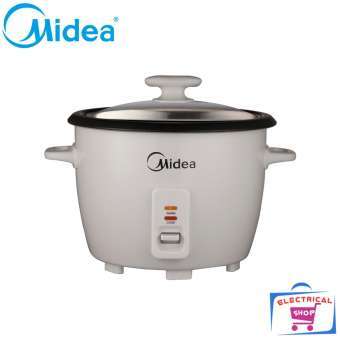 Affordable and Effortless Use
The Midea cooker is among the traditional cookers that offer no reason to fuss making your cooking tasks effortless. All you need to do is plug and cook. It brings simple, convenient cooking to your table. Boil up to 2 cups of rice in a little as 6 minutes with this 700W cooker. With a T1.0mm aluminum inner pot without coating and stainless steel lid, your food is stored in a leak-proof and easy-to-clean pot while the automatic warm function keeps your food at the perfect serving temperature. Rice cooking has never been this convenient.
Why buy this
Cooks up to 1.8 litres
Energy efficient with large enough capacity
The pot is made from T1.0 mm aluminum and not coated
The MG-GP18B is a really affordable option when compared to many others in Malaysia. It is a pretty cost-effective solution that offers unbeatable features for the price.
Check prices on Lazada
Check prices on Shopee
9. Faber FRC-210 Rice Cooker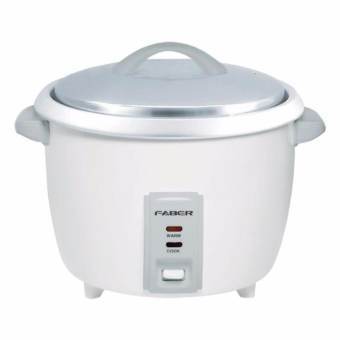 High Quality Stainless Steel
Faber is known for convenience and efficiency with all of their appliances. With just a glance, you'll be able to tell that the FRC-210 was made from high-quality stainless steel. This makes sure that your cooker will last a very long time. It comes with one button for cook function making it a familiar and user-friendly option. We also love that it already comes with an elevated feet so we can conveniently use it on top of our sink, without worrying about the body of the cooker getting wet.
Why buy this
Special steam release hole, comes with its own steamer basket
Fitted with a cool-touch handle
Cooks up to 1 litre
With the all-new FRC-210, you can spend less time in the kitchen, and you'll never have to worry about your rice. You'll always be presented with perfect fluffy rice.
Check prices on Lazada
Check prices on Shopee
10. Philips HD3129 Jar Rice Cooker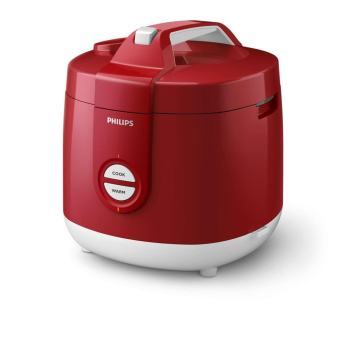 Warms Up To 48 Hours
We love an aesthetic appliance! And we can always count on Philips to deliver a sleek design with great functional features. What more can you ask for than this adorably coloured jar cooker? Besides the impressive design, there's plenty of features to look out for, including its Smart 3D heating system, which ensures that your rice is not just cooked, but thoroughly and evenly cooked. Achieving fluffy rice is essentially effortless with this.
Why buy this
Warm features support up to 48 hours
Great tasting rice that your entire family will love
Perfectly coloured with a large handle
5 layer pot built to last long
The specially designed keep-warm feature is the longest available for rice cookers. It works wonders if you've got a large family. So if you're interested in this rare find, be sure to pick one up today.
Check prices on Lazada
Check prices on Shopee
11. Midea MB-FSE10 Rice Cooker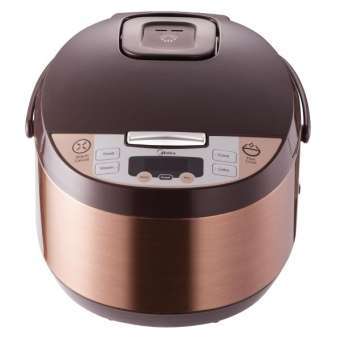 Non-stick Lining
If you're living in a cosy space, then the Midea is a great choice for you. This model gives its users an elegant look while providing them with great features. For a digital rice cooker, this is already quite a steal. It still features all other features that we love above traditional rice cookers but also offers great innovation to make rice cooking even more exciting. You can set temperature and time, depending on the varieties of rice you are cooking. There are also other pre-installed cooking settings that you can choose from.
Why buy this
Easily cooks 1 litre of rice
Supports 5 modes of cooking
Fitted with a micro pressured steam valve with steam vent
Digital status panel
24 hr reservation
The multifunctional features make this cooker easier for a hassle-free job. You also benefit from the nonstick lining and 10 hours of heat installation.
Check prices on Lazada
Check prices on Shopee
12. MMX-Orito 1.8L Rice Cooker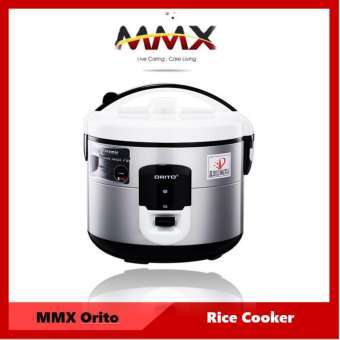 Best for Including Steamed Meat
Another top producing manufacturer of rice cookers, better known as MMX has designed their latest cooker, especially for Malaysian clients. They have given priority to customer satisfaction as they deliver the best and most reliable product to all of their consumers.
The specially designed electric rice cooker has endless features that match its unbeatable quality. So if you're planning on preparing rice along with steamed meats, the Orito is perfect for you. If you're feeding a rather big family, you'll be able to prepare up to 10 cups for each meal easily. So look no further because soon you'll have perfectly steamed, fluffy rice for the family.
Why buy this
Can easily accommodate up to 10 cups of rice for each meal
Comes fitted with an anti-clogging specially designed exhaust valve
Has Multiple ceramic coating
User friendly due to its automatic capabilities
Comes with removable steamer basket
The Orito cooker is widely considered as being one of the top rice cookers on the market due to the quality and features that come with it. So be sure to pick yours up today and experience the joys of having the best rice cooker on the market!
Check prices on Lazada
Check prices on Shopee
13. Philips HD3017 Jar Rice Cooker

Anti-Spill Design
If you're looking for something on the larger side, the HD3017 is perfect for you. You'll also receive your very own steam tray which converts the rice cooker into a multifunctional machine. The user-friendly functions of this rice cooker also makes this a better option than cooking rice on the stove.
Why buy this
Anti-spill design
Keeps rice warm for as long as 12 hours
Easily cooks 1.8 litres
Non stick pot
With these all-new features, preparing rice has never been this easy.
Check prices on Lazada
Check prices on Shopee
14. Electrolux ERC1300 Rice Cooker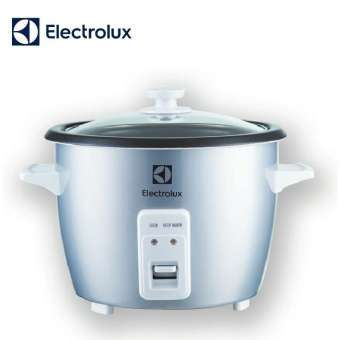 Non-stick Inner Pot
With its sturdy packaging and hassle-free instructions, you'll be on your way to perfectly cook rice very soon. The ERC1300 is among the best and most conventional cookers that you'll ever come across from Electrolux.
It doesn't get much simpler than this: The Electrolux ERC1300 Rice Cooker. To make delicious rice, just add rice and water to the non-stick inner pot. The steaming tray allows for steaming other favorite dishes and automatically switches to "warm" when cooking is complete.
Why buy this
The inner pot is nonstick, stainless steamer basket
Fits 7 cups of uncooked rice or 1.3 litres
Designed to facilitate one-touch control
Perfect for both white and brown rice
Unlike other models from this manufacturer, this model has a longer warm function. You'll also receive a steaming tray, a rice scoop, a cup. So if you're interested in another great rice cooker, the ERC1300 is an excellent appliance for you.
Check prices on Lazada
Check prices on Shopee
15. Faber FRC-218 Rice Cooker

Built to Last
Faber doesn't disappoint when it comes to convenient usability and esteemed efficiency. At first glance, you'll see that this rice cooker is made from stainless steel. So if you're interested in something built to last, the FRC-218 is perfect for you.
Are you a fan of Japanese rice? This is theperfect kitchen appliance to achieve soft, sticky, and fluffy steamed rice without hassle. With a one touch control and non-stick pot, cleaning up is easy. The rice cooker also has a keep warm function and a sturdy construction that will last for years.
Why buy this
Fitted with an all-new steam release hole
Can easily cook up to 1.8 litres
The lid is crafted from stainless steel
You can now easily reduce your cooking time and never have to worry about the quality of your rice.
Check prices on Lazada
Check prices on Shopee
How to Choose the Right Rice Cooker
They say all rice cookers are the same. The only difference is the price and brand. But this list proves that a rice cooker can definitely stand out. That's in terms of its multifunctionality, safety features, and overall durability of the body. The best rice cooker is the one that can easily fit the usual amount of rice that you need to cook on a regular basis. Another factor to consider is the keep-warm function. This is one thing that makes rice cooker a convenient choice for cooking rice, compared to the manual method of using pots and stove. You get to eat or serve warm, fluffy rice even after hours of cooking.
Our Top Recommendation for Rice Cookers in Malaysia
You might be interested in these articles:
Click here for other kitchen appliances related articles.
Latest posts by Kathy Wong
(see all)
This article was brought to you by BestAdvisor.my
Disclaimer: This is the opinion of the writer or publication. We only recommend products or services that we have tested and tried ourselves or have done in-depth research with positive external reviews and find them to be useful for everyone. The products/services shown are available upon the publication date. The availability may change from time to time. If some of them are not available, please email us at [email protected] Thank you!
FAQs
What are the leading brands of rice cookers in Malaysia?🇲🇾
You can chose from these following trusted and top-selling brands of rice cookers in Malaysia: Panasonic, Philips, Milux, Midea, Faber and Tefal.
Is it safe to buy rice cookers online in Malaysia?🍚
Yes. Many of the leading brands of rice cookers are now available in various Malaysian online stores, with full warranty coverage.
What are the top recommended rice cookers in Malaysia?
Here are some of the top recommended rice cookers in Malaysia:
Corvan Multi-functional Rice Cooker C20 2L
Corvan Multi-functional Rice Cooker C15 1.5L
Philips HD3115 Daily Collection Jar Rice Cooker
How much does a rice cooker cost in Malaysia?
Many rice cookers in Malaysia cost less than RM100.