To make baking easier and more convenient, stand mixers were brought to the market. With a heavy body and multiple paddle attachments, at home baking was just made easier and your hand wouldn't ache anymore when mixing, especially doughs and any recipe that requires a fluffed up egg whites.
Down below, we have listed the top 11 stand mixers that can be purchased in Malaysia. 
1. Russell Taylors 1000W 5L Stand Mixer Cake Kitchen Blender – SM-1000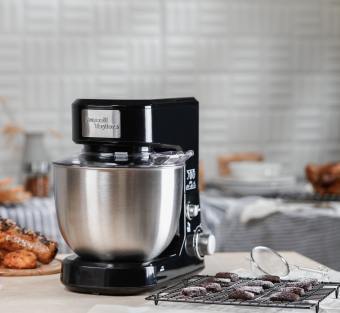 To ease the baking process, this mixer is the one to choose from. Very sturdy and heavy that ensures its durability. 
Detachable Splash Guard.
3 attachments, Whip wire, dough hook, and flat beater)
1000w powerful motor.
This mixer's bowl has a capacity of 50L, so it is also perfect for big bakes. This isn't only for cakes but also perfect for bread making.
Check prices on Lazada
2. 7-Speed Electric Hand or Stand Mixer
 A dual-purpose choice, as the mixer body is detachable just to become an electric hand mixer, then in case the user's hand gets tired, it can be attached to the stand and let it spin without the effort of the arm.
Powerful 180W motor.
Manual hand-rotate bowl
The bowl is 2.5L or is capable of 700g of flour
It also comes with two whisk attachments, an egg beater, and a dough hook. This is the perfect one for households and small bakes.
Check prices on Lazada
3. PerySmith 5.5L Stand Mixer 1200W EasyCooking Series PS5500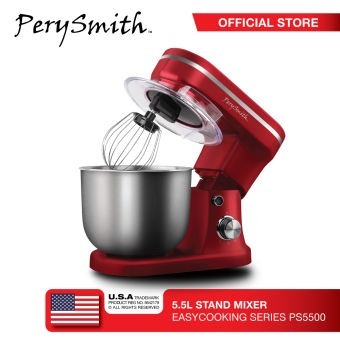 This stand mixer from Perysmith is perfect for larger bakes. With the bowl's capacity being 5.5L, it can take up to 1kg of flour or 12 egg whites. 
1200W Power and 1.63 horsepower 
6-speed setting planetary mixing action to ensure the ingredients are mixed properly.
Electronic speed control
There is also a transparent pouring shield so the ingredients are still visible, and it makes pouring ingredients easier.
Check prices on Lazada
4. Russell Taylor Mixer SM-500 4L 500W Cake Kitchen Blender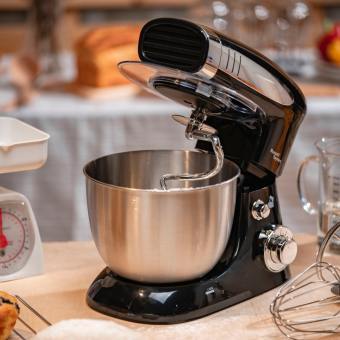 A smaller stand mixer that is perfect for both smaller and bigger bakes. With a bowl capacity of 4L, it isn't too big nor too small.
Detachable splash guard.
500W Power
Anti-skid rubber base.
            The look of the mixer also is very clean and formal looking that will surely complete the look of your kitchen.
Check prices on Lazada
5. Russell Taylors Stand Mixer Heavy Duty Model SM-1500 1500W 7.5L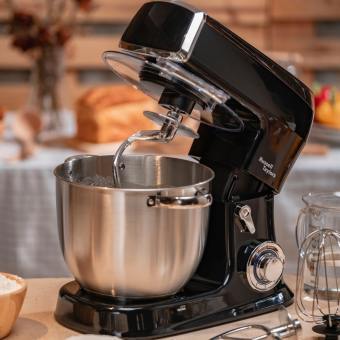 The mixer from Russell Taylors to accommodate the big batches of making that you might be needing. With a bowl capacity of 7.5L, it can surely accommodate the big bakes and makes creating big batches easier.
Detachable splash guard.
1500W Power
Anti-skid rubber base.
The look of the mixer also is very clean and formal looking that will surely complete the look of your kitchen.
Check prices on Lazada
6. Sharp Stand/Hand Mixer EMS60WH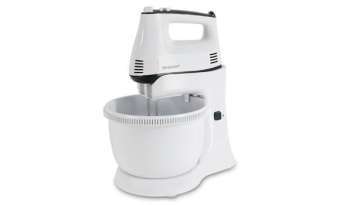 Sharp has been one of the reliable kitchen brands, and this dual-mode mixer lived up to the brand's standards.
5-speed controls
Comes with its cord storage
Includes dough hooks and
Positive beater lock
One this that'll make this worth your money is the number of accessories included in your purchase, including a hand blender! That makes this a versatile choice for your baking journey.
Check prices on Lazada
7. 3L 300W Hand & Stand Mixer w/ Stainless Steel Bowl, Egg Beater Whisk & Dough Mixer with Hook
Speaking of accessories and great value for money, this mixer wants you to have everything you need in one purchase.
Allows for up to 10 minutes of continuous use
Can be used as a hand or stand mixer
Stainless steel whisk and dough hooks
The bigger motor of this model is also suitable for those who are starting to expand their baking hobby into a business. You can spend hours mixing effortlessly.
Check prices on Lazada
8. ELBA 4.2L 300W S/STEEL BOWL STAND MIXER ESMB-9925S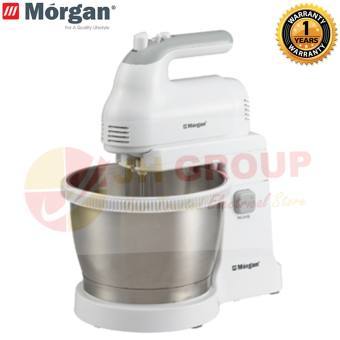 This mixer spells convenience, as it can handle up to 3.5 litres of content in one go. It also comes with a self-rotating bowl for an easier mixing experience.
5-speed controls, including turbo setting
Stainless steel bowl
Up to 10 minutes of use
Apart from the stainless bowl, you also get beaters and dough hooks along with your purchase. It's also one of those compact stand mixers so it'll easily fit on your baking shelf.
Check prices on Lazada
9. Midea SM0293-BK Stand Mixer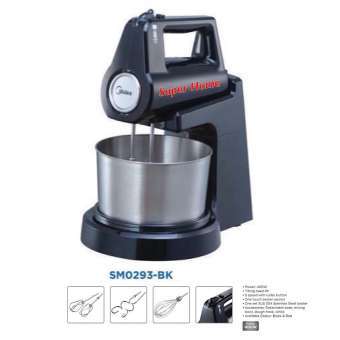 One of the most elegant looking stand mixers we've seen online, and we love the great aesthetics in our pantry. Like any Midea products though, this mixer does not compromise functionality for exterior design.
400w Power
5-speed settings, with a turbo button
One-touch beater ejection
The base of this mixer is detachable, plus it also already includes its whisking bowl and dough hooks. If you want a pop of colour for your stand mixer, this model also comes in red.
Check prices on Lazada
10. 1000W 5L Heavy Duty Stand Mixer Baking Stainless Steel Bowl, Dough Hook, Whisk & Beater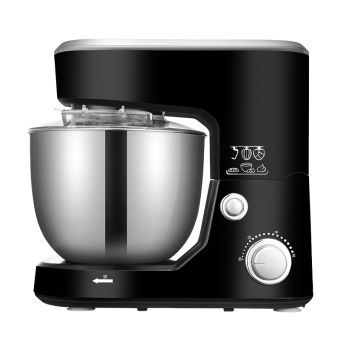 A stand mixer that works harder than you. It has a large capacity and longer working time, allowing you to accomplish more in a shorter period.
1000w
Comes with dough hooks
Adjustable speed settings
Rubber feet for lesser slippage
The 5-litre capacity means you can pour in one kilogram of flour in one go. This model is also proven to be useful for kneading. It's every baker's dream mixer.
Check prices on Lazada
11. Electrolux Stand Mixer EHSM3417 3.5L Stainless Steel Rotating Bowl Stand Mixer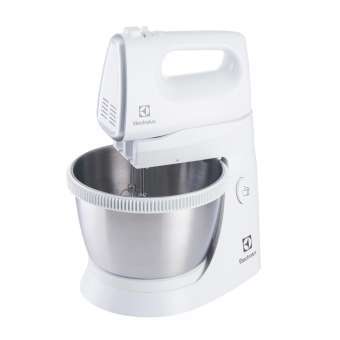 Say hello to legit effortless whisking, mixing, and kneading experience with this versatile stand mixer.
450w
5 control settings
Dishwasher safe
Eject button
It comes with stainless whisks and dough hooks accessories, too. All other parts of the mixer can also be easily detached for a quicker and more convenient mixing.
Check prices on Lazada
Why Shift to Stand Mixer
While there will always be that fulfilling feeling of manually whisking your pastry mixture, there will always come a time when we'd crave the convenience of an automatic, electric-powered mixer. A stand mixer simply makes the baking process effortless.
It also saves you so much time mixing, especially when you are dealing with a large amount of dough. A 3.5 litre worth of mixture will take less than 10 minutes to be thoroughly and smoothly mixed with a stand mixer. It also opens more pastry options for you, since more stand mixers are now multi-functional with settings meant to deal with different types of mixtures.
Here are our best stand mixers in Malaysia:
You might be interested in these articles:
Click here for other kitchen appliances related articles.
Latest posts by Kathy Wong
(see all)
This article was brought to you by BestAdvisor.my
Disclaimer: This is the opinion of the writer or publication. We only recommend products or services that we have tested and tried ourselves or have done in-depth research with positive external reviews and find them to be useful for everyone. The products/services shown are available upon the publication date. The availability may change from time to time. If some of them are not available, please email us at [email protected] Thank you!