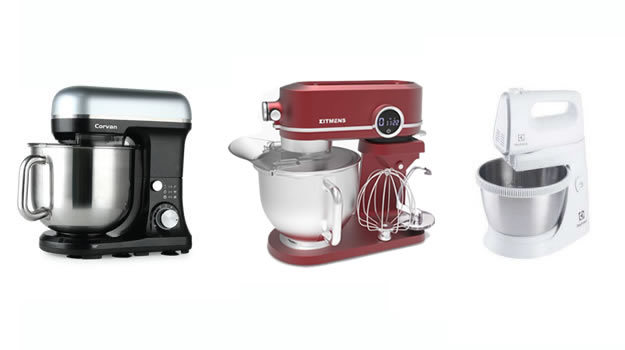 With more time now spent at home, many of us have turned to new hobbies or simply rekindled old ones. One of these is baking. We've seen so many posts of people showcasing their new pastry and bread creations. Along with this trend is an increasing need for reliable baking tools, and on top of that list is of course good quality stand mixers.
To make baking easier and more convenient, stand mixers were brought to the market. With a heavy body and multiple paddle attachments, at home baking was just made easier and your hand wouldn't ache anymore when mixing, especially doughs and any recipe that requires fluffed up egg whites or whipped cream.
Table of Contents
Best Stand Mixer Brands in Malaysia
Why Shift to Stand Mixer
Conclusion
FAQ
Quick Comparison Table
(scroll right for more)
Below, we have listed the top 14 stand mixers in Malaysia that you can conveniently buy without having to leave home.
1. Corvan Stand Mixer M47 4.7L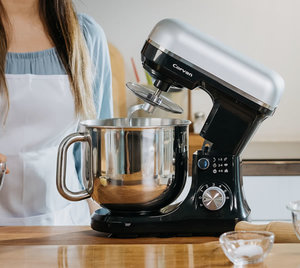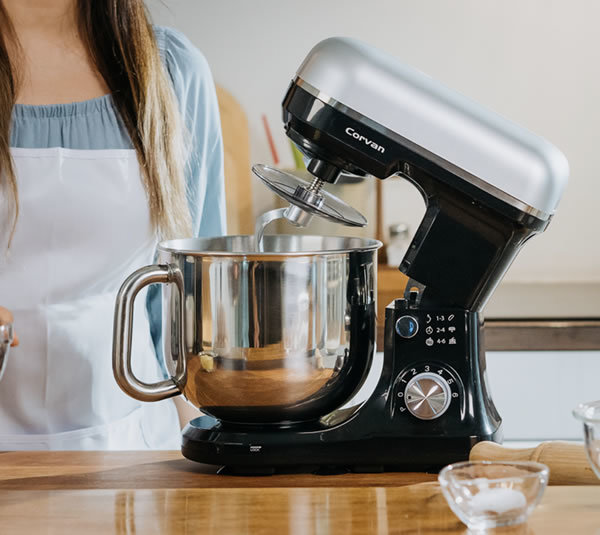 Super Quiet DC Motor
The Corvan Stand Mixer is equipped with a super quiet DC motor that provides strong mixing power. Whispering quiet at 39–58dB (vs 65-76dB of normal AC motor stand mixer), you have to use it to believe how much more enjoyable it is when your working partner is notably quiet and smooth. What makes the M47 stand mixer extra special is its safety certification by the LFGB as well as a food contact safety certification. It also comes equipped with a wide speed range of 6 speeds – from 49 to 195 RPM to fit various food prep needs, such as whipping, mixing, creaming, kneading and much more! This must-have kitchen gadget can knead up to 1.2kg bread dough or mix up to 16 cups of cake batter at once!
Pros:
High torque DC motor to handle all mixing tasks.
Quiet and smooth operation, making cooking more comfortable.
Food contact safety certification and SIRIM certification.
Elegant & modern design, which will make your kitchen look stylish and professional.
Strong after-sales support
Cons:
Not suitable for very small quantity(<100ml of ingredient)
Heard of this Corvan brand but never purchase before. I am a satisfied customer after this purchase. Quality product. Stable and quiet when mixing. Speed range is wide. From very slow(1) to fast (6). Slow speed is slower than other stand mixer. Bakers will understand why it is important 😛
Check prices on Lazada
Check prices on Shopee
2. Kitmens KM-B5 Stand Mixer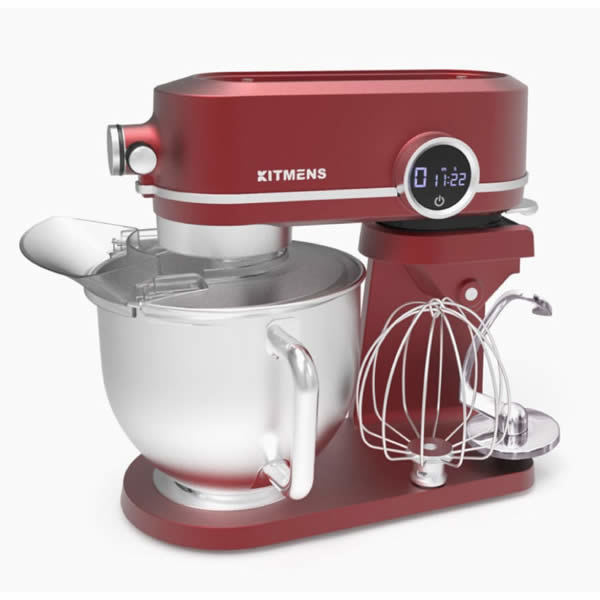 High Quality & Elegant Design
The Kitmens KM-B5 stand mixer offers high quality, elegant design and smart technology. It is great for bread making as it can knead up to 1.5kg of dough and 12 egg whites for your meringue! This gadget is capable of producing noise as low as 52.6dB with its DC motor.
Aside from making perfect doughs, the product also comes equipped with an efficient dual cooling system. You'll never have to worry about overheating for long periods of time; furthermore, it automatically stops working when the head is lifted or when the countdown timer ends.
With features like LED display technology for better visibility, non-slip rubber feet for stability when in use, the steel planetary gears will less likely corrode or wear down over time – this mixer has been made with high-quality materials inside & out.
Never again will you have to worry about spilling your mixer's contents across the counter or floor because our high quality & elegant design has incorporated an anti-splash such as low starting speed and splash guard cover to prevent spilled materials from reaching any surface other than itself!
Why buy this:
Noise level is low and easy on the ears.
The product comes with a coolant system to prevent overheating.
The mixer is equipped with LED display technology for better visibility and control.
Non-slip rubber feet for balance when in use, steel planetary gears will never rust or wear down over time.
Customer Review:
"Kitmens allow personalization by engraving my name onto the machine! So thoughtful❤️ And all that comes with an affordable price too.
I am truly happy with my choice. I give it a perfect 💯 It's an awesome mixer. Makes me want to bake every day.
Having a stand mixer has always been in my wish list. Kitmens made my dream comes true.I am now a proud owner of Kitmens Mixer."
Check prices on Kitmens
3. Kenwood KVL8300S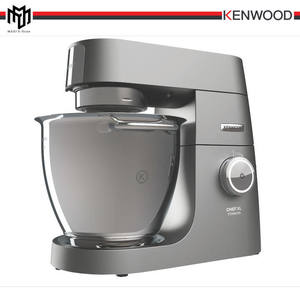 Adjustable Height
Chef Titanium is the perfect tool for anyone who wants to become a better cook. Whether you're just trying out some new recipes or would like give an authentic dish tried and tested by generations, this chef's knife can help make any food tasting masterpiece! The unique fold function enables careful mixing without losing air bubbles while variable speeds allow users ultimate control over how they want their dishes masterfully crafted with ease,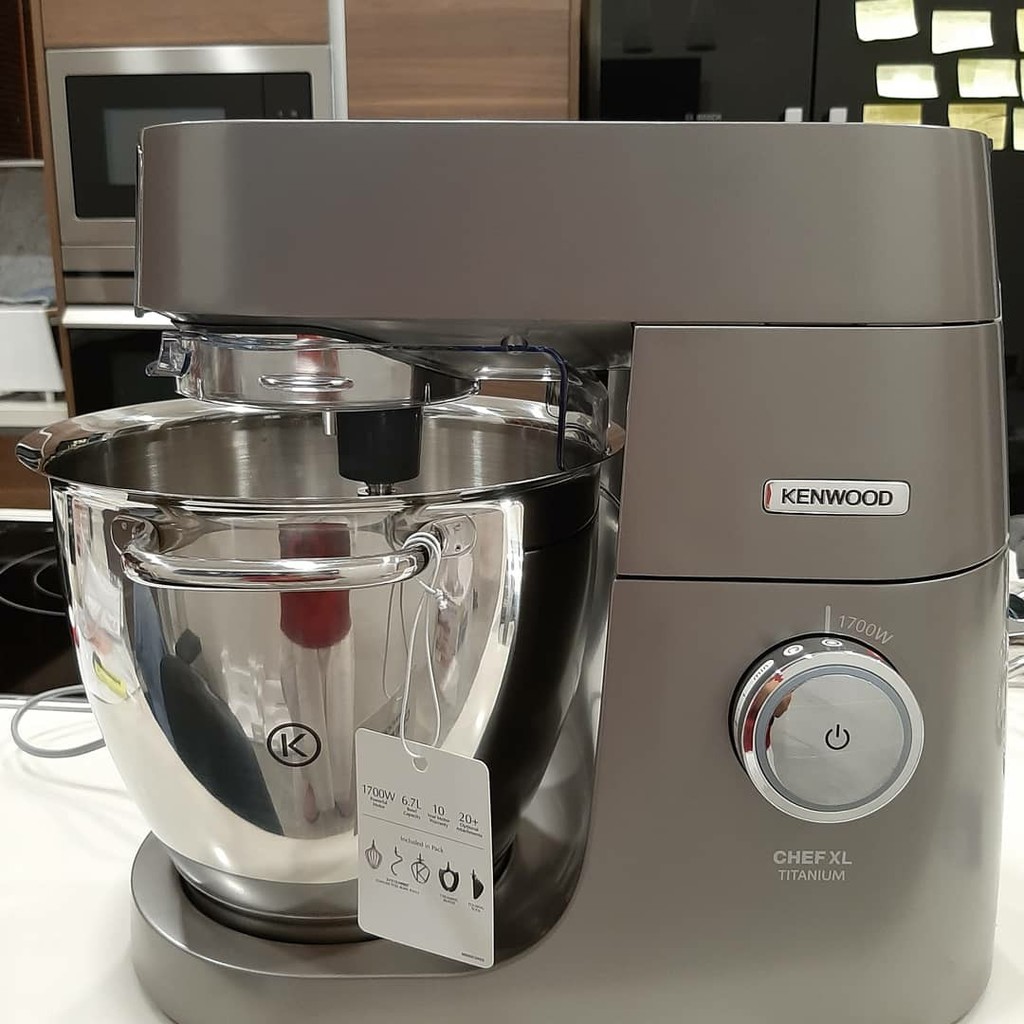 Pros:
Electronic speed control
20+ optional attachments
Highest quality stainless steel
Cons
Check prices on Lazada
Check prices on Shopee
4. Russell Taylors SM-1000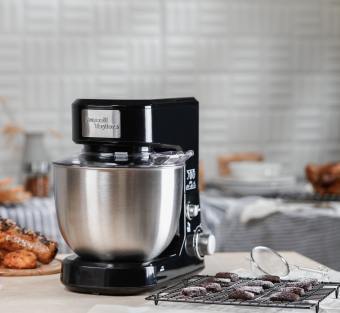 Sturdy and Durable
To ease the baking process, this stand mixer is the one to choose from. Very sturdy and heavy that ensures its durability. This 5.0L stand mixer is the perfect kitchen essential, blending power and smart design into a sleek package. With 1000W of power, this mixer can effortlessly tackle any mixing task. The detachable splash guard allows you to mix in a bowl or directly in your mixing bowl. It also comes with 3 attachments for easy mixing and includes a matching 5.0L stainless steel Bowl for all of your baking needs. This mixer's bowl has a capacity of 5.0L, so it is also perfect for big-batch baking. This isn't only for cakes but also perfect for bread making.
Pros:
Bowl can handle up to 1kg of mixture
3 attachments (Whip wire, dough hook, and flat beater)
1000 watts motor
Cons:
Check prices on Lazada
Check prices on Shopee
5. PerySmith 5.5L EasyCooking Series PS5500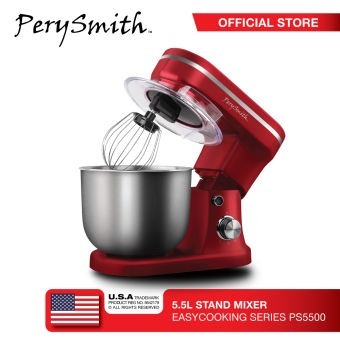 Best for Large Baking
This stand mixer from Perysmith is perfect for larger bakes. With the bowl's capacity being 5.5L, it can take up to 1kg of flour or 12 egg whites.
The PerySmith Stand Mixer is an all-purpose kitchen machine that can handle all of your baking and cooking needs, from cookies to cakes and breads. A transparent pouring shield affords a full view in the mixing bowl and easy adding of ingredients, while the stainless steel wire whisk, metal stirring hook and flat beater with spray protection for yeast and bread dough will handle every task with ease. With 6 speed settings, this machine also has a planetary mixing action that evenly mixes ingredients without intense agitation.
Pros:
1200W Power and 1.63 horsepower
6-speed setting planetary mixing action to ensure the ingredients are mixed properly.
Electronic speed controls and bowl lift feature
Cons:
Not the most durable build-
Check prices on Lazada
Check prices on Shopee
6. Russell Taylor Mixer SM-500 4L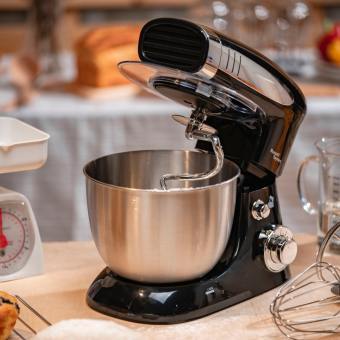 Best for Small Batches
A smaller stand mixer that is perfect for both smaller and bigger bakes. With a bowl capacity of 4L, it isn't too big nor too small. The Russell Taylor Mixer is a powerful and sleek mixer. It has a detachable splash guard, powerful 500 watt motor, 4.0L stainless steel mixing bowl, and 3 attachments. It has a sleek design and anti-skid base to keep the mixer from sliding around during use. The look of the mixer also is very clean and formal looking that will surely complete the look of your kitchen.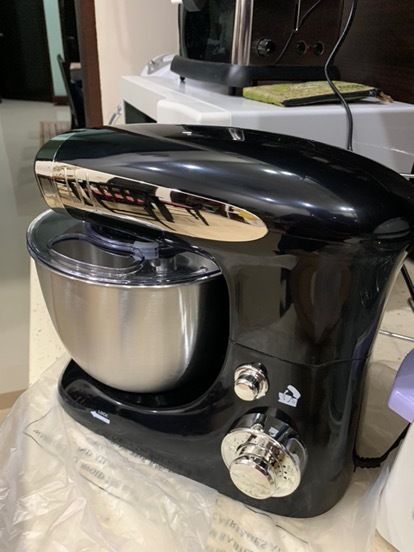 Pros:
Space saver
Speed control settings
500W Power
Anti-skid rubber base
Cons:
Check prices on Lazada
Check prices on Shopee
7. Russell Taylors Stand Mixer SM-1500 1500W 7.5L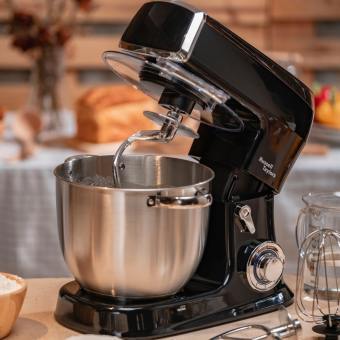 Large Capacity
This is a great option for those who want to make bread or other heavy doughs without the need of a stand-alone electric mixer. Equipped with a 1500w motor and a large 7.5L stainless steel bowl, this mixer will be up for the job, mixing up to 1kg of flour in just minutes. The sturdy rubber feet will also allow the mixer to stay put while it works its magic. The look of the mixer also is very clean and formal looking that will surely complete the look of your kitchen. The mixer from Russell Taylors to accommodate the big batches of making that you might be needing. With a bowl capacity of 7.5L, it can surely accommodate the big bakes and makes creating big batches easier.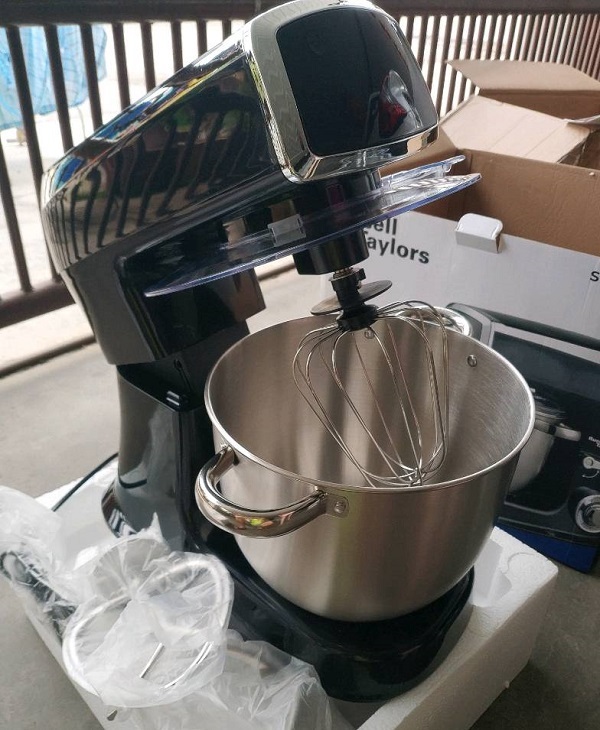 Pros:
Great for larger baking mixture
1500W Power
Anti-skid rubber base.
Cons:
Not beginner friendly model
Check prices on Lazada
Check prices on Shopee
8. Sharp Stand/Hand Mixer EMS60WH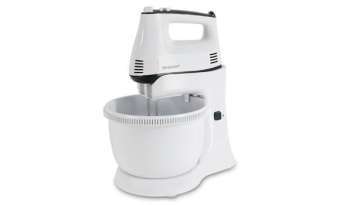 Multiple Accessories Included
Sharp has been one of the reliable kitchen brands, and this dual-mode mixer lived up to the brand's standards. This dual-purpose stand mixer is the perfect kitchen assistant. It has a 5-speed settings (low-stir med low-blend med-mix med high-beat and hand-whip) along with a beater lock to easily beat your egg whites for cakes. The mixer is an indispensable tool for baking, especially when it comes to thick batters and doughs. It also includes two additional attachments for mixing: whisk dough hooks and a hand blender.
Pros:
5 levels of speed to choose from
Comes with its cord storage
Includes dough hooks and
Positive beater lock
Cons:
Check prices on Lazada
Check prices on Shopee
9. Kenwood KVL4100S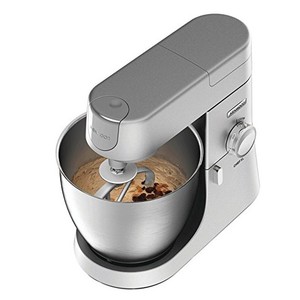 Multiple Attachements
The Kenwood Chef XL is the multi-talented tool for any kitchen! Whether you want to create homemade salsa, blend healthy smoothies and soups or mince your own meat – this appliance has what it takes. With over 20 attachments available on its bowl tools alone (not even mentioning all of their other features), there's no limit when thinking yourself into creativity with food preparation in mind.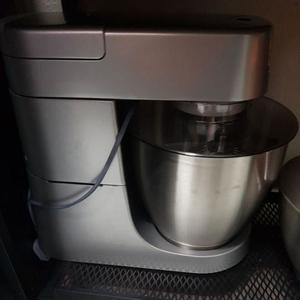 Pros:
Comes with 20 attachments
Dedicated bowl tools
Variable speed with pulse
Cons:
Check prices on Lazada
Check prices on Shopee
10. ELBA 4.2L 300W ESMB-9925S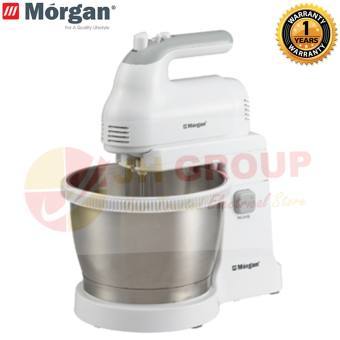 Comes with a Self Rotating Bowl
This mixer spells convenience, as it can handle up to 3.5 litres of content in one go. It also comes with a self-rotating bowl for an easier mixing experience.Apart from the stainless bowl, you also get beaters and dough hooks along with your purchase. It's also one of those compact stand mixers so it'll easily fit on your baking shelf.
Pros
Five speed options, including turbo setting
Stainless steel bowl
Up to 10 minutes of use
Cons:
Check prices on Lazada
Check prices on Shopee
11. Midea SM0293-BK Stand Mixer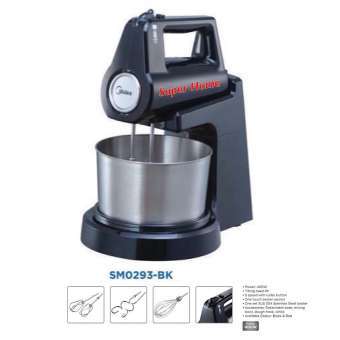 Great Aesthetics
One of the most elegant looking stand mixers we've seen online, and we love the great aesthetics in our pantry. Like any Midea products though, this mixer does not compromise functionality for exterior design. This powerful 400W stand mixer is perfect for any baking project. With a strong capacity of 2.5L, it has the power to mix and knead with ease. The different speed options and tilting head lift allow you to add versatility to your baking experience, while the 304 stainless steel mixing bowl ensures that everything is mixed thoroughly and evenly.
Pros:
400w Power
Comes with different speed settings, with a turbo button
One-touch beater ejection
Cons:
Check prices on Lazada
Check prices on Shopee
12. Cornell CSM-S8008HP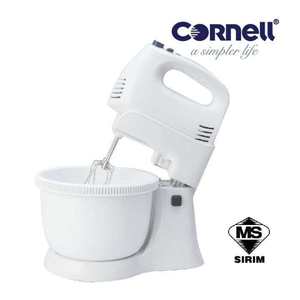 Rotatable bowl
The CSM-S8008HP is a powerful 5-speed mixer that also includes a turbo function for an added boost. The plastic body and bowl are easy to clean, and the rotatable bowl makes it easy to mix ingredients evenly. Plus, the releasing button makes it easy to remove the bowl when you're finished mixing, and the lock bottom on the base ensures that your mixer stays in place while it's working.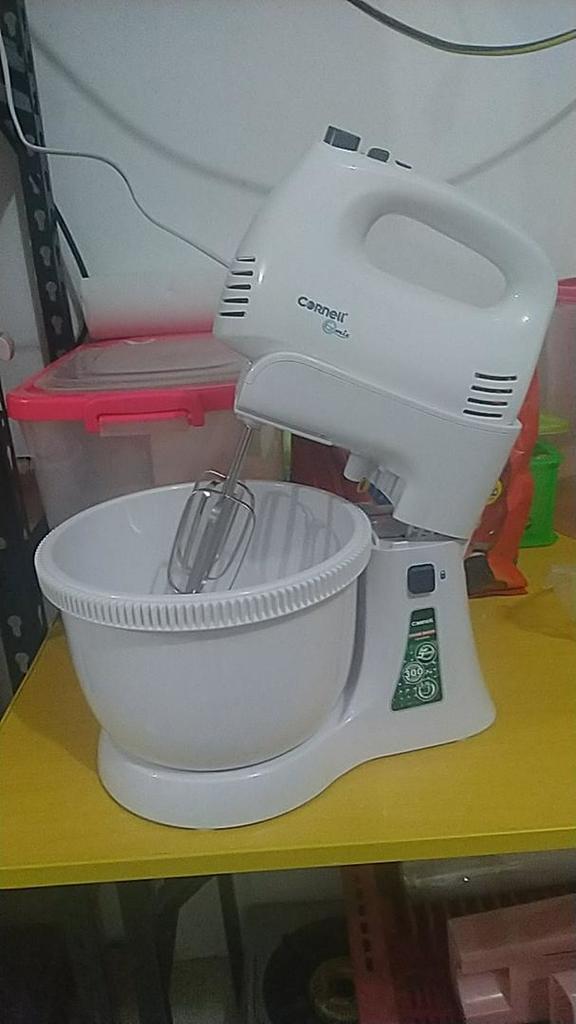 Pros:
5 Speeds + Turbo Function
Plastic body with plastic bowl
Rotatable bowl
Cons:
Plastic bowl may not be as durable
Check prices on Lazada
Check prices on Shopee
13. Electrolux Stand Mixer EHSM3417 3.5L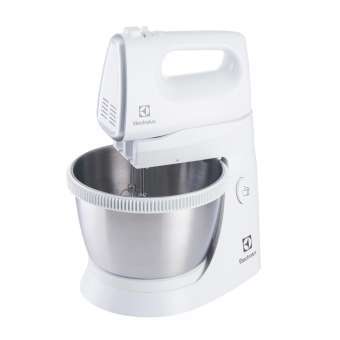 Versatile Stand Mixer
Say hello to legit effortless whisking, mixing, and kneading experience with this versatile stand mixer. The Electrolux Stand Mixer will make any holiday recipe a breeze. Effortless whipping, beating and kneading because this mixer comes with stainless steel whisk dough hook accessories make this an essential tool for all in-home chefs. Whether you're making a festive pie crust or the perfect mashed potatoes, this holiday season you'll be cooking like a pro with your new food mixer. The durable, dishwasher-safe stainless steel whisks and dough hook accessories make baking simple and easy. Plus, the eject button helps remove the bowl from the mixer so you're never left trying to scrape the side of it off with your spatula.
Pros:
450w
5 control settings
Dishwasher safe additional attachments
Eject button
Cons:
Plastic material may not be for everyone
Check prices on Lazada
Check prices on Shopee
14. PerySmith BK1000S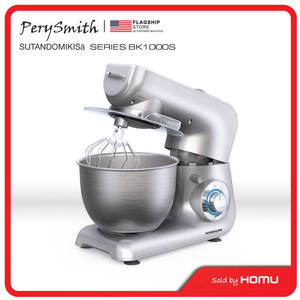 Super Silent
Add some boss-like power to your kitchen with the new Kaden series CSM-S8008HP from Cornell. This top-of-the-line appliance features Monolithic Integrated speed control for perfect mixing every time, along with pulse action for added power when you need it. With its sleek design and durable construction, this mixer is sure to make a statement in any kitchen. Make your next baking project a breeze with the Kaden series CSM-S8008HP!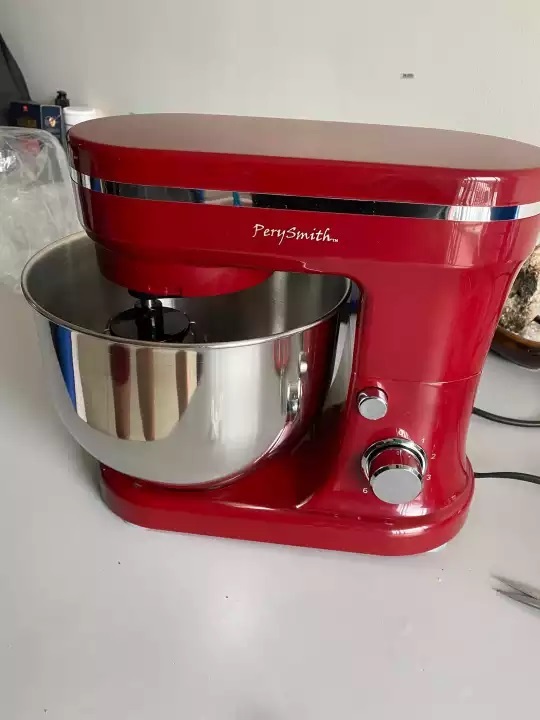 Pros:
Silent Mixing
Transparent pouring shield
Stainless steel wire whisk
Cons:
May not be able to handle bread dough
Check prices on Lazada
Check prices on Shopee
Best Stand Mixer Brands in Malaysia
PerySmith
PerySmith has been in the home appliance market for more than 10 years, and they have identified what customers need to make their lives easier. With their high-quality products backed by an ISO 9001:2015 international quality system certification process (meaning they're safe), you can feel confident about buying from them!
Cornell
The company is known for its high-quality, yet affordably priced products. The Cornell line features modern designs with environmentally friendly features like recycling capabilities and low energy consumption–all in an aesthetically pleasing package!
Kenwood
Kenwood appliances are built with the most durable materials, so you can enjoy them for generations to come. Plus they're stylish and fun–just like a good kitchen investment should be!
Why Shift to Stand Mixer
While there will always be that fulfilling feeling of manually whisking your pastry mixture, there will always come a time when we'd crave the convenience of an automatic, electric-powered mixer. A stand mixer simply makes the baking process effortless.
It also saves you so much time mixing, especially when you are dealing with a large amount of dough. A 3.5 litre worth of mixture will take less than 10 minutes to be thoroughly and smoothly mixed with a stand mixer. It also opens more pastry options for you, since more stand mixers are now multi-functional with settings meant to deal with different types of mixtures.
Conclusion
If you've been considering investing in a stand mixer, now is the perfect time to do it. Stand mixers are one of those kitchen gadgets that make your life so much easier and they can last for years if taken care of properly. So what kind should you buy? It really depends on your needs, but before purchasing any appliance check out our buying guide which covers everything from different models to attachments and accessories.
FAQs
What watts should I look for?
When it comes to choosing a stand mixer, make sure you know what wattage is right for your needs. A higher wattage means a more powerful motor, which can come in handy if you have large quantities of food or heavier dough. Most good quality stand mixers have wattages ranging from 250 watts to upwards of 1000 watts.
How long can I continuously use a stand mixer?
Heavy mixes like bread dough should be mixed for 10 minutes, and light cakes can take up until 20. This will help cool down the mixer so that there isn't any risk of burning yourself or other equipment!
Is it worth to buy a stand mixer?
They're a must for anyone who can't afford to waste time kneading or creaming. These tools make life easier, not only does it reduce injuries but also the amount of work you have to do!
Click here for other kitchen appliances related articles.
Latest posts by Kathy Wong
(see all)
This article was brought to you by BestAdvisor.my
Disclaimer: This is the opinion of the writer or publication. We only recommend products or services that we have tested and tried ourselves or have done in-depth research with positive external reviews and find them to be useful for everyone. The products/services shown are available upon the publication date. The availability may change from time to time. If some of them are not available, please email us at [email protected]. Thank you!
Last Updated on