Last Updated on
Does your skin feel rough even if you put on all sorts of lotion everyday? We've all been there, trying different moisturizers just to achieve that baby smooth skin, only to be frustrated with the results. If you have been moisturizing regularly, yet still experience rough or patchy skin, then you may need to focus more on exfoliation. What better way to exfoliate the skin than investing in a gentle but effective body scrub.
Here's a list of the hottest body scrubs that you can find in Malaysia both in-store and online:
1. Odeon Face and Body Scrub
Best for dry/flaky skin
If you constantly end up with chalky skin especially after washing, you'll find this body scrub a joy to use every day. Aside from gently whisking away dead skin, it also moisturizes the skin. In fact, it is gentle enough to also use on your face if you are already used to exfoliating.
Pros:
Leaves skin soft and smooth
Tiny exfoliating bids so it does not feel harsh on skin
Can also help with pimple marks and acne
Great value for money
Cons:
Not as fragrant as other commercial body scrubs
Does not necessarily brighten skin
New version may come in chunkier exfoliating beads
Check prices on Lazada
Check prices on Shopee
2. St. Ives Pink Lemon & Mandarin Orange Scrub
Best for all skin types
St. Ives is one of our favourite pharmacy brands for beauty products, but they really do excel when it comes to different types of scrubs. This one has an irresistible scent that makes taking a bath even more luxurious. This also comes in a smaller size, if you want to try it out for your skin first. But, we can guarantee that this scrub really does work wonders for your dull skin.
Pros:
Really pleasant scent
No issue with restocking, highly available in shops across Malaysia
Formulation helps brighten skin
Cons
Can be a bit harsh to be used on the face
Inconsistency in product formulation
Some may find the smell too strong for regular use
Check prices on Watson
Check prices on Lazada
Check prices on Shopee
3. Sumber Ayu Lulur Mandi Whitening Body Scrub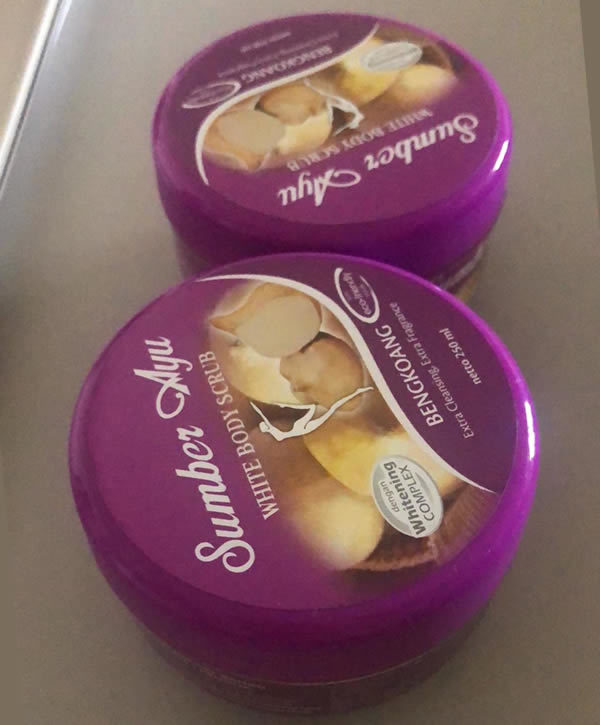 Best for dull skin and hyperpigmentation
Exfoliation has never been this relaxing. This local body scrub comes in different scents best suited for a spa setting. You can even use this for massage because it is moisturizing and gentle enough. All variants of this body scrub have a whitening effect.
Pros:
Easy to rinse off, no problem with scrubs left all over your body
Long lasting fragrance, it easily doubles as your new perfume
Non-drying scrub, leaves skin feeling moisturized
Cons:
This is more of a once a week scrub meant for a more indulgent shower time. Unlike other commercial scrubs, this make takes a few more minutes before you can actually feel your skin feeling clean and renewed.
Check prices on Lazada
Check prices on Shopee
4. St Ives Fresh Skin Apricot Scrub Invigorating (283g)
Best for all skin types
This is one of the St. Ives' flagship products. Apricot is a popular exfoliating ingredient and St. Ives has certainly achieved a great formulation that works for any skin type. A great bonus for this scrub is that it comes in a jar packaging making it easier to indulge in your scrub for the whole body.
Pros:
Leaves skin fresh and dewy
Oil-free so it does not feel too heavy on the skin but remains moisturizing enough
Great value for money
Cons:
The walnut shells included in the scrub can be irritating for acne-prone skin
Sometimes leaves skin feeling tight, it's best to start using this on your body first prior to using on your face
Check prices on Lazada
Check prices on Shopee
5. Cosway Alzara Natural Dead Sea Salts 500g
Best for sensitive skin
This is one of our best online finds from Cosway. It's not like your physical exfoliator. It is best used in a warm bath and experience a totally relaxed body and mind. The supple skin is already a bonus from the whole experience. The key ingredient here is the lavender oil, which is known for its relaxing effect and healing properties for the skin.
Pros:
Aids the healing of skin acne, eczema, psoriasis and vaginal scars
Soothes and relieves stiff muscles and joint pains
Promotes smooth, beautiful skin
Cons:
The only issue with this product is its price, but it's definitely worth the plunge.
Check prices on Lazada
Check prices on Shopee
6. Watsons Naturals Argan Body Scrub (200g)
Best for dry skin
If you live in colder places or if you are constantly suffering from dry itchy skin, you'll be pleased to know that this body scrub is just waiting to be picked up by you in the nearest Watsons store. Sometimes, the way these drug store finds deliver is just surprising and satisfying. Skin feels moisturized and even glowy after consistent use.
Pros:
Mild exfoliating beads, gentle on skin
Made from 100% natural exfoliators
Affordable and accessible
Cons:
Packaging can be improved. We've experienced product leaks after opening the bottle.
Best to go for the jar-type packaging to prevent this issue
Those who are used to exfoliating already may find this way too gentle
Check prices on Watson
Check prices on Lazada
Check prices on Shopee
7. St.Ives Blemish Control Apricot Scrub
Best for any skin type
This is one of St. Ives' flagship products. Apricot is a popular exfoliating ingredient and St. Ives has certainly achieved a great formulation that works for any skin type. However, this variant is specifically formulated for face suffering from acne and blemishes. You can also use this for other parts of your body, especially if you are suffering from acne on those areas, too. Otherwise, you can pair this with the Apricot Invigorating Scrub.
Pros:
Oil-Free
Dermatologist tested
Made from natural ingredients
Check prices on Watson
Check prices on Lazada
Check prices on Shopee
8. Skrub Badan 'Coffee Spa Salt Scrub"
Best for skin brightening
The salt and coffee combination is just what you need to relax and rejuvenate skin after a long day. You'll find the scent to be light and calming, too. With consistent use, skin becomes brighter and healthier.
Pros:
Great in hastening skin renewal
Contains real coffee grains
Combines both physical and chemical exfoliation
Cons:
Another product that needs improvement in packaging. With majority of the ingredients being naturally-derived, it can be a challenge to keep the freshness of this scrub especially when stored in a humid environment.
Check prices on Lazada
Check prices on Shopee
9. Natural Shea Body Scrub Exfoliator Gel

Best for rough skin
If you have been suffering from varying skin conditions including blackheads, acne marks, and even dry patches, you should give this exfoliating gel a try. It does not just removes dead skin cells, it effectively removes skin impurities, too leading to smoother and clearer skin. It can address even stubborn chicken skin in some parts of your body.
Pros:
Affordable and locally sourced
Creamy and gentle texture, feels really luxurious
Can improve skin complexion with its natural ingredients
Cons:
Due to its exfoliating mechanism this can feel a bit stingy after the first few uses, other than that you are on your way to a brighter and smoother skin.
Check prices on Lazada
10. DOVE Ice Cream Exfoliating Body Polish Seeds Scrub
Best for dry and aging skin
This is called polish for a reason. Dove has been known for its moisturizing products and they have remained consistent with their exfoliating line. We highly recommend this for those suffering from dry, dehydrated skin. It gently exfoliates while protecting your skin's natural moisture.
Pros:
Creamy and smooth texture, you won't even feel the tiny beads
Every variant smells so good
It's so moisturizing you sometime won't even need to apply lotion especially on a humid day
Cons:
It's a great body scrub for everyone who enjoys fragrance and gentle exfoliation.
Check prices on Lazada
Check prices on Shopee
How to Choose Body Scrub
With so many body scrubs in the market these days, including local and international names, it can be quite challenging to find the right match for you. Regardless of the brand, it is crucial to know what you want to get out of your body scrub, aside from the exfoliation. A lot of body scrubs are now infused with other ingredients to boost skin's state.
There are those formulated to whiten, remove blemishes, and reduce inflammations. So, know what you need from your body scrub first. Second, stick to natural ingredients. This is not only beneficial for your skin but for the environment, as well. Using products with synthetic scrubs can pollute the waters because these particles are not known to decompose right away. Lastly, make sure that you go for body scrubs with moisturizing factors as physical exfoliation can be drying to the skin.
Check out these top 3 body scrubs here in Malaysia:
FAQs
What are some of the best body scrubs in Malaysia?
Odeon Face and Body Scrub
St Ives Fresh Skin Apricot Scrub Invigorating (283g)
Skrub Badan 'Coffee Spa Salt Scrub
Can body scrubs whiten my skin?
There are body scrubs that are formulated with brightening ingredients, as well. These should be the product to look out for if you want to brighten your skin while getting rid of dead skin.
How do I use body scrub?
Use your body scrub after washing with your soap or body wash. Make sure to moisturize your entire body after a scrub to prevent irritation and drying.
How much does a body scrub cost in Malaysia?
Depending on the size and brand that you will choose, a decent body scrub will cost around RM60.00 - RM200.00
Click here for other beauty related articles.
Latest posts by Alice Yeoh
(see all)
This article was brought to you by BestAdvisor.my
Disclaimer: This is the opinion of the writer or publication. We only recommend products or services that we have tested and tried ourselves or have done in-depth research with positive external reviews and find them to be useful for everyone. The products/services shown are available upon the publication date. The availability may change from time to time. If some of them are not available, please email us at [email protected] Thank you!