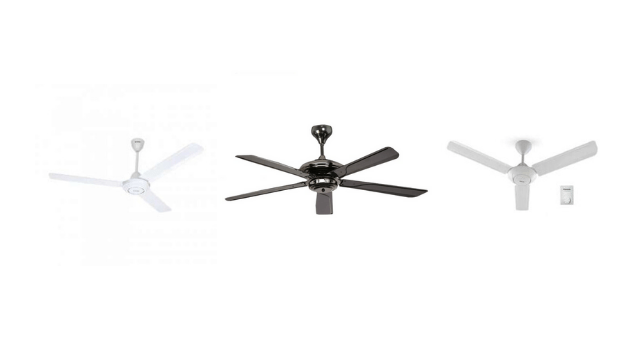 Ceiling fans are a great way to cool down during the summer months, and they can also help to circulate air in your home year-round. If you're looking for a new ceiling fan, it's important to find one that is both energy-efficient and stylish. In this blog post, we'll share 12 of the best ceiling fans Malaysia has to offer in 2022.
Whether you're looking for a fan with lots of options or one that's sleek and modern, we've got you covered! Keep reading to learn more about each fan and find the perfect one for your home.
Table of Content
Quick Comparison Table

Top Ceiling Fan Brands in Malaysia
Reasons To Buy A Ceiling Fan in Malaysia
FAQs
Quick Comparison Table
(Scroll right for more)
12 Best Ceiling Fans in Malaysia
Here is a list of the best options for Malaysia ceiling fans, that you can order online.
1. Kdk K15v0-Pbr 150cm/60 inch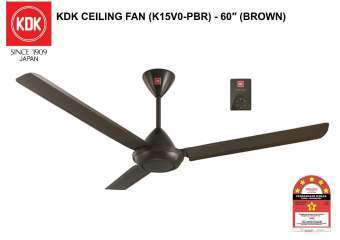 Budget Pick's
Are you looking for a ceiling fan that you can use for many hours at a time? Then the Kdk Ceiling Fan is one of the most suitable options that come with fantastic saving energy features.
This fan is capable of providing airflow to large areas of the home while producing a gentle breeze. The decorative cover makes this KDK ceiling fan an easy choice to fit into most homes.
Why buy this:
Energy-saving condenser motor
Blade safety plate and cut-off safety device
Wide sweeping blades
Decorative cover
Get your Kdk fan at the most favourable price right here.
Check prices on Shopee
Check Prices on Lazada
2. Eco Breeze High Quality 5 Star EB6016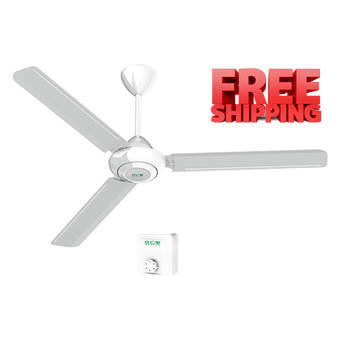 High-quality local brand
Eco Breeze
ceiling fan is a local Malaysia brand with Japan Technology. It's designed with high quality electronics regulator controller with the concept of energy
efficiency
in mind. Internal motor with 100% pure copper wire produces high conductivity, low resistance, less heat dissipation and greatest motor efficiency.
The double bolt pipe connection designed to
enhance the safety feature
thus to prevent safety hazardous incident occurrence.
Why buy this:
Elegant and decorative design.
Low Energy High performance motor (5 Star COP).
100% copper motor.
5 fan speeds electronics regulator.
Color option: White, Black & Green.
Double bolt pipe to enhance safety features.
Assets with box, warranty card, user manual and EB-6016 ceiling fan.
Get your 5-star ceiling fan at a great price here.
Check prices on Lazada
3. Deka Kronos 56-Inch 5 Blade F5p With Remote Control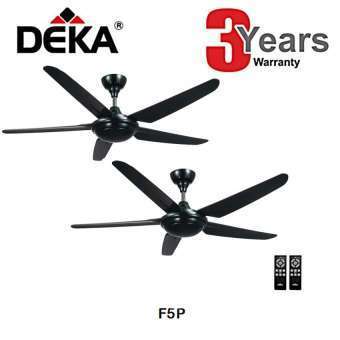 Best of all
This fan features elegant black blades that will blend seamlessly into most home interiors, making it easier to clean. It is an easy-to-install product, which means you can have it up and running in no time.
Adding this ceiling fan from Deka to your home will provide you with the comfort that you need. We enjoyed that the circulation is similar to a natural breeze.
Why buy this:
A natural and quiet breeze wind
High-speed motor (RPM)
Remote control enabled with a timer
Silent operation & sleep mode
Suitable for medium-sized rooms
This fan is on offer at a reduced price right here.
Check prices on Shopee
Check Prices on Lazada
4. Alpha Cosa 998 4 Speed With Remote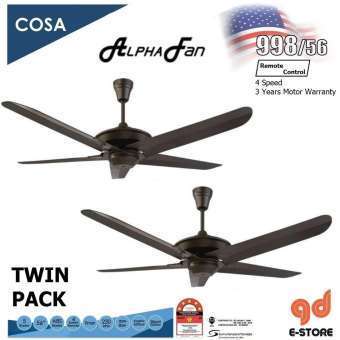 Best for quiet operation
If you have plans to install 2 fans in your home, then you will want to take advantage of this affordable twin-pack product from Alpha. This fan is easy to install and operates relatively silently on the first 3 fan speed settings.
Why buy this:
Low wattage
4-speed setting
Timer (can be set for up to 6 hours)
High-speed motor
Get your twin-pack at a great price here.
Check prices on Shopee
Check Prices on Lazada
5. Panasonic F-M15A0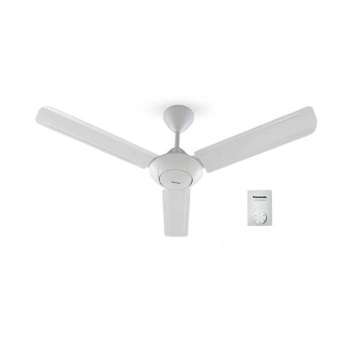 With thermal safety fuse
If you prefer a silent operating fan, you can rely on Panasonic to meet your requirements. Even at its maximum fan speed, you will hardly even notice that the DC motor is even running.
Panasonic is a brand that takes precautions and safety very seriously. You can use this fan without having to worry about anything going wrong.
Why buy this:
Silent operation
Safety fuse
Comes with wall switch control
Fall-prevention plate to protect the blades
Grab this model while stocks last.
Check Prices on Lazada
Check prices on Shopee
6. Deka V5 With Light & Remote Control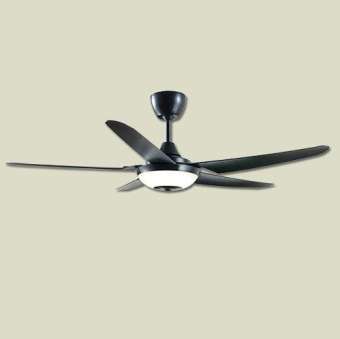 Bluetooth-enabled remote control
This multi-functional ceiling doubles up as LED light. Enjoy the comfort and elegance that your home deserves with this stylish Deka ceiling fan.
Why buy this:
56-Inch diameter blade size
4-speed setting AC motor
Ceiling fan with light
Bluetooth-enabled fully-functional remote control
This is a fan that really adds to the decorative appeal inside your home, especially if your home is still new and you are adding in decorations. This fan doubles as both an accessory and a necessity. Take advantage of this great online price right here.
Check Prices on Lazada
Check prices on Shopee
7. Khind CF612T 60-Inch 3 Blade X 2 Sets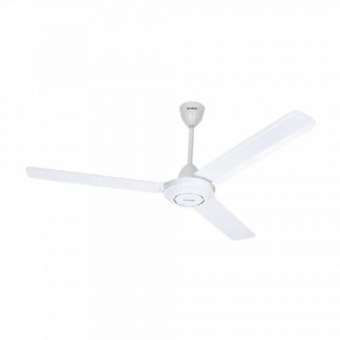 Energy-efficient Ceiling Fans
Khind is a well-known brand that knows exactly how to combine fantastic aesthetics with state-of-the-art fan technology. We loved the visual appeal associated with this ceiling fan.
Why buy this:
Low noise level
Hook ceiling mount
High energy star rating
Eco-friendly & durable blade
Investing in this type of ceiling fan will feel like you are upgrading your home. Enjoy fantastic airflow and added decor with this Khind ceiling fan. Buy yours here today.
Check Prices on Lazada
Check prices on Shopee
8. Elmark KL 101 / Spitfire 246-52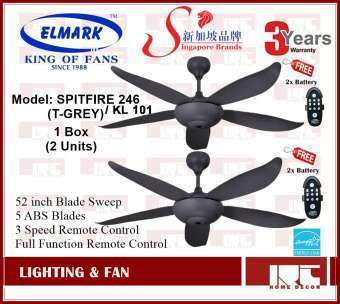 Best for high air-flow
If you are in search of a valuable deal, you can benefit from this twin-pack promotion that comes with 2 remote-controlled ceiling fans at a really great price.
Why buy this:
Timer function
High-speed AC motor
High airflow feature
5 ABS blades
A stunning ceiling fan
Even if you leave your Elmark ceiling fan on for extended periods, it won't impact greatly on your electric bill. Take advantage of this promotional price here.
Check prices on Shopee
Check Prices on Lazada
9. Deka 5 Blade 56″ DK10 With Fan Regulator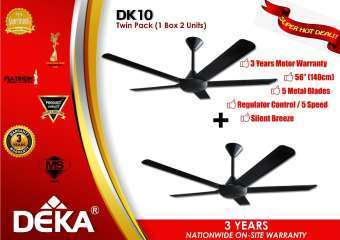 Energy saver motor
The blades are aerodynamically designed to ensure efficient airflow in any room in your house. This elegant 56-inch ceiling fan comes with easy to understand installation instructions.
Why buy this:
3-year warranty on the DC motor
73-watt energy-saver motor
Manual control
5-speed wall-regulator
We really enjoyed the modern and stylish appeal of this Deka ceiling fan. Even though this product is manually controlled, the quality airflow will mean once you have chosen a fan speed setting, you will probably stick to it. This Deka ceiling fan is on offer at a discounted price here.
Check prices on Shopee
Check Prices on Lazada
10. Mitsubishi C60-GY-P-WH 3 Blade 60-Inch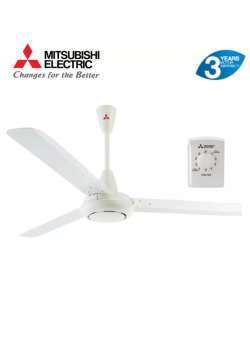 Traditional Model indoor outdoor ceiling fan
This traditional 3-blade Mitsubishi ceiling fan offers low power consumption and improved ventilation, airflow and moves warm air from the ceiling back to the floor.
Why buy this:
Good energy efficiency
4-speed setting
Regulator type
The white colour of this fan ensures that it matches up to all types of home interiors, without competing with the rest of the décor in the room. Grab one for your home when you order here.
Check prices on Shopee
Check Prices on Lazada
11. Khind CF630R 60-Inch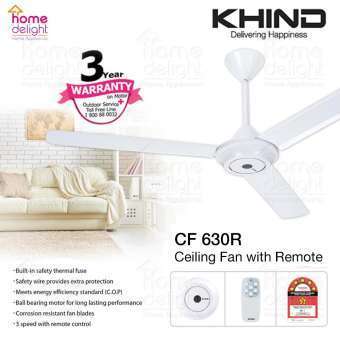 Come with a safety wire for extra protection
This is another Khind product that comes with a 2-in-1 offer. This 60-inch ceiling fan is also remote-control enabled adding to the convenience and ease-of-use.
Why buy this:
60-inch fan blades
Built-in safety thermal-fuse
The quality of this fan will ensure it will last for many years to come with the corrosion-resistant blades. This is an energy-efficiency model making sure you receive round-the-clock comfort without having to worry about your electric bills. Get this fantastic 2-in-1 promotional offer here before stocks run out.
Check Prices on Lazada
Check prices on Shopee
12. Elmark EL 921 54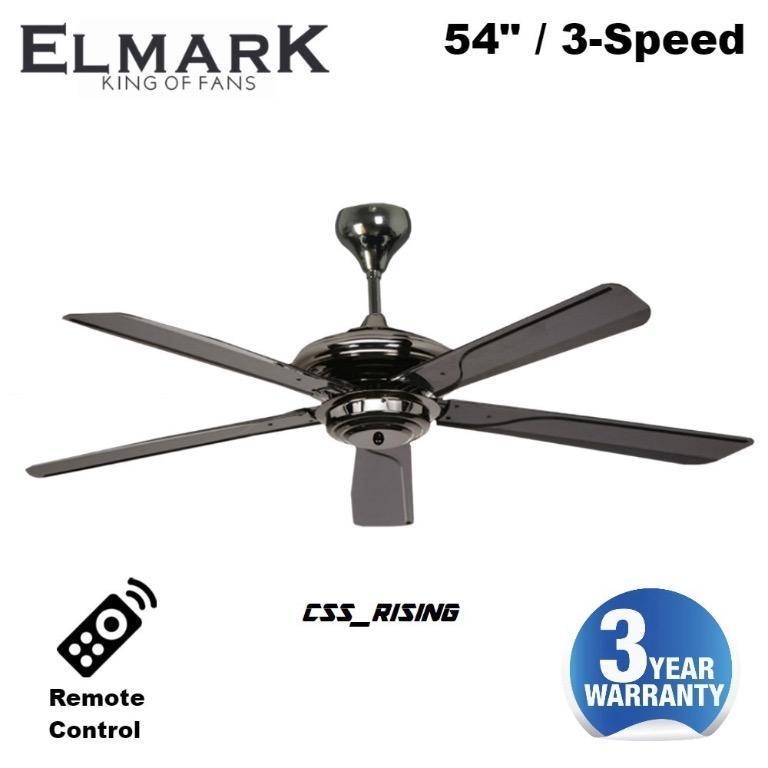 Best for large living spaces
The Elmark ceiling fan features acrylic blades that guarantee durability and quality. This product is SIRIM certified, which means you should have no problems with installing and using this fan.
This fan features the standard 3-speed setting to match up to the ventilation requirements in your home. The Elmark ceiling fan is also suitable for large living spaces, along with patios and kitchens.
Why buy this:
Full-function remote control
High airflow design
High-speed AC motor
Timer function
Ideal for bedroom ceiling fan
Buy this product here.
Check prices on Shopee
Check Prices on Lazada
Top Ceiling Fan Brands in Malaysia
KDK
With over 25 years of experience under its belt since 1991, KDK is a well-established Malaysian company founded by Mr Fathul Ismail. It manufactures high-quality products ranging from exhaust systems, lighting fixtures & ventilation systems. KDK offers universal design collectors fans in order to suit both traditional and modern applications. KDK ceiling fans are also the fastest-selling models in Malaysia. The KDK website states this is due to their compact design, 3 different speed settings & easy installation features.
Eco Breeze
Eco Breeze has been around since 2003 by Malaysian entrepreneur Mr James Tan. Eco Breeze ceiling fans combine aesthetics with functionality while maintaining high performance for their customers. They have a sleek design without bulky exterior blades, perfect for small living spaces like condos or flats.
Deka
Deka Industrial Motors (M) Sdn Bhd has been a trusted and reliable ceiling fan manufacturer since 1988. Deka offers symmetrical rotating fans for residential use and high-performance industrial fans for commercial purposes.
Alpha
Alpha Lighting & Electric Sdn Bhd is based in Malaysia and has been around since 2013. They specialize in LED lights & ceiling fans, offering both modern designs and forward-looking technology. Their current collection of products includes LED bulbs, downlights, spotlights, wall lamps, kitchen lights, ceiling lights, and ceiling fans such as outdoor / indoor models with built-in light fixtures.
Panasonic
The Panasonic Corporation was established on 1 April 1918 by Konosuke Matsushita to produce the first-ever Japanese lamps. The company was originally an exporter of pickles and ran a successful business out of Osaka before eventually expanding into other electrical goods such as radios, televisions & ceiling fans. They're most well known for their high-quality Panasonic Ceiling Fans.
Elmark
Founded in 2006, Elmark Industries is one of the pioneers in developing ceiling fans with remote control capabilities (with pivot function and forward / reverse air direction). Its fan range has since expanded to include various types, models, and designs, including stand fans, outdoor/indoor type fans with lights, and Dyson-style blades with aluminium alloy rotors.
Khind
Established in 2001 by 3 friends, Khind (a portmanteau word from KH Education) is a Malaysian company that manufactures ceiling fans with lights. It specializes in ceiling fan design and technology, becoming increasingly popular among Malaysians. They offer both innovative & modern designs (such as contemporary LED lighted / rotating fans), widely available in Malaysia.
Reasons To Buy One in Malaysia
The weather in Malaysia is often unpredictable. Yet there is something that will remain constant, and this is the requirement of reliable cooling units and fans to help us stay comfortable in our homes and offices.
Investing in ceiling fans provides several benefits. These versions are more powerful, quiet, and space-efficient when compared to other types of fans. Even when you already have an air-conditioner in your home, installing a good quality ceiling fan will help to ensure the cooled air is circulated more efficiently.
Many of the ceiling fan models now come with energy-efficient DC motors, which means they have a minimal impact on electric bills, even when you use them with your AC. You may want to find out how it works here. In case you notice damage, per se an unusual noise in your fan make sure to get it repaired fast.
Key Takeaways
With so many great options to choose from, it can be tough to decide which ceiling fan is right for you. Hopefully, our list of the 12 best fans in Malaysia will make your decision a little bit easier. Keep in mind that each fan has its own unique features, so be sure to read through the descriptions carefully and compare them before making your final decision. Thanks for reading!
FAQs
What are popular brands of ceiling fans? 👍
There are quite a few, such as KDK, Elmark, Deka, Alpha, Panasonic, and Khind
Click here for other home appliances related articles.
Latest posts by Aaron Tan
(see all)
This article was brought to you by BestAdvisor.my
Disclaimer: This is the opinion of the writer or publication. We only recommend products or services that we have tested and tried ourselves or have done in-depth research with positive external reviews and find them to be useful for everyone. The products/services shown are available upon the publication date. The availability may change from time to time. If some of them are not available, please email us at [email protected]. Thank you!
Last Updated on