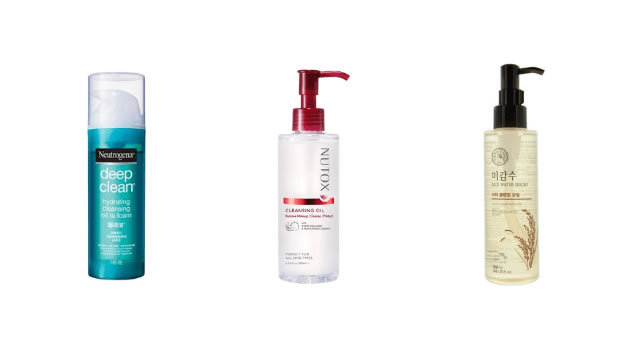 For those new to double cleansing, the thought of cleaning your face with oil may seem counterproductive. But, as with anything oily, the best way to clean grease is through grease. This is a comprehensive cleansing oil Malaysia guide (best of beauty tips) for those who are recently convinced to add cleansing oil (some extract from grape seed oil, sunflower seed oil, almond oil, sesame oil, coconut oil and jojoba seed oil) in your routine, and we know just how confusing and to a point scary it is to finally choose and try one.
Let's check out these hottest cleansing oil in Malaysia today to see what we mean. Spoiler alert, there will be lots of Japanese and Korean favourites (beauty products) on the list.
Table of Contents
Cleansing Oils Malaysia Comparison Table

How Do I Use Cleansing Oils in Malaysia?
What are the best brands of cleansing Oils in Malaysia?
FAQs
Cleansing Oil Comparison Table
1. Hada Labo Super Hyaluronic Acid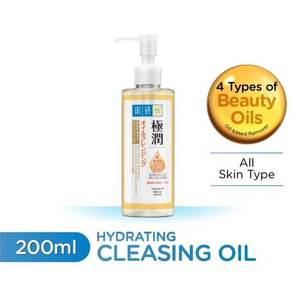 Best for Dry and Sensitive Skin
Cleansing oil will always be tricky, no matter how gentle it can be on the skin. To reduce your risks of skin irritation and inflammation this deep cleansing oil is free from any form of common irritants like alcohol, preservatives, and fragrance. Every product that Hada Labo releases are all about intensive moisture, and what's even better than a gentle cleansing oil? One that is also infused with Hyaluronic acid and high purity olive oil! You can be confident that your face will not be stripped away of any moisture and it will even help you retain more as you cleanse. This is perfect for those who easily feel a stripping feeling after washing. It is also a low irritant as it contains no alcohol and fragrance.
Infused with 4 types of beauty oils & olive oil.
With enhanced cleansing ability.
Low Irritant oil cleanser (no alcohol, preservatives, and fragrance)
Moisture balance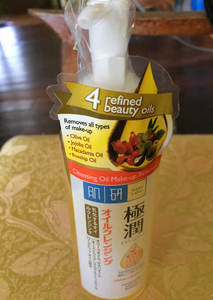 Pros:
Widely available in Malaysia
Hada Labo cleansing oil is so easy to find in every Malaysian beauty shops and some drug store. Of course, you can also buy this online.
Sensitive skin-friendly cleansing oil
Works with waterproof makeup
Cons:
While we love the clean ingredients of this cleansing oil, this can feel a bit heavy especially for those who do not really wear makeup and are just intending to cleanse thoroughly. You can buy these cleansing oils in Malaysia.
Check prices on Watson
Check prices on Lazada
Check prices on Shopee
2. BIORE Cleansing Oil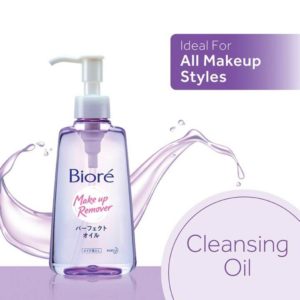 Best cleansing oils for normal skin
We see lots of Biore products in mainstream shops, but there are two products that you can strongly trust them on: makeup removers and sunscreen. Its light consistency makes it feel luxurious on the skin. It feels like a massage oil for the face. Eye makeups can be stubborn. Fortunately, you will not need a separate cleanser for your eyes because Biore cleansing oil is also proven to efficiently and thoroughly remove even waterproof mascara.
Sensitive skin may not react positively to it right away this is mineral oil-based and contains alcohol although quite far in the ingredient list already.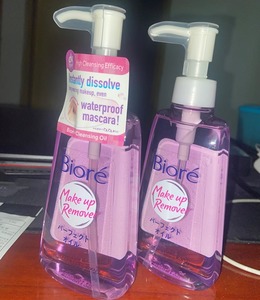 Pros:
Emulsifies well
Budget-friendly
Removes even stubborn mascara
Cons:
It boasts of "fruity fragrance", which is just unfortunate because it can come off really strong especially for those who are not used to fragrance in skin care.
Base is mineral oil, which may not work well with some skin type.
Check prices on Watson
Check prices on Lazada
Check prices on Shopee
3. THE PASTELS SHOP "CYMBO"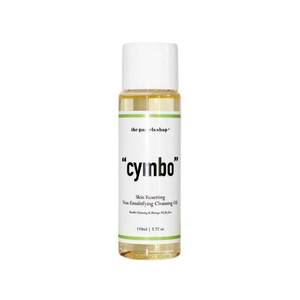 Best for hyperpigmentation
Hyperpigmentation is another common problem that may take patience and time to fully get rid of. This cleansing oil is infused with antioxidants, specifically lemon extracts which acts as a brightening component while thoroughly cleansing your skin. This cleansing oil is one of the few non-irritating and stable oils we've found with these ingredients. This cleansing oil melts really nicely on wet or dry face and will not immediately emulsify at the slightest contact with water.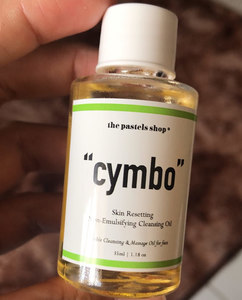 Pros:
Although it has lemon extract, the scent is not too overpowering. The consistency is also perfect for Malaysia's humid weather.
Doubles as exfoliant and brightening product.
Cons:
This deep cleansing oil can be a bit harsh for some sensitive skin. It's like an astringent type of oil that sometimes leaves a stinging feeling. It's not significant, but it's something that you should not be feeling at this step.
Check prices on Lazada
Check prices on Shopee
4. The Face Shop Rice Water Bright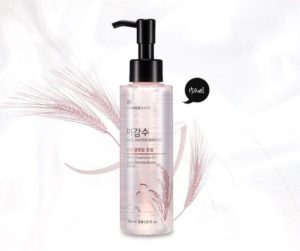 Best oil cleanser for Sensitive and Oil Prone skin
This rice water cleansing oil feels so light on your skin. It glides smoothly without that feeling of being dripped in too much oil. Those with oily skin will definitely love this because the lightness and natural formulation of this cleansing oil will not clog your pores, and will simply get rid of those excess oils, dirt, and makeup. This is a mineral-oil free product so you are assured of less clogging and breakout even with daily use. Rice extract has been a common ingredient in Face Shop products and have been known to be gentle antioxidants and effective in removing skin impurities.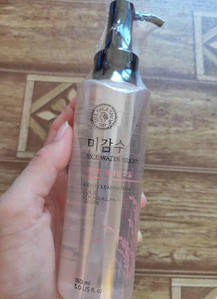 Pros:
Mild cleansing: Mineral oil-free does not cause breakouts and skin irritation.
Rich and smooth texture dissolves dirt and makeup.
This rice water oil cleanser contains canola extracts, which lock in the moisture balance, leaving skin soft and supple.
Cons:
It's not as effective in removing more stubborn makeup. You'll sometimes need to use cotton or wipes to totally remove waterproof makeup, and this can seem counterproductive since the added friction may irritate your skin while you clean.
Check prices on Lazada
Check prices on Shopee
5. Nutox Cleansing Oil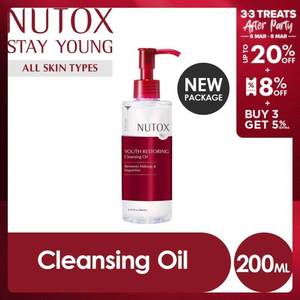 Best cleansing oils for normal to dry skin
While we know that oils are generally moisturizing, this cleansing oil just hits different. It makes the skin feel so supple after use. It's like you no longer need a moisturizer right after cleansing. Amazingly, it also does not leave that nasty oil film after letting it properly melt in your face. It's infused with almond and grapefruit oil for the added moisture. It has anti-ageing properties. It is made from natural and gentle oils that improve skin's elasticity as you cleanse. It contains anti-inflammatory and anti-bacterial ingredients to calm irritated skin, while effectively removing your makeup and other dirt. With this, you can be sure that all those pore-clogging impurities are fully removed.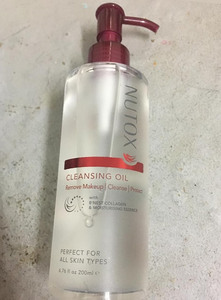 Pros:
Gentle but touch on make-up and dirt
Has anti-aging properties
Meet from sweet almond oil
Cons:
Unfortunately, the packaging is quite disappointing. The ordered this online and the bottle was already leaking some oil when we received it.
Check prices on Watson
Check prices on Lazada
Check prices on Shopee
6.Cleansing Oil Sendayu Tinggi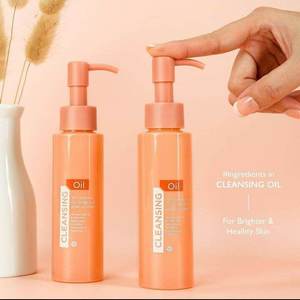 Best for oily and sensitive skin
The natural oil extracts used to formulate this cleansing oil infuses moisture on your skin while cleansing. It contains all of our skin's favourites including Vitamin E. You are starting off your skin routine with this multitasking product. It's gentle enough for dry and flaky skin and you will immediately notice changes in your skin after 3 to 5 of consistent uses. The winning ingredient for us is Geranium Oil which has been known to have anti-ageing properties, as well. All its other natural ingredients work deep in the skin to help boost its moisture retention. The best part is this is a proudly local product that has been gradually recognized in the Southeast Asian market.
Pros:
It's formulated for heavy makeup users.
It removes even waterproof products, oil, sweat, and other impurities gathered throughout the day.
Although it has an astringent effect, it does not sting nor causes any irritation.
Cons:
It's expensive. Despite the natural plant extracts included, this also contains mineral oils which can cause pore clogging for some users.
Check prices on Lazada
Check prices on Shopee
7. Neutrogena Deep Clean Cleansing Oil
Best for skin brightening
No need to add extra friction on your skin just to remove that stubborn makeup. Amazingly, it also lathers after few seconds of the application so you can get rid of the oil in a single application. Along with your makeup, the Neutrogena deep clean cleansing oil also whisks away your skin's sebum, preventing build of dirt that leads to whiteheads or blackheads.
Pros:
Easily removes waterproof makeup, including tough mascara
Contains mulberry extracts for a brightening effect
Made from light, non-irritant oil
Cons:
One of the most expensive cleansing oils in the market.
Check prices on Lazada
Check prices on Shopee
8. Simple Kind Cleansing Oil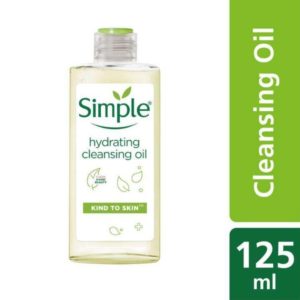 Oil cleansers suitable for all skin types
Sometimes, when it comes to skincare, the simpler is better. This is exactly the kind of care that Simple Kind offers. Its vegan formulation makes it a safe choice for all skin types, even those currently having breakouts. We have seen some people who actually noticed improvements in their pimples and scars when they started double cleansing with Simple. It suits sensitive skin, too. No alcohol, no mineral oils, no artificial colours, no preservatives. Simply kind to the skin and environment ingredients.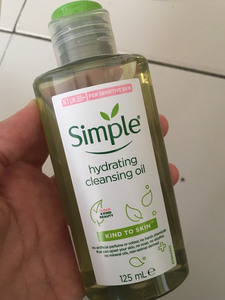 Pros:
It leaves no greasy feel after using
It emulsified really well, too after washing it off with your choice of oil cleanser.
This has been tested to be hypoallergenic
Cons:
Unfortunately, we find this cleansing oil too weak to remove all sorts of makeup.
More recommended more as a daily cleansing oil, but you'll need a tougher one on your glammed up days.
Check prices on Lazada
Check prices on Shopee
9. Skin1004 Cleansing Oil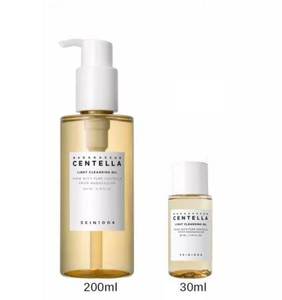 Best cleansing oil for oily skin
Centella is one of this year's most-wanted ingredients. It is because of its many skin benefits, primarily in addressing blemishes. Having it as a primary ingredient in our cleansing oil is even more reassuring.
The lightweight formulation will feel calming enough especially for those with oily skin type. You can feel the cleansing oil gently wipe away all the excess oil along with your makeup and sunscreen. You can even use this to remove your eye makeup and lipstick as it does not have any stinging feeling. This is probably due to the highly plant-based formulation of this cleansing oil.
Pros:
Calming formulation, without compromising its cleaning performance.
You can even add a bit of water to create a milky emulsion for a more thorough cleaning.
Lightweight but can work well with stubborn makeup.
Comes in travel-size packaging
Cons:
Restocking can be difficult in Malaysia.
Quite tacky during first use.
Check prices on Watson
Check prices on Lazada
Check prices on Shopee
10. Sulwhasoo Gentle Cleansing Oil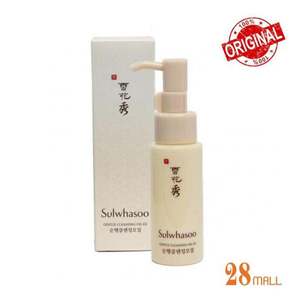 Best premium cleansing oil.
This luxurious-feeling oil cleanser deeply cleanses while remaining gentle on your skin. We love its rich formulation and how soft the skin feels after every application. It's more creamy than oily when applied and just leaves skin feeling so soft after washing it off. You can massage it on your face for a couple of minutes without worrying out clogging your pores.
It is formulated with all the top Korean herbal ingredients like Prunus Mume Seed Extract and Camellia Japonica Seed Oil. And if brand ambassador Song Hye Kyo is indeed a living proof of this product, then you already get the entire picture of how effective and gentle Sulwhasoo products are.
Pros:
It removes almost all types of makeup too
Soothing feeling, perfect first treat for your skin after a long day.
Cons:
Although it does not contain any artificial perfume, some people may be put off by the initial herbal scent of this cleansing oil.
Sulwhasoo is also no doubt an expensive brand.
Check prices on Lazada
Check prices on Shopee
How Do I Use Cleansing Oils in Malaysia?
Cleansing oil should be the first step in any skincare routine. Unfortunately, simply washing with our facial cleansers is not a guarantee that all makeup has already been removed. By doing so, we might have been clogging our face with makeup for a prolonged period.
Cleansing oil melts away make-up and sunscreen thoroughly yet gently. Oil cleansers are meant to be rinsed off or wiped off after you gently massage in all over your face. After your two-step cleansing, you can resume the rest of the routine (toner, moisturizes, etc.).
Best Brands of Cleansing Oil
Cleansing oils are a great way to remove all of your makeup and dirt from the day. But, with so many different brands on the market, which one should you choose? Here is a list of the best cleansing oil brands available.
Biore is a great brand for cleansing oils. They have a variety of different products to choose from, and they all work really well. Their oil is gentle enough to be used every day, and it leaves your skin feeling clean and refreshed.
Hada Labo is another great brand for cleansing oils. They have a few different types of oil to choose from, and they all work well. Their oil is gentle enough for daily use, and it leaves your skin feeling soft and smooth.
Another great brand for cleansing oils is Kiehl's. They have a wide variety of different oils to choose from, and they all work really well. Kiehl's oil is especially good at removing waterproof makeup.
FAQs
What are the best brands of cleansing oil in Malaysia? ❓
Hada Labo, Biore, The Face Shop, and the Pastels Shop as the popular cleansing oil in Malaysia.
Why do I need a cleansing oil?🧐
Some makeup, especially waterproof ones cannot be completely removed by facial cleansers. Cleansing oil removes all them and sunscreen without drying out the skin.
How do I use cleansing oils?
Cleansing oil should be the first step in any skincare routine. Unfortunately, simply washing with our facial cleansers is not a guarantee that all makeup has already been removed.
How much are cleansing oils in Malaysia?
Cleansing oils in Malaysia cost between RM20.00-RM 50.00
Click here for other beauty related articles.
Latest posts by Alice Yeoh
(see all)
This article was brought to you by BestAdvisor.my
Disclaimer: This is the opinion of the writer or publication. We only recommend products or services that we have tested and tried ourselves or have done in-depth research with positive external reviews and find them to be useful for everyone. The products/services shown are available upon the publication date. The availability may change from time to time. If some of them are not available, please email us at [email protected] Thank you!
Last Updated on