With the unpredictable weather and an ever-growing pile of dirty laundry, having a reliable tumble dryer at home is one of the best ways to dry your clothes and simply accomplish more by doing less. Nothing beats the feeling of sun drying out clothes, but this does not come easy for many of us either. You'll need ample space and time to do this constantly. Even better, it helps you multi-task, and it will not demand too much space in your home. Dryer machines in Malaysia are getting more popular because of the type of convenience offered by this kind of home appliance, especially in properties that restrict spaces to dry your wet clothes.
If you are looking for the best clothes dryers in Malaysia, consider the price, features, and convenience, but don't worry, this list was made to help you narrow your choices down.
Table of Contents
Dryer Machine Malaysia Comparison Table

How does a dryer machine work?
FAQs
Dryer Machine Malaysia Comparison Table
Top best dryers in Malaysia today and where you can shop them online:
1. Toshiba Sensedry™ Dryer Machine TD-H80SEM
Everyone's favorite
The Toshiba Sensedry™ Dryer Machine TD-H80SEM is an excellent addition to any home laundry setup. The machine senses moisture with its Sense Dry Technology to achieve perfect drying results every time. It also comes with the Hot Air function for extra efficient drying times, and it will automatically stop when the ideal dryness level has been reached.
Another great feature of this dryer is its Multi-Steam feature, which offers various steam levels according to fabric type for an even more effective outcome. Not only that but there are 15 preset settings and a few other selectable options so you can customize your clothes care depending on your own specific needs. This means that this machine has got you covered no matter what kind of fabrics or garments you're trying to dry!
If you're looking for a reliable and efficient dryer machine to ensure all your clothes come out perfectly dried and cared for each time, then the Toshiba Sensedry™ Dryer Machine TD-H80SEM is worth investing in! Don't wait too long: get yours today and experience professional-level clothing care right home!
Pros:
LED Digital Control Panel

Anti-crease

Innovative Technology – no need to constantly check the time
Cons:
The manual is not that detailed

It is not as hot as the traditional dryer
It is small enough to fit in your laundry corner but can actually fit up to 7 kilograms of clothes. Definitely great value for money!
Check Prices on Lazada
Check prices on Shopee
2. Midea Dryer MD-C8800
Best local made dryer
The Midea Dryer Machine MD-C8800 is an excellent choice for larger laundry loads. With an 8kg capacity, you can dry your clothes quickly and easily without worrying about overcrowding the machine. It's also equipped with four drying programs so you can select the best one to suit your needs. Each program has different timing settings, allowing you to customize the airflow depending on how much time you need for each load of clothes.
When it comes to keeping your clothes looking their best, the Midea Dryer Machine MD-C8800 has some fantastic features that ensure they stay in excellent condition no matter how often they are washed and dried. One of these features is its humidity sensor which automatically adjusts the dry time based on humidity levels to protect the fabric from damage due to over-drying or shrinking caused by heat exposure. Additionally, its anti-wrinkle cycle reduces creases and wrinkles in garments so that they look as fresh out of the dryer as when you wear them out of the washing machine!
Pros:
Humidity Sensor

Anti-Wrinkle

Heat Pump Dryer Machine
Cons:
The front loading may not be as ergonomic
The Midea Dryer Machine MD-C8800 is a fantastic addition for any home looking for a reliable laundry solution that ensures all their garments come out perfectly cared for every single time! Whether it's clothing or bedding, this advanced condenser dryer helps keep everything looking sharp and wrinkle-free while avoiding unnecessary damage from overdrying or excessive heat exposure – something that would otherwise be difficult if we had a non-automatic dryer at our disposal! So what are you waiting for? Get this fantastic appliance today and enjoy hassle-free laundry with impeccable results!
Check Prices on Lazada
Check prices on Shopee
3. Toshiba Washer Mesin Basuh & Dryer TW-BH85S2M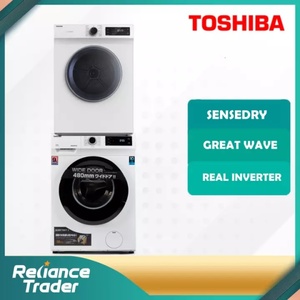 With sense-dry technology
The Toshiba Washer Mesin Basuh & Dryer TW-BH85S2M is an impressive two-in-one washing and drying machine that takes care of all your laundry needs in one go. Featuring color-safe technology, it helps protect colored clothes from fading or running so you can always have bright and beautiful clothes without fear of damage. It also has a large capacity for washing and drying, with 8.5kg for the washer and 6 kg for the dryer, easily satisfying any size of load quickly and efficiently.
Plus, its inverter motor design offers reduced energy consumption for lower electricity bills and low noise operation to ensure that it doesn't disturb anyone in the house while doing its job efficiently. A gentle drying cycle with even hot air distribution provides maximum efficiency without compromising performance or durability. So you know that your clothes will come out looking fresh every time!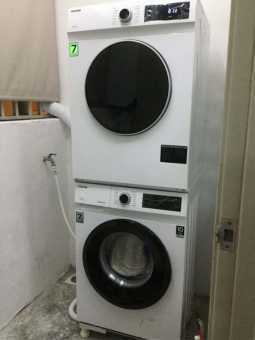 Pros:
Stackable tumble dryer and washer

Colour-safe technology

Gentle drying with even distribution of hot air
Cons:
The purchase will come with a washer too, and most may find this a disadvantage
This is an outstanding appliance if you're looking for something easy to use yet efficient at getting your laundry done quickly and effectively – just like a professional service! Get yours today and upgrade your laundry experience now!
Check Prices on Lazada
Check prices on Shopee
4. LG Washing Machine with Dryer F2514DTGE
Best Dryer for LG Fans
The LG Washing Machine with Dryer F2514DTGE is a fantastic machine for busy households. This powerful device offers the convenience of washing and drying in one combined unit, making laundry days a breeze! I love how it comes equipped with TurboWash™ technology, allowing me to wash clothes quickly within 15 minutes—saving me time to do other activities. The 14 KG washing capacity allows larger loads, while the 8 KG dryer capacity ensures all your laundry is dried thoroughly and efficiently.
Additionally, this washer-dryer combo has tremendous intelligent functions, such as Smart Diagnosis via a smartphone app, so you can quickly troubleshoot any issues that may arise during a cycle. It even comes with NFC capability that provides real-time monitoring of the laundry cycles, helping users keep tabs on their clean clothes from anywhere! Not only does this simplify laundering, but it also gives great peace of mind!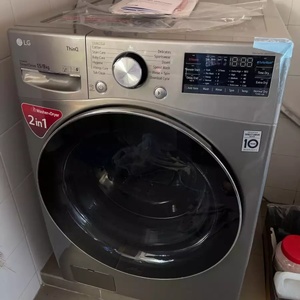 Pros:
Turbowash™

14 KG Washing Capacity

Smart Diagnosis Available

8 KG Dryer Capacity
Cons:
More expensive than other models on the market
All these features make the LG Washing Machine with Dryer F2514DTGE an essential appliance for every home looking to save time doing chores and give themselves added convenience that makes life easier! If you're searching for a reliable washer-dryer combination, don't hesitate – to purchase this product today and experience easy living at its best!
Check Prices on Lazada
Check prices on Shopee
5. Electrolux EDV805JQWA Venting Drying Machine
Premium Dryer
The Electrolux EDV805JQWA Venting Drying Machine is an excellent choice to save time, energy, and money. The venting technology ensures that clothes come out 80% better after 52 cycles. This means no more painstakingly long days of sun-drying your clothes! Plus, this machine utilizes reverse tumbling technology, preventing over-rotating and keeping your garments safe from damage and wear.
The Smart Sensor in the machine customizes drying time based on the fabric type and load size, saving up to 6% energy usage per cycle. The Delicates Programme is designed with unique low-temperature settings that keep delicate fabrics such as lingerie or wool clothing looking brand new even after multiple washes! With a one-year warranty included with the purchase, customers can rest assured that their appliance will be reliable for many years.
This is powerful enough to do any job, but gentle enough for you and your clothes. works by blowing heated air out of the back of the machine, as opposed to through a vent in the wall. This type of dryer is often larger and more expensive than other types of units. This venting dryer also has a timer, so you can be sure you'll never over-dry your clothes.
Pros:
Reverse Tumbling Technology

Delicates Programme

Fast 40 Programme
Cons:
Lack of features such as steam drying, and dehydration
For those serious about ensuring their laundry looks pristine while still being mindful of their electricity bill savings, the Electrolux EDV805JQWA Venting Dry Cycle is a must-have appliance! Offering the best of both worlds between performance and protection, it's no wonder why so many households have decided on this powerful yet efficient dryer when it comes to treating their beloved clothing items right every single time! Click now to find out more about this top-rated dryer today!
Check Prices on Lazada
Check prices on Shopee
6. Hesstar HD-910 Giant Big Dryer Machine
Best for bigger capacity
The Hesstar HD-910 Giant Big Dryer Machine is an excellent choice for busy households looking to save on energy costs. With its extra-large capacity, the HD-910 can easily handle several loads of clothing in one go to minimize drying times and make laundry day a breeze. The 4 KW motor ensures quick drying while variable heat and timer settings allow users to personalize their drying experience according to their needs. Thanks to its PTC heating element, the HD-910 requires less energy than conventional dryers, making it as economical with lower electricity consumption as it is effective. It also features a stainless steel drum and double-layer lint filter that offers improved safety by preventing any risk of fire or electric shocks from loose lint buildup.
With all these features packed into one machine, there's no doubt why the Hesstar HD-910 Giant Big Dryer Machine is such an excellent value-for-money choice! Not only does it help optimize laundry load sizes for quick turnaround time during busy days, but its low power consumption helps reduce overall energy costs – making this an ideal appliance for people who are conscious about their electricity bills without compromising the efficiency or performance levels of their home appliances.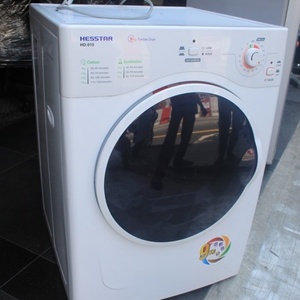 Get your hands on this fantastic piece of technology today! The Hesstar HD-911 comes with everything you need – including detailed instructions in both English and Chinese – so you never have to worry about setting up complex machines again! Ready when you are, this dryer will change the way you do your laundry altogether; freeing up more time in our hectic lives so we can spend more quality moments with our loved ones instead of worrying over having clean clothes right away every single day
Pros:
Variable Heat & Timer Settings

PTC Heating Element

Stainless Steel Drum

Double Layer Lint Filter
Cons:
Cumbersome to move around
Check Prices on Lazada
Check prices on Shopee
7. Winiadaewoo Mini Washing Machine Dryer DWCM74G
Space-saving dryer
The Winiadaewoo Mini Washing Machine Dryer DWCM74G is an excellent choice for those needing an efficient and compact solution to their laundry needs. Featuring Dynamic Inverter Motor technology with a 12-year warranty, the machine features a 4kg washing capacity and 5kg drying capacity to handle your wash loads without any worry about space or performance. The eight different washing programs allow for greater control over settings depending on the type of clothes being washed. Safety features include Door Lock & Child Lock for extra protection.
Not only does this mini washer dryer provide convenience, but it's also effective at getting the job done efficiently! You'll be able to save time, money, and energy with such added benefits as quick washes that take only 15 minutes to complete, making it ideal for when you want to get things done quickly — perfect when you're pressed for time or trying to juggle work-life balance along with household tasks like laundry. Additionally, its compact design means you won't have to sacrifice storage space as this cleverly designed machine fits neatly into any room layout!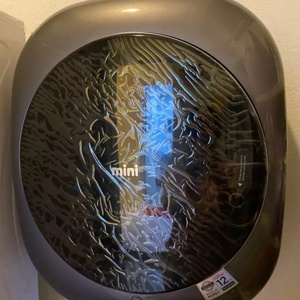 If you're looking for an efficient yet compact addition to your home, this Winiadaewoo Mini Washing Machine Dryer DWCM74G should definitely be one of your top choices! With its multiple washing functions and built-in safety measures combined with the assurance of twelve years' worth of motor coverage – rest assured that your investment will pay off in no time!
Pros:
Wall Mounted MINI Washer Dryer

Washer 4kg + Dryer 1.5kg

Dynamic Inverter Motor – 12Year Warranty
Cons:
Limited Capacity: The washer has a capacity of 4kg, and the dryer is only 1.5kg which is less for bigger households.
It has a quiet operation, as well, so you will not be disturbing your next-door neighbours while doing the laundry.
Check Prices on Lazada
8. Panasonic Heat Pump Tumble Dryer NH-P80G2
Damage-free technology
The Panasonic Heat Pump Tumble Dryer NH-P80G2 is an excellent choice for anyone looking to dry their clothing quickly and efficiently. Its 6-24 hour preset times can easily be adjusted to suit different fabrics, saving you time and effort when doing the laundry. It also has an impressive Energy Efficiency Rating of 5 ticks that uses minimal energy when off or left on, 0.18W/36W respectively – saving you money in the long run!
This machine provides plenty of room, too, with a capacity of 8kg maximum mass per load and a high power input of 870-910 W, making sure your clothes get dried thoroughly and quickly, giving you more free time to do other tasks throughout your day. To top things off, they have included one year warranty on all general components as well as the PC board and compressor, which adds complete peace of mind if something were to go wrong with your purchase in the coming months after use.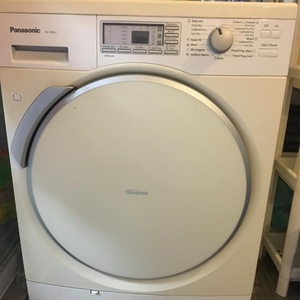 Pros:
16 drying programs (covers almost all sorts of fabric)

60 percent more energy-efficient than the usual dryers

Damage-free finish with heat pump technology

Twin drying sensors
Cons:
Unable to adjust temperature settings
Overall, I would highly recommend this product to anyone who needs a reliable tumble dryer that will keep costs low while providing excellent results each time — especially those users looking for an efficient way to dry bulky items such as bedding or towels! If this sounds like something you need, then be sure not to miss out on getting one now!
Check Prices on Lazada
Check prices on Shopee
9. Midea Machine Dryer MD-7388
Dryer with temperature sensor
The Midea Machine Dryer MD-7388 is an excellent choice for anyone looking for a feature-rich machine dryer. The temperature sensor ensures that your clothes are dried at the optimal temperature, while the humidity sensor adjusts drying time automatically to prevent wrinkling of the fabric. With its anti-wrinkle setting, you can customize your drying cycles and ensure every load comes out perfectly dried and wrinkle-free.
The Heat Pump Technology of this dryer also makes it great for energy efficiency and savings on electric bills compared to other standard models–it gets an A+++ rating! You also have control over heat settings, so you can be sure that no matter what type of fabric or material, your load will come out just right when using this machine.
Pros:
Humidity Sensor

Anti-Wrinkle

Heat Pump Technology

A+++ Rating
Cons:
High energy consumption
Long drying times for larger loads
If you're in the market for a new machine dryer that offers all the latest features, look no further than the Midea Machine Dryer MD-7388! It guarantees perfect results time after time with minimum effort from you–so don't wait any longer to experience efficient yet quality drying anytime you need it – Buy yours today!
Check Prices on Lazada
Check prices on Shopee
10. KHIND CLOTHES DRYER CD-619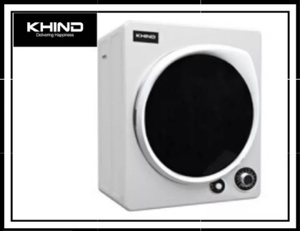 Budget Dryer
This Midea Machine Dryer MD-7388 is the perfect appliance for any home. It comes with a 60C high-temperature sterilization drying setting that can handle your most delicate items without damage. The bright inner LED light ensures you can see exactly what's going on inside the dryer, and its crease-resistant feature prevents wrinkles or creases from forming on your items as they dry. You won't have to worry about complicated controls either: this model has an easy-to-use control panel and an LED display. Finally, you'll love the expansive 150-degree door opening angle; it allows for easy loading and unloading of all types of clothing!
With this machine, you'll save time and energy while still getting outstanding results every time you use it — no more second-guessing if something wasn't dried properly! Plus, since it sterilizes garments during drying, germs and bacteria are eliminated before they ever reach your closet or drawers, reducing allergies in turn. Not only that, but Midea is also offering a warranty, so you know if anything goes wrong within three years after purchasing this product, they have got you covered!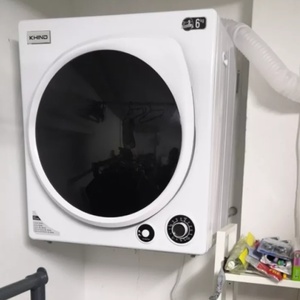 Pros:
Ensures maximum safety

Large door for easier loading and unloading

Double lint filter
Cons:
Noise level of 68 dB can be quite loud while in use
If saving energy while achieving superior results sounds good, consider investing in the Midea Machine Dryer MD-7388 today! Its features will provide exceptional performance every time; its long-term warranties guarantee peace of mind knowing everything will be taken care of by them should anything go wrong. So why wait? Get yours now to enjoy all its benefits today!
Check prices on Lazada
Check prices on Shopee
Best Dryer Brands in Malaysia
Toshiba
Toshiba's home solutions are designed to make your life easier. With uncompromising attention to detail, they strive to deliver breakthrough home solutions that make a big difference. From appliances that make cooking and cleaning a breeze, to televisions and entertainment systems that keep you entertained, Toshiba has you covered.
Midea
Midea wants to help you make yourself at home. With a comprehensive range of appliances, Midea has something for everyone. Whether you're looking for a new washer and dryer, or want to upgrade your air conditioner, Midea has the perfect solution for you. Plus, with operations in over 195 countries, Midea is always there when you need them.
LG
LG is a brand that understands its customers. Its philosophy revolves around people, sincerity, and sticking to the fundamentals. LG aims to offer optimum solutions and new experiences through ceaseless innovation, helping consumers lead better lives. With a focus on discerning consumers with keen sensibilities, LG offers products that continue to explore new activities and take on new challenges. The brand has developed a consistent image over time, always communicating, "Life's Good."
How does a dryer machine work?
Dryer machines or tumble dryers work by literally heating your clothes, whether through gas or electricity through a rotating tumbler. The rotation mechanism allows for better airflow and faster drying mechanism of the clothes, without making shrink or affecting their original shape.
Older models of dryers have vents where steam is released. However, more recent models have gotten rid of these vents and made tumble dryers more efficient both in gently drying clothes and in consuming energy.
FAQs
What are the best brands of dryers in Malaysia?
The top brands of dryer machines in Malaysia are Toshiba, Sharp, Samsung, Midea, Panasonic and LG.
Can I buy dryer machine online?
Yes. Dryer machines are now available online, as well. Some sellers even offer you with free services when you purchase online.
How does a dryer machine work? ❓
Dryers work by literally heating your clothes, whether through gas or electricity through a rotating tumbler. The rotation mechanism allows for better airflow and faster drying mechanism of the clothes, without making shrink or affecting their original shape.
How much does a washer-dryer machine cost in Malaysia?💵
Washer-Dryer machines in Malaysia cost around RM500.00-800.00.
What are the best washer dryers in Malaysia?
Our best choices include:
- Toshiba 7kg Sensedry™ Td-H80sem
- Samsung 7KG Wash/ 5KG Dry Front Load Washer Dryer WD70J5410AW
- Midea Dryer with Condensing Electronic Control Heat Pump 8kg MD-C8800
- Toshiba Washer Mesin Basuh & Dryer & Stacking Kit TW-BH85S2M
Will my clothes be completely dried when using a dryer?
Yes. Your clothes can be thoroughly washed and dried in one cycle.
How long will my washer machine dryer last?
A good washing machine and drying should be in good condition for at least 10 years.
Conclusion
If you are looking for a dryer machine that can offer you convenience and great performance, then any of the machines on this list will be a great choice for you. Just make sure to consider your needs carefully before making your purchase so that you can find the perfect machine for your home. Thanks for reading!
Click here for other home appliances related articles.
Latest posts by Alice Yeoh
(see all)
This article was brought to you by BestAdvisor.my
Disclaimer: This is the opinion of the writer or publication. We only recommend products or services that we have tested and tried ourselves or have done in-depth research with positive external reviews and find them to be useful for everyone. The products/services shown are available upon the publication date. The availability may change from time to time. If some of them are not available, please email us at [email protected]. Thank you!
Last Updated on