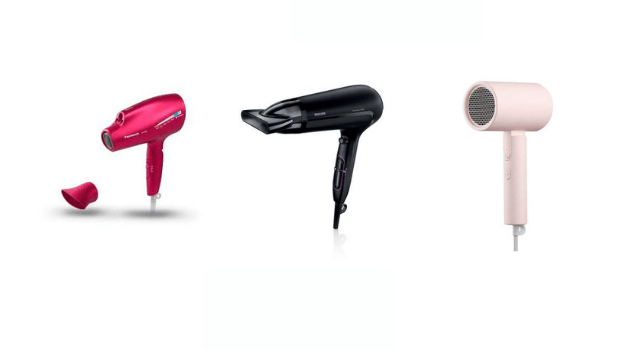 One of the easiest ways to look instantly camera-ready without spending too much is by having a bouncy, well-kept hair. While many of us are not that blessed with sleek hair, it is now easy to achieve more manageable hair with our own hair dryers.
It is no surprise why so many hair dryers are now being promoted in Malaysia. Many of them are meant for home use, as well. Here, we show you our top 13 picks from hundreds of hair dryer models sold online.
Table of Contents
Top Hair Dryers in Malaysia

Top Hair Dryer Brands in Malaysia
Benefits of Buying a Hair Dryer
Frequently Asked Questions
Top Hair Dryer Comparison Table
(Scroll right for more)
1. Deliya Professional Hair Dryer DLY-8033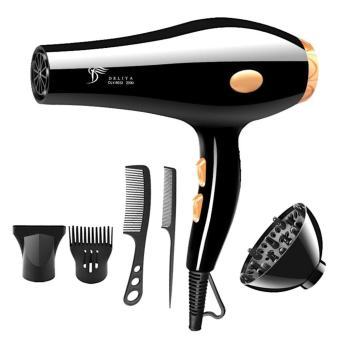 Heat Protection
This professional hairdryer is perfect for drying your locks at home. It has two speeds and three temperature settings, so you can find the perfect level of heat for your hair type. The blue anion light helps to prevent overdrying, keeping your locks healthy and shiny. Plus, the included adapter means you can start using it straight away!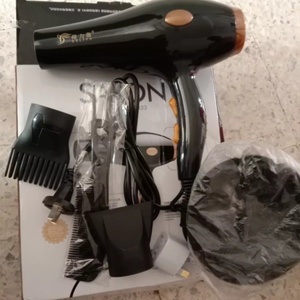 Pros:
Barely any heat damage on the hair

Easy Speed Control

Professional Standard
Cons:
There's only 2 speed settings, and no middle speed
Check prices on Lazada
Check prices on Shopee
2. HAIRDEPOT Salon Professional Hair Dryer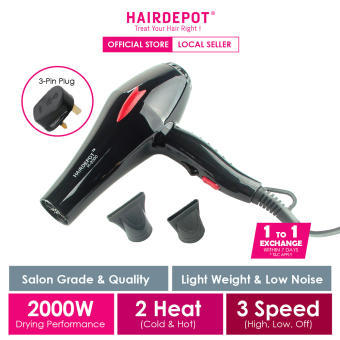 Salon Grade Quality
Looking for a quality hair dryer that can handle all your styling needs? Look no further than the Deliya Professional Hair Dryer! This high-powered and heavy-duty dryer comes with two nozzles, 1800-2000 watts of power, and three-speed settings so you can get a perfect style every time. Plus, it features an Italian design motor and switches for extra durability and a low noise level so you can use it any time of day. And if that's not enough, this dryer is also lightweight so you can take it with you wherever you go.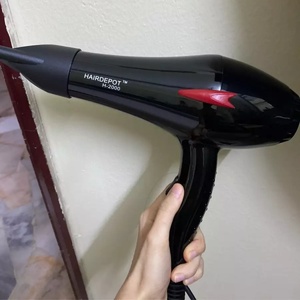 Pros:
Comfortable grip

Ergonomic design

2 different nozzles
Cons:
You can only select between hot and cold air
Check prices on Lazada
Check prices on Shopee
3. Khind Hair Dryer HD1400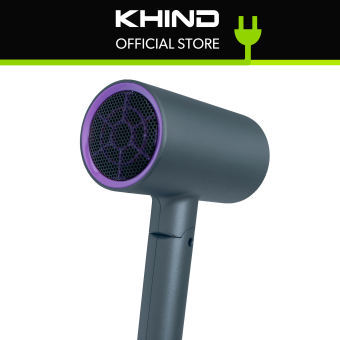 Space Saving
This Khind Hair Dryer is everything you need and more! It's got a foldable handle for easy storage, a lightweight design for easy handling, three heat/speed settings, and even a cool shot button. And if all that wasn't enough, it also comes with an all-in-one hook for convenient storage. So go ahead and take care of your locks in style with this amazing hairdryer!
Pros:
Three gears for hot/cold and speed settings

Folding handle

Honeycomb Air-Intel Grille
Cons:
May not be as suitable for short hairs
Check prices on Lazada
Check prices on Shopee
4. Panasonic Ionity Hair Dryer EH-NE65 -K655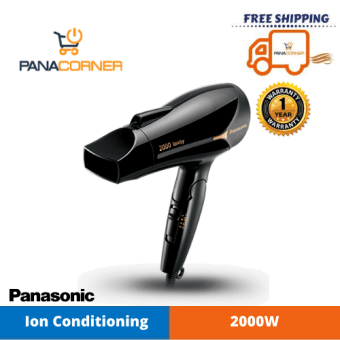 3-speed settings
This Panasonic Ionity Hair Dryer is perfect for anyone who wants to style their hair quickly and easily. The powerful motor dries your hair fast, while the ion conditioning helps to retain moisture. And with its precision styling capabilities, you can achieve any look you want. Plus, the heat protection mode ensures that your locks stay healthy and damage-free.
Pros:
Double ion outlets

3 temperature setting

Ion conditioning
Check prices on Lazada
5. Xiaomi Mijia Quick Drying Hair Dryer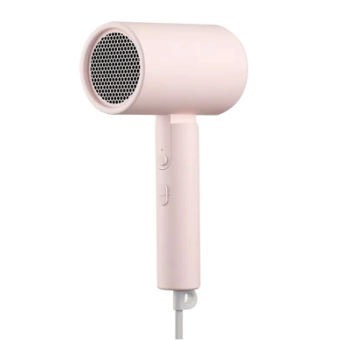 Quick-drying
Introducing the Xiaomi Mijia Quick Drying Hair Dryer! This top-of-the-line hair dryer is packed with features to help you achieve beautiful, healthy hair. Tens of millions of negative ions help to quick-dry and protect your hair, while a 18000rpm motor provides powerful airflow. The innovative balanced heating element design prevents overheating, while adjustable wind speed lets you choose between a strong or soft breeze.
Pros:
Low noise levels while in use

Larger air volume

Quick-drying effect
Check prices on Lazada
Check prices on Shopee
6. INS Hair Dryer Mini Blower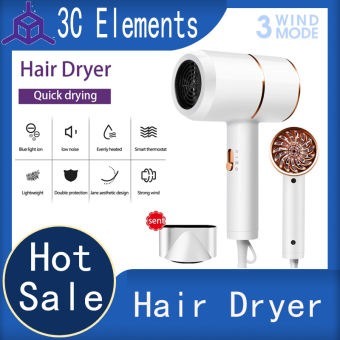 Smaller size
This little guy is a powerhouse! With 800 watts of heat, it quickly dries your hair and leaves it looking healthy and shiny. The T-shaped design makes it easy to use, and the blue light with anion technology helps reduce any potential damage to your hair. Plus, with three different wind power settings, you can customize the drying experience to match your own unique needs.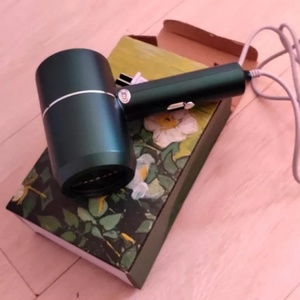 Pros:
Quick-drying

Upgraded vent design ensures low operating noise

Power with Anion technology to protect hair from damage
Check prices on Lazada
7. Deliya (8080) Professional

Fit for any budget
Looking to add a little more polish to your hairstyling game? Deliya (8080) Professional is the perfect tool for you. With two speeds and three temperature settings, you can create any style you want – from sleek and straight to bouncy and voluminous. Plus, the Blue Anion Light helps to protect your hair from damage, so you can feel confident that you're taking care of your locks while styling them.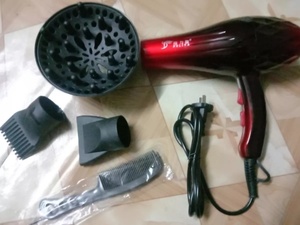 Pros:
Prevents hair damage

Quick styling

Guaranteed quality
Check prices on Lazada
Check prices on Shopee
8. Khind Hair Dryer HD1002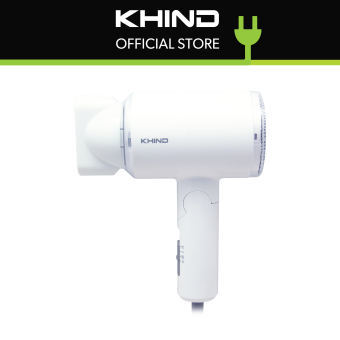 Small and Compact
The Khind Hair Dryer HD1002 is perfect for those who are always on the go! Its lightweight and compact design make it easy to handle, while the three gears of heat/speed settings and cool button allow you to customize your drying experience. The narrow nozzle also helps to direct airflow where it is needed most, making it ideal for addressing problematic areas in your hair.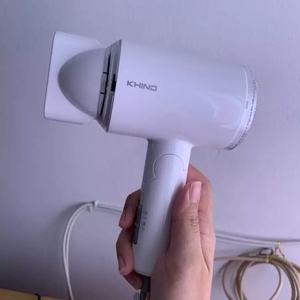 Check prices on Lazada
Check prices on Shopee
9. Tineco Moda One Smart Ionic Hair Dryer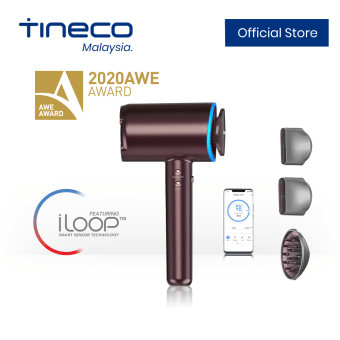 Wifi and APP Connected
If you're looking for a hairdryer that is gentle on your locks, look no further than the Tineco Moda One Smart Ionic Hair Dryer. This top-of-the-line device features iLOOP™ Smart Sensor Technology, which monitors air temperature and moisture levels to ensure that your hair is always being dried in a safe and healthy manner. Plus, with the LED iLOOP™ indicator, you'll be able to see exactly where the airflow needs to be concentrated for quick and easy styling.
Pros:
Convenient app control

Does not strip natural moisture

Adjust heat levels depending on the hair moisture
Cons:
Check prices on Lazada
Check prices on Shopee
10. Dyson HD08 Supersonic™ Hair Dryer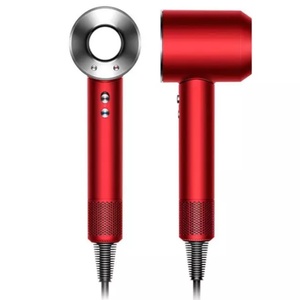 For all types of hair
This hair dryer is the latest and greatest! It comes with five different styling attachments, including the new Flyaway attachment, which will help keep your hair looking sleek and stylish. Plus, it's powered by the Dyson digital motor V9, so you know it's going to be powerful and effective.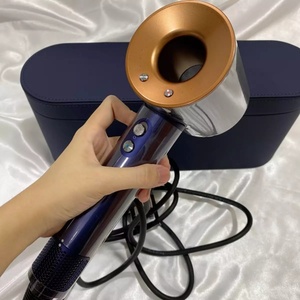 Pros:
Elegant look

Magnetic attachments

Easy temperature control
Check prices on Lazada
Check prices on Shopee
Top Hair Dryer Brands in Malaysia
Kind
Khind started as an electronic repair company, which should give you the confidence to best believe any electronics from this brand is top-notch. They provide hairdryers that are affordable, reliable and trendy. Their products are ensured to have top performance while being in with the trends. Buying your hairdryer from Khind is a great choice for anyone!
HAIRDEPOT
As Malaysia's fastest growing online hair & beauty retailer, you can be confident that the hairdryer you purchase from Hairdepot is the best of the best! Not only do they offer premium products, but they also ensure uniqueness in each product.
Dyson
Dyson, the brand that offers top-notch and innovative products, and their hairdryers are no exemption! The common trait of this brand of course is the fast-drying technology that will surely speed up your regular hair routine. Although, just because it is fast drying does not mean it is damaging to the hair, this is because of the lower heat levels that Dyson has innovated!
Benefits of Buying a Hair Dryer
Gone are the days when you need to schedule an appointment just to have a great hair day. With the latest innovations of hair dryers, you can now achieve an errands or meeting ready hair from the comforts of your own home.
Most hair dryers already have thermal protection to prevent damages from too much heat. There are even hair dryers that can add moisture to your hair while using. Owning a hair dryer is the easiest way to look kept, for less.
FAQs
What are popular brands of hair dryer in Malaysia?
Some of the popular brands of hair dryers are Deliya, HairDepot, Khind, Xiaomi and Panasonic.
Why should I buy a hair dryer?
You should buy a hair dryer so that you can achieve an errands or meeting ready hair from the comforts of your own home.
Is hair dryer harmful for hair?
Although it seems that it can be damaging because of the heat, as long as you use the proper tools and techniques, it is perfectly safe for your hair!
Conclusion
We hope that this article has helped you in your search for the best hair dryer. With so many models and brands being sold online, it can be confusing to determine which one is right for you. Hopefully, our top 10 picks have given you a good starting point in your research. Have you tried any of these hair dryers before? Let us know in the comments below!
Click here for other beauty related articles.
Latest posts by Alice Yeoh
(see all)
This article was brought to you by BestAdvisor.my
Disclaimer: This is the opinion of the writer or publication. We only recommend products or services that we have tested and tried ourselves or have done in-depth research with positive external reviews and find them to be useful for everyone. The products/services shown are available upon the publication date. The availability may change from time to time. If some of them are not available, please email us at [email protected]. Thank you!
Last Updated on