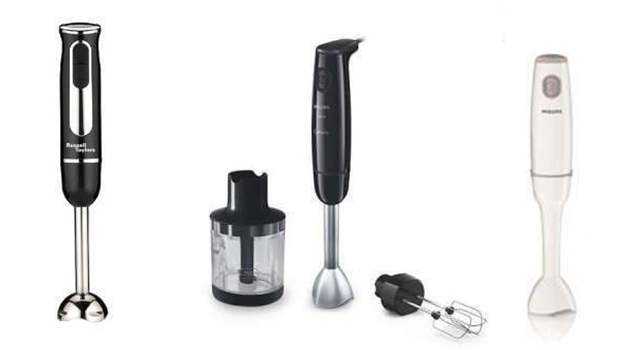 Are you in the market for a hand blender? If so, you're in luck! In this blog post, we'll be sharing the 10 best hand blenders Malaysia has to offer. We'll also provide an overview of what to look for when shopping for a hand blender, as well as a review of the top 10 models. So, whether you're a seasoned blender buff or just starting out, read on for all you need to know about handheld blenders! Immersion blenders can be stored anywhere and come in handy when you need to blend something small enough for storage. They're also light enough that they don't take up much space, but powerful enough make thick smoothies or purées quickly without transferring them into another vessel first!
This is why we made this extensive list of all the blenders (including juice blender and portable blender) that you should try, and we can guarantee to be made by brands that focus on product excellence.

Table of Contents
Top Hand Blender Brands in Malaysia
Why Invest in a Handblender
Conclusion
FAQs
Hand Blender Comparison Table
(scroll right for more)
1. Russell Taylor HB-6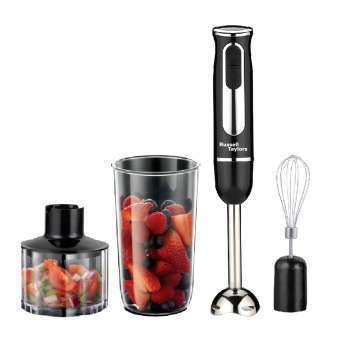 Easy Meal Preparation
One of every kitchen must-have. It simply makes meal preparations easier and safer. You can prepare a warm soup or hearty salsa made from your favourite vegetables faster by having this multifunction hand blender. Don't miss this popular brand in Malaysia that is simply your go-to partner in eating and living healthy. Get this online here.
Pros:
High-grade stainless steel
SIRIM & Suruhanjaya Tenaga Approved
Low noise-motor
Cons:
Power cable is a bit short
Check prices on Lazada
Check prices on Shopee
2. Giselle KEA0084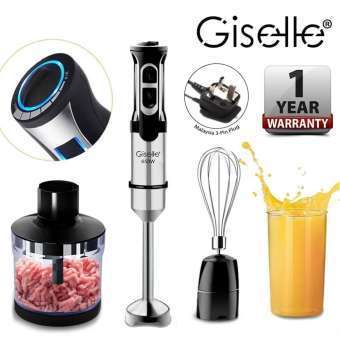 Multiple Accessories
If you are a star in the kitchen, then you will find this hand blender a delight to use. You can use this for just about any ingredient but less the mess. The different accessories also make it a worth it purchase. This hand blender is also easy to stack so it won't consume too much space, especially if you live in a house with a small kitchen.
Pros:
Multifunction stick hand blender
With an LED light indicator
Stainless steel stick and blade
Cons:
Handle is a bit heavy for some
Check prices on Lazada
Check prices on Shopee
3. PerySmith PS800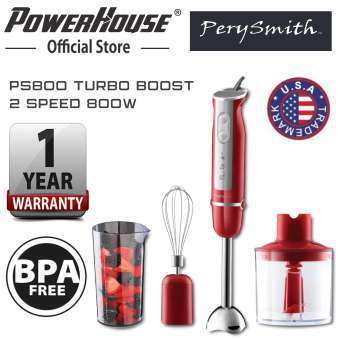 Powerful and Multi-Functional Blender
It is hard not to miss this hand blender because of its sleek and pretty design. But behind its looks is a powerful and multi-functional blender that works as hard as you do. If you are looking for something convenient to use, without sacrificing power operation, then we can't recommend this hand blender enough.
Pros:
Perfect for blending, chopping, whisking and lots more.
Easy-grip system, for accessories interchange.
Detachable stainless steel blending leg, whisk, chopper for easy cleaning.
Cons:
Check prices on Lazada
Check prices on Shopee
4. Khind BH600SS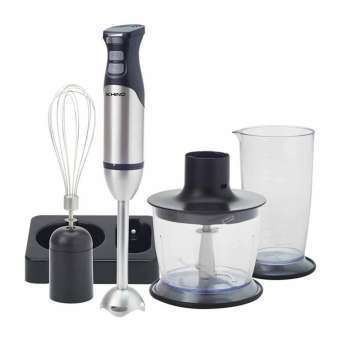 Adjustable Speeds
Make blending a breeze with the Khind Hand Blender Set BH600SS! It has a stepless variable speed for low speeds and turbo function, making it easy to blend your favourite recipes. Plus, the detachable stainless steel blending rod makes it easy to clean.
Pros:
Stepless variable setting for low speed
Longer power cord
Detachable stainless steel
Cons:
Blender jar scratches easily
Check prices on Lazada
Check prices on Shopee
5. SAMU GIKEN Multifunction Hand Blender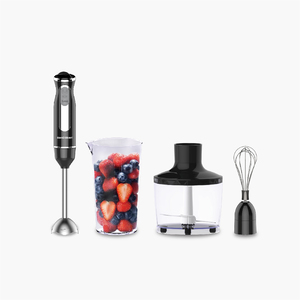 Best for Preparing Soups
This hand blender is also an excellent investment, and we particularly like this for making soups. If you want to achieve that creamy but smooth consistency of the soup, then this could be your secret weapon. Make that much-awaited pumpkin soup by adding Samu Giken to your kitchen.
Pros:
Powerful low noise-motor
Two-speed operation
Detachable stainless steel shaft
Cons:
Takes longer time to blend smoothies
Check prices on Lazada
Check prices on Shopee
6. Philips Daily Collection HR1600/01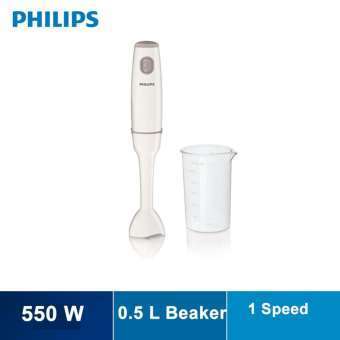 Easy to Store
Don't underestimate this sleek hand blender from Philips because much like all its products, this was designed with convenience and intelligence at its core. It offers optimal food flow at high performance, with only 550W power. One more thing we love above this slim hand blender is it is easy to store. It delivers the job at a smaller package. You can buy Philips products here.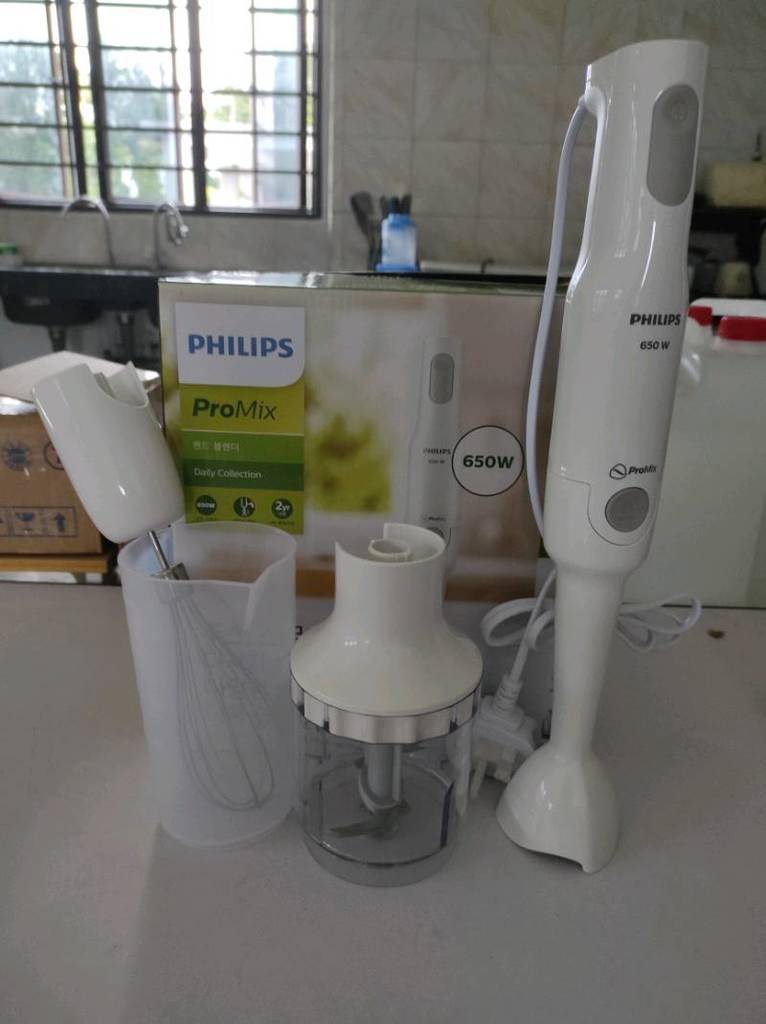 Pros:
Two-button release system
Single switch for easy use
Slim grip, easy on the hands
Can make shakes, purees, and soups
Cons:
Some users may find the shape a bit awkward
Check prices on Lazada
Check prices on Shopee
7. Russell Taylors HB-8 Multifunction Hand Blender Set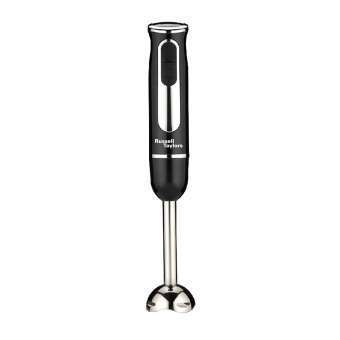 Multifunctional Hand Blender
Russell Taylors 600W Hand Blender Set is the perfect solution for anyone who's tired of struggling with their home blender. With sharp blades and ergonomic handles, you can now have a comfortably strong grip on all ingredients while making healthy or delicious meals! The multiple speed settings will give your blended concoction quickly without having to waste time waiting around- just plug this into an outlet then select one out our 3 different speeds (low/medium high) before blending away!
Pros:
High-grade stainless steel
Sophisticated Design
Low noise-motor
Cons:
Some users report overheating when used
Check prices on Lazada
Check prices on Shopee
8. Panaletrik Multifunction Hand Blender

High-Powered Hand Blender
Whip up your favorite recipes with ease using the Panaletrik Multifunction Hand Blender! This blender is perfect for blending soups, sauces, fruits, pureeing baby food and more. The quick release detachable base makes it easy to clean, while the comfortable and easy-to-use design makes it a breeze to blend your favorite recipes.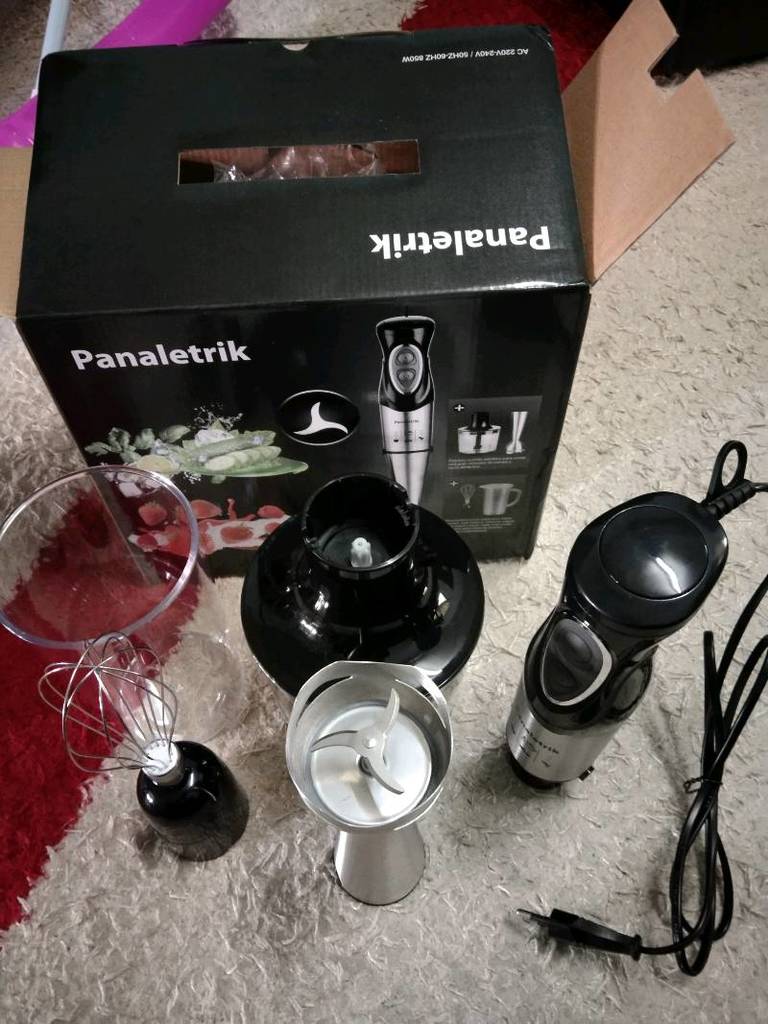 Pros:
The quick-release base for detaching
Rubberised speed buttons
Slim grip
Cons:
Can be a bit hot after long use
Check prices on Lazada
Check prices on Shopee
9. Panasonic Hand Blender MX-SS40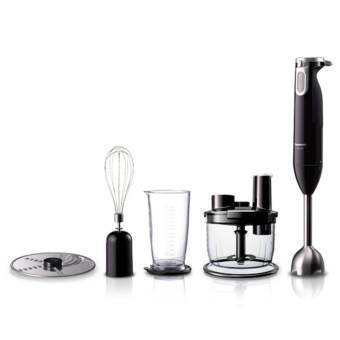 4-in-1 Hand Blender
With its high blending performance and powerful motor, the Panasonic Hand Blender MX-SS40 is perfect for blending your favorite smoothies and drinks. The easy-to-use design includes an easy-to-grip handle and shaft that are dishwasher safe, making cleanup a breeze. And with its wall bracket storage, it's easy to keep your blender out of the way when not in use.
Pros:
Four-blade Blender (straight and blending)
Variable Speed
Lightweight
Cons:
Check prices on Lazada
Check prices on Shopee
10. Philips Daily Collection HR1328/90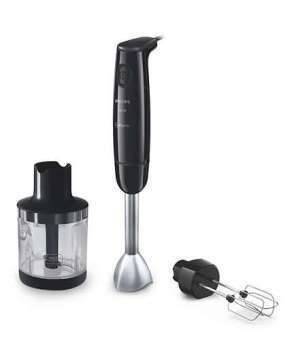 Compact Packaging
The Philips ProMix Hand Blender is your one-stop shop for all of your blending needs! With its 550 watts of power and triangular shape, this blender can mix up any ingredients quickly and easily. Plus, with the mixer accessory, it can also help you make cake batter, egg whites, and cream in no time. Get ready to have a smooth result every time with the Philips ProMix Hand Blender!
Pros:
Powered by Promix Technology for Optimal Food Flow
Two-button release system
Chops even tiny ingredients like nuts
Cons:
Jar for blender is a bit small
Check prices on Lazada
Check prices on Shopee
Top Hand Blender Brands in Malaysia
Panasonic
Panasonic has long been the go-to brand for household solutions that save time and bring comfort to every home. Whether it's an appliance or product, they always aim at providing you with smart designs combined style & functionality in order make your life easier!
Philips
In true Philips fashion, they're always looking for ways to make your kitchen better. Their mission is simple: create meaningful innovation that helps families prepare and enjoy fresh homemade food everyday!
Russell Taylors
You may have come across the Russell Taylor brand before and assumed that it is a western company because its name sounds English, but in fact this local appliance serves both commercial-grade kitchen appliances as well consumer grade ones for Malaysia's market.
Why Invest in a Handblender
Hand blenders have gradually become a staple in modern kitchens. It's a one-stop purchase that assists in meal preparations, and it makes it even healthier and easier.
Most hand blenders already come with their own accessories to make them more functional. This means that with a single hand blender, you can already chop, blend, shred, and whisk. All that in a single purchase.
Due to this advantage, it becomes even more critical to make sure that the hand blender comes from a trusted maker. This is because it is only as effective as the quality of its accessories, from the blade to the whisking bowl.
Conclusion
If you're in the market for a hand blender, we hope this article has helped you narrow down your choices. We think immersion blenders are one of the most versatile small appliances on the market and they come in handy for all sorts of tasks. Whether you're looking for something lightweight and easy to store or want a more powerful option that can handle thicker textures, there's an immersion blender out there waiting to be your new best friend in the kitchen. Have you chosen the perfect hand blender for you?
FAQs
What are hand blenders? 🤔
Hand blenders are simple to use kitchen gadget that can be used in multiple ways such as blending drinks or making purees
How much does a hand blender cost?
Depending on the brand and model, a hand blender's cost usually starts at RM 70
Why buy a hand blender?
A hand blender is a multi-purpose gadget for your kitchen. I t can chop, blend, shred, and whisk all in a single purchase
Click here for other kitchen appliances related articles.
Latest posts by Kathy Wong
(see all)
This article was brought to you by BestAdvisor.my
Disclaimer: This is the opinion of the writer or publication. We only recommend products or services that we have tested and tried ourselves or have done in-depth research with positive external reviews and find them to be useful for everyone. The products/services shown are available upon the publication date. The availability may change from time to time. If some of them are not available, please email us at [email protected] Thank you!
/
Last Updated on