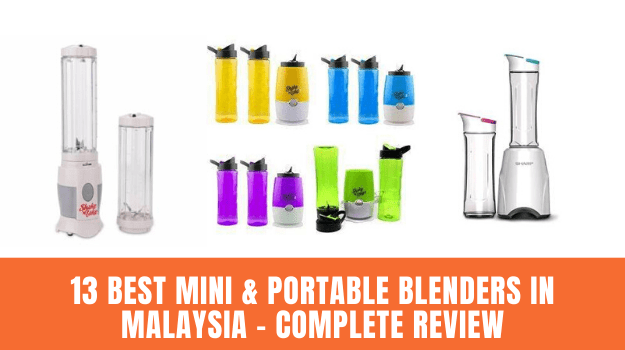 Mini & Portable Blenders are a popular appliance bought today. It is popular among mothers due to its portability. They can as quickly take it out and store it any time they need.
In this article, we will highlight thirteen mini and portable blenders sold in Malaysia along with each of their features to assist you in picking one from the store.
#1 – Shake N Take 3 – Beautiful and Colorful Fruit Juice Blender
Busy people looking to make a quick juice drink will find the new Shake and Take 3 highly useful. The easy blending process plus the convenience makes it easier to make healthy snacks every day.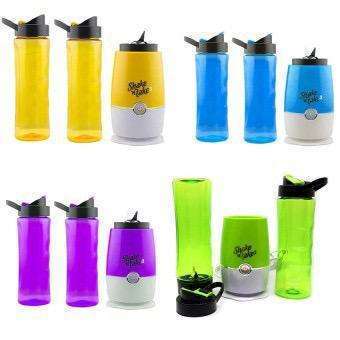 Powerful blending action
Blend fruits, smoothies, vegetables, etc.
Takeaway cup
Dishwasher safe
Boost your health by making healthy drinks with the Shake and Take 3.
What are you waiting for? Find out more now.
Check The Best Price at Lazada
#2 – Sharp EM-60PM-WH Personal Blender 300 Watts
This small, but powerful kitchen appliance is the answer to all your blending needs in your kitchen at home.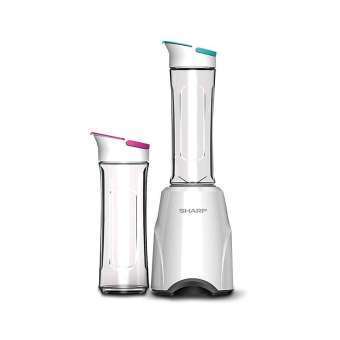 Non-slip base
Portable bottle/cup
Strong and powerful blades
Safety lock
Blend your favourite cold drink with your very own personal blender.
Find out more now.
Check The Best Price at Lazada
#3 – Mini USB Rechargeable 4 Blades Smoothies Blender Juice Cup Blender
An easy to charge blender that's easy to use and does not take up a lot of space inside your kitchen.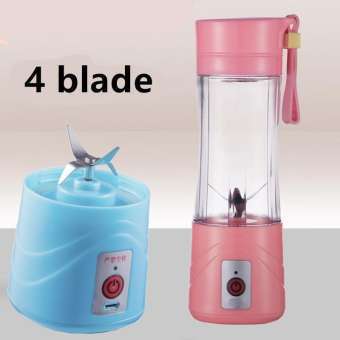 USB-rechargeable
Magnetic sensing switch technology
BPA-free blending bottle
Make 8-10 cups of juice right away with this fantastic new blender.
Find out more now.
Check The Best Price at Lazada
#4 – KKSTAR 380ml Portable USB Rechargeable Juice Blender
A multi-functional appliance for your every day kitchen needs is here with the new KKSTAR USB Rechargeable Juice Blender.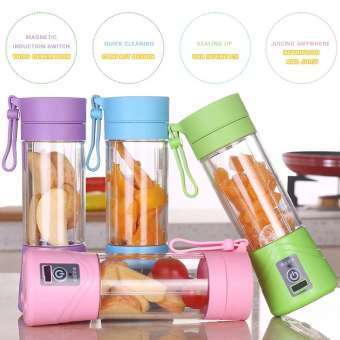 Single-cup and blender
Portable
Dishwasher safe
High-powered motor
Blend any type of fruit or vegetable for your juicing habits.
Buy your five-star rated portable blender right now!
Check The Best Price at Lazada
#5 – Portable USB Rechargeable Battery Juice Blender & Protein Shaker – 6 Blades
Juicer, blender all in one portable appliance. Make cold juice drinks, and your daily protein shakes with this new device.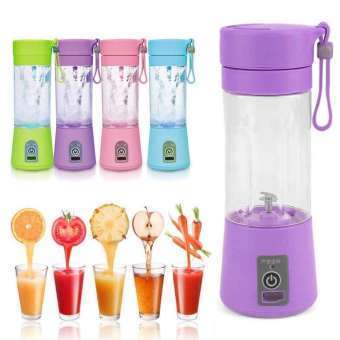 Powerful 6-blade blender
Portable mini-size
Magnetic switch
Campers, health-conscious individuals, and those who love to blend things will find this blender useful.
Buy this perfect gift today!
Check The Best Price at Lazada
#6 – Hyundai Juicer Blender EASY CLEAN Extractor 300W
A perfect staple in your kitchen with its powerful motor perfect for making healthy juice drinks from fruits and vegetables.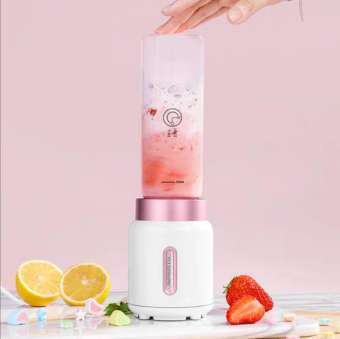 Powerful 300-watt motor
High capacity container(s)
Stainless steel blades
Rechargeable
The best companion to have when you want to eat and drink healthy.
Buy this easy-to-clean blender right away!
Check The Best Price at Lazada
#7 – Shake N Take Personal Blender
The Shake N Take blender is one of best blenders in the market due to its blender and detachable bottle for easy blending and use.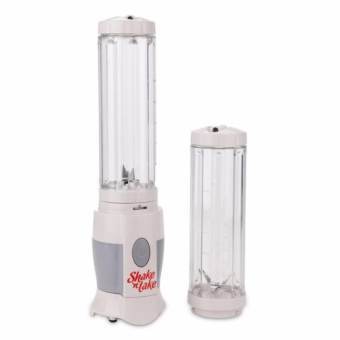 Portable bottle(s)
Stainless steel blades with a powerful motor
Easy to use flip straw
Get your own personal blender from Shake N Take!
Buy this small, but powerful blender today!
Check The Best Price at Lazada
#8 – TeXstar Portable 380ml Juice Cup Blender
Juicer, a blender that has passed safety standards for appliances handling food and liquids. You can take it anywhere to make your juice concoctions.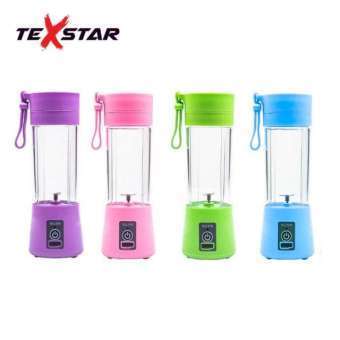 Portable
1-minute juice drink
Rechargeable battery and motor
Bring this blender on your camping trip and have delicious blended drinks right away.
Get a charge-and-use blend now!
Check The Best Price at Lazada
#9 – KKstar 450ml Portable Blender  with 6 Blades
A small, cute looking blender for your everyday needs at home. This is perfect for when you want to pull out a quick blended drink for your guests.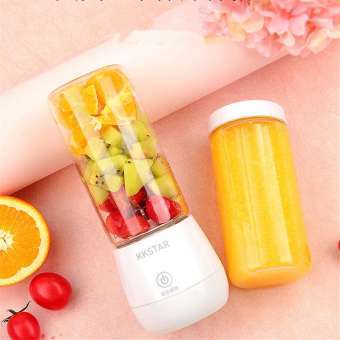 Touch switch feature
Six stainless steel blades
Made from non-toxic materials
Rechargeable motor
A good portable blender that you can carry with you anywhere.
It's the perfect gift this holiday season. Purchase yours now!
Check The Best Price at Lazada
#10 – iDover Personal Blender Juicer – GW-08
Blending vegetables, fruits, and other ingredients has been made easier with the all-new personal blender from iDover the GW-08. This machine can continuously blend for a maximum of 1 minute.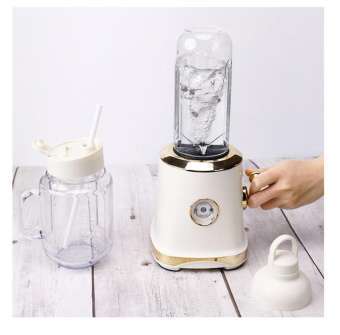 300-watt motor with 304 stainless steel blades
Safety features: overheat protection, suction feet, and polycarbonate materials
Comes in two retro designs
This blender is built to last because of their excellent product service.
Enjoy making your favourite juice drink every day!
Check The Best Price at Lazada
#11 – Vitamer Portable 500ml Electric Juice Blender
Make your favourite protein shake and juices easily with this new portable blender from Vitamer. Take it with you anywhere so you can make any drink even on the go.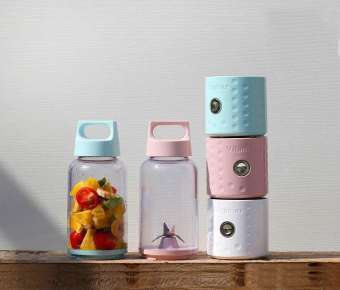 Multi-functional design
Lightweight and portable for your everyday needs
USB-rechargeable device
Get this easy-to-clean portable blender to make you every day smoothie.
Buy today and make your drinks right away!
Check The Best Price at Lazada
#12 – Shake N Take Hello Kitty 2 in 1 Personal Blender
Shake and Take ha just built a cute blender following the iconic Hello Kitty design and is all you need for your kitchen!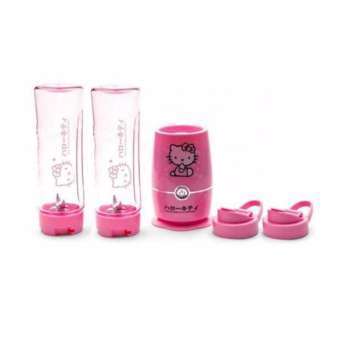 480 mL portable bottle
Safe & efficient design
Automated pulp ejection function
The best-selling portable blender from Shake and Take is not made available for you!
Get this affordable blender today!
Check The Best Price at Lazada
#13 – Portable Electric Juice Cup Blender juice maker Blender
An electric blender that can be used for juicing, mixing, and everything you need for that quick fix in the morning or before going to the gym.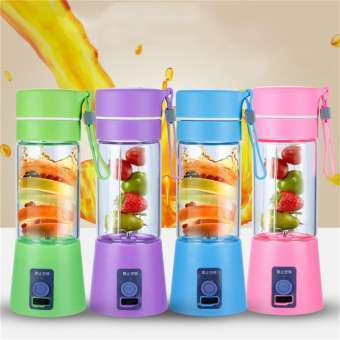 Large pulp container (500 mL)
USB charging port
Powerful motor with 21,000 RPM
Enjoy your delicious fruit/vegetable drink anytime, anywhere!
We highly recommend you buy this blender today!
Check The Best Price at Lazada
Other related searches:
Mini blender, small blender, blender portable, portable juicer, usb blender, mini juice blender, usb portable blender
You might be interested in these articles:
Click here for other kitchen appliances related articles.
Latest posts by Kathy Wong
(see all)
This article was brought to you by BestAdvisor.my
Disclaimer: This is the opinion of the writer or publication. We only recommend products or services that we have tested and tried ourselves or have done in-depth research with positive external reviews and find them to be useful for everyone. The products/services shown are available upon the publication date. The availability may change from time to time. If some of them are not available, please email us at [email protected] Thank you!
FAQs
What is a portable blender for?
Portable blenders are used by anyone who is always on the go. Because it is easy to use and store
How much does a portable blender cost? 😄
Their prices usually starts at 50 RM, depending on the model
What are popular portable blender brands?
Some of the popular brands are: Sharp, Hyundai, and Shake N Take,