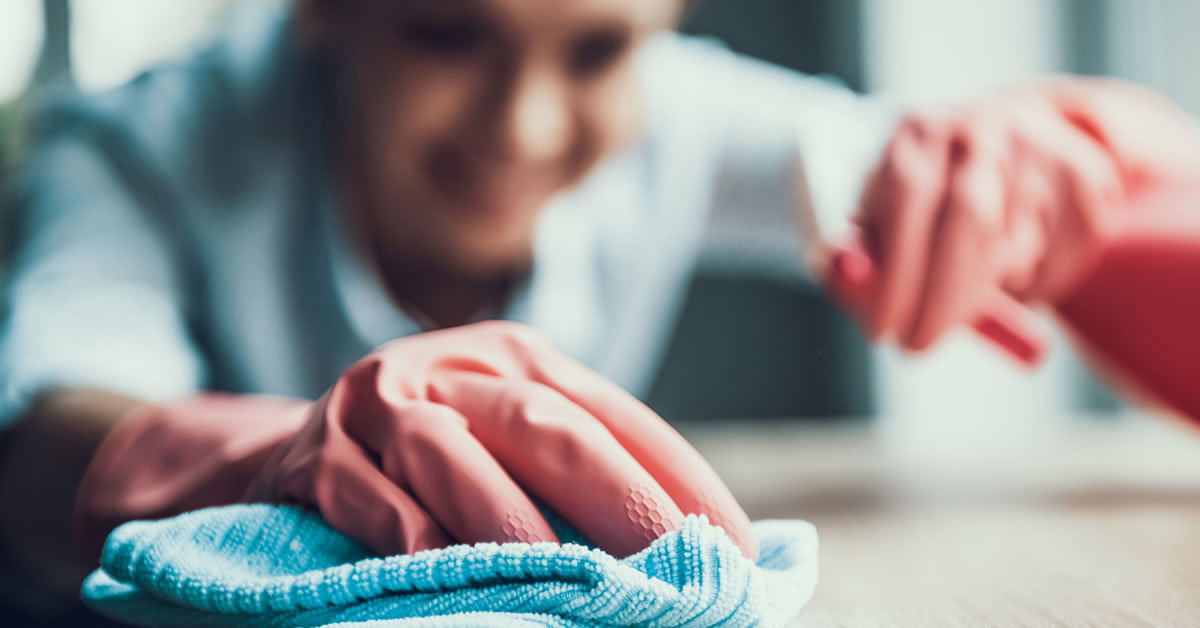 Are you searching for a maid agency company in KL, Malaysia?
It is sometimes hard to find the best maid agency to meet your individual needs. We spent a few days reviewing and studying Kuala Lumpur's best maid agencies to help save you time on your search.
We checked each of the maid agencies on their reviews, reputation, customer service, and service rating. We then compiled a comprehensive list of the top maid agencies that you can reference.
We are also sharing our frequently asked questions and maid agency guide for consumers just like you.
Let's take a closer look at the best maid agencies.
Top Maid Agencies in Kuala Lumpur
#1 – Kawasama Maid Agency
Kawasama is a professional maid agency in Malaysia that will help you find the best maid for your needs. They believe that a happy family and harmonious work-home environment is achievable with the management of both employers' and workers' expectations. Kawasama offer more than just a maid agency; they provide training programs to enhance their abilities or skills in performing chores to serve their employers better.
Their mission is to provide reliable, knowledgeable, efficient services in the placement of trained maids to ensure the highest possible standards for employers in Malaysia.
They will only recruit maids willing to serve expatriates to ensure professionalism and understanding of the family's needs. They will provide sufficient training before sending their maid to you. Kawasama's strict maid selection process ensures you will be able to retain your maid for an extended period. They have over 15 years of experience in helping families and providing quality maids from Indonesia & the Philippines.
Highlights:
The rate of runaway maids is extremely low.
The strict maid evaluation process
Best For: Low Runaway Rate Maid
Website: https://kawasama.com
Address: G-4, Happy Mansion, Jalan 17/13, Seksyen 17, 46400 Petaling Jaya, Selangor, Malaysia.
Contact: 03-7955 7067 | 017-276 6498
Email: [email protected]
Customer Reviews:
"This is my second engagement with the Agency. Truly good experience with the caring staff. Most important of all is the hassle free arrangemnet in engaging a house helper/maid. Keep up the good work with a special mention to Emily. Thank you so much.", Ms Mok
#2 – Innovedge Maid Agency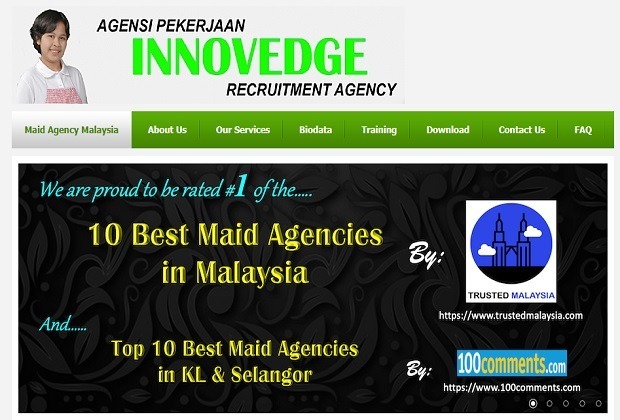 This agency is licensed by Malaysia's Ministry of Human Resources and Department of Immigration and was established in November 2002. The company has selectively associated with reputable and well-established overseas companies in the Phillippines, Cambodia, and Indonesia for recruiting foreign domestic helpers.
They have skilled and well-trained staff members that work together as a team to deliver high-quality services by recruiting and supplying very well-trained domestic maids. Their dedicated consultants have the ability to assess and identify outstanding candidates who are relevant to the specific needs of their clients.
Highlights:
House Maids that are Embassy-Endorsed
Professional House Maids
Door-to-door service
Best For: Maid Agency in KL and Selangor
Website: http://www.innovedge.com.my
Address: Blok F-2-09, Neo Damansara, Jalan PJU 8/1, Damansara Perdana, 47820 Petaling Jaya, Selangor
Contact: 03-7727 4928
Email: [email protected]
Customer Reviews:
"I have been engaging Innovedge for the past 5 years and just received my 3rd maid from the agency. Innovedge has a large database of maids and being able to provide biodata and interview videos made it much easier for me to make my selection. My agent, Stella, has been very helpful and I am very happy with the quality of maids provided.", Yee Chung Mak
#3 – Maid Station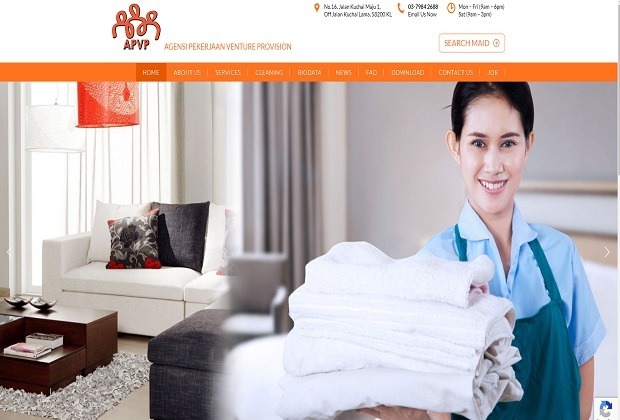 This is a licensed recruitment agency that is professionally managed. They have many years of experience in delivering recommended and high-quality house maid services in the KL, Malaysia area. Thousands of foreign maids have been recruited to cater to individual client needs. They provide quality, dependable, and honest services that can be trusted.
Highlights:
Domestic Help
Cleaning Services
Licensed Recruitment Agency
Customer Reviews:
"I am very impressed with your services especially your Miss Sheyline. She is a very responsible, concerned & helpful staff who even entertained our calls on Sundays. Your maid which you sent to us was working very well after counselled & we have decided to hire another one immediately. My family are very pleased & will recommend our families & friends to take their future maids from you." , Benson
#4 – Maid Pro Malaysia
This is a highly admired Indonesian and Filipino Maid Agency located in Malaysia ha provides domestic helpers and professional maid services. The maid employment has provided many years of outstanding service and is focused on providing Malaysia with experienced domestic helpers having recruited maids from countries like the Philippines. Maidpro is a trusted Malaysian maid agency that is committed to providing its clients with handpicked domestic helpers and maids. They are carefully selected, chosen individually, and thoroughly evaluated for their professional skills – to provide you and your entire family with invaluable help in creating a joyous and strong home.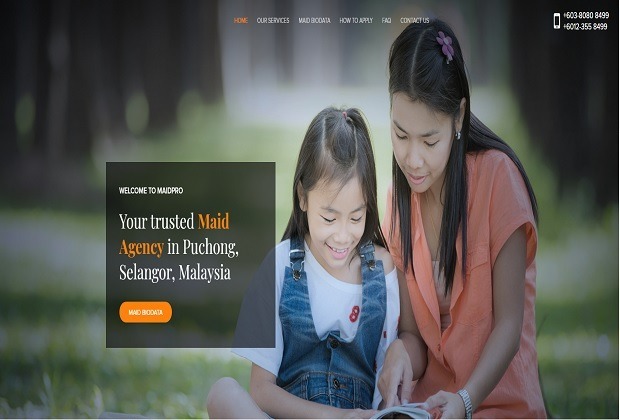 Highlights:
Helpers for general house upkeep, the elderly, and newborn babies
Foreign Domestic Helpers
Licensed by Malaysia's Department of Labour of Peninsular Malaysia (JTKSM)
Best For: Maid Agency in Puchong, Selangor Malaysia
Website: https://maidpro.com.my/
Address: ZP-02-3A, Zest Point, Lebuhraya Bukit Jalil, BK9, Bandar Kinrara, 47180 Puchong, Selangor Darul Ehsan, Malaysia.
Contact: +603-8080 8499
Email: [email protected]
Customer Reviews:
"Quick & Nice service. The lady boss is friendly. Got many choice of Filipino Maid provided.", Leong SK
#5 – DG Maid Agency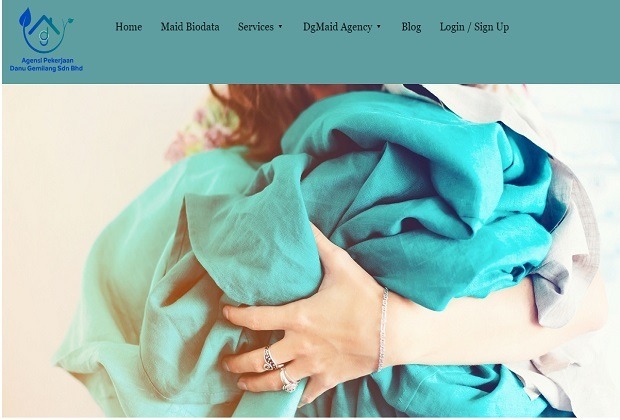 This Malaysian company provides its clients with the best customer service and Foreign Domestic Helpers. They ensure that all of their foreign domestic helpers are chosen carefully through their personal interviews to make sure that candidates have the highest quality levels in terms of performance and attitude. They provide services to RP and PR employers, MM2H, Expatriates, and Malaysians who are eligible for employing high-quality performing domestic help based on their current and future individual wants and needs.
Highlights:
English-speaking Maids
Fully Trained Domestic Helpers
Household and Caregiving work
#6 – E-Job Maids Agency Malaysia (AP E-JOB SDN BHD)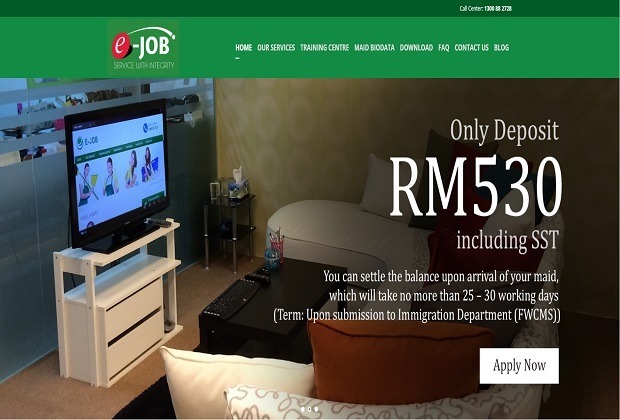 This maids agency is fully committed to providing outstanding domestic services to its clients. Their policy is to provide every one of their clients with reliable and professional maids that will exceed their expectations and completely take care of their home needs. The company has friendly office and sales assistants that are always prepared to help clients with whatever services they need.
E-Job Maids Agency provides dedicated services and considered to be Malaysia's leading maid service. They are Malaysia's most reliable and trusted maids agency and have a proven track record of delivering the best domestic help to their international and local clients.
Highlights:
Maids and Caregivers
Service Licenses and Certificates
Maid Training Center
Best For: Maid service in Selangor, Malaysia
Website: http://www.maid-agency.com.my
Address: No 56-3, Jalan OP 1/5, Off Jalan Puchong, Pusat Perdagangan One Puchong, 47160 Puchong, Selangor, Malaysia
Contact: 03-8075 7757
Email: [email protected]
Customer Reviews:
"The best maid agency", Ganesh sathasivam
#7 – YDS Maid Agency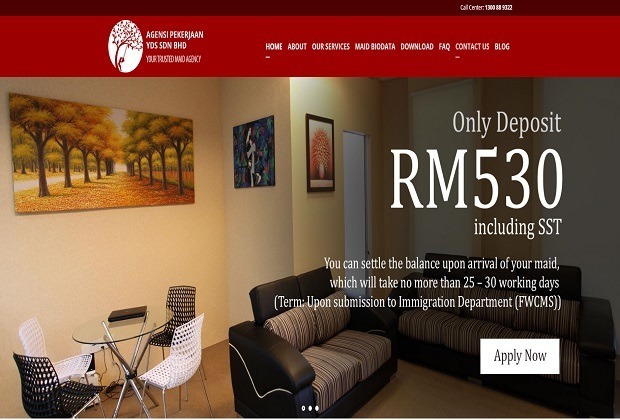 This company is the most admired maid agency services brand. It has many years of experience recruiting maids from various sources such as countries like the Philippines.
They are registered as well with Malaysia's Ministry of Home Affairs and Human Resources. The Phillippines Overseas Employment Administration (POEA) has accredited the agency.
Highlights:
Professional services
Process maid work permits
Domestic Help Services
Customer Reviews:
"Thanks for the excellent maid… the processing was very fast and deposit is RM500 only… i read the review below and worried but the reviews below is completely a fake story just they wanted to destroy the agency name. I was very satisfied with overall process of the maid application and till the delivery.
However is not easy to sell human being how good the agency are but it still a luck on getting a good house maid…", Raymond Tee
#8 – Agensi Pekerjaan Together Maid Agency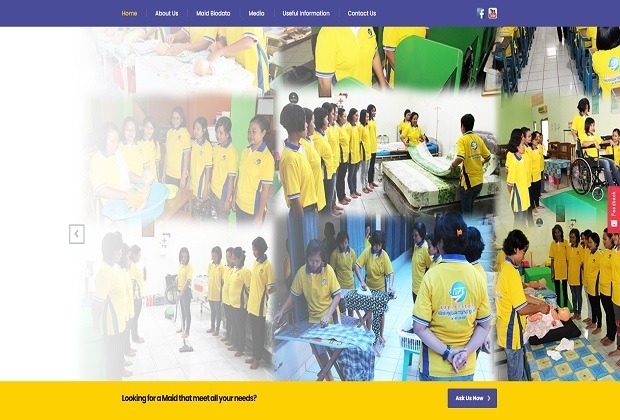 This maid agency was first established on October 9, 2012, based on the Companies Acts of Malaysia. They are one of the country's leading maid agencies and delivers high-quality and very efficient to their clients. Their maid agency services mainly are provided in the state of Johor.
This leading maid recruitment agency recruits maids from the countries of Vietnam, Sri Lanka, Laos, Cambodia, the Phillippines, and Indonesia. Their extensive reach makes it possible to carefully select outstanding domestic helpers from numerous countries to provide services in Malaysia.
Highlights:
Home Service
Online Appointments
Direct Maid Hiring Services
Best For: Direct Maid Hiring in Johor, Malaysia
Website: http://www.topmaids2u.com
Address: 31-01, Jalan Bestari 4/2, Taman Nusa Bestari, 79150 Nusajaya, Johor, Malaysia
Contact: +607-238 6128
Email: [email protected]
Customer Reviews:
"Maid in which I hired from agency Together has good knowledge and skills in her work, well trained by the agency.", Ooi Ah Chai
Do you have any other maid agency recommendations for us? If so, please share them with us here.
Popular video about housemaid
Maid Agencies Guide & FAQ
What does a maid service include?
A maid service may include a variety of duties including house cleaning, laundry, meal preparation, answering the door and telephone, grocery shopping, child-rearing, or picking up and dropping off. In fact, a maid service is just about whatever a homeowner wants the maid to do, within reason of course.
Some maids wear a uniform whereas others wear clothes of their own. Some maids, over time, may even become like a member of the family. Maid services are available throughout the world and it is truly an honorable profession. A maid can work for themselves or they can work for a company that provides maid service to its clients.
What Is The Main Difference Between A Maid And A Housekeeper?
A lot of people have this confusion as to the differences between a maid and a housekeeper. There aren't many differences and some people use them interchangeably. A maid is a professional that is typically hired for a single cleaning session. Whereas, a housekeeper is someone who usually works for a wealthier family specifically.
Therefore, they generally wouldn't be seeking out extra work with other families and homes. A maid is usually for-hire and they aren't working for a single household. However, a lot of people do end up using these terms interchangeably which can cause some confusion and it is more of a matter of perception than anything.
How much is will it cost to hire a maid in Malaysia?
The cost to hire a maid is vary depends on where the maid come from. In general, it may cost between RM 1000-RM3000 per month.
Click here for other local services related articles.
Latest posts by Alice Yeoh
(see all)
This article was brought to you by BestAdvisor.my
Disclaimer: This is the opinion of the writer or publication. We only recommend products or services that we have tested and tried ourselves or have done in-depth research with positive external reviews and find them to be useful for everyone. The products/services shown are available upon the publication date. The availability may change from time to time. If some of them are not available, please email us at [email protected]. Thank you!
Last Updated on