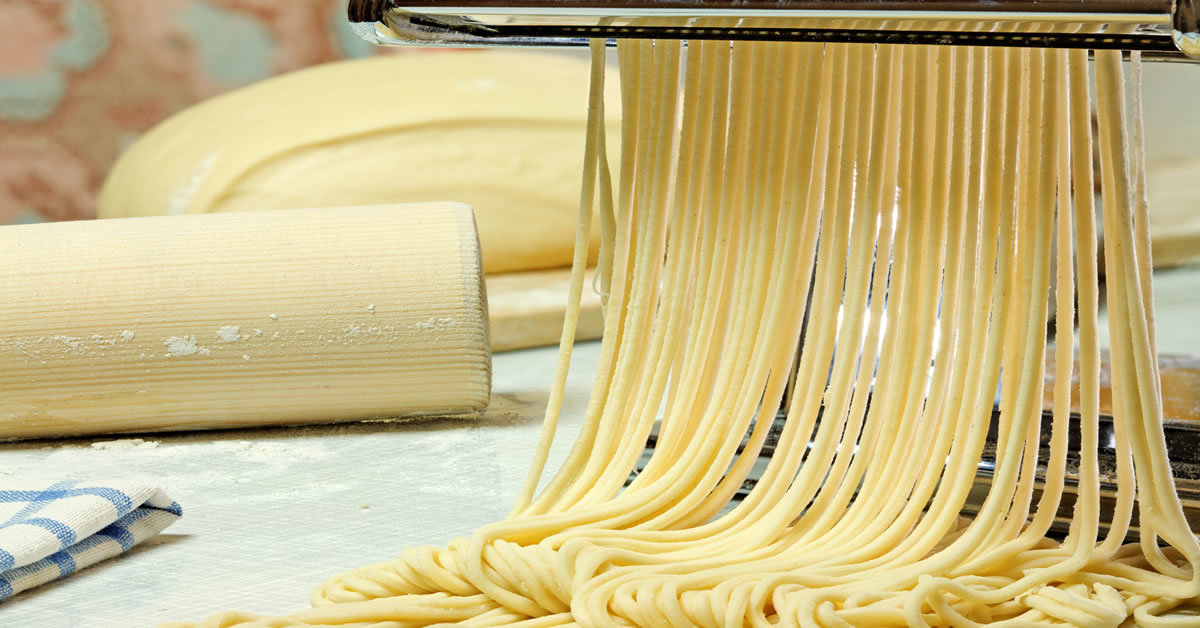 One of the most rewarding things about preparing our own food is getting to decide and control the ingredients that we put into it. It makes the experience even more worthwhile if you can make create something from scratch. Many of us explored our skills in the kitchen last year, which consequently led to exploring new kitchen tools to create more diversity in our recipes.
An emerging favourite in Malaysian kitchens is noodle makers, both the manual and electronic ones. Since noodles are one of the Malaysian cuisine staples, getting a noodle maker assures you of a constant and fresh supply of noodles whenever you need it.
Here are our top picks for 2021:
8 Best Pasta & Noodle Makers in Malaysia
1. Pensonic Noodle House PNM-01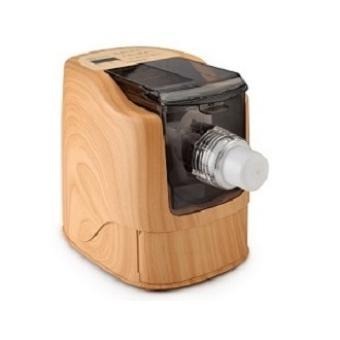 Best beginner-friendly noodle maker
This Chinese New Year, impress the family with your freshly made noodle recipe with this electronic noodle maker. It's so easy to operate, even newbies in the kitchen can create their own noodles or pasta.
Why buy this:
Mixes kneads and extrudes fresh dough automatically
Quick 3 minutes kneading
13 types of Pasta and Noodles Moulds
One of the most challenging parts of making your own noodles is achieving that perfect knead. That's guaranteed to be off your checklist with this Noodle House.
Check prices on Lazada
2. Falcon Pasta Maker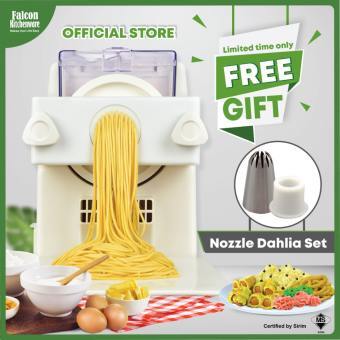 Best for pasta and desserts
If you've been hit by the baking bug, too, you have probably already stumbled on this Pasta and Cookies maker.
Why buy this:
A convenient size for both family and business purposes.
EASY to operate & RECIPES are available on our Page: Falcon Pasta Noodle Maker
Easy to clean and generally low maintenance
Expand your recipe list from Falcon's own recommended recipes. It will also cut you so much time in preparing your cookie dough. Create more but with lesser energy consumption.
Check prices on Lazada
3. KBM 3 Blade Pasta Maker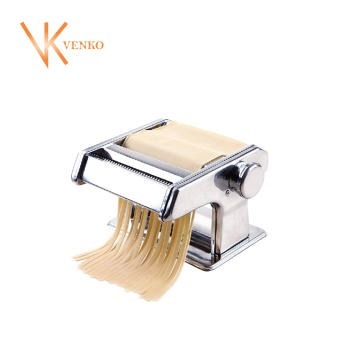 Best blade performance
This compact and simple pasta maker will make your meal prep a lot easier! Whether you are planning a pasta party or craving your favourite noodle soup, you can count on this three-blade pasta maker to give you the right thickness and consistency for your recipe.
Why buy this:
KBM Stainless Steel Pasta Maker
3 Blades
9 Thicknesses
Thick / Thin Noodles
This is a manual machine so, but it requires less effort to produce your own noodles. It is also easy to clean and store around the kitchen due to its compact size.
Check prices on Lazada
4. CSmall: DIY Noodle Maker Stainless Steel Pressure Surface Machine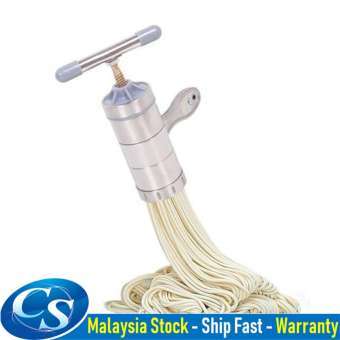 Best in multi-functionality
There are a lot of multifunctional kitchen tools being introduced these days, but this is one of your favourites because you can prepare an entire meal course from this machine, alone.
Why buy this:
High-Quality Stainless Steel Mould
Easy To Use And Save Time
Easy To Carry
The novelty of these products makes it really popular online. It's one of the smallest tools you can use to create pasta/noodles, plus you can also conveniently extract juice here. All parts can be washed with water for easier maintenance.
Check prices on Lazada
5. KT Stainless Steel Pasta Making Machine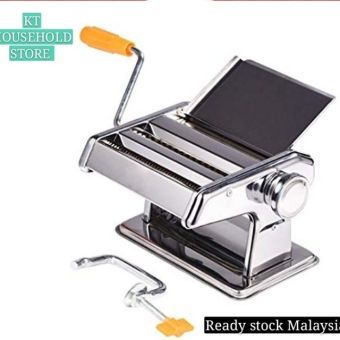 Best for more advanced pasta making
Make restaurant-quality pasta with this manual pasta maker. You get to determine the ingredients you want for your pasta to keep it fresh and healthier than pre-packed counterparts.
Why buy this:
Creates 2 different types of pasta noodles
The rubber mat bottom protects the surface of the table and makes it less slippery
Smooth turning handle
Although it is a manual machine, you can still easily adjust the thickness of your pasta using the settings indicated in the machine. It's stable enough to be used continuously because of its non-slip and durable base.
Check prices on Lazada
6. Crazyideal Noodle Maker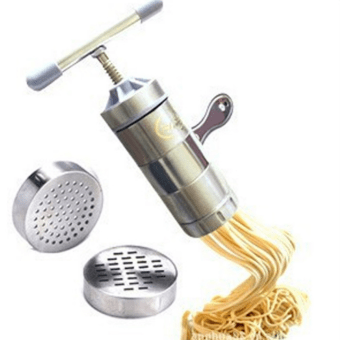 Best compact pasta maker
Small but terrible noodle maker. It comes with multiple cutter size allowing you to make all sizes of pasta from penne to thin noodles.
Why buy this:
Pasta Tools Type: Spaetzle Makers
Eco-Friendly
Manual pasta making
You can be sure that your pasta comes out fresh and safe because this product is made from high-quality and non-toxic stainless steel.
Check prices on Lazada
7. YOHESO 5 Mode Stainless Steel Pasta Noodle Maker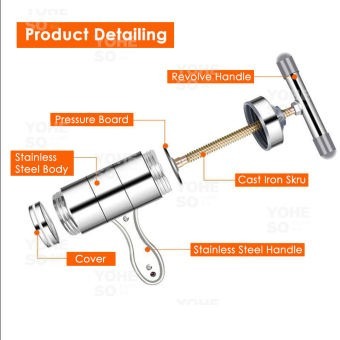 Best budget-friendly choice
Are you looking for a novel and small pasta maker? This is the perfect choice for beginners who want to try their luck in creating their own pasta but are not ready to invest in a professional pasta maker, yet.
Why buy this:
Perfect for manual pasta machine presses, ideal for making fresh pasta noodles in seconds
Suitable for families or restaurants
Naturally harmless, tasteless, non-corrosive
Unlike the traditional pasta machine, this looks less intimidating to use. You can create your own pasta in three easy steps, and wash the machine with water afterwards without having to worry about rusting.
Check prices on Lazada
8. Himitzu Stainless Steel Heavy Duty Noodle Making Machine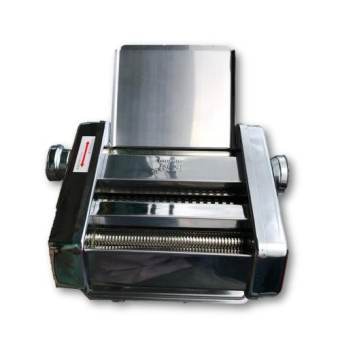 Best choice for pros
If you are ready to take a pasta making to another level, then it's best to get yourself this best-selling machine from Himitsu.
Why buy this:
Can cut noodles at 5kgs each hour
The machine will cut off the power in case of overheating
Easy to operate and clean
It's electronic-powered so you can produce kilos of pasta effortlessly, without compromising taste and freshness.
Check prices on Lazada
Noodle Maker Buying Guide
Shopping for a noodle maker can be confusing at first. This is not one of the most basic kitchen tools that we grew up with. One of the best tips we received when we started with our noodle making journey is to start small, which means in terms of price and size.
This way, you take your time in exploring the early process of preparing the past ingredients to cut them perfectly using the machine. It's also best to start with manual machines for a better appreciation of the whole noodle-making process. After a couple of tries, you should be able to determine the consistency you like for your pasta/noodles and will find it easier to use the electronic machines.
Here are our top recommended noodle makers in Malaysia
FAQs
What are popular brands of noodle maker?
Some of the popular brands of noodle are Pensonic, Falcon and KBM.
Why should I buy a noodle maker?
You should buy a noodle maker so that you can have your homemade noodle anytime which is healthier and fresh!
How much does a noodle maker cost? 😃
Depending on the model and brand, the price can cost from RM 300 – 2,000
Click here for other kitchen appliances related articles.
Latest posts by Kathy Wong
(see all)
This article was brought to you by BestAdvisor.my
Disclaimer: This is the opinion of the writer or publication. We only recommend products or services that we have tested and tried ourselves or have done in-depth research with positive external reviews and find them to be useful for everyone. The products/services shown are available upon the publication date. The availability may change from time to time. If some of them are not available, please email us at [email protected]. Thank you!
Last Updated on