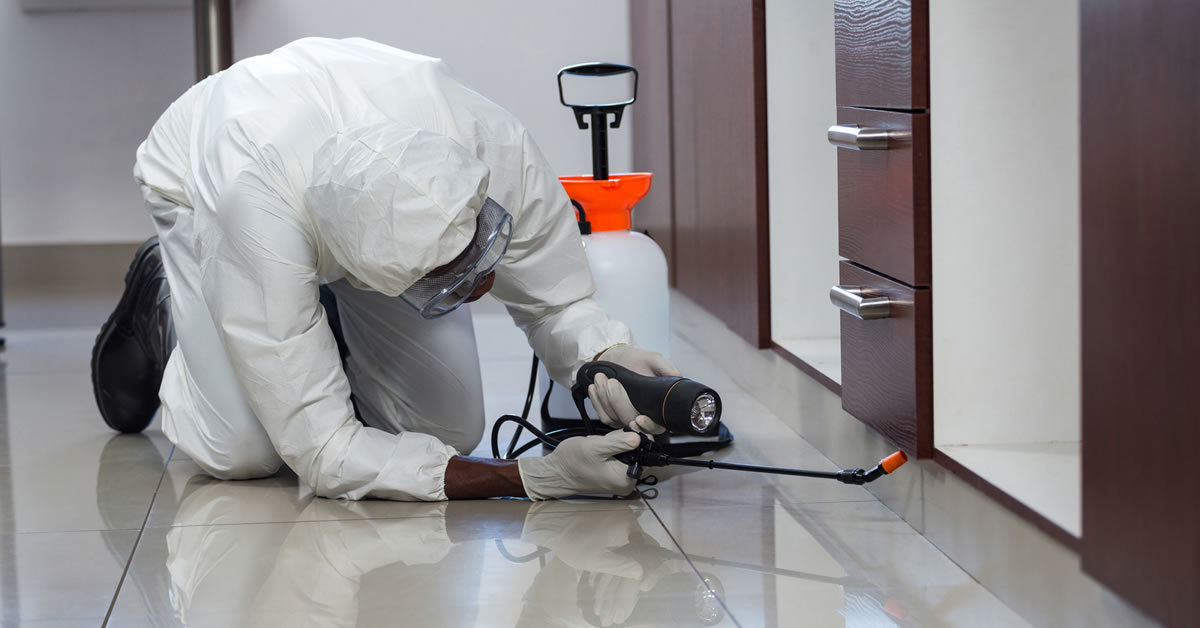 Are you looking for a pest control service in KL, Malaysia?
Getting the right pest control company to help you with your needs is not easy. We spent a couple of days to study and review the best pest control service in Kuala Lumpur to save your time.
We check each pest control firms on their reputation, service rating, reviews and customer satisfaction. Then, we made a comprehensive list of all the best pest control companies for your ready reference.
We also share the pest control guide and frequently asked question from consumer like you.
Let's start with the top pest control service provider.
Top Pest Control Companies
#1 – Rentokil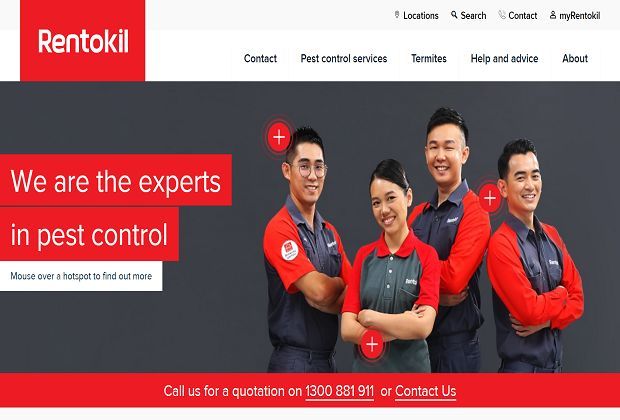 This company was founded in the UK in 1925 and in Malaysia in 1967. They are experts in the pest control field and have always stood for providing their customers with effective and efficient pest control. They provide reliable and effective pest control services to both residential and commercial customers and have become the most trusted and biggest pest controller in Malaysia.
Highlights:
Licensed and Experienced Technicians
Expert Knowledge
Site Risk Assessment
Targeted Treatments
Customer Reviews:
"Had a flea problem but professionally solved by Fazrizal. Excellent and friendly service. Highly recommend this guy.", Neo JH
#2 – PestBusters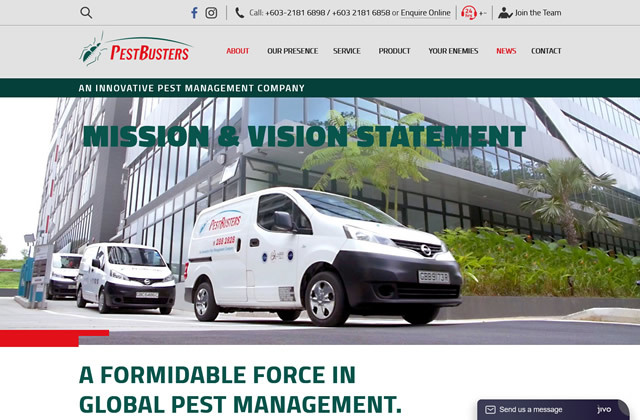 PestBusters first began in 1991 by Chairman and CEO Thomas Fernandez. Starting as a local company, they have quickly grown to be Asia's leading pest management experts. PestBusters is continuing to expand its international presence and is now one of the most trusted names in the industry.
The company's success can be attributed to its commitment to setting a new quality standard in pest control. This has resulted in PestBusters having a fast-growing market share internationally. Customers trust them because of their excellent quality service and dedication to customer satisfaction. As PestBusters grows, it will continue to be a leading force in the global pest management industry.
Highlights:
PestBusters is a trusted name in the pest control industry
They have a fast-growing market share internationally
Their quality service and customer satisfaction are top priorities
Customer Reviews:
"PestBusters is a good partnership, response time and well trained personal is exactly what I need for our Brand", Ms. Joyce Lim
#3 – AntiPest Management Services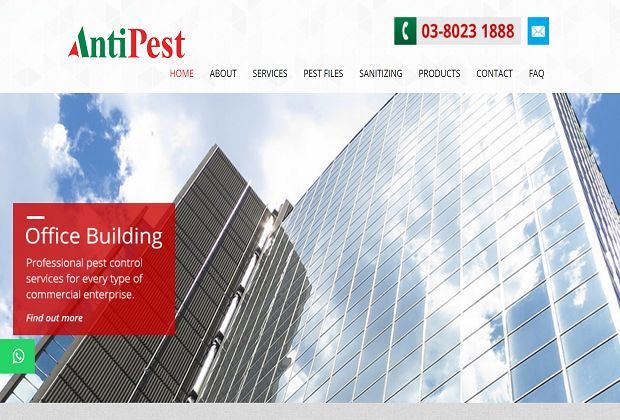 AntiPest Management Service was established in 1986 and is a leading ISO-certified pest control company in the country of Malaysia. The company specializes in Integrated Pest Management services that range from industrial and commercial pest control to general household pest control. Their team has extensive experience with the strictest industrial and commercial standards, including Good Manufacturing Practices, Hazard Analysis & Critical Control Points, and ISO.
Highlights:
Industry Leaders
Licensed professionals
Best For: Termites control ; Commercial and Residential
Website: https://www.antipest.com.my
Address: No. 12A, Jalan Industri USJ 1/8, Taman Perindustrian USJ 1, 47600 Subang Jaya, Selangor Darul Ehsan
Contact: 603 – 8023 1888
Email: [email protected]
#4 – Anticimex Malaysia
Since being founded in 1934 in Sweden, Anticimex has been a leader in the industry. They are Malaysia's leading pest control company and employ an estimated 6,5oo trusted experts all over the world.
This Modern Pest Control Company makes use of the most recent technologies, as well as sustainable and non-toxic solutions that have been developed and then proven by extensive amounts of research and development. They focus on creating a healthy and safe environment for their customers.
Highlights:
Work with prevention
Sustainable solutions
Embrace new technology
Best For: General Pest Control and Garden pest control
Website: https://www.anticimex.com.my
Address: Jalan Tegas 25/134, Mutiara Bukit Kemuning, 40400 Shah Alam, Selangor
Contact: 1800 228 228
Email: N/A
Customer Reviews:
"Excellent Service to Anticimex Johor Bahru Team . Even during weekend their service team will inform us they found a rat in the Smart Trap and would like to come and clear for us. With this Smart System ,monitoring, instantly and reacting.", PureWater JB
#5 – Unity Pest Control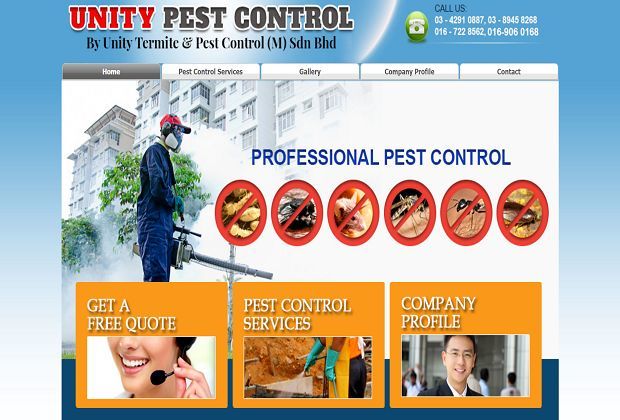 This reputable and experienced pest control company is based in Cheras, Kuala Lumpur, Malaysia. The company specializes in solving pest problems, and termites in particular. Over their many years of being in business, they have served thousands of customers and provide effective solutions to their problems.
Highlights:
Veterans in the industry and continuously work on improving themselves
Effective, affordable, safe termite control and pest control solutions
#6 – NEXUS Master Sdn Bhd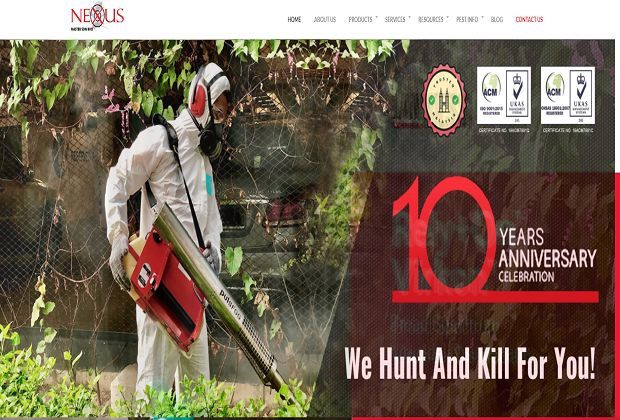 This Malaysian pest control company is located in Kuala Lumpur. The company has over 15 years of industry experience. Their outstanding past track record provides them with the opportunity to extend their services throughout the Klang Valley to their valued customers. They are a licensed pest control operator and have been accredited by Malaysia's Ministry of Agriculture.
Highlights:
Cost-effective
Flexible
Uses Eco-friendly technology
Customer Reviews:
"My home are being taken care from pest by them for long time . Their respond is good and fast if needed service anytime .
The professionalism and the good attitude is workers are high appreciated. They don't rush and do their job due diligence.", Thanaraj Saravana
"Great service and great technical know how. Using effective methods and good grade chemicals to effectively target and control pest population even in challenging environment.", Rizal Ross
#7 – Alliance Pest Control Sdn. Bhd.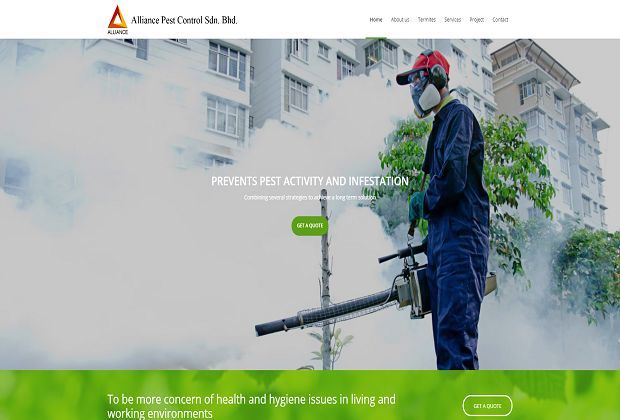 This pest control company was established by a group of enthusiastic individuals who had pest management experienced. As awareness continues to grow at how important pest control is for building, especially in terms of both pre-and post-construction soil treatment for preventing termites, many owners have found it to be very advantageous to invest in pest management services with Alliance Pest Control Sdn. Bhd, just as Kumpulan Protecion Sdn. Bhd, our associated company has been involved within the fire fighting field.
Highlights:
Constantly improves and upgrade their existing knowledge
Reduces the use of pesticides
Interacts well with customers
Provides friendly service
Provides cost-effective solutions
Uses the most recent technology that is available
Best For: General Pest Control Services
Website: http://alliancepestcontrol.com.my
Address: 20, Jalan Cempaka SD 12/2, Bandar Sri Damansara, 52200 Kuala Lumpur
Contact: 03-6272 8220
Email: N/A
#8 – Blue Leaf Pest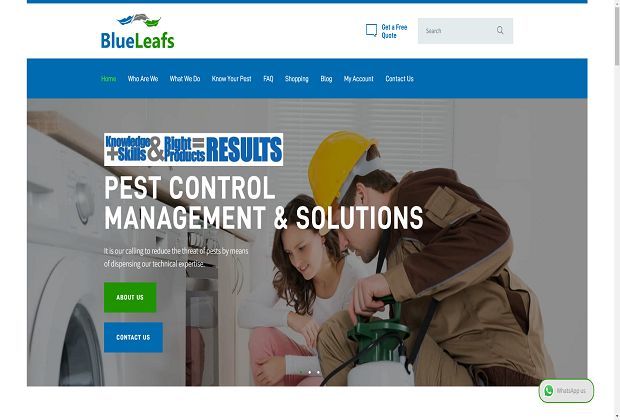 These pest control professionals have many years of industry experience. However, experience is not the only important thing. The thing that matters the most to them as well as their satisfied customers are the commitment and passion that the Blue Leaf team members have about the work that they do.
Highlights:
Commitment and passion towards their work
Years of industry experience
Best For: Pre-moving and Post Renovation
Website: https://blueleafspest.com
Address: Blueleafs (M) Sdn Bhd 85-2A, OG Business Park, Jalan Taman Tan Yew Lai, 58200 Kuala Lumpur
Contact: +6012 396 0681
Email: [email protected]
Customer Reviews:
"Very good and friendly service provided. The worker can explain on the job done and the purpose . Happy with the service!", Kathirasan
"Thomas is very professional, helpful, honest and patient explained in detail. Highly recommended for his service! Excellent and good job!", Joanne Lim
Do you have some other recommendations? Please share with us in the comments.
Popular Video about Pest Control
Pest Control KL Companies Guide & FAQs
What is the Best Method of Pest Control?
Ask any expert and they will tell you the same thing. Pests like roaches, ants, rats and mice are drawn to human habitats and commercial locations for food, shelter and water that can be found easily where humans live.
Before you begin attacking the pests with traps and poisons, take the following steps to ensure your home and property is as inhospitable to pest invasions as possible.
Exterior Pest Control
Identify Entry points — animals are creatures of habits, make sure you identify the way pests are entering your home and close these off.
Keep the Exteriors Clean — keeping your grass cut, shrubs properly trimmed and garden in order will prevent animals from venturing around.
Cancel Dinner Handouts — make sure that your garbage bins are securely closed and that all pools of standing water are eliminated. If you have a pet, keep water and food dishes cleaned and cleared.
Indoor Tasks
Keep Clean — a clean home will attract less vermin. After cooking or eating, make sure the counters, floors and surfaces are properly wiped down. Remember that even a small crump is a feast for a pint-sized pest.
Pest Control Services — if the problem persists, it is always a good idea to call in the professionals with expert techniques and services. A local pest control company will have the skills and experience to deal with the issue precisely.
Why You Need Professional Pest Control Services?
If you have found your home plagued by creatures great or smart, you may be wondering how you can be rid of this menace. Here are some of the reasons to choose professional pest control services.
1. Experienced Solutions
Whether you are facing ants, rats or roaches, you should know that they are here for a reason. A professional pest control service has the experience to detect the reasons they have chosen your property and make sure they are effectively eliminated.
2. Precision Execution
The overuse of pesticides is having a terrible effect on the environment. Bee and other pollinators can be harmed by the overuse of household chemicals. Avoid this be calling the professionals who know exactly how to eliminate your pest problem without affecting harmless and beneficial creatures who also live nearby.
3. Effective Response
You could spend all day chasing around the vermin in your home. You could even kill every cockroach in a 50-mile radius. But if you haven't eliminated the reason that these animals are invading you home, they will all be back within just a few weeks. This is especially true for seasonal pest problems. The best way to ensure that your pest control efforts are effective is to call in the experts.
What To Do If You Have a Pest Problem?
Having pests come into your home or business property and decide to 'set up shop' is not a happy event in life, in fact, it can cause a whole lot of stress! You may wonder what the best method is to rid the property of pests and resume normal life again.
The best course of action will depend on the type of pests that have entered the property, how bad the infestation is and whether you have the time and expertise to deal with it. If the issue is small you may be able to purchase a spray or similar products and rid your property of the pests yourself. However, without the right knowledge and expertise, you may not succeed in waving goodbye to all of the pests, leaving the door wide open, so to speak, for a return infestation. Another option, which may be more appealing, is to call a local pest control company and explain your problem. They will be able to advise you on the best course of action, which may include coming out to carry out a professional pest control assessment and ultimately ridding your home or property of those nasty little pests that want to call it home.
How To Control Pests Naturally?
Pests are naturally unwanted in any home. If you have pests in your home and are unsure of how to get rid of them without calling a pest control company, keep on reading. There are actually many natural alternatives and the first step is to avoid leaving out any food and water in your home. Remember, these animals are simply looking for food and shelter and if you make sure there isn't any food available, this will make your home less attractive. Therefore, you should start by taking out the garbage regularly, cleaning the floors daily to make sure there aren't any food crumbs etc.
Next, if you have pests such as cockroaches, one way to discourage them is to place bay leaves in areas where you've seen them. You can also spray boric acid in areas where they typically make nests such as on the tops of cupboards, behind cabinets etc.
If you have mosquitos, there are many natural ways to get rid of them. One enjoyable way is to use citronella candles in your home. Once lit, they effectively drive away mosquitos. You can even plant marigold flowers in your yard as a natural bug repellent since they don't like the smell.
In closing, there are many ways to control pests naturally. So, be sure to implement the suggestions above as well as keep researching other methods of natural pest control.
What Can I Spray Around My House To Keep The Bugs Out?
Do you have a lot of insect infestations in your home? Well, here are some tips on what to spray to keep insects out of your home.
1. Vinegar – Spray it around the perimeter of your home and on the furniture to keep out ants and other crawling insects.
2. Cayenne Pepper – It works as a deterrent for a lot of crawling insects. Spray it in the cabinets especially where you store sweet foods to keep away the insects.
3. Peppermint Oil – Soak cotton balls in peppermint oil to keep away crawling insects such as spiders, ants and much more.
Use these products to keep your home safe and free from insects all year round!
How Long Does Pest Control Really Last?
If you are wondering how long pest control really lasts, you have come to the right place. There are many factors that determine how long pest control will last. Generally speaking, pest control will last for a few months and needs to be deployed quarterly in order to ensure your home is protected from pests.
For example, if you used a pest control program to eliminate ants from your property, you need to upkeep the program every 3-6 months so that ants don't return. You should choose a reliable and experienced pest control company if you want to effectively eliminate pests from your home.
Click here for other local services related articles.
Latest posts by Aaron Tan
(see all)
This article was brought to you by BestAdvisor.my
Disclaimer: This is the opinion of the writer or publication. We only recommend products or services that we have tested and tried ourselves or have done in-depth research with positive external reviews and find them to be useful for everyone. The products/services shown are available upon the publication date. The availability may change from time to time. If some of them are not available, please email us at [email protected] Thank you!
Last Updated on