Shopee 7.7 is just around the corner, so get ready to do some serious shopping! Not long ago, we celebrated Shopee 6.6 with huge deals on everything from fashion items and beauty products to kitchenware – now it's time for Shopee 7.7 at an even better price point!
Just a few days left before this event ends in order that you can save as much money while stocking up on all of these amazing new goods coming out soon or already available right here online.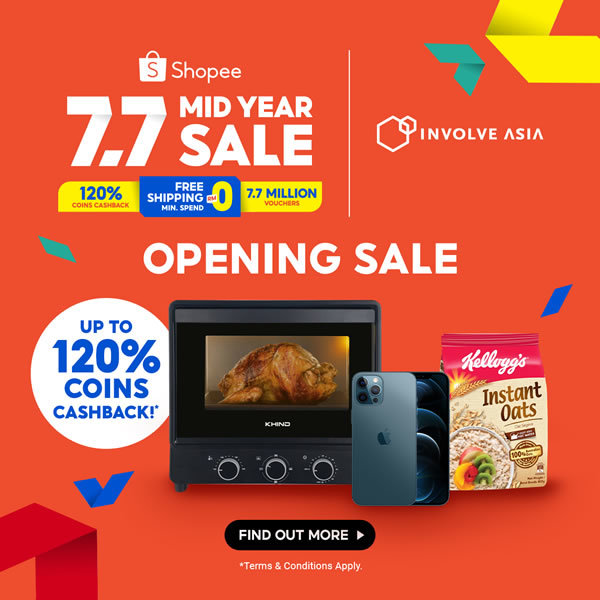 Find out More at Shopee
Tell Me About The Shopee 7.7 Pre-Hype Season
Shopee pre-hype season is a time for those who can't wait to start shopping. Shopees are getting prepared with the voucher codes, promotions and discounts which will be available during this period of excitement from 25th June until 7th July. The best part about it all? It starts on the 25th so there's no need to worry because you still have some days left!
Shopee has got something great in store for us as we approach their pre-hype season where buyers enjoy vouchers, promotional offers and discount deals that'll help them get ready for what they want – saving money while having fun online at work or play (whichever!).
Free shipping min. spend MYR0
120% coins cashback
7.7 million vouchers up for grab!
Claim RM7.7 Million Vouchers
15 Much-Loved Stores Offering Big Discounts For Shopee 7.7 Sale Day
Shopee has the hottest selling items of June and for good reason. These products are so sought-after that they're being sold out in seconds every day! Check them all out now at 7.7 sale price before time runs up on you too – there's no better way to spend your savings than with Shopee, after all these amazing deals won't last forever!
Coming Soon
Special Coupon Code for Shopee 7.7 Sale
Besides the standard voucher offer by Shopee which often redeem by others quickly, we also secure a special voucher code for our reader.
#1 – New Customer
Pre-Hype (19 Jun – 6 Jul): RM15 off min spend RM0
7.7 Mid Year Sale (7 July): RM20 off min spend RM0
Voucher Code: JOMSHPIA
#2 – Existing Customer
Pre-Hype (19 Jun – 6 Jul):
Voucher Value: 9% Coins Cashback min spend RM77 capped at 700 coins
Coins Value: RM7
Min. Spend: RM70.00
Voucher Code:

IA77EC
7.7 Mid Year Sale (7 July):
Voucher Value: 14% Coins Cashback min spend RM70 capped at 1000 coins
Coins Value: RM10
Min. Spend: RM70.00
Voucher Code:

IA77P2EC
Find out More at Shopee
13 Bank Codes to save up to RM 20 in Shopee 7.7 Sale
New Customer Vouchers (Valid on 18 June – 7 July)
| Bank | Offer | Code |
| --- | --- | --- |
| AmBank | RM15 ms RM 40 | NAMB77 |
| Alliance Bank | RM15 ms RM 40 | NABMB77 |
| Bank Islam | RM15 ms RM 40 | NBI77 |
| CIMB | RM15 ms RM 40 | NCIMB77 |
| Citibank | RM15 ms RM 40 | NCITI77 |
| Maybank | RM15 ms RM 40 | NMBB77 |
| RHB | RM15 ms RM 40 | NRHB77 |
| UOB | RM15 ms RM 40 | NUOB77 |
| BigPay | RM15 ms RM 40 | NBIGPAY77 |
Find out More at Shopee
Existing Customer Vouchers (Valid on 7 July)
Bank
Offer
Code
Aeon Credit
RM15 ms RM150
AEONCR77
Affin
RM20 ms RM180
AFFN77
AmBank
RM10 ms RM100
AMB77
Alliance Bank
RM15 ms RM150
ABMB77
BSN
RM10 ms RM100
BSN77
CIMB
RM10 ms RM100
CIMB77
Citibank
RM10 ms RM100
CITI77
Maybank
RM10 ms RM100
MBB77
Maybank
(Co-brand card)
RM10 ms RM100
MSCC77
Public Bank
RM10 ms RM100
PBB77
RHB
RM10 ms RM100
RHB77
UOB
RM10 ms RM100
UOB77
BigPay
RM10 ms RM100
BP77
Find out More at Shopee
FAQs
What is The Shopee 7.7 Mid Year Sale?
The 7.7 awesome sale is a monthly promotion that takes place in July each year, and Shopee happens to be one of the leading participants with mega product discount deals every July! To discover more, click here.
What Are The Most Popular Products To Check Out In The Shopee 7.7 Mid Year sale?
The time has come to review the best deals at Shopee. We've taken our time and compared multiple offers for you before selecting 15 of these top bargains, so click here now!
What Discounts Are Available ✅ At Shopee During The 7.7 Sale?
Sellers provide buyers discounts ranging from around 20% to as high as 66%. Click here to learn more about discounts at Shopee.
Click here for other special sales related articles.
This article was brought to you by BestAdvisor.my
Disclaimer: This is the opinion of the writer or publication. We only recommend products or services that we have tested and tried ourselves or have done in-depth research with positive external reviews and find them to be useful for everyone. The products/services shown are available upon the publication date. The availability may change from time to time. If some of them are not available, please email us at [email protected] Thank you!
Last Updated on