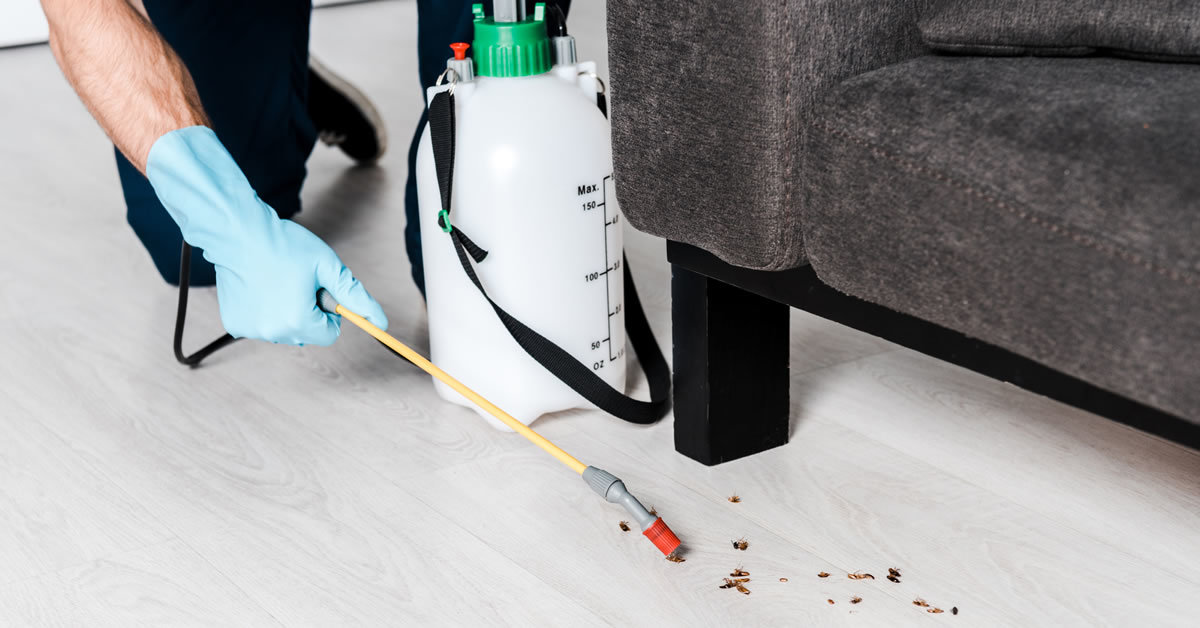 Are you searching for a qualified KL, Malaysia termite control service company?
It is not always easy to find the best termite control service company to assist you with all of your needs. We spent a few days reviewing and studying Kuala Lumpur's top termite control service companies to help save your valuable time.
We checked each of the termite control companies for their customer satisfaction, reviews, service rating, and reputation. We then compiled a comprehensive list of all of the top termite control service companies that you can reference.
We are also sharing our frequently asked questions and termite control service guide to consumers such as yourself.
Let's begin discussing the best termite control services in Malaysia.
Best Termite Control Service Companies in Malaysia
#1 – Rentokil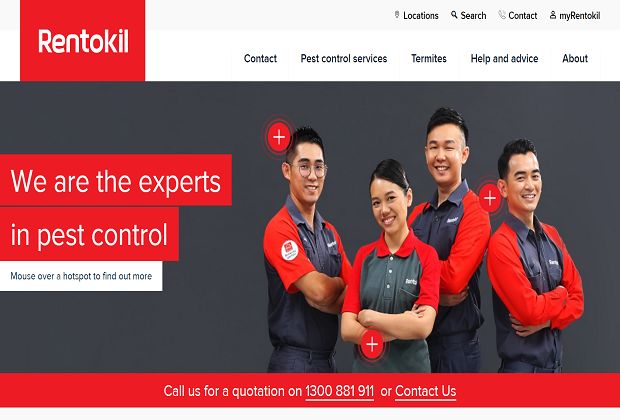 This company is fully committed to providing you with the top pest control solutions that are currently available. With over 50 years of experience in the local community, their solutions can manage cockroaches, termites, flies, mosquitoes, ants, birds, bed bugs, rats, and more. They have expertly trained service technicians which means that treatments are conducted safely, efficiently, and effectively.
Highlights:
Commercial Building and House Consultations
Disinfection Services
Pest Control Services
Best For: Pest Control in Selangor
Website: https://www.rentokil.com.my/
Address: No. 7 Jalan Utarid U5/13, SeksyenU5, 40150 Shah Alam, Selangor, Malaysia
Contact: +60 1-300-88-1911
Email: N/A
Customer Reviews:
"Main office for Rentokil Pest control… Good service.. have many staff and department..call support also placed here..", Acik Haroon
#2 – Ridpest
Ridpest since 1985, with its certified Pest Management Professional team, has had the mission of offering better living by providing a safe and pest-free environment. The general pest services that they provide include rodent/rat control using eco-friendly insect repellent and bait, Ridmozzies against Mosquitoes, ants and cockroach baiting, UVL spraying and mist treatment for bedbugs, fleas, and other types of nuisance pests. Ridpest is well-known for its slogan "The Proven Termite Eliminator." The company uses the most recent innovative baiting and monitoring systems to eliminate entire termite nests. The company continues to change with the times and recently changed its tagline to "Creating Better Living" in order to reflect its new image. The goal of the company is to assist its clients with having a healthier and safe environment.
Highlights:
Termite Control Services
Mosquito Control Services
HACCP Pest Control Program
General Pest Control Services
Customer Reviews:
"I had the most pleasant experience with the GM of Ridpest. I requested for quotation for a one time treatment as I have sighted little red ants in my kitchen crawling out from a hole in the walls. He advised me to get the wall cemented to solve the problem.Instead of persuading me to sign contract for pest control service,he had given me a simple solution.Kudos Victor!", LH Ching
#3 – Antipest Management Services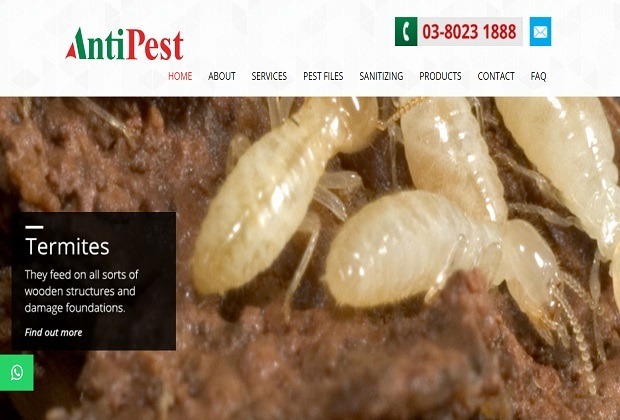 AntiPest Management Services was established in 1986 and is one of Malaysia's top ISO-certified (ISO 9001: 2015) pest control companies. The company specializes in Integrated Pest Management services, which range from industrial and commercial pest control to general household pest control. Their team has extensive experience with employing the strictest industrial and commercial standards, including Good Manufacturing Practices (GMP), Hazard Analysis & Critical Control Points (HACCP), and ISO.
Highlights:
Residential and Commercial General Pest Control Services
Termite Control Services
Licensed Fumigator
Best For: Termites Control Across Malaysia
Website: https://www.antipest.com.my/
Address: AntiPest Management Services Sdn Bhd No. 12A, Jalan Industri USJ 1/8, Taman Perindustrian USJ 1, 47600 Subang Jaya, Selangor Darul Ehsan (Head office)
Contact: 603 – 8023 1888
Email: [email protected]
Customer Reviews:
"Professional termite control specialist personnel comes to site for inspection and provide advice. Engage them for a small termite job. Charges was reasonable. All services provided in a contractual document. Will use them again for my next pest control problem.", Dennise Tang
#4 – Kamal & Kamal Pest Control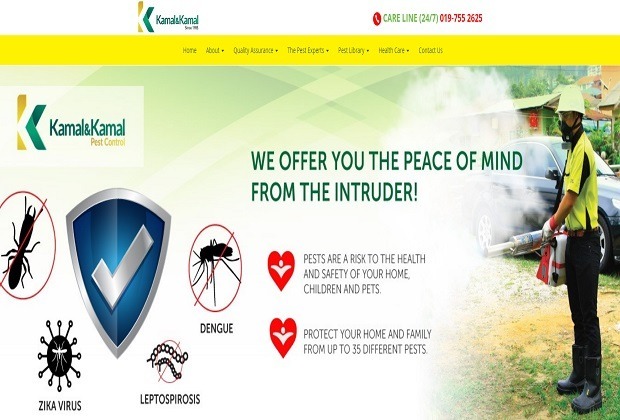 This company currently employs over 100 staff members uses the most advanced techniques and has state-of-the-art equipment to cater to a broad range of customers from commercial clients to domestic households. They offer a number of different pest control services in Malaysia, including larviciding, fogging, HAS* technology, termite baiting, residual spraying, rodenticide, and flushing. The company has pest control service centers spread across the country of Malaysia to serve all of its customers. Kamal & Kamal Pest Control provides some of Malaysia's best pest control services. It is ISO 9001: 2008 certified by UKAS and SIRIM to provide its customers with quality assurance.
Highlights:
Fogging and Disinfection Services
Termite Baiting
Commercial and Residential Pest Control Services
Customer Reviews:
"Great services, great team." Nur Kamariah
#5 – James White Ants Destroying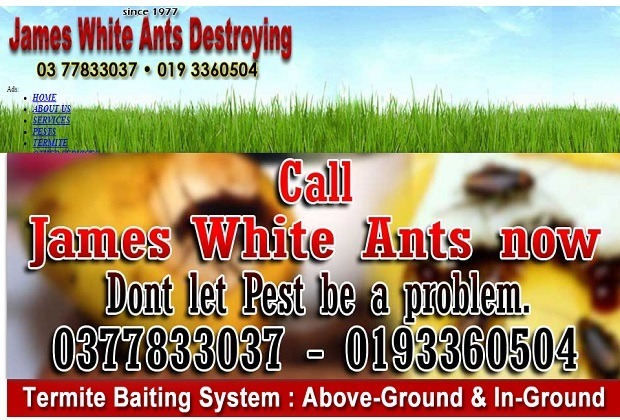 This company was first established in 1977. Starting with humble beginnings, James White Ants Destroying Co. built a reputation as one of the best and trustworthy pest control companies to manage all different types of pests. With over 35 years of industry experience, it is not surprising that the company is an expert at controlling pests. Almost every household and industry that requires pest control services are familiar with James White Ants Destroying Co. The company provides its clients with outstanding pest control services and has streamlined its services to meet specific pest control management needs. It employs trained pest control professionals and uses the highest standard pest control methods to ensure that pesticides are applied safely.
Highlights:
Pest Management
Termite Control Solutions
Residential and Commercial Pest Control Services
Customer Reviews:
"awesome experience….really recommend", Khriistopher James
#6 – Termibait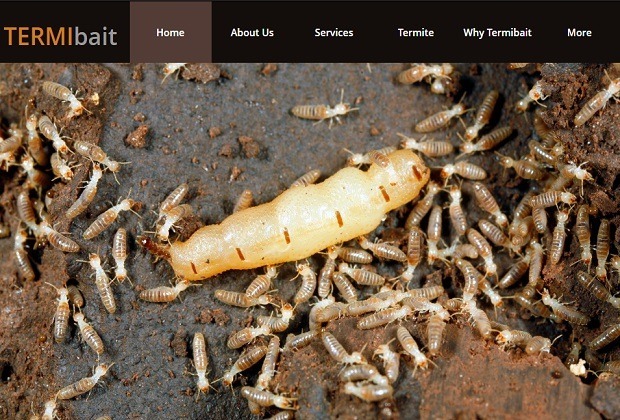 This company specializes in termite and pest control and management services for the hospitality, industrial, commercial, and residential sectors in Malaysia. In addition, they provide contract hygiene and cleaning services to complement the maintenance and upkeep of commercial spaces, particularly in the beverage and food industries, where hygiene and safety are top priorities.
Highlights:
Thermal Fogging Services
Ant Control Services
Cockroach Control Services
Termite Baiting and Control Services
Customer Reviews:
"Occasionally we see larva and consult them thinking it could be termites, but so far there have been none.They have very good knowledge of all types of insects, and simple treatment if possible . They are impressive!", shobana nadarajah
#7 – Ecoshield Pest Control Malaysia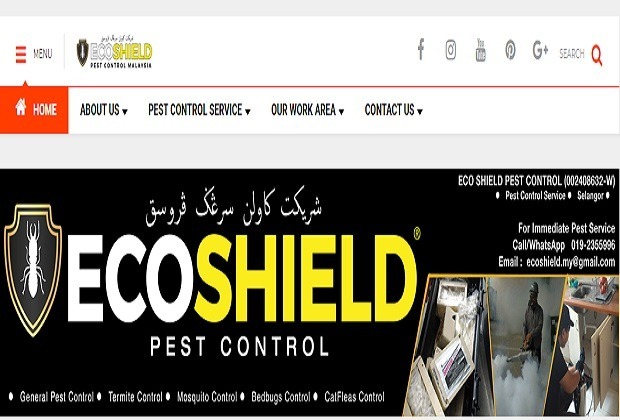 This company was registered and established on February 26, 2015, as a professional pest control service company. It specializes in protecting properties before pests become a serious problem. The company has extensive experience in providing comprehensive pest control services to local businesses and residences, especially in the Klang Valley area. Their teams only use high-quality treatments and pesticides that are safe for both household pets and people. Their pest control technicians are knowledgeable, certified, and trained in all termite and pest control problems. All of their technicians have been registered with the Lembaga Racun Makhuk Perosak.
Highlights:
General Pest Control Services
Bedbugs Control Services
Termite Control Services
Customer Reviews:
"Very good and fast service. Easy to deal with service person. Alhamdulillah after 1st service, bedbugs gone for good. Thanks for making my home better.", Fatihah Zulkifflee
Do you have other recommendations for us? If so, please share them.
Termite Control Guide & FAQ Guide & FAQ
Do Residents Have To Leave Their Homes During Termite Treatment?
Most termite treatments such as the application of liquid termite eradication chemicals and the laying of termite baits will not require that the residents of the home vacate the premises. However when there is a severe termite infestation then the pest controller might recommend structural fumigation - also known as tenting.
The entire home is covered in a specially designed tent and flooded with chemicals that will kill all termites in the structure. In cases like this, the residents might have to leave the home for periods of up to 60 hours. However, the final decision will rest with the professionals who are providing the termite control services.
How Often Should A Homeowner Apply Termite Treatment?
Termites can cause immense amounts of structural damage to a home - and if left untreated a termite infestation can quickly spiral out of control. For this reason, it is essential that the homeowner take proactive measures to ensure that termites are kept under control.
There are two types of treatment - the application of chemicals in liquid form and termite bait stations. Liquid termite treatments should be reapplied every five years and the bait stations will need to be replaced when they are depleted - usually every couple of months.
It is essential that the homeowner engage the services of a professional pest control company in order to ensure that termites are kept under control. These experts will be able to gauge the extent of the problem and advise of which treatment option is best.
How serious is termite damage?
Have you ever wondered how much damage a colony of termites could cause? On average, a large colony of termites may consume, in a 24 hour period, 1 pound of wood. This may not seem like a lot but over time it can add up and become a major concern.
Termite damage does not occur quickly. A colony of termites will slowly destroy and eat through your home's wooden structures. These insects may not be noticed for years until it is too late. The result could be thousands of dollars in damage. If you do not take appropriate action, then the repair bill could be enormous.
Click here for other local services related articles.
Latest posts by Aaron Tan
(see all)
This article was brought to you by BestAdvisor.my
Disclaimer: This is the opinion of the writer or publication. We only recommend products or services that we have tested and tried ourselves or have done in-depth research with positive external reviews and find them to be useful for everyone. The products/services shown are available upon the publication date. The availability may change from time to time. If some of them are not available, please email us at [email protected] Thank you!
Last Updated on