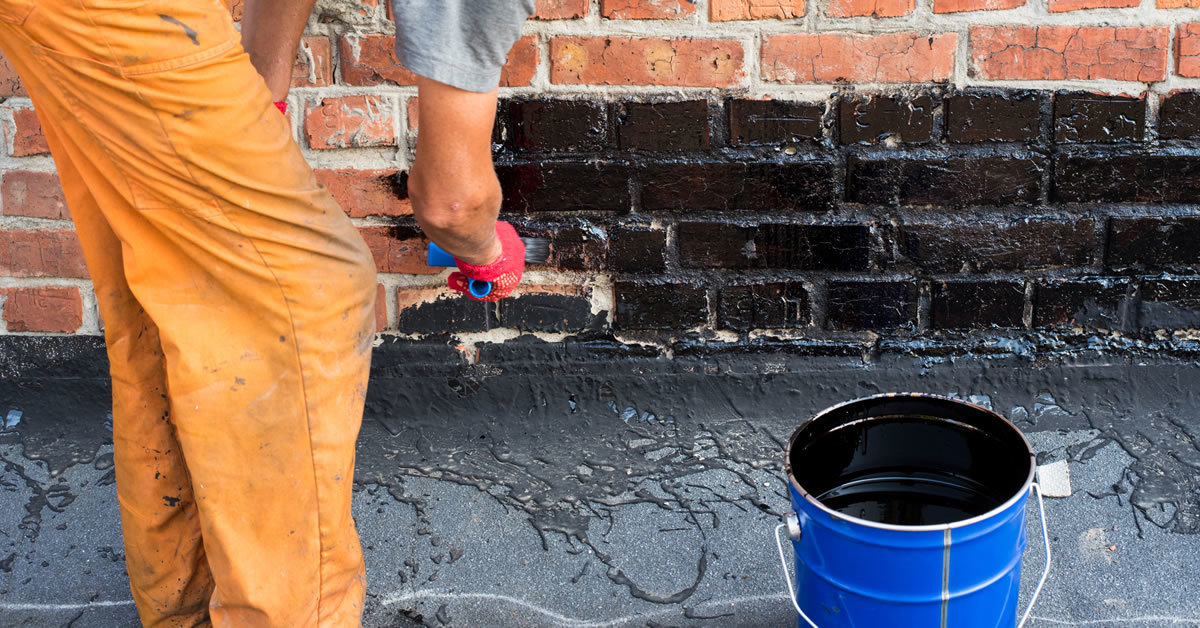 Are you searching for a waterproofing service company in KL, Malaysia?
It can be hard sometimes to find a good waterproofing company to handle all of your needs. We studied and reviewed the best Kuala Lumpur waterproofing services for a few days to help you save time.
We checked all of the waterproofing service companies on their reviews, reputation, customer satisfaction, and service rating. We then put a comprehensive list together of all of the top waterproofing service companies in Malaysia for your reference.
We have also shared frequently asked questions and our waterproofing service guide to consumers such as yourself.
Let's begin discussing the leading waterproofing services.
Best Waterproofing Service Companies in Malaysia.
Top Waterproofing Service Companies
#1 – Vseal Engineering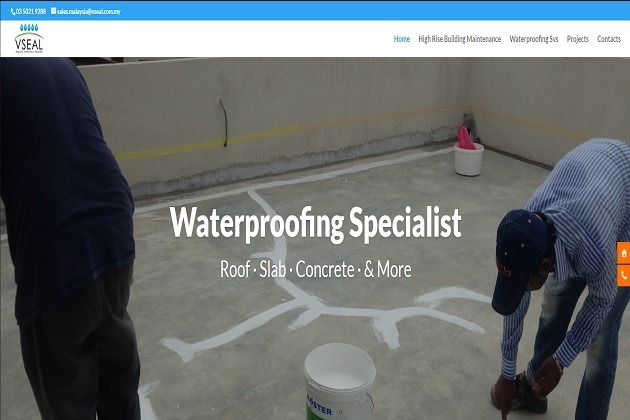 This company is a building maintenance and waterproofing services specialist contractor. They provide residential, commercial, and industrial services. Their team has over 20 years of experience in building maintenance and waterproofing. There is a dedicated team that is IRATA certified to provide High Rise Building Inspection and Maintenance. The team is well-versed and certified in abselling. Their top priority is always safety.
Highlights:
Free Consultation
One-Stop-Shop
Satisfaction Guarantee
Best For: Industrial, commercial, and residential
Website: https://vseal.com.my/
Address: A-5-10, Empire Tower SS16/1, Subang Jaya 47500, Selangor, Malaysia.
Contact: +6 03 5021 9289
Email: [email protected]
Customer Reviews:
"Fast and reliable service. They can come to your place for free inspection and provide you with the repair cost. They are very friendly and will explain to you what need to be done step by step.", Aaron Lee
"Very impressed with the professionalism of your staff Sean Soh. He was very thorough in his inspection and explained very clearly what was the actual cause of the water coming from the ceiling. It was not leakage but condensation issues.", Andrew Fernandez
#2 – XMaster Waterproofing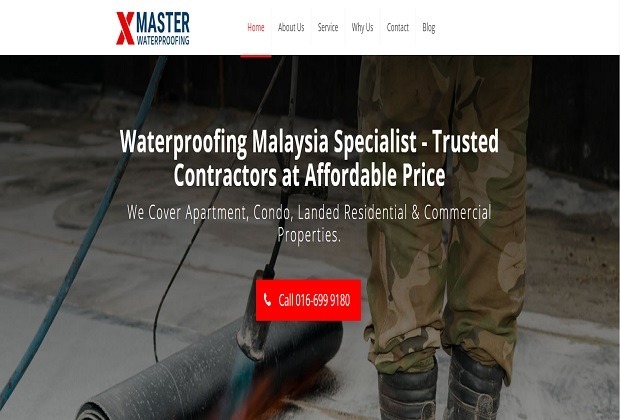 XMaster Waterproofing is best for Ceiling, Roofing, and Grouting projects.
The company has been assisting people in Malaysia with repairs and waterproofing for over 15 years. They understand that in Malaysia the demand for waterproofing services is very high. That is why they rose up to meet the challenge. Over the years, the company has built a very strong reputation and has worked hard at maintaining this reputation.
Highlights:
Time Sensitive
Reliable
Experienced
#3 – Mr Plumber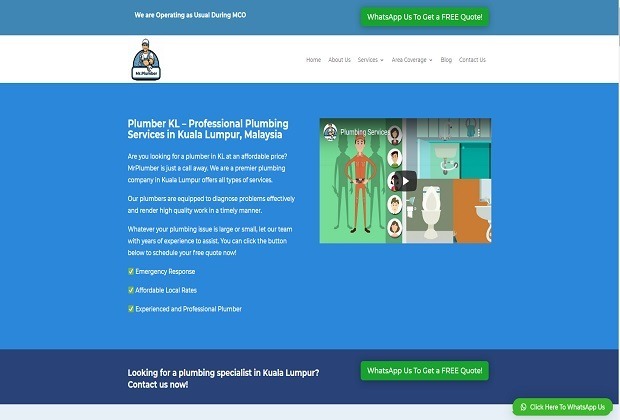 This company is a plumbing specialist located in Kuala Lumpur, Malaysia. They have a hardworking team full of industry experts who undergo continuous training and have many years of experience. Over the years, they have assisted hundreds of satisfied clients on both large and small projects, which has made them into a household name in Kuala Lumpur.
The company started out small but has grown rapidly as the firm earned the confidence and trust of its customers. They have a well-rounded team that is able to provide waterproofing services as well as the roof, water tank, and toilet repairs. The difference is they provide personalized service to fit individual needs.
Highlights:
Professional and Experienced Plumber
Affordable Local Rates
Emergency Response
#4 – Wega Waterproofing
This company was established in 2002. It has a mission of providing the highest quality waterproofing and water leakage services. They started with humble beginnings and have grown into a well-respected Water Leakage and Waterproofing repair company that offers the finest leak and waterproofing repair services. Over the years, Wega Waterproofing has worked with various construction industry players and specializes in providing different waterproofing solutions for exclusive and medium residential projects. Their contractors are experienced and well trained to handle all waterproofing requirements.
Highlights:
Free Quote
Outstanding business expertise and support
20 years of experience
Best For: Water leakage and waterproofing services
Website: http://wegawaterproof.com.my/
Address: No. 6, Jalan PTP 1/2, Taman Perindustrian Tasik Perdana 47100, Puchong, Selangor Darul Ehsan
Contact: +603 8066 3990
Email: [email protected]
#5 – CHEMIND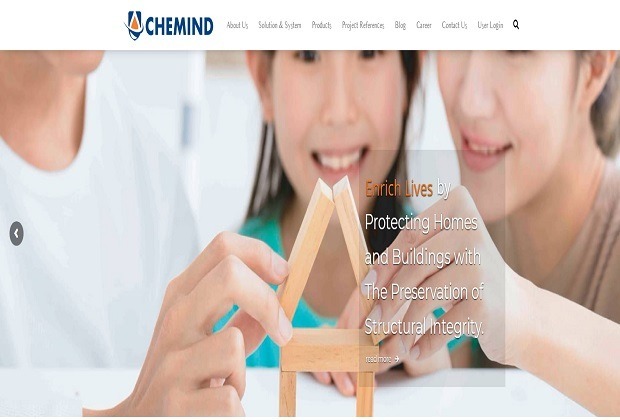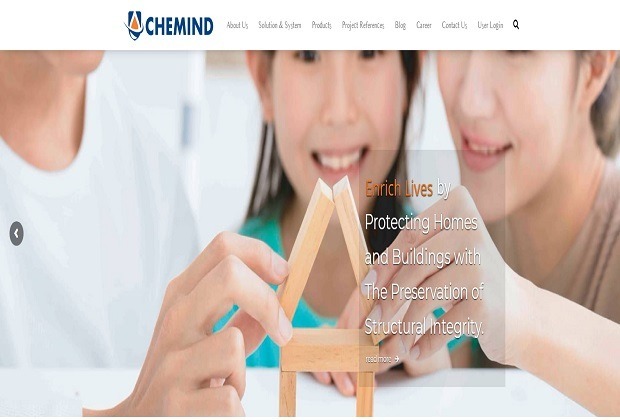 This company is a well-known regional leader when it comes to developing, manufacturing, distributing, and the application of various construction project which include the expansion and waterproofing of thermal insulation, industrial flooring, architectural coatings, joint solutions, along with structural repair and consultation for property owners, commercial developers, and governments.
Highlights:
Innovative
Integrity
Passion and Quality
Best For: Residential, commercial and civil structures
Website: https://chemind.com.my/
Address: No.8, Jalan Meranti Jaya 16, Taman Perindustrian Meranti Jaya, 47100 Puchong, Selangor Darul Ehsan.
Contact: + (6)03- 8066 4128
Email: [email protected]
Customer Reviews:
"Tried their recommended Chemflex R100 for waterproofing. Really pleased.", Bryan Hiew
#6 – KL1 Plumber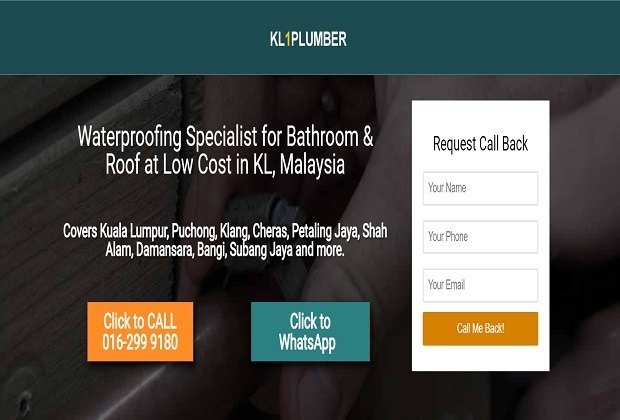 This service website is for a company that specializes in solving plumbing problems for Kuala Lumpur residents. A professional plumber will be sent out to complete the job and assess the quality of their services.
KL1 Plumber offers a comprehensive range of plumbing services covering installation, repair, and other related tasks. Clients located in all parts of Kuala Lumpur can receive their services. Their plumbers will arrive on time and are available for plumbing emergencies as well.
Highlights:
Quality Service
Licensed Professionals
The comprehensive range of professional services
Best For: Kuala Lumpur and the Klang Valley clients
Website: https://kl1plumber.com/waterproofing/
Address: 38-1, Jalan Metro Pudu 2, Fraser Business Park, Off Jalan Yew, Fraser Business Park, 55100 Kuala Lumpur, Federal Territory of Kuala Lumpur
Contact: +6016-299 2233
Email: [email protected]
Customer Reviews:
"Deserve the price for such a good service being provided. Just request for plumbing service this morning for my clogged drains, guess what, they reached in 15 minutes and solved my problem efficiently. Great service.", Ember wang
"The two gentleman were very professional and installed our new toilet were fast and very efficient. It would have taken us hours . Appreciate your quick response.", Irvin Choo
#7 – Bio Focus Sdn Bhd Water Proofing Specialist
This waterproofing company is located in Kuala Lumpur and has been in the waterproofing business for a very long time. It has come a long way from its start as a small waterproofing company providing repairs and installations of waterproofing systems for both commercial and residential properties in Selangor and Kuala Lumpur.
The waterproofing company over the years has obtained extensive knowledge and experience to expand its expertise and provide maintenance, repair, and installation services for waterproofing systems in Selangor and Kuala Lumpur.
Highlights:
Budget-friendly, reliable, and high-quality
Well-known for being a one-stop-shop for waterproofing services and products
Works very closely with all of its customers
Do you have any suggestions for us? If so, please share them here with us.
Waterproofing Service Guide & FAQ
Which chemical is best for waterproofing?
No building or structure is completely impervious to water damage. However, chemical waterproofing can help to preserve your building and keep it looking good for a longer period of time. The best chemical waterproofing will depend on the type of structure you want to protect.
Some of the better waterproofing chemicals include a proxy and grout injection, polyurethane liquid, vinyl ester resin, bituminous waterproofing, permeability reducing admixtures, and crystallization waterproofing. The key to choosing the right waterproofing chemical is to contact a total restoration company and have one of their experienced representatives visit your site. They will be able to provide you with the best method for your structure.
Different Types Of Waterproofing
Waterproofing has been around for ages and evolved through the decades. It is meant to protect structures from water ingress and can be done using the following techniques.
1. Cementitious Waterproofing
It is a relatively straightforward (mix and apply)cement-based solution. You can enhance the bonding by mix the cement product with an acrylic additive for a more solid and long-lasting coating.
2. Liquid Waterproofing
It is done using a fully bonded, monolithic liquid coating that cures into a rubbery membrane. That means it can be stretched and return to its original shape.
3. Bituminous Waterproofing
It is made of highly sticky and viscous organic liquids such as coal-tar or asphalt, designed to provide a robust but flexible protective coating.
4. Polyurethane Waterproofing
It is an easy installation, two-part waterproofing application. It made of a base (polyol) and rector (isocyanide), forming a liquid coating that provides a seamless, durable finish.
How do I prepare for waterproofing?
When it is time to think about waterproofing, it's essential to clean up the area and make sure everything is sealed.
This will make it easier to complete the task and make sure it works out as intended. There are several layers to the task, and it's best to apply tape in the corners and ensure everything is ready to go.
By doing this, you are going to have a much easier chance of seeing good results and that is critical when it comes to long-term results. Good waterproofing can go a long way when you are prepared properly and done your homework.
What's The Process Of Waterproofing?
Waterproofing entails the use of specialized coatings that are layered on top of the target surface to ensure it is waterproof. To create this water-resistant finish, it's also possible for structural changes to be made to the area to ensure water doesn't stand in one place for too long.
This is common with rooftops and other elements of a traditional property.
The waterproofing phase also entails planning with a focus on making sure the water doesn't run where it shouldn't. This is a key detail to think about when it comes to creating a long-term solution for keeping water out.
Click here for other local services related articles.
Latest posts by Aaron Tan
(see all)
This article was brought to you by BestAdvisor.my
Disclaimer: This is the opinion of the writer or publication. We only recommend products or services that we have tested and tried ourselves or have done in-depth research with positive external reviews and find them to be useful for everyone. The products/services shown are available upon the publication date. The availability may change from time to time. If some of them are not available, please email us at [email protected] Thank you!
Last Updated on