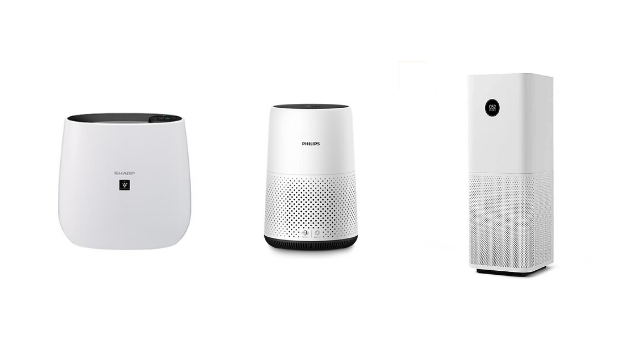 An air purifier is an essential appliance that has become a necessity in today's world. With the increased pollution and other factors, people need to take measures to keep their homes fresh and healthy. Air purifiers offer a lot of benefits such as removing allergens from the air, killing bacteria, reducing odours (such as cigarette smoke), improving allergies or asthma symptoms and more. There are many brands that make great products but not all of them will suit your needs.
This blog post lists 7 of the best air purifiers available in Malaysia for you to choose from in 2022 with reviews on each one.
Table of Contents
Best Air Purifiers

Top Air Purifier Brands in Malaysia
Factors To Consider When Purchasing the Best Air Purifier
Reasons To Buy An Air Cleaner & Purifier
FAQs
Air Purifiers Comparison Table
(scroll right for more)
7 Best Air Purifiers (with budget options) in Malaysia
Our top seven recommendations for air purifiers available in Malaysia are listed below.
1. Levoit 3002 Smart Air Purifier
App control
The Levoit Core 300S Air Purifier is the perfect solution for maintaining a clean, healthy, safe home environment. This air purifier has a range of features that make this product stand out from the rest. It boasts an Energy Star, CARB, and FCC certification, CA Prop 65 compliance and ETL listing, so you can rest assured that you are getting a reliable and safe product.
The air purifier also utilizes the ARC Formula, Vortexair Technology, AirSight™ Plus Technology and QuietKeep Technology to capture up to 99.97% of airborne particles 0.3 microns in size. This helps neutralize odours and fumes, improving your home's air quality. The Levoit Core 300S only uses 23W of power, making it highly energy efficient and economical. The smart control allows you to connect the purifier to your smartphone via the Vesync App to control its settings.
The Levoit Core 300S Air Purifier is a great product that ensures you are inhaling only clean air. With this product, you will also be doing your part to help reduce your impact on the environment. So if you are looking for an effective and reliable air purifier, this is definitely one to consider.
Pros:
Performance tested by Energy Star, CARB, FCC certified, CA Prop 65 compliant and ETL listed.
Connected to the free VeSync app for convenient smart functions and voice control.
ARC Formula and VortexAir Technology for a CADR of 240m³ per hour.
QuietKeap Technology with noise levels as low as 22dB for a peaceful sleep.
Cons:
Not able to remove heavy odours
It can be quite loud when set to maximum speed
Not powerful enough to purify large rooms
Check prices on Lazada
Check prices on Shopee
2. IQAir HealthPro 250NE
Medical Grade
The IQAir HealthPro 250NE Air Purifier is a great choice for homeowners looking for an air purifier that can effectively remove airborne particles from the home. Its HyperHEPA filtration technology is proven to filter 99.95% of harmful ultrafine pollution particles down to 0.003 microns in size. This includes critical biologicals, like SARS-CoV-2, the virus that causes COVID-19. Best of all, the HealthPro Series has even been awarded the Seal of Approval from the Parent Tested Parent Approved organisation, which provides families with products specially designed to help those with serious allergies and asthma issues.
What really sets the IQAir HealthPro 250NE apart is its advanced filtration system that is individually tested at the factory. This ensures that each unit performs up to the highest standards so that you can trust that every air purifier delivers top-notch results. Additionally, it is a quiet device that won't disrupt your home's ambience. Its sleek design makes it a great addition to any room's décor.
This is ideal for homeowners looking for an effective and efficient air purifier. With its superior filtration system and easy-to-use design, you can trust that your family will breathe cleaner and healthier air in no time. So if you're in the market for an air purifier that can truly remove harmful particles from your home, then you should give the IQAir HealthPro 250NE a try!
Pros:
Proven to filter critical biologicals, including SARS-CoV-2, the virus that causes COVID-19
HyperHEPA filtration technology tested and certified to filter 99.95% of harmful ultrafine pollution particles down to 0.003 microns in size
Individually tested each HealthPro Series at the factory to verify 99.97% cleaner air or better
Recognised for its ability to reduce allergens, including Seal of Approval from PTPA (Parent Tested/Parent Approved) for those with severe allergy and asthma problems
Cons:
High cost and energy use
Not completely silent
Check prices on Lazada
3. Sharp FPJ30LB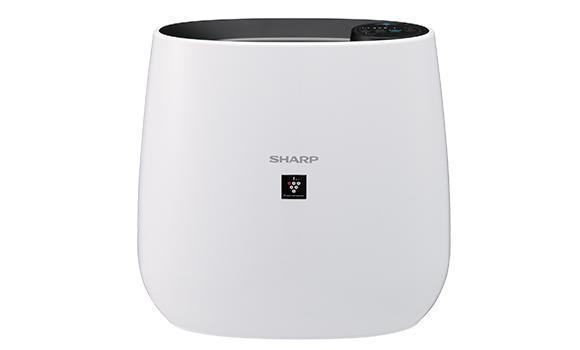 Energy Efficient
The Sharp FPJ30LB Room Air Purifier is an excellent alternative to traditional air purifiers. The Plasmacluster technology eliminates airborne microbes, mould, viruses, and environmental allergens. The 3-step dust collection system quickly and efficiently collects dust particles to keep the air clean. At the same time, the HEPA filters capture any other airborne particles.
In addition, the Haze mode is powerful enough to collect haze particles, while the deodorizing filter can reduce odours such as cigarette smoke, pet odour and VOCs. The air purifier is also easy to use, as it has an LCD display and a clear filter indicator, letting you know when it's time to replace the filters. With its low noise level, you can rest assured that your living environment will be comfortable and peaceful.
For anyone looking for an effective and efficient way to keep the air in their home clean and safe, the Sharp FPJ30LB Room Air Purifier is a great way to do just that. It is an excellent tool for anyone looking to reduce allergens and improve air quality for their family and guests. So don't wait any longer – make the smart choice and get one today!
Pros:
Removes mould, viruses, allergens, odours, and static electricity
Powerful air suction and unique airflow quickly and efficiently collect dust and other particles
Plasmacluster technology effectively purifies the air leaving it cleaner and healthier
High-performance HEPA filters capture airborne dust particles and deodorize clinging odours
Cons:
Expensive Price tag
Not suitable for large spaces
Check prices on Lazada
Check prices on Shopee
4. Xiaomi Smart 2S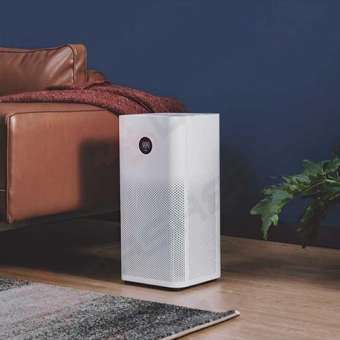 Smartphone Controlled
Want your home to feel like a spa resort? You need the Smart Air Purifier 2S! If you're looking for an air cleaner that can work, this is the one. With its 360-degree filter and excellent suction, it's tough to find another cleaner of on-par quality that's even close to being as quiet as the Xiaomi. And don't worry about any sneaky allergens or troublesome dust mites – the Smart Air Purifier has got those pesky particles covered thanks to its new triple-layer fabric filters! Learn more options for remove dust.
Pros
Whole-room air purification in as little as 10 minutes
A 360° triple-layer filter
Eliminates allergens and particles.
Sleep better at night without worrying about allergies or dust mites.
Thanks to the smart technology incorporated into the design, you can keep track of the air quality in your home with your smartphone or another connected device. These models are quite famous and are selling out quickly. Grab one here before they are gone.
Check prices on Lazada
Check prices on Shopee
5. Philips AC0820/30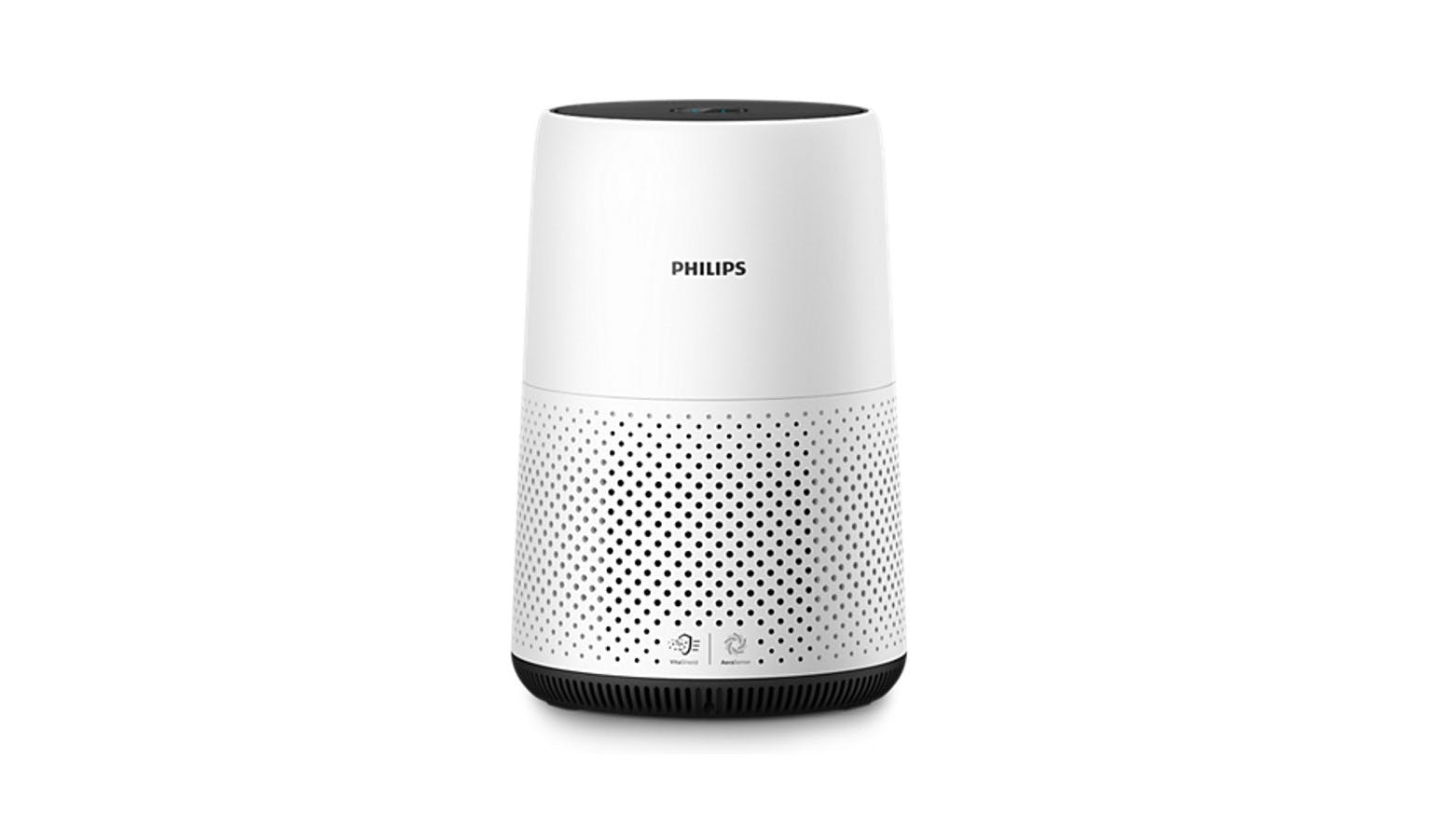 Intelligent Design
If you are a homeowner looking for a powerful air purifier to keep your home healthy and clean, the Philips AC0820/30 Air Purifier is an excellent choice. It is designed to capture up to 99.5% of particle removal as small as 0.003um, including 99.9% of the H1N1 Virus and 99% of bacteria, making it extremely effective at filtering pollutants from the air in your home. The patented CADR (Particle) technology helps to ensure that the air you breathe is always fresh and clean.
The Philips AC0820/30 Air Purifier is also very energy efficient, with a noise level of only 35-61 dB(A). It is very quiet, so it won't disturb your sleep or work. It also has a timer feature that allows you to set the purifier to turn on or off at specific times of the day. This ensures that you always breathe clean air in your home, no matter what time it is.
Its advanced filtration capabilities and high energy efficiency rate can help keep your home healthy and clean. Don't wait any longer – get the Philips AC0820/30 Air Purifier today and breathe easy knowing that you and your family are breathing in clean air.
Pros:
Filters out 99.5% of particles as small as 0.003 μm
Captures 99.9% of H1N1 Virus and 99% of bacteria
High Energy Efficiency rate with a recommended filter lifetime of 12 months
Cons:
Not suitable for rooms above 49m²
Low CADR of 190 m³/h
You can get this Philips air purifier at a discounted price here.
Check prices on Lazada
Check prices on Shopee
6. Blueair Blue Pure 411+

The Blueair Blue Pure 411+ Air Purifier is ideal for any home. Its three-part filtration system and HEPAsilent™ technology work together to provide an ultra-quiet yet incredibly effective air purification process. The machine remains whisper-quiet even on maximum settings, earning it the Quiet Mark award, so you can enjoy a perfect environment without the noise. Additionally, the pre-filter is washable, so you can extend the lifespan of your filter before needing to replace it.
The benefits of using the Blueair Blue Pure 411+ Air Purifier are endless. From eliminating odours to removing airborne particles like dust, smoke, and pollen, this device is sure to create a much healthier home environment and breathe easy! This machine not only cleans the air but is also aesthetically pleasing, so it won't disrupt your home's style.
Its features will effectively purify any air and keep the air in your home clean and healthy. Don't let harmful pollutants continue to accumulate in your home – invest in a quality air purifier today and start seeing the benefits right away!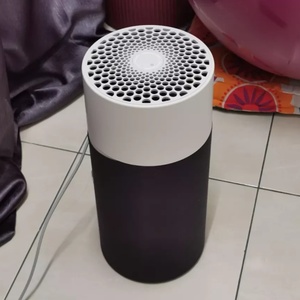 Pros:
Three-part filtration combining fabric pre-filter activated carbon filter and main particle filter
Unique HEPASilent™ filtration technology for quieter and more efficient air purification
Quiet Mark awarded for less noise disruption
Easy filter change with built-in LED warning system
Cons:
Relatively high cost compared to other air purifiers
It can be noisy at the highest setting
Filter needs to be replaced every 6 months
Check prices on Lazada
Check prices on Shopee
7. Deerma F370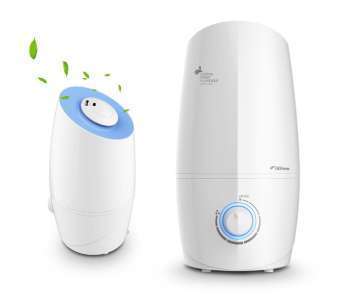 Best for Small Spaces
The Deerma F370 Air Purifier is perfect for any small space or home. It's powerful enough to filter out up to 99.97% of airborne pollutants, including dust, pollen, and bacteria, so you can breathe cleaner air in your living spaces. The independent space for essential or aroma oils makes it an excellent choice for aromatherapy. Plus, it works quietly with an ultrasonic operation, so you can keep it on during the day and night without annoying noise.
With adjustable mist control and variable settings, the Deerma F370 Air Purifier can be customized to suit different spaces. The zero radiation feature protects you from any radiation risks, which is important for your safety and the environment. This device is an excellent choice if you're looking for an energy-efficient way to purify your air without breaking your budget.
With all these great features, the Deerma F370 Air Purifier is a must-have for any home or small space owner. If you want to enjoy cleaner air with a lightweight, energy-efficient air purifier, this is the perfect choice for you. Invest in the Deerma F370 Air Purifier today and start breathing better air tomorrow.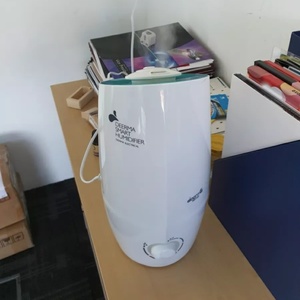 Pros:
Whisper-quiet ultrasonic operation
Variable and adjustable mist control
Zero radiation
Automatic shut-off safety feature when the water tank is empty
Cons:
The product is not suitable for large spaces.
No remote control included.
No air quality monitors.
Check prices on Lazada
Top Air Purifier Brands:
Levoit
A go-to brand anyone can run to when you desire fresher and cleaner air for their home is Levoit. Although they were only established back in 2017, they've made it their mission to make every room feel clean and relaxing with ten different air purifiers along with humidifiers and even salt lamps!
IQAir
IQAir is more than an Air Purifier brand; they are an entire organisation whose sole mission is to help lessen air pollution. They study the science of air and create technology that keeps anyone safe from air pollution. Not only that, but they also have a free real-time air quality detector on their website. Not only that, but they also connect with environmental organisations to create an air purifier suitable for the medical environment
Sharp
Everyone is familiar with Sharp, the leading electronic brand in Malaysia! Their goal is to connect Malaysia to the world. Even as the years go by, Sharp continues to be a competitive brand worldwide. In getting an air purifier from this brand, ensure you can be sure that it was made with the environment in mind with Sharp's mission to continue thinking green.
Xiaomi
With anything "smart", we run to Xiaomi, and this is not any different when it comes to air purifiers! Xiaomi's innovation in technology provides consumers with a more convenient way of living, which involves monitoring your home's air quality!
Factors To Consider
Choosing the best air purifier for your home can be a difficult task. There are of course many factors to consider when making this decision, such as where to put it, but here is some advice from an expert on how you might go about it:
First off, there are different types of filters available and each one has its own set of pros and cons- so make sure that if you buy a HEPA filter type (the most popular due to their efficiency) then also purchase what they call pre-filters as well. These will need replacing every year or so at least–so just keep in mind these costs too! Some people like having ozone generators included with their purifiers because they believe it's more natural than chemicals being used in other brands. Be aware that they don't smell very pleasant when they're working, and also it takes time to produce enough ozone for a large room.
One way to assure that you buy the right type is to research reviews of each one online or in stores. Below I have provided a list of things you should consider when looking at purchasing an air purifier for your home.
Energy Star Rating – Rated between 0 to 100 with a higher number meaning better energy efficiency. The ones that are in the 80-90+ range will use less electricity while operating than those at the bottom.
Filter Type and Size – HEPA is the most common and most efficient at removing pollutants from the air. Size is measured by square feet of coverage, so if you have a 3 bedroom home then you should select one in the 720-1600 range. Air purifier for asthma usually consists of a HEPA filter.
Cost – There are many different types of air purifiers available for purchase including stand alone units or combination with other products like humidifiers, etc. So it's important here to consider what you're looking for and not just base your decision on price alone.
The Top Reasons To Buy An Air Cleaner & Purifier
When it comes to electronic appliances, air purifiers are a good investment. Even though you may need to spend a little bit of money to get a high-quality device, the investment is worthwhile. Devices like these do a great job of cleaning and purifying the air and removing smoke. Best of all, they do it automatically, which is essential with how busy life is these days.
Investing in an air purifier is particularly important for anyone who has a new baby. It is important to make sure that the baby has clean air to breathe when they are moving from the nursery at the hospital into their home.
The vast majority of air purifiers are extremely energy-efficient. That means that they usually won't increase your monthly electrical bill, even if you leave them on during the night.
Related read: Air Purifiers Vs. Air Conditioners: What's the Difference?
FAQs
What is an Air Purifier?
Air purifiers cleans and purifies the air around the room, which is very important especially if you have a baby in the house.
How do I choose an air purifier? 🙂
Consider the space you have in the room and it fits your budget. You can also choose if you want a built-in aroma diffuser or not.
How much does an air purifier cost?
The price usually starts at RM200-300 onwards
Are air purifiers really worth it?
They are! This is especially during these times in which an airborne virus is causing a pandemic. Having a cleaner air quality ensures a healthier respiratory system too!
Conclusion:
Air purifiers offer many benefits, such as removing allergens from the air, killing bacteria, reducing odours, improving allergies or asthma symptoms. These are just a few of the reasons they have become so essential in today's world and why it is important to find one that suits your needs best. So what kind do you want? There are tons of great brands on the market now for all sorts of budgets. Think about how much space you need and the filter size before making your decision!
Click here for other home appliances related articles.
This article was brought to you by BestAdvisor.my
Disclaimer: This is the opinion of the writer or publication. We only recommend products or services that we have tested and tried ourselves or have done in-depth research with positive external reviews and find them to be useful for everyone. The products/services shown are available upon the publication date. The availability may change from time to time. If some of them are not available, please email us at [email protected] Thank you!
Last Updated on