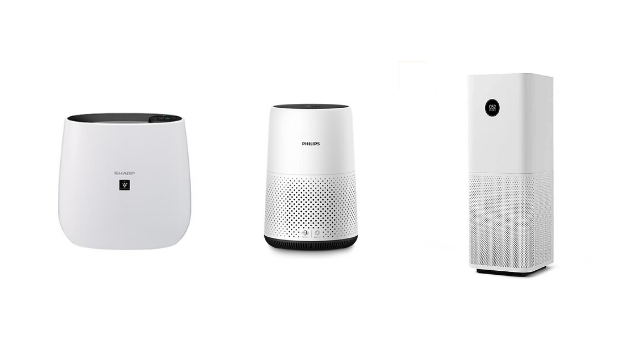 An air purifier is an essential appliance that has become a necessity in today's world. With the increased pollution and other factors, people need to take measures to keep their homes fresh and healthy. Air purifiers offer a lot of benefits such as removing allergens from the air, killing bacteria, reducing odours (such as cigarette smoke), improving allergies or asthma symptoms and more. There are many brands that make great products but not all of them will suit your needs.
This blog post lists 7 of the best air purifiers available in Malaysia for you to choose from in 2022 with reviews on each one.
Table of Contents
Best Air Purifiers

Top Air Purifier Brands in Malaysia
Factors To Consider When Purchasing the Best Air Purifier
Reasons To Buy An Air Cleaner & Purifier
FAQs
Air Purifiers Comparison Table
(scroll right for more)
7 Best Air Purifiers (with budget options) in Malaysia
Our top seven recommendations for air purifiers available in Malaysia are listed below.
1. Levoit 3002 Smart Air Purifier
App control
Powerful air purification that kills 99.9% of airborne particles 0.3 μm or smaller, including dust mites and pet dander, for healthier living and better health! Increase concentration of clean air in your home by adding the optional Ultraviolet Germicidal Lamp module (UVGL). Filters at low speeds to avoid mechanical problems such as fans and motor noise.
Pros
It only uses 15 watts of power

Operates for up to 22db

Smart sensor that keeps you updated with your air quality
Cons
On the pricier side for a smaller air purifier
Check prices on Lazada
Check prices on Shopee
2. IQAir HealthPro 250NE Air Purifier
Medical Grade
If you're looking for an air purifier that is top of the line, look no further than IQAir HealthPro 250NE. This cleaner is made of Swiss quality and has high-performance cleaning power. It's also trusted by hospitals and has a long track record of success. Plus, it doesn't produce any ozone, making it an excellent option for those with sensitivities.
Pros:
Focuses on providing immaculate air

It was used during the SARS breakout

It kills 99.9% of airborne bacteria
Cons:
Very pricey

More suitable for bigger spaces rather than households
Check prices on Lazada
3. Sharp FPJ30LB Room Air Purifier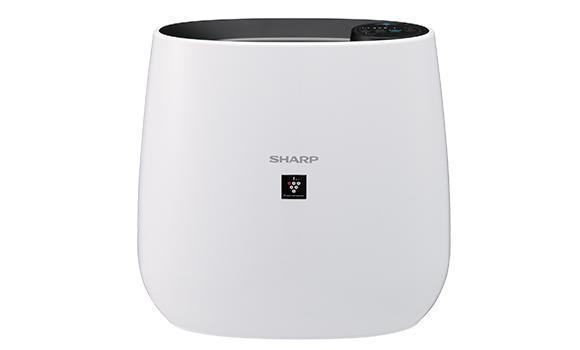 Energy Efficient
The FPJ30LB room air purifier delivers clean, healthy air with no issues thanks to its advanced plasmacluster ions that minimize odours as well as some types of airborne germs. The ability to adjust the speed of the fan and excellent energy efficiency makes this appliance one of a kind. Not only does it have an unobtrusive design with a small footprint, but it also has a special setting for haze mode so you can make sure that your air is nice and misty when atmospheric conditions require it.
We know how much you care about your breathing and wish for cleaner, more breathable air; Sharp provides you just what you need in the form of this remarkable device
Pros:
Remove 99% of odours and some types of airborne germs.
Clean the air in a room up to 10x faster than an ordinary fan.
Filter out allergens, smoke particles, pet dander and other harmful pollutants from the air you breathe.
Sleep better at night knowing your family is breathing cleaner air
Check prices on Lazada
Check prices on Shopee
4. Xiaomi Smart Air Purifier 2S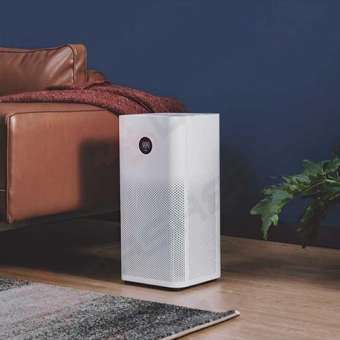 Smartphone Controlled
Want your home to feel like a spa resort? You need the Smart Air Purifier 2S! If you're looking for an air cleaner that can work, this is the one. With its 360-degree filter and excellent suction, it's tough to find another cleaner of on-par quality that's even close to being as quiet as the Xiaomi. And don't worry about any sneaky allergens or troublesome dust mites – the Smart Air Purifier has got those pesky particles covered thanks to its new triple-layer fabric filters!
Pros
Whole-room air purification in as little as 10 minutes
A 360° triple-layer filter
Eliminates allergens and particles.
Sleep better at night without worrying about allergies or dust mites.
Thanks to the smart technology incorporated into the design, you can keep track of the air quality in your home with your smartphone or another connected device. These models are quite famous and are selling out quickly. Grab one here before they are gone.
Check prices on Lazada
Check prices on Shopee
5. Philips AC0820/30 Air Purifier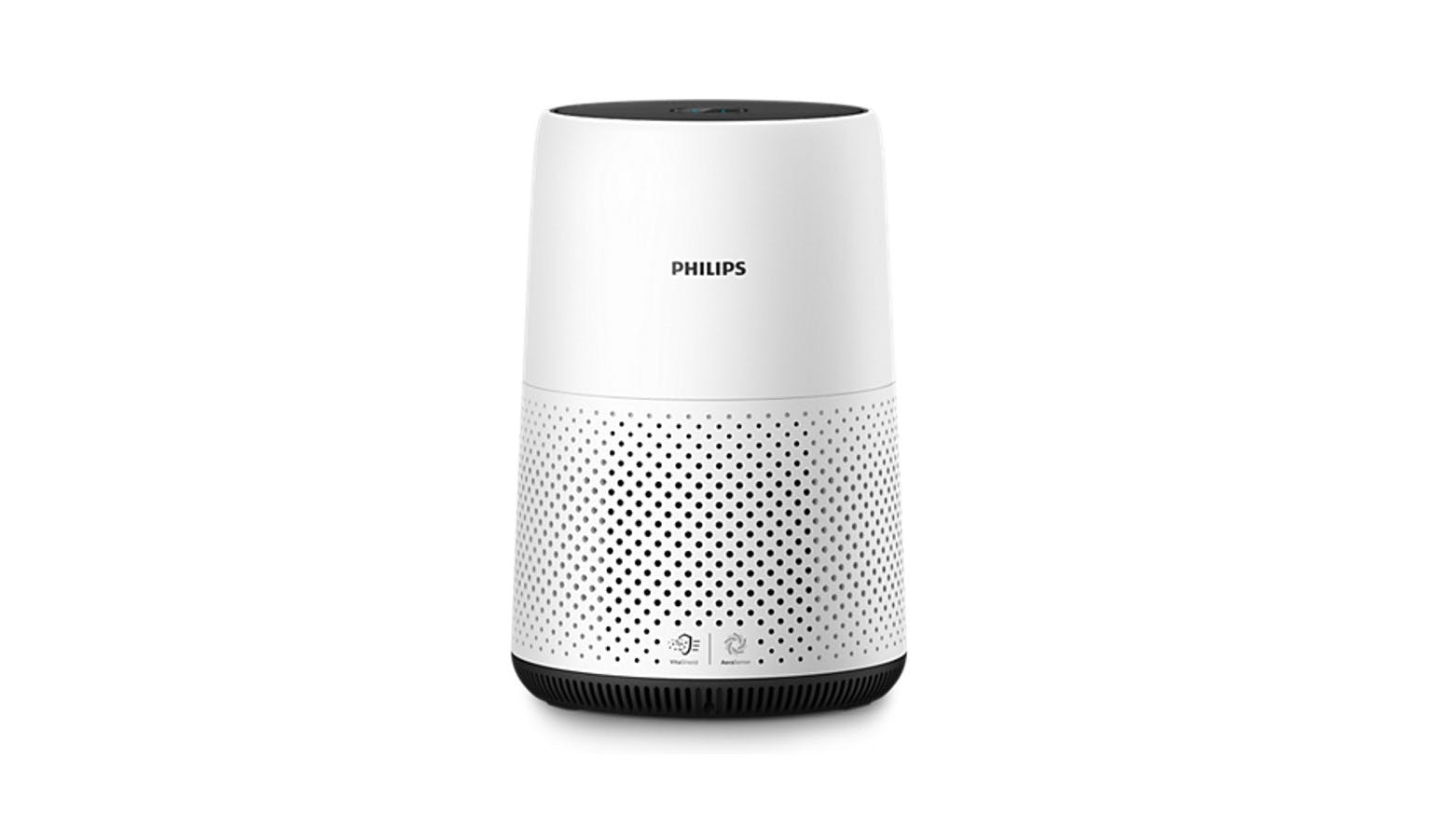 Intelligent Design
The Philips AC0820/30 is an all-in-one purifier set to significantly improve your indoor living space. Designed with intelligent features, this product helps remove ultrafine particles and other pollutants not only from the air but also from surfaces such as furniture or carpets. From allergies and asthma to improving the overall feeling in your home, it's time to enhance your life with a Philips purifier that will give you back peace of mind.
Pros
Helps remove ultrafine particles and other pollutants from the air.
Built in light indicators to monitor air quality.
Removes odors and makes your home smell fresh again.
You can get this Philips air purifier at a discounted price here.
Check prices on Lazada
Check prices on Shopee
6. Blueair Blue Pure 411+ Air Purifier

The perfect small room air purifier, the Blueair Blue Pure 411+ is attractive, effective, and affordable. Three-part filtration removes 99.97% of airborne particles, including pollen, smoke, and pet dander.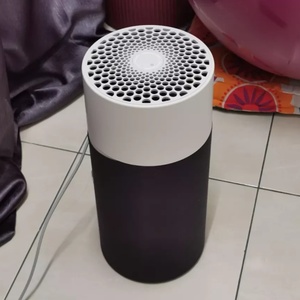 Pros
Powerful filtration

Find the perfect colour for you

Silent operation

.
Check prices on Lazada
Check prices on Shopee
7. Deerma F370 Air Purifier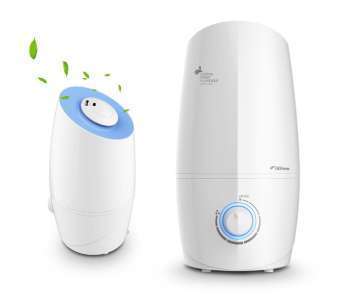 Best for Small Spaces
Deerma's 370 is perfect for people with allergies, asthma, pets, and kids. With nano silver technology that kills 99% of viruses and bacteria, you can have a healthy house no matter how many different people or animals are inside! The adjustable mist volume ensures the air purifier doesn't need to be in your bedroom while you're sleeping at night. Deerma has done it again: an easy-to-use, effective air filter without the high price tag of so many other single room units available on the market today.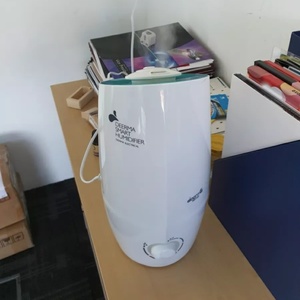 Pros
Safe for infants, young children, and pregnant women
Protects against allergies, asthma, and pet dander
Kills 99% of viruses and bacteria
Adjustable mist volume so you don't need to sleep with the purifier in your bedroom
Check prices on Lazada
Top Air Purifier Brands:
Levoit
A go-to brand anyone can run to when you desire fresher and cleaner air for their home is Levoit. Although they were only established back in 2017, they've made it their mission to make every room feel clean and relaxing with ten different air purifiers along with humidifiers and even salt lamps!
IQAir
IQAir is more than an Air Purifier brand; they are an entire organisation whose sole mission is to help lessen air pollution. They study the science of air and create technology that keeps anyone safe from air pollution. Not only that, but they also have a free real-time air quality detector on their website. Not only that, but they also connect with environmental organisations to create an air purifier suitable for the medical environment
Sharp
Everyone is familiar with Sharp, the leading electronic brand in Malaysia! Their goal is to connect Malaysia to the world. Even as the years go by, Sharp continues to be a competitive brand worldwide. In getting an air purifier from this brand, ensure you can be sure that it was made with the environment in mind with Sharp's mission to continue thinking green.
Xiaomi
With anything "smart", we run to Xiaomi, and this is not any different when it comes to air purifiers! Xiaomi's innovation in technology provides consumers with a more convenient way of living, which involves monitoring your home's air quality!
Factors To Consider When Purchasing the Best Air Purifier
Choosing the best air purifier for your home can be a difficult task. There are of course many factors to consider when making this decision, such as where to put it, but here is some advice from an expert on how you might go about it:
First off, there are different types of filters available and each one has its own set of pros and cons- so make sure that if you buy a HEPA filter type (the most popular due to their efficiency) then also purchase what they call pre-filters as well. These will need replacing every year or so at least–so just keep in mind these costs too! Some people like having ozone generators included with their purifiers because they believe it's more natural than chemicals being used in other brands. Be aware that they don't smell very pleasant when they're working, and also it takes time to produce enough ozone for a large room.
One way to assure that you buy the right type is to research reviews of each one online or in stores. Below I have provided a list of things you should consider when looking at purchasing an air purifier for your home.
Energy Star Rating – Rated between 0 to 100 with a higher number meaning better energy efficiency. The ones that are in the 80-90+ range will use less electricity while operating than those at the bottom.
Filter Type and Size – HEPA is the most common and most efficient at removing pollutants from the air. Size is measured by square feet of coverage, so if you have a 3 bedroom home then you should select one in the 720-1600 range.
Cost – There are many different types of air purifiers available for purchase including stand alone units or combination with other products like humidifiers, etc. So it's important here to consider what you're looking for and not just base your decision on price alone.
The Top Reasons To Buy An Air Cleaner & Purifier
When it comes to electronic appliances, air purifiers are a good investment. Even though you may need to spend a little bit of money to get a high-quality device, the investment is worthwhile. Devices like these do a great job of cleaning and purifying the air. Best of all, they do it automatically, which is essential with how busy life is these days.
Investing in an air purifier is particularly important for anyone who has a new baby. It is important to make sure that the baby has clean air to breathe when they are moving from the nursery at the hospital into their home.
The vast majority of air purifiers are extremely energy-efficient. That means that they usually won't increase your monthly electrical bill, even if you leave them on during the night.
related read: Air Purifiers Vs. Air Conditioners: What's the Difference?
FAQs
What is an Air Purifier?
Air purifiers cleans and purifies the air around the room, which is very important especially if you have a baby in the house.
How do I choose an air purifier? 🙂
Consider the space you have in the room and it fits your budget. You can also choose if you want a built-in aroma diffuser or not.
How much does an air purifier cost?
The price usually starts at RM200-300 onwards
Are air purifiers really worth it?
They are! This is especially during these times in which an airborne virus is causing a pandemic. Having a cleaner air quality ensures a healthier respiratory system too!
Conclusion:
Air purifiers offer many benefits, such as removing allergens from the air, killing bacteria, reducing odours, improving allergies or asthma symptoms. These are just a few of the reasons they have become so essential in today's world and why it is important to find one that suits your needs best. So what kind do you want? There are tons of great brands on the market now for all sorts of budgets. Think about how much space you need and the filter size before making your decision!
Click here for other home appliances related articles.
This article was brought to you by BestAdvisor.my
Disclaimer: This is the opinion of the writer or publication. We only recommend products or services that we have tested and tried ourselves or have done in-depth research with positive external reviews and find them to be useful for everyone. The products/services shown are available upon the publication date. The availability may change from time to time. If some of them are not available, please email us at [email protected] Thank you!
Last Updated on