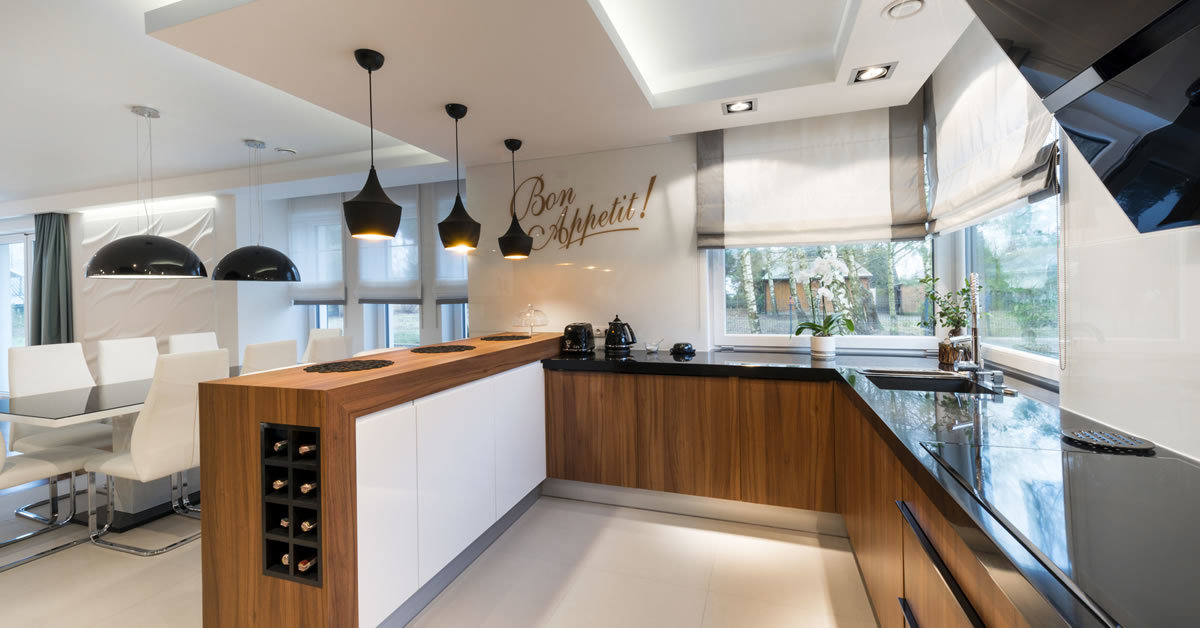 Are you looking for an interior design company in Klang Valley, Malaysia?
Getting the right interior designer to help you with your needs is not easy. We spent a couple of days studying and reviewing the best interior designer in Kuala Lumpur to save your time.
We check each interior design service firm on their reputation, service rating, reviews and customer satisfaction. Then, we made a comprehensive list of all the best interior design companies for your ready reference.
We also share the interior design guide and frequently asked questions from consumers like you.
Let's start with the top interior designers now.
Top Interior Design Companies in Malaysia
#1 – Houz Design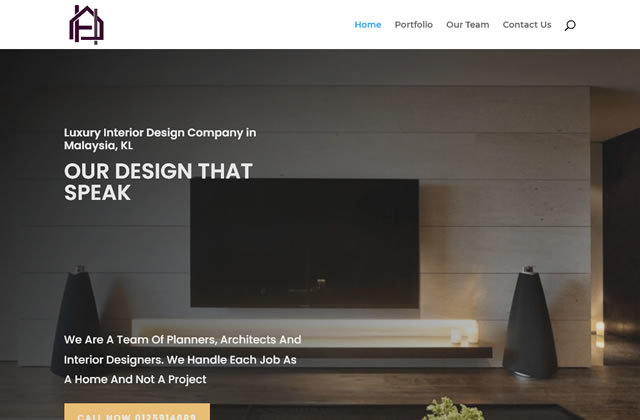 This leading construction and interior design practice firm specializes in designing bespoke and luxury commercial and residential interior designs for prime Melbourne Australia and Klang Valley Malaysia properties in addition to high profile international clients from all over the world.
They strongly believe that design is both a tool and an articulation that enhances the environment and way of life as well as transforms spaces to provide internal spaces with a character and voice that is completely one of a kind and unique. Their outstanding team of designers, project managers, and architects make up a very strong design team that is committed to providing their clients with the very best services at all times.
Highlights:
Modern contemporary commercial and residential interior design
Comprehensive in-house experts
Results-driven, creative, and collaborative
Best For: Luxury Interior Design
Website: https://houz.com.my/
Address: 10-7, Riyang Residence, 28, Jalan Gembira, Happy Garden, 58200 Kuala Lumpur, Malaysia
Contact: +6012-591 4689
Email: [email protected]
Customer Reviews:
"The team from Houz are amazing to work with. They provided great advice on clever design and styles. I highly recommend them if you want outstanding results with good quality workmanship.", Cynthia Lim
#2 – Luxe Interior Sdn Bhd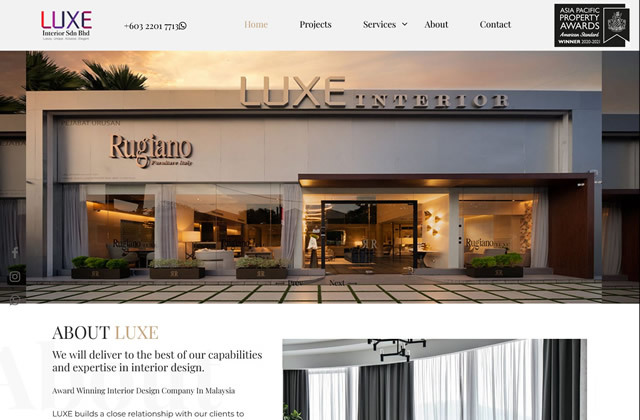 The firm's team is led by Veanne Chong, one of Malaysia's best interior designs. Conghas worked with clients all over the world and achieved unique working and living environments. She is a residential, hospitality, and commercial interior design, with support from a strong Luxe Interior team.
She uses her natural talent to create functional and impressive working and living spaces, complementing her Bachelor of Visual Communication degree from the University of South Australia in Adelaide, Australia. Chong has worked for 12 years in Malaysia as an interior designer.
She handles project management in addition to construction and renovation work. Her very impressive profile is further enhanced by her extensive experience in dealing with clients and her outstanding people skills.
Highlights:
12 years of industry experience
International
Excellent Client Relationship
Affordable
#3 – Blaine Robert Design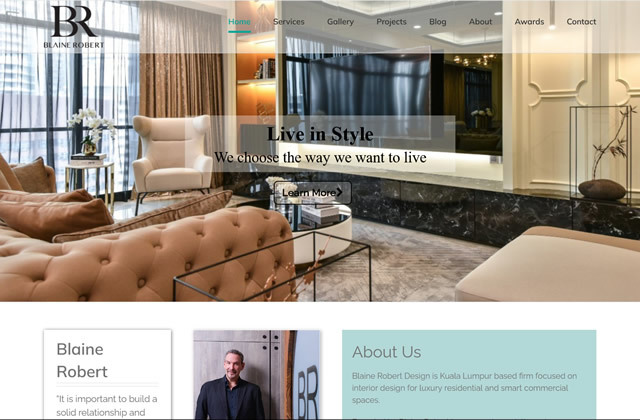 From residential to hospitality, retail to offices, gallery, and commercial spaces, the wide portfolio of Blaine Robert Design is impressive. The company focuses on crafting functional spaces and furniture that are custom-tailored to meet clients' needs and vision while embodying the signature Blaine Robert Design touch.
The founder's 30 years of delving into various interior design work, from furniture design, and interior styling to custom built-in construction works, makes a solid backbone for where this company aims to thrive in the future. Their beautiful, timeless, and unique designs show their experience and great attention to detail. Blaine Robert Design is definitely a company to watch out for in the interior design industry.
Highlights:
The company has over 30 years of experience in the interior design industry
Their designs are beautiful, timeless, and unique
They focus on crafting functional spaces that meet clients' needs and vision
#4 – Be In Design Solutions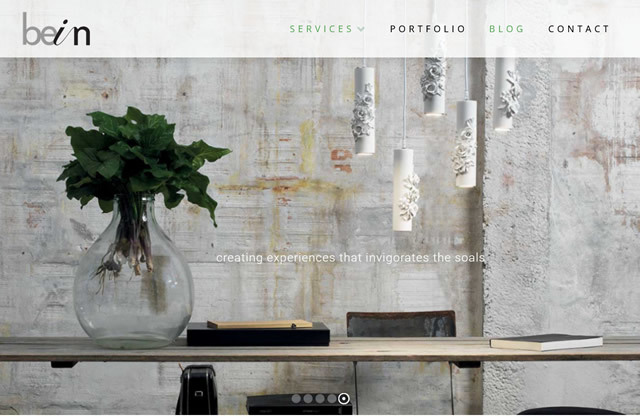 Be In Design Solutions is an exclusive interior design and construction management firm based in Kuala Lumpur, Malaysia. They specialize in residential, commercial, and interior design, and their team is dedicated to providing the highest level of detail and creative expression for all of their clients.
The goal of their firm is to provide a pleasurable, meaningful, and inspiring design process for all of their clients, resulting in a useful design solution. They pride themselves on their attention to detail and ability to think outside the box. Be In Design Solutions is committed to providing the best possible service to all its clients.
Contact Be In Design Solutions immediately if you're seeking a group of experts that can assist you in creating the ideal environment for your house or company.
Highlights:
The team is dedicated to providing the highest level of detail and creative expression for all of their clients
Their attention to detail and ability to think outside
Best For: Be In Design Solutions
Website: https://www.bein.my
Address: B-1-2, Melawati Corporate Centre, Seksyen 1, Jalan Bandar Melawati, 53100 Taman Melawati, Kuala Lumpur.
Contact: +603-2303 9609
Email: [email protected]
#5 – Design Bliss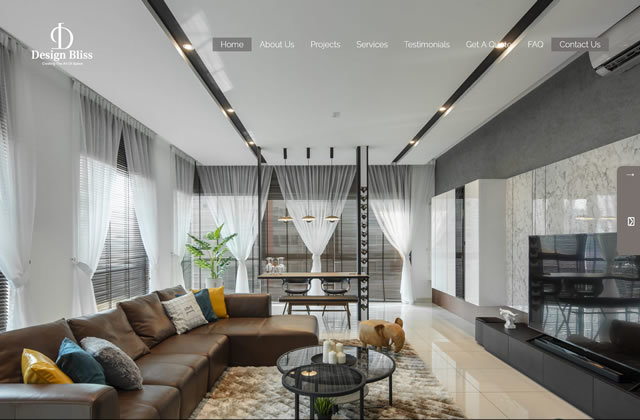 Design Bliss is a Malaysia-based design studio formed in 2015 by Justin. The company has a team of experienced interior designers that provide a personalised design service to create detail-driven, luxury interiors. These interiors are designed to suit their context and the client's needs perfectly and will withstand time. They encompass comfort, sophistication, and practicality.
Design Bliss has steadily grown into a successful and recognised design studio. They provide their services throughout the Klang Valley and all over Malaysia for both private clients and developers.
Highlights:
Detail-driven, luxury interiors that are designed to suit their context and the client's needs perfectly
Encompass comfort, sophistication, and practicality
Best For: Comfort, sophistication, and practicality Design
Website: https://designbliss.com.my/
Address: No. 38-2A, Jalan PJU1/3a, Sunwaymas Commercial Centre, 47301 Petaling Jaya, Selangor
Contact: +603-7886 3826
Email: [email protected]
#6 – BOLDNDOT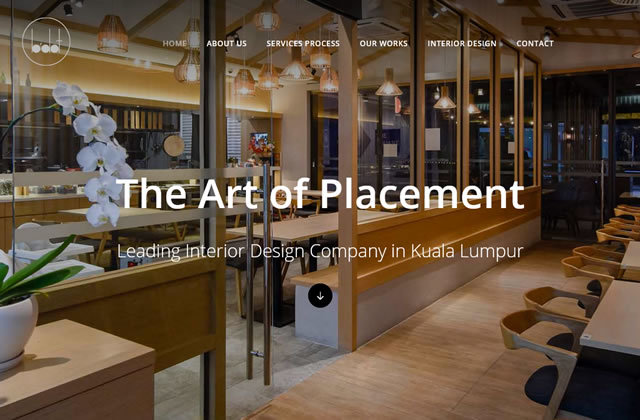 BOLDNDOT was established in 2014. This commercial interior design company is based out of Kuala Lumpur, Malaysia. The firm is an active player in a number of different sectors, including residential, centralized kitchen, restaurant and bar, cafe, corporate office, and retail, among others.
As a leading interior design firm, they deliver practical, creative, and beautiful interior design work. The company works with its clients very closely to meet their aspirations and needs, and then they design custom interiors that allow clients to completely express their values as well as who they are.
Within the renovation and interior design industry, they have been able to establish a very strong presence by providing every budget and client with quality craftsmanship. Whether they are designing a residential or commercial space, the firm has been able to build an excellent reputation by providing its many clients with highly individual and outstanding results.
Highlights:
Household leisure
Industrial style
Simple modernity
Art and culture
Urban fashion
Best For: Commercial Interior Design
Website: https://www.boldndot.com/
Address: B-21-01 Ascenda Residences, No. 3, Jalan Arena 1, Setapak, 53200 Kuala Lumpur, Malaysia
Contact: + 6017-799-6010
Email: [email protected]
Customer Reviews:
"Boldndot is a very modern and reputable interior design team. Dedicated and professional in helping to setup my practice. Highly recommended to those who wish to find a quality interior design workmanship.", Chun Hou Kuek
#7 – DMR Interior Design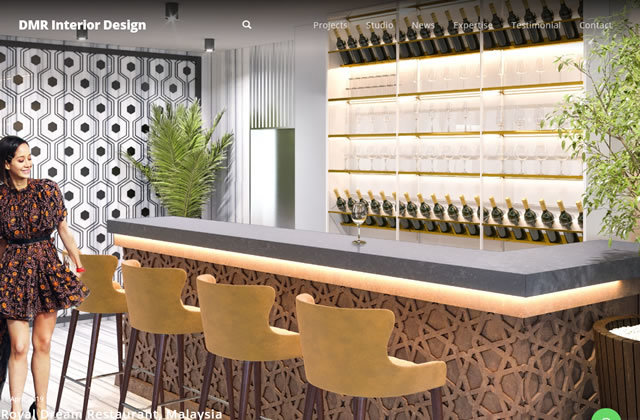 This interior design firm can provide professional quality services in both Project Management and Interior Design. They also carefully evaluate the requirements of their clients and procure artwork and furniture for their properties.
DMR Design & Build works closely with established and experienced architectural companies to deliver innovative professional services and skills exchange o satisfy the unique requirements of their clients.
Highlights:
Own factory CNC
Relevant Price
Timely and flawless execution
Best For: Property Developers
Website: https://www.dmrdesign.com.my/
Address: 50450 Kuala Lumpur, Wilayah Persekutuan Kuala Lumpur, Malaysia
Contact: +601 7335 8767
Customer Reviews:
"Working with DMR Studio has been a pleasure and a positive experience. The design team went above and beyond their call of duty. We ended up with an environment that is beautiful, functional and very unique.", ÇALIK ENERJİ
#8 – OMERs Group
OMERs Group was established in 2008. The firm has won numerous award-winning achievements and interior design projects. OMERs Group offers construction, architecture, and design consultancy services.
The creative interior design company focuses on different design-consultation projects, architecture, space planning, turnkey interior projects, interior decorating, and more in the Selangor and Kuala Lumpur areas.
Highlights:
Concepts that are mind-blowing
Diverse design
Award-Winning interior design firm
Best For: Commercial, Residential, and Retail interior design
Website: https://www.omersdesign.com.my/
Address: H-3-31, Plaza Arkadia, No. 3, Jalan Intisari Perdana,Desa Parkcity, 52200 Kuala Lumpur
Contact: +60 12 6767 388
Email: [email protected]
#9 – AJM INTERIORS SDN BHD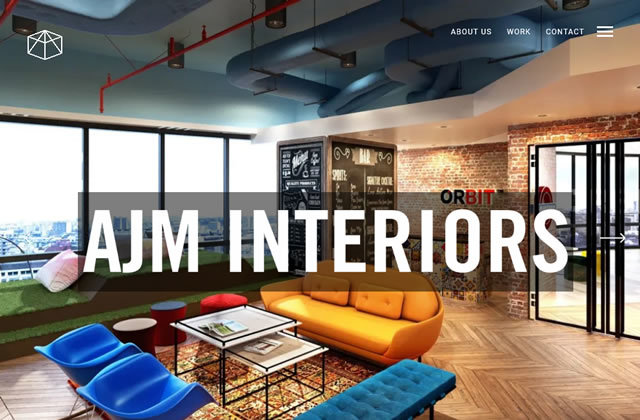 This full-service design firm is based out of Kuala Lumpur, Malaysia. It is an established and experienced firm that provides both residential and commercial interiors with creative design solutions in addition to architectural projects. This experienced Malaysian interior design practice has more than 20 years of experience and has built a diverse portfolio that spans institutional, retail, residential, and commercial projects. Mid Valley City and the Kuala Lumpur International Airport are two of the firm's landmark projects.
Highlights:
More than 20 years' experience
Experienced designers and architects who have worked in Australia, Europe, Asia and the Middle East.
Best For: Office & Commercial Interior Design
Website: http://ajmi.com.my/
Address: 19 Jalan Manau, Kampung Attap, 50460 Kuala Lumpur, Malaysia
Contact: +603 2273 1778
Email: [email protected]
Do you have some other recommendations? Please share with us in the comments.
Popular Interior Design Idea Video
Interior Design Guide & FAQs
What is the difference between an interior designer and an interior decorator?
Interior designing and interior decorating are often mixed up with each other when it comes to an understanding of the spatial changes in properties.
In general, interior designing refers to the functional designing of space based on how humans will use that particular space.
On the other hand, interior decorating refers to the furnishing of a created space that has to be optimized for aesthetic, beauty, and of course, usability too.
There are subtle differences between the two.
It is important to note some interior designers will take the next step and decorate a space based on their vision too. This will depend on the scope of their project and what they are hoping to get out of it by the end.
However, an interior decorator is not going to have the same task and will never design an interior space unless that is a part of their specialization. It is a separate task and requires a deeper understanding of design based on functionality.
For those who are looking at both when it is time to hire the right fit, it is these details that will go a long way in figuring out which one is the best fit for your project. Still not sure, check out this article for more info.
Why should you hire an interior designer?
An interior designer will take your home from blah to rah in no time. They know just how to arrange the furnishing and pictures to make your home look larger and more comfortable. If you're tired of your home looking just so-so, an interior designer can give it a great look, and they do it with exactly what you already have. Imagine your home looking like it belongs on the cover of a magazine, all because you hired an interior designer.
Interior designers work closely to identify your style and colour palate. They focus on how to best feature your artwork, furnishings and other items to make your home look, it's very best. If you're seeking a specific look, an interior designer can easily capture that look with minimal effort.
It may seem like you have an entirely new home when the interior designer is finished with his or her work, yet all they did was make some strategic moves on what you already have in your home. It's that simple, and it's amazing how great your home will look when it's done. Give them a call and let them show you what they can do with your home; it may look all brand new when they're done.
What To Know Before Hiring An Interior Designer?
Making your house into your dream home has become a possibility. You have decided to have an interior designer to help you make your dreams come true. What should you know about this sort of undertaking? That's pretty simple.
First, you can hire a designer even if you are on a budget. No matter what your income is, you should set a budget for the project. This way, you know what you can and cannot afford. Your designer may have some excellent ideas for the kitchen or that new outdoor dining area you want, but don't spring for it if it goes beyond your budget. That could spell disappointment.
Know your style and preferences. The best designers have great eyes for details and colour, but ultimately you have to live in the home once the decorating is complete. So, what do you like in terms of colours, patterns, and styles? Look through websites, blogs, and interior design magazines. Tell your designer what styles you like. You are the one who is in charge of the project, no matter how talented your designer is.
Find out exactly what services they provide. Some designers don't do space planning or measuring. When you know exactly what they do, you will be more likely to be satisfied with the results.
Click here for other local services related articles.
Latest posts by Aaron Tan
(see all)
This article was brought to you by BestAdvisor.my
Disclaimer: This is the opinion of the writer or publication. We only recommend products or services that we have tested and tried ourselves or have done in-depth research with positive external reviews and find them to be useful for everyone. The products/services shown are available upon the publication date. The availability may change from time to time. If some of them are not available, please email us at [email protected] Thank you!
Last Updated on