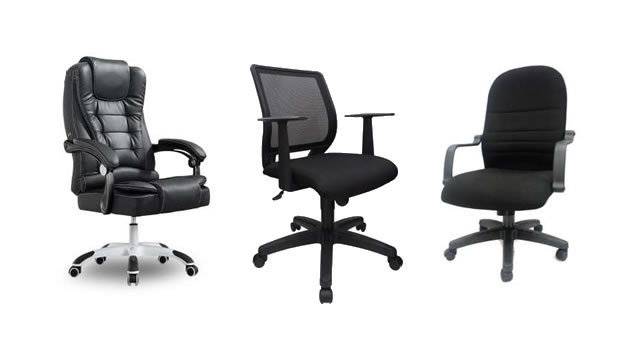 If there is one piece of furniture that we rarely notice but actually spend the most time on, it would be office chairs. The majority of us spend the entire day working, and a trusty office chair is crucial in our overall well-being and productivity.
Most people would agree that a good office chair is key to having a productive workday. But with so many different chairs on the market, it can be hard to know which one is right for you.
In this post, we will take a look at 10 of the best office chairs on the market right now and tell you what to look for when purchasing one. So whether you are in the market for a new chair or just want to learn more about what's available, read on!
Table of Contents
10 Best Office Chair Malaysia Choices

How to Choose the Right Office Chair?
The Benefits of a Proper Proper Chair in Office
Final Thought
FAQs
10 Best Office Chairs Malaysia Review
Check out our review of the 10 best office chairs in Malaysia:
1. SOKANO OC007 Ergonomic Office Chair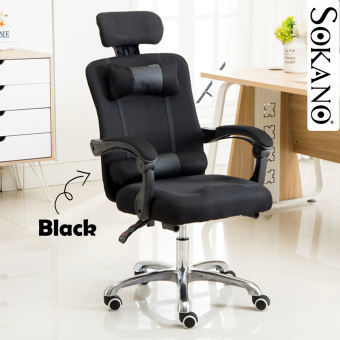 Thick Arm Pads
Introducing the SOKANO OC007 Ergonomic Executive Office Chair! This chair has been designed for maximum comfort, with a larger and more densely padded seat, reclining options from 90-degrees to 150-degrees, and free adjustable lumbar and head/neck pillows.
The high-quality fabric, sewing and cold cure foam filling make it perfect for even the longest of workdays, while the resilient armrests ensure that you stay comfortable no matter how long you sit. Made from super-strong body and Chrome chair leg which are more durable and long-lasting, this is the perfect choice for anyone who wants maximum comfort during their working day.
Pros:
Armrest adjustment
Durable casters
Adjustable height
Up to 150-degree recline angle
Affordable price
Cons:
It's thickly padded, also making it conducive for long working hours. Online purchase includes free head/neck and lumbar pillow. Don't miss it here.
Customer Reviews
The SOKANO OC007 Ergonomic Office Seat has received positive reviews for its comfort and easy assembly. Some customers felt that the packaging and delivery service could be improved, while others found the support pillow to be too small. Overall, customers were happy with their purchase and would recommend the seat to others. Check out more here:
"Delivery was much earlier than expected! Took me 30 minutes to assemble. I'm very happy with it!"
"Arrived quick and safely 😄👍🏼 the instructions weren't very detailed but were simple enough to follow."
"Work perfectly and best money buy. Packaging and delivery service can be improvise."
"Easy to assemble n the cushion is comfortable, jz the support pillow part is too small."
Check prices on Lazada
Check prices on Shopee
2. Secret Lab Chair – Titan & Omega
Up to RM150 Off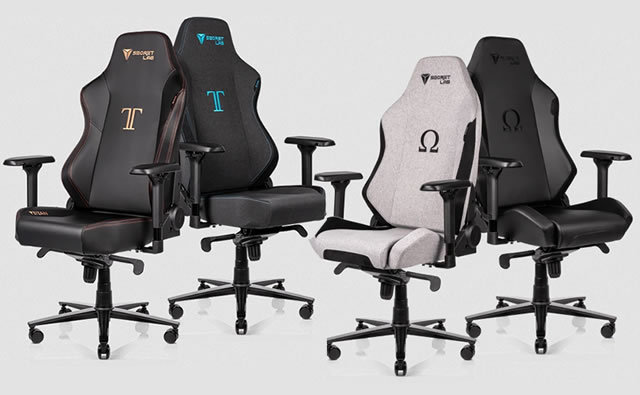 Best of the best
Since its 2014 launch, Secretlab has garnered a reputation as a provider of super-durable gaming chairs with quality features. The company released their latest offering last year with the 2022 series. Many regard the Secretlab chair line as one of the best in the current market.
Check The Best Price Now
Up to RM150 Off
The 2022 series serves as a direct upgrade to the classic 2020 Titan and Omega. Secretlab essentially took the best qualities of these chairs and refined them even further. The result is a chair series that's just as impressive and comfortable as the 2020 series, but with additional improvements to enhance the overall office experience.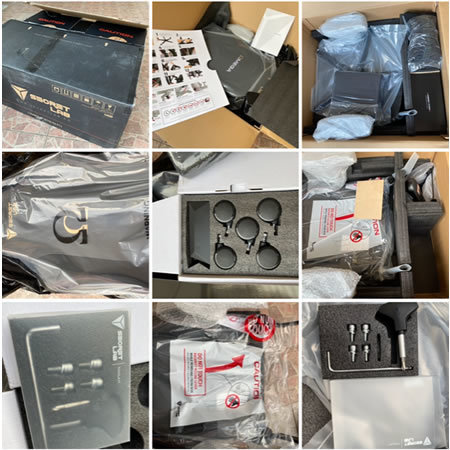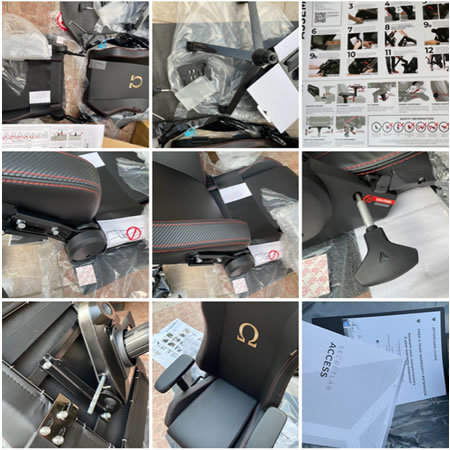 Pros:
Three Upholstery Options: PRIME 0 PU Leather, SoftWeave Fabric & Napa Leather Premium
Cold-Cure Foam Mix
Multi-Tilt Mechanism & Angle Lock
Full-Length Back Recline
Durable Construction
Generous Warranty
For medium and large size person
Cons:
Customer Reviews
The Secret Lab Chair has been praised by many customers for its build quality, comfort, and durability. Customers have been satisfied with the customer service provided by the Secret Labs team. Some customers have had issues with their chairs and the Secret Labs team was able to assist them in solving these issues. Find out more:
"It finally decided to get this chair because of praise that I've heard off of my friends. I have had a really uncomfortable chair before that would hurt to sit in and overall wasn't a good experience. I am so very glad I listened to my friend."
"After 8months my son using, it still very good. I love the quality of this chair. Thinking of buying another one for my other son."
"been using this chair now for the past 3 months. the build quality is solid and should last a life time! I don't mind spending the $$$ when the quality is that solid."
"The SecretLabs team was very helpful in isolating any issues and was able to assist me in solving the issues with the replacement hydraulic. Now no issues whatsoever."
Check The Best Price Now
Up to RM150 Off
3. F&F 4005 Mesh Office Chair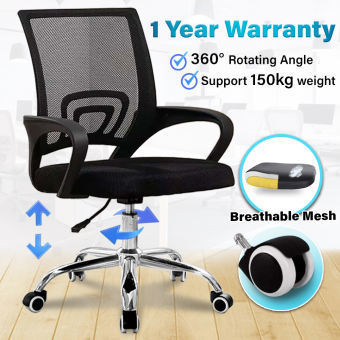 Lumbar Support
The F&F Office Chair 4005 is perfect for anyone who wants ergonomic support during their workday. The chair features a height-adjustable leg, breathable mesh back and saddle, and built-in lumbar support to make sure you're comfortable while you work. It also comes in three different colours so you can choose the one that best suits your style.
Plus, the high-quality chrome steel leg can withstand more weight than other chairs on the market, making it perfect for busy offices. And if you need to move around quickly, no problem! The chair also has rotatable and noiseless castors wheels that let you swivel 360 degrees with ease.
Pros:
360 rotating angle
Adjustable height
Ventilated back mesh
Lumbar support
Light and easy to move
Cons:
Fortunately, the brand did not compromise its comfortability for aesthetics. It comes with a nylon armrest and lumbar support to keep you comfortable during long working hours.
Customer Reviews
The customer reviews for the F&F 4005 Office Chair are generally positive. Customers found that the product arrived quickly and was easy to assemble, with some noting that the installation process was straightforward even without an instruction manual. However, a few customers pointed out that the chair had some scratches on the finishing and that the quality was not as good as they had hoped for given the price. Overall, customers were happy with their purchase and would recommend the chair to others.
"Item received in good condition. Ez to assemble eventho dont hv instruction available."
"Fast delivery. Installation without instruction manual spent a bit more time on fixing the back panel. The finishing has some scratches. Overall still okay to use."
"Ok. ordered 8 pieces. arrived within a week. easy to install. Quality ok, sesuai dengan harga nya. Thank you Furniture Farm"
"Fast delivery. Good service by seller. Product quality is good in comparison with the price. Thank you."
Check prices on Lazada
Check prices on Shopee
4. Alterseat chair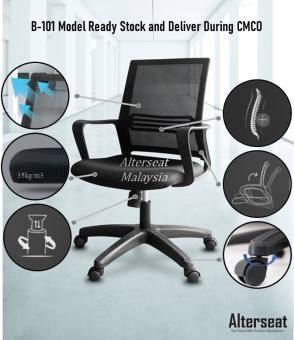 High Density Foam
Introducing Alterseat, the next generation in office chairs. This chair is designed to last with a semi-heavy-duty build and a mixture of Nylon and PP materials. The Class 4 Heavy-duty Gaslift ensures that you can adjust the height and angle of the headrest and the backrest and recline tension to find your perfect seating position.
And with high-density polythene moulded foam cushioning system, you'll enjoy optimal comfort all day long. Plus, our soft and smooth silk fabric cover is not only beautiful but also breathable to keep you cool on even the hottest days. Standardized backrest design supports your spine for hours of comfortable productivity. So why settle for anything less? Get it now.
Pros:
High-density closed-cell upholstery seat foam
Adjustable backrest and recline
Adjustable height
Breathable mesh
Wide seat
Cons:
The chair is intelligently made to fit the needs of an average working person, from its size to its ergonomic design.
Customer Reviews
The customer reviews on the website are generally very positive. There are some customers who find the chair to be too low for their headrest, but overall most people are very happy with it. Find out more here.
"Received in good condition. Stable, easy to assemble. In overall good quality."
"The workmanship & material quality are good. It is comfortable when sitting on the seat."
"Arrived safely as promised. Easy assembly and great cushion. To me though, the headrest is bit low even it's height is fully adjusted."
"Satisfied with the purchase. It came in a huge box and already halfway assembled. Easy to put together even without instructions. Can use straight away within 10 minutes."
Check prices on Lazada
Check prices on Shopee
5. Director High Back Desk Chair BL-2100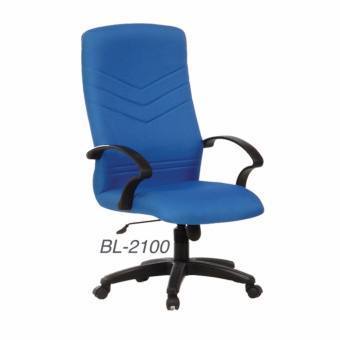 Professional Look and Sturdy
Director High Back Desk Chair BL-2100 is perfect for modern offices and home workspaces. This chair is made to direct factory in Malaysia so that you can be assured of the high quality and sturdy construction. The leg frame is strong and has a high bearing capacity, while the 360-degree rotation wheel makes it easy to get around.
The fabric seat is comfortable and relaxed, with high back support that helps to keep you from getting tired. The breathable and comfortable mesh keeps you cool even on long days at the office. Plus, this chair is easy to assemble yourself – no tools required!
Pros:
High back office chair
Adjustable height
Quiet and smooth wheels
Cons:
It will be hot after sitting for a long hour without the cold air conditioner
You do not have to be a director to own this chair. In fact, in terms of pricing, it comes close to regular office chairs, so go ahead give yourself that upgrade.
Check prices on Lazada
Check prices on Shopee
6. LIKE BUG: GRIFF Black PU Leather High Back Executive Chair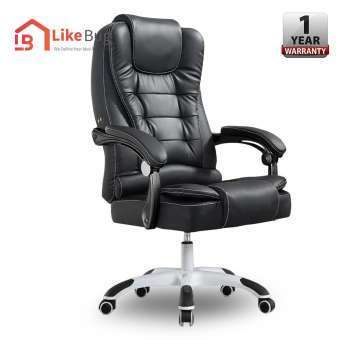 Comes with Massage Function
Are you looking for a high-quality office chair that will make you feel like a boss? Look no further than the LIKE BUG GRIFF PU Leather High Back Executive Office Chair. This bad boy has all the features you need to feel comfortable and in control during long workdays.
The high back executive styling ensures that you'll stay supported, while the 95 to 150-degree lockable recline angle means you can find just the right position for optimum comfort. And if height adjustments are needed, no problem!
The adjustable seat height makes it easy to find your perfect spot. Plus, with 360-degree swivel capabilities and no footrest, this chair is ready to go wherever you need it. So why wait? Order your LIKE BUG GRIFF PU Leather High Back Executive Office Chair today!
Pros:
It comes with a massage function
Comfortable, high backrest
Armrest designed to accommodate the shape of the hand
Up to 150-degree recline angle
Cons:
What can we say? You can work and nap in this chair. It's a great investment, especially if you are working from home.
Check prices on Lazada
Check prices on Shopee
7. Kitchen Z Mesh Office Seat HMZ-OC-MB-6020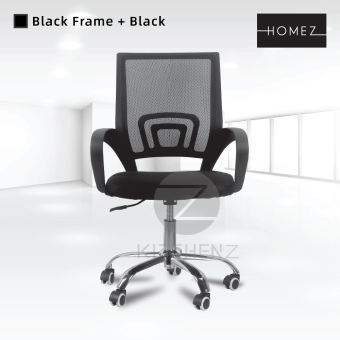 Less Friction on Floor
The Kitchen Z Mesh Office Seat is ergonomically designed with a breathable mesh back that supports hours of work for better hearing and hearing. With the height-adjustable leg, you can adjust it to your preferences.
The self-assembled chair has rollers on the bottom, which makes it easy to move from place to place while being sturdy enough to hold up more than 150kg of weight! This office seat is only 48cm large but comes in 4 different colours so you can find one that suits your needs best!
Pros:
Adjustable height
Made from breathable mesh
Built-in lumbar support
Noiseless castor wheels
Cons:
Lumbar support is not adjustable
This chair takes into account the welfare of the user and of the other people around the office/home. It also causes less friction on the floor, so there is no need to worry about scratches.
Check prices on Shopee
8. Office Mesh Chair 668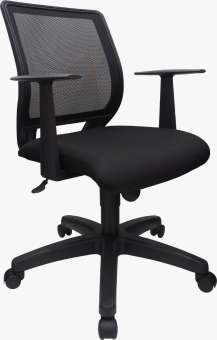 Easy to Assemble
Mesh Office Chair Model 668 is the perfect chair for those long hours at work. With an ergonomic structure for extra back support, a breathable and comfortable mesh seat, and a durable cushion that supports long hours of sitting, this chair will keep you comfortable and productive all day long.
Plus, with a high-quality build that's made in Malaysia, you can be sure you're getting a product you can trust. It comes in two versions: PP base and nylon base. The PP base can hold up to 100 kg, while the nylon base can hold 300 kg.
Pros:
High-quality mesh material
Armrest included
Adjustable height
Cons:
We know how frustrating it can be to assemble office chairs, especially those sophisticated ones. This one has the easiest set-up manual so far.
Check prices on Lazada
Check prices on Shopee
9. LIKE BUG: Noble Executive PU Leather MODEL 232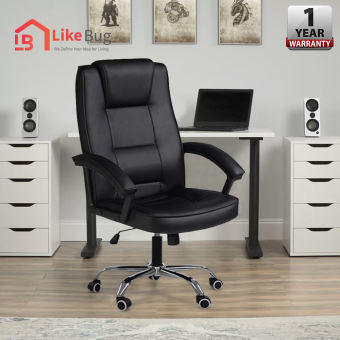 Adaptive Chair
Do you spend long hours sitting on your office chair? You deserve a seat with some life! The LIKE bug leather executive chair is perfect for those who want to show off their business success and need it to be comfortable. With great features such as a high back, PU leather, thick cushioning and more, this professional-grade desk is the epitome of luxury.
Silent wheels make it a breeze to move about an office or home office without interrupting anything going on around you. If that weren't enough, the gas lift height adjustment gives you all sorts of options for getting up from your desk. It's time to go big with the LIKE BUG: Noble Executive Leather Office Chair MODEL 232
Pros:
High back PU leather office chair
Hard PP plastic handle
Soft hand rest
Tilt tension mechanism
Cons:
Lumbar support is not adjustable
This chair is well designed and is really responsive to your movement and posture. You are more likely to focus on your work with an adaptive chair or probably just rest here, too.
Check prices on Lazada
Check prices on Shopee
10. TODAK ALPHA PREMIUM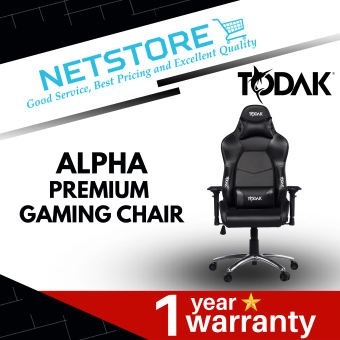 Best ergonomic chair with local support
Look cool without having to sacrifice comfort in this all-black ensemble gaming chair. The materials are designed to regulate temperature, making this chair a great choice day and night.
We also love the butterfly feature of this chair, which allows you to recline it for up to 170 degrees, with a headrest made from memory foam to best compliment it.
Pros:
Sturdy metal frame
Environmental PU leather & carbon fiber
High density molded foam
4D armrest (with chrome brackets)
Cons:
More pricy compared to others
Check prices on Lazada
Check prices on Shopee
How to Find the Top Office Chair
With so many different types of chairs on the market, it can be tough to know where to start. We'll help you figure out what to look for when shopping for an office chair or computer chair and show you some of our favourite options.
Chair Styles
First, determine your office chair style to find what will fit your workspace. The classic executive chair comes in many styles like a high back, mesh back, leather upholstery and other materials.
Casters & Wheels
Casters are the rollers on the seat's base. A typical chair will consist of five wheels that rotate independently for different movements. The casters must be compatible with your floor type. If your floors have softer rubber wheels, your chair should use urethane or rubber wheels to keep it upright. If a carpet requires catering, you're going to need hard plastics or nylons. A metal or plastic glider works well for hard commercial carpets.
Seat Pans
All chairs have seats on them. However, they are of varied length and shape. Generally, try to get seats with a width of preferably 18″. Modern ergonomic seating is also equipped with tilt adjustment to adjust the tilt angle of seats and therefore reduce the pressure on your leg and raise the hip angles. In some chairs, the back is covered with waterfalls. Essentially, the back seat has rounded corners angled upward, reducing pressure on the legs and improving circulation and comfort.
Cushion & Airbags
The cushions follow, and many of the other people prefer it personally. A comfortable cushion is a good fit to keep you upright and in good shape for your body. While a comfortable soft cushion may feel comfortable at first, it may cause a lot of discomfort over days. Various executive chairs and large and tall designs utilize memory foam and other cushion technologies providing soft balance and personalized cushion support.
Roller Legs & Chair Base
Next, there's the floor. As a general rule, a high rated chair must have a minimum of 5 legs. Some heavier seats have more legs, and this means 7 stars are required. The base is solid and sturdy and made from solid frame material, including hardwood, steel and nylon.
Lumbar Support
Your lumbar is your inverted back which is located above your tailbone. If your back hurts, it is important to get the best lumbar support. Lumbar supports can be lowered for various sizes. All the ones are also different depths: If the curve on your back is large or little, you will have ample support.
Height Adjustment
Almost every chair can have a height adjustment that raises or decreases it a bit. This action can be accomplished by doing both things: raising or lowering the entire seat and moving the front roller up or down. For example, if you have a lot of work from your desk but choose to stand for a while, raise the chair until it is in its highest position. In this way, you can simply slide forward and put your keyboard at an ideal height for typing.
Frames. Finish
Frame finishes are just aesthetics; they just change how the chair looks. The choice of options is completely personal. These options are usually shown.
Adjustability and Common Adjustments to Consider
Chairs with several adjustments (back, seat, arms) are able to accommodate a majority of the population. Many modern office furniture can alter the height and size so this should not be considered an absolute requirement when looking at chairs in office shops. Most effective desks have five adjustments, while others have 10 or so adjustments.
Are ergonomic considerations important?
Are ergonomic office chairs important? By it, we mean chairs with various adjustment options to any part. These are generally the more expensive models. You would think that all chairs at offices should be considered ergonomic or comfortable, and some only offer a basic adjustment like height and maybe tilt.
The Benefits of a Proper Chair for Office
Too many of us overlook the importance of an office chair. It is just one of the pieces of furniture that happen to be there, and we use it constantly. It's not until we start feeling something on our backs that we tend to mind the chair we've been sitting on.
A good office chair is meant to reduce the chances of back pains from too much sitting, and this is one of the reasons you need to invest in it. It's more than just an investment for your workspace but a treat for your overall well-being, as well. While it will always boil down to proper posture, high-quality and ergonomic chairs are designed to remind and assist you in doing this.
Among the key features to look for in looking for a good office chair are the quality of the fabric, adjustability of height, swivel angle, and back support.
Final Thought
Whether you are looking for an ergonomic chair, comfortable or just stylish, we have analyzed 10 of the best office chairs in Malaysia to help you find what suits your needs. We hope this post has been helpful. If so, please share it with those around you who might benefit from our research!
FAQs
What are the best brands in Malaysia?
Popular brands of office chairs in Malaysia include F&F, Griff, Sokano, and Fitchamp.
Where can I find desk chair in Malaysia?
You can buy office chairs in your local furniture store or you can also buy it online.
What should I look for in it?
Among the important features to look for are arm rest, adjustable height, and breathable fabric.
How much does it cost in Malaysia?
Office chairs in Malaysia will cost around RM 70.00 - RM 500.00
Click here for other home living related articles.
Latest posts by Aaron Tan
(see all)
This article was brought to you by BestAdvisor.my
Disclaimer: This is the opinion of the writer or publication. We only recommend products or services that we have tested and tried ourselves or have done in-depth research with positive external reviews and find them to be useful for everyone. The products/services shown are available upon the publication date. The availability may change from time to time. If some of them are not available, please email us at [email protected]. Thank you!
Last Updated on