Last Updated on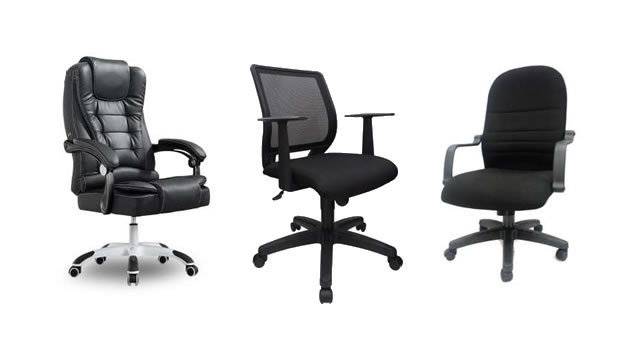 If there is one piece of furniture that we rarely notice but actually spend the most time on, it would be office chairs. Majority of us spend the entire day working, and a trusty office chair is crucial in our overall well-being and productivity.
So if you notice that you are getting more uncomfortable lately while working, or if you start hearing squeaks from your chair even with the slightest movement, it's time to change or upgrade your chair. You will be amazed to know how recent office chairs these days offer optimum comfort with their new features.
Check out our review for the 11 best office chairs in Malaysia:
1. Kitchen Z Mesh Office Seat HMZ-OC-MB-6020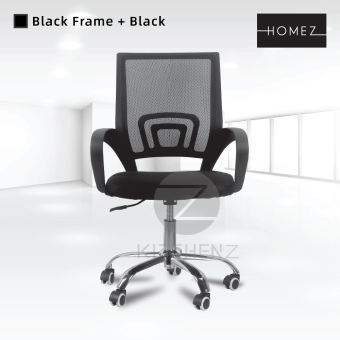 Less Friction on Floor
The ergonomic design of this chair is one of the key selling points when we saw this online, and it really does feel extra comfortable the moment you use it.
Why buy this
Adjustable height
Made from breathable mesh
Built-in lumbar support
Noiseless castor wheels
This chair takes into account the welfare of the user and of the other people around the office/home. It causes less friction on the floor, too, so no need to worry about scratches.
Check prices on Lazada
Check prices on Shopee
2. F&F: Adjustable Swivel Med-Back Mesh Mix & Match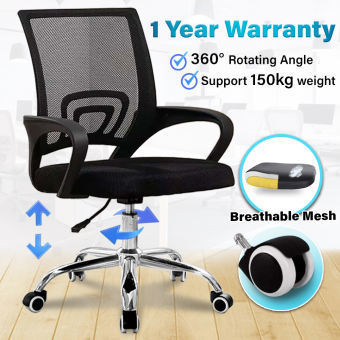 Lumbar Support
If you want to add a pop of colour to your working space, we found the perfect office chair brand for you. It's quite rare to find office chairs that come with colour choices, so we are thrilled to find this.
Why buy this
360 rotating angle
Adjustable height
Ventilated back mesh
Lumbar support
Fortunately, the brand did not compromise its comfortability for aesthetics. It comes with a nylon armrest and lumbar support to keep you comfortable during long working hours.
Check prices on Lazada
Check prices on Shopee
3. Office Mesh Chair Ready Stock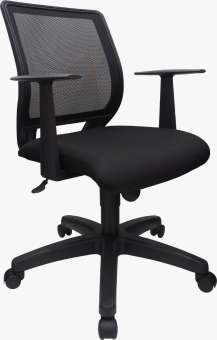 Easy to Assemble
Are you looking for an easy-assemble office chair? This one is for you. This is a no-fuss office chair that comes with an armrest and breathable mesh material.
Why buy this
High-quality mesh material
Armrest included
Adjustable height
We know how frustrating it can be to assemble office chairs, especially those sophisticated ones. This one has the easiest set-up manual so far.
Check prices on Lazada
Check prices on Shopee
4. Director High Back Desk Chair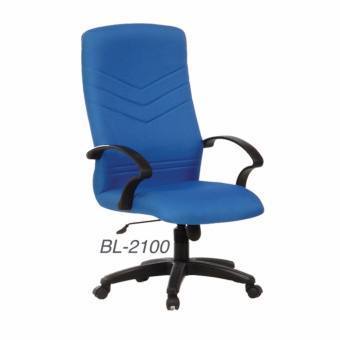 Professional Look and Sturdy
We found another chair with colour options, and what makes it even better is that no matter what colour you choose, it looks so professional and sturdy.
Why buy this
High back office chair
Adjustable height
Quiet and smooth wheels
You do not have to be a director to own this chair. In fact, in terms of pricing, it comes close to regular office chairs, so go ahead give yourself that upgrade.
Check prices on Lazada
Check prices on Shopee
5. LIKE BUG: GRIFF Black PU Leather High Back Executive Chair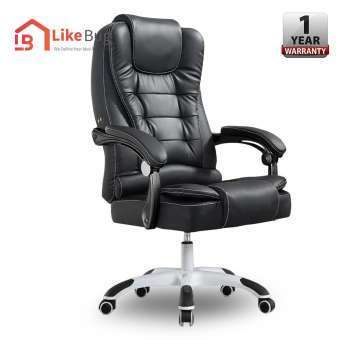 Comes with Massage Function
Are you feeling like working and relaxing at the same time? We didn't think that was possible too until we ended up with this chair. It can even double as your gaming chair, if you are into it, as well.
Why buy this
Comes with a massage function
Comfortable, high backrest
Armrest designed to accommodate the shape of the hand
Up to 150-degree recline angle
What can we say you can work and nap in this chair. It's a great investment, especially if you are working from home.
Check prices on Lazada
Check prices on Shopee
6. SOKANO OC007 Function Adjustable Reclinable Executive Ergonomic Office Seat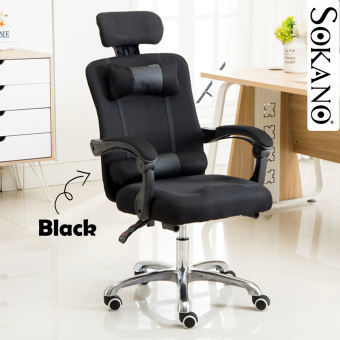 Thick Arm Pads
Speaking of reclinable seats, you can now buy Sokano's top-selling office chairs online, too. The brand has been known for its durable and comfortable seats that they are commonly found in offices and hotels.
Why buy this
Armrest adjustment
Durable casters
Adjustable height
Up to 150-degree recline angle
It's thickly padded also making it conducive for long working hours. Online purchase includes free head/neck and lumbar pillow. Don't miss it here.
Check prices on Lazada
Check prices on Shopee
7. FITCHAMP: SWANKY Black Saddle Breathable Mesh Desk Chair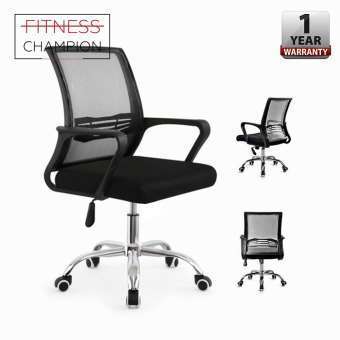 Affordable but Reliable
Looking for an affordable but reliable office chair? We found this less than RM100 office chair that feels just as comfortable and luxurious as other more expensive counterparts.
Why buy this
Ergonomic design
Adjustable height
Breathable mesh
The curved backrest design is meant to reduce stress on the back from prolonged sitting and hovering on the table. Chair leg also passed the international SGS standard so you are assured of its quality.
Check prices on Lazada
Check prices on Shopee
8. Alterseat chair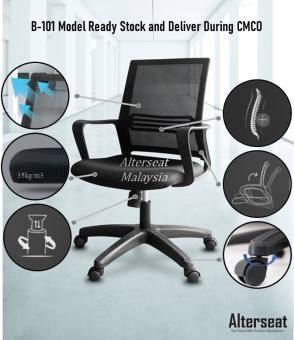 High Density Foam
From the leading supplier in Malaysia itself, it's hard to miss these high-quality chairs from Alterseat. From the first look, you can easily tell that every part is well-made.
Why buy this
High-density closed-cell upholstery seat foam
Adjustable backrest and recline
Adjustable height
Breathable mesh
The chair is intelligently made to fit the needs of an average working person, from its size to its ergonomic design.
Check prices on Lazada
Check prices on Shopee
9. F&F: Cozy Chic Swivel Height Adjustable Full Mesh Desk Seat with Chrome Leg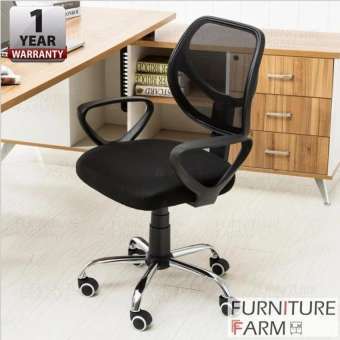 Well Ventilated Mesh
Sometimes, we cannot just buy any chair that we want because of space limitations. This office chair addresses that concern without sacrificing quality and comfort.
Why buy this
Well ventilated with full mesh material
Pneumatic seat height
360-degree swivel
We also love how neat and contemporary looking the chairs from this store are. It will make your space look even more professional.
Check prices on Lazada
Check prices on Shopee
10. Presidential Highback with PP Leg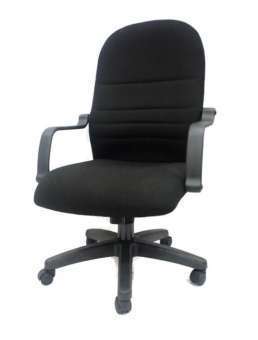 High Density Sponge
Made from a high-density sponge, you can stay productive for long hours with the comfort this chair provides.
Why buy this
With PP Chair base
Adjustable height
Easy to install
You also do not need to worry about the assembly process for this chair because this was designed to simplify the whole process.
Check prices on Lazada
11. LIKE BUG: Noble Executive PU Leather MODEL 232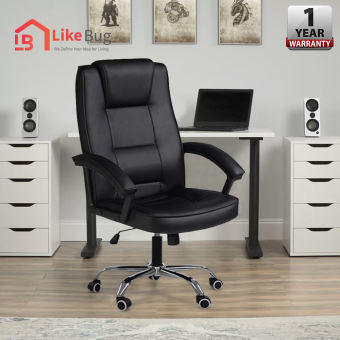 Adaptive Chair
From the first look, you would definitely want to have this chair in your workspace because it looks comfortable. Luckily, it feels as comfortable as it looks, too.
Why buy this
High back PU leather office chair
Hard PP plastic handle
Soft hand rest
Tilt tension mechanism
This chair is well designed and is really responsive to your movement and posture. With an adaptive chair, you are more likely to focus on your work or probably just rest here, too.
Check prices on Lazada
Check prices on Shopee
Why Should I Invest In It?
Too many of us overlook the importance of an office chair. It is just one of that furniture that happens to be there, and we use it constantly. It's not until we start feeling something on our backs that we tend to mind the chair we've been sitting on.
A good office chair is meant to reduce the chances of back pains from too much sitting, and this is one of the reasons why you need to invest in it. It's more than just an investment for your workspace but a treat for your overall well-being, as well. While it will always boil down to proper posture, high-quality and ergonomic chairs are designed to remind and assist you in doing this. Among the key features to look for in looking for a good office chair are the quality of the fabric, adjustability of height, swivel angle, and back support.
Check out these Best Model & Price that cover all these essential features:
FAQs
What are the best brands in Malaysia?
Popular brands of office chairs in Malaysia include F&F, Griff, Sokano, and Fitchamp.
Where can I find desk chair in Malaysia?
You can buy office chairs in your local furniture store or you can also buy it online.
What should I look for in it?
Among the important features to look for are arm rest, adjustable height, and breathable fabric.
How much does it cost in Malaysia?
Office chairs in Malaysia will cost around RM 70.00 - RM 500.00
Click here for other home living related articles.
Latest posts by Aaron Tan
(see all)
This article was brought to you by BestAdvisor.my
Disclaimer: This is the opinion of the writer or publication. We only recommend products or services that we have tested and tried ourselves or have done in-depth research with positive external reviews and find them to be useful for everyone. The products/services shown are available upon the publication date. The availability may change from time to time. If some of them are not available, please email us at [email protected] Thank you!