Last Updated on
Every year, the weather in Malaysia appears to be becoming increasingly more erratic. If you have lived in the country for even just a few months, then most likely you will have experienced how humid it can get in practically any city of the country at almost any time of the year. That is why the demand for various cooling and ventilating electronics continues to increase in the country of Malaysia.
Portable air conditioners were one of our home appliances (or kitchen appliances?) discoveries that we recently found in our quest for cooling living areas in KL. They make it possible to enjoy the comforts that an air-conditioned room provides, but are less of a hassle compared to needing to have an AC installed. The following are out 10 top recommendations for the best portable air conditioners that Malaysia has available.
Table of Contents
Best Portable Air Conditioners

Evaporative coolers Vs portable air conditioners?
FAQs
10 Best Portable Air Conditioner in Malaysia
1. Midea Portable Air Conditioner Review MPF-12CRN1 1.5HP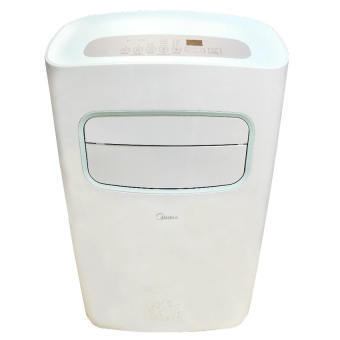 Best of the Best
The Midea Air Conditioner is a breeze to use. It allows you to set the desired temperature and the timer. All while ensuring that your air is clean and cool, thanks to its onboard silver ion filter. You can even choose from three different cooling capacities for other sized rooms.
This lightweight and compact air conditioning unit is a great solution for open offices, small rooms, and other areas where the ambient temperature needs to be maintained.
It weighs just 44 pounds and can cool spaces up to 350 square feet, making it an ideal choice for small homes or apartments. The cooling capacity is 9,000 BTU/h, and the eco-friendly refrigerant means that you can feel good about your purchase.
Quiet operation
We understand it can be tough to sleep with the noise of your AC or heaters. Midea Air Conditioning has developed a solution for those who are also tired from the noise of their unit. It comes with a sleep mode feature that also solves the noisy operation that most portable ACs tend to have. This is the perfect solution for those looking for a quiet and energy-efficient cooling solution.
Why buy this:
Energy-efficient cooling solution which saves your electricity bill
Omni directional caster
Silver ion filter
Cooling Capacity of Btu/h 9,000
Eco-friendly refrigerant
Check prices on Shopee
Check prices on Lazada
2. Morgan Portable air conditioner MAC-091 1.0hp Feather Lite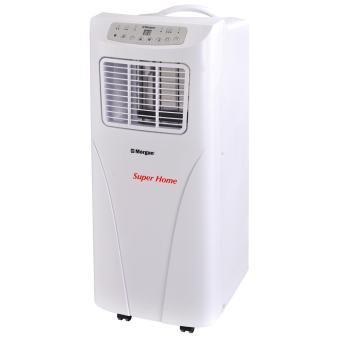 Best portable air conditioner for easy move
If you are looking for a personal AC to use in your home or office, this Morgan mac 091 portable air conditioning unit is a great option. Offering a plethora of choices, it is versatile and can efficiently cool down a room as large as 14 square meters. It also has four caster wheels and comes with remote control. The remote control is great for flexibility in the home.
When you set it to fan mode, it will circulate the air in your room and keep it cool. You can also use the timer function to set a specific time when you want it to turn off.
With Roll casters
The sleek machine weighs less than any other portable AC that we have tried out, making it very easy to move around. It features four different settings: sleep, dehumidify, cooling, and fan. With Morgan mac 091, you can easily stay relaxed and comfortable even on the hottest of days.
Why buy this:
4 Roll Casters.
Timer
Dehumidifier function
Remote control enabled.
Four program settings: sleep, dehumidify, cooling, and fan.
Check prices on Shopee
Check prices on Lazada
3. Acson Portable Air Conditioner Moveo C-Series 1.5HP A5PA15C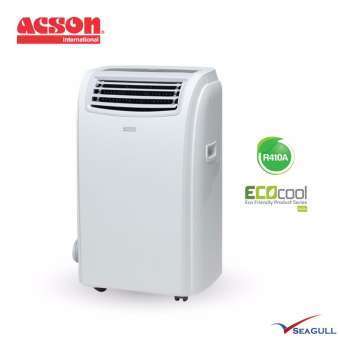 High quality and energy-efficient
This Acson Moveo Portable Air Conditioner C-Series is a must for all people looking for an AC product that is high in quality and energy-efficient. It is designed to be compact and lightweight, giving it the ability to be easily transported from one area to another.
With a cooling capacity of up to 12,000 BTUs/hour, this portable AC is sure to keep you refreshed and comfortable all day long. The ACSON Moveo also features no need for manual draining, so you don't have to worry about emptying any water tanks. It also has a remote control, a touch screen panel, and a 4-directional air swing.
With the ability to be set up in less than 15 minutes, this portable air conditioner is perfect for those with limited space or those looking for a quick and easy way to cool off their space.
Why buy this:
No manual draining
Environment friendly with R410a refrigerant
Touch screen control panel
4 Direction Air Swing
12,000 BTUs/hour
Low energy consumption
Check prices on Shopee
Check prices on Lazada
4. EcoCooling Portable Aircon LH360V & Air Cooler 230W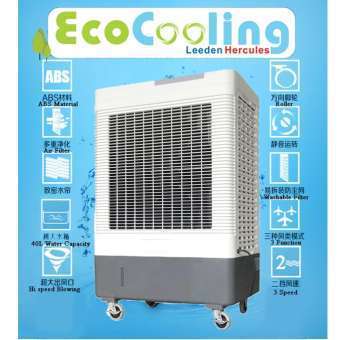 Best portable air conditioner with air cooler
The EcoCooling Portable Aircon LH360V & Air Coolers is a great way to beat the heat and stay cool in large space area. A+ for a sustainable product with eco-friendly features that also works as an air conditioner and portable fan.
This cooling fan can work as an air conditioner, with a high-speed blowing fan and 40L water capacity. It also has an air filter and ABS material. It features a water tank to keep you cool and a water spray to make it lighter, which results in lower energy consumption and less water usage.
We love this cooling fan that works as an air conditioner as well.
Why buy this:
High-speed blowing
40L Water capacity
Air Filter
ABS Material
Check prices on Lazada
5. Pensonic Portable Air Conditioner PPA-109 1.0hp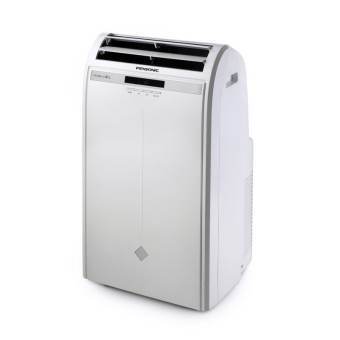 Self-diagnosis function
The Pensonic Portable Air Conditioner is a space-saving air conditioner that you can bring with you around the house. With a minimalistic design, it will complement the look of any home. With auto swing and airflow, timer setting, and the ability to set a timer for when to turn off your air conditioner, it makes life that much easier. It also has a memory function, auto restart and sleeps mode for your convenience. It also features a self-diagnosis function, so you know when there are any issues with the unit.
This unit is the perfect solution to quickly and effectively cool down any room up to 400 sq ft without breaking the bank.
Why buy this:
LED Display
Vertical Auto Swing and Airflow
Timer Setting
Memory Function
Self-examination Function
Check prices on Lazada
6. EcoCooling Portable Aircon LH980V Air Cooler 360W High-speed Cooling Fan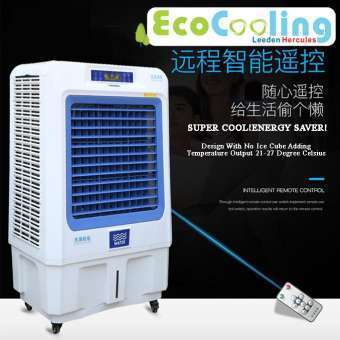 Best for spacious space
Suppose you're working in a hot, stuffy office, and you're feeling a little woozy because of the heat. You really need to cool down. What do you do?
High cooling capacity
The EcoCooling LH980V unit is a great choice for those in need of a high-quality, high-speed air cooler. This air conditioner can provide a maximum cooling capacity of up to 7.5 m3/hr and comes with a timer, auto restart and remote control function for convenience. The high-speed fan will ensure all corners of a room are cooled comfortably, and it even has an air filter for those with allergies! With low energy consumption and water usage, this cool machine is the perfect addition to any office or warehouse.
The 40L water capacity on this device is larger than most other portable air conditioners on the market, ensuring that you won't need to refill it as often, and you can cool larger spaces with ease. Did we mention that the ABS material provides a longer life span?
Why buy this:
High-speed blowing
40L Water capacity
Air Filter
ABS Material
Check prices on Lazada
7. Hisense Portable AC AP-12NXG 1.5HP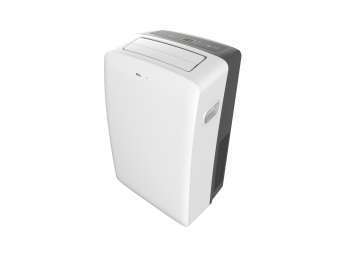 Modern design with high-end features
If you are looking for portable air conditioners that not only looks good but is also loaded with high-end features, then Hisense AP-12NXG 1.5HP portable air conditioner is the one for you.
It has features that are designed to make your life easier. The LED Display is perfect for adjusting the settings, and the Sleep Mode is ideal for when you don't want it running all night long. This portable AC is also easy to maintain since it has a washable filter of its own. With its 12000 Btu cooling capacity, this powerful unit can cool rooms up to 400 sq ft in size while still saving you money on your energy costs.
Why but this:
Europe A class energy-efficiency performance for low energy consumption
Sleep mode
LED Display
12000 Btu cooling capacity
Check prices on Lazada
8. Elba Portable Air Conditioner 1HP Epac-D3910
Vertical Auto Swing
The Elba Portable Aircond Malaysia model is a convenient choice for your cooling needs. This air conditioner can be used in bedrooms as well as other areas and has an excellent design and quiet operation to provide a more relaxing sleep.
The integrated water tank means that it's easy to keep everything dry, and the high-powered blower up to 10,000 btu/hr can keep up with even the strongest winds. Plus, it's super quiet, so you can sleep soundly without being disturbed by noise. There are dual-speed fan control, sleep mode, and an auto-off function to save energy.
Why buy this:
10,000 Btu/hour
Dual Speed Fan Control
Removable & Washable Air Filter
Front LED Display
Vertical Auto Swing
Self Evaporater System
Check prices on Lazada
Check prices on Shopee
9. Midea MPH-09CRN1 1.0hp Portable Aircond Malaysia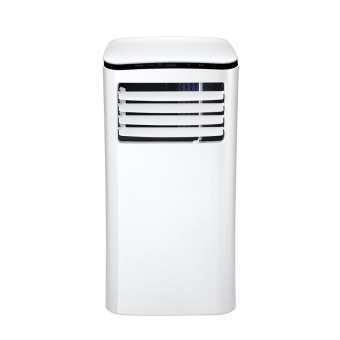 Best budget picks
This sleek and stylish design of air conditioning units are not only portable but also come with a lot of cool features. The Midea MPH-09CRN1 1.0hp Portable Air Conditioner is a bucket-free design, which means you won't need to worry about draining the water since it will evaporate automatically for you.
Silver on filter & omnidirectional caster
This MPH-09CRN1 unit also features a silver ions filter for fresh air, and auto-swing feature to improve the distribution of cool air and a sleep mode feature. This model also improves the distribution of cool air with the omnidirectional caster too. It also comes with a flexible hose, so it is easier to set up in various rooms including the living room and bedroom.
Why buy this:
Silver ions filter
Auto swing
R410a refrigerant
Improved distribution of cool air via the omni-directional caster
Sleep setting feature
Check prices on Shopee
Check prices on Lazada
10. Trentios Portable Air Cond PC35-AME 12000btu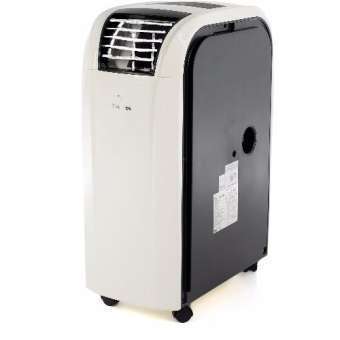 Best for condominium owner
The Trentios portable AC is perfect for condominiums. It is easy to install and use and has a compact design that includes an innovative cooling mechanism and dehumidifying function. The air conditioner has an anti-corrosive coating on the fan for long term durability.
This air conditioner has been designed to operate even up to 24 hours consecutively with no water tank needed. With 12000btu of cooling power and R-410A refrigerant, this product is excellent for cooling large spaces.
We believe it is one of the most reliable units on the market for energy efficiency and cooling power.
Why buy this:
Dehumidifier function
Compact and Innovative Design
Fan: Anti-Corrosive Coating
Energy: Energy Class A
Cooling power: 12000btu with R-410A Refrigerant
Check prices on Shopee
Check prices on Lazada
Related Searches:
Portable aircond Malaysia, portable aircond review, portable ac, portable aircond price
So what are the differences between evaporative coolers and portable air conditioners?
Although both of them are easy to use and portable, the major difference is in the cooling mechanism that both of them use. For air coolers, basically, you need to have large amounts of ice or water to cool the room down. More moisture is also added to the space that it is cooling. Therefore, it may not be the best option for those areas that have high humidity levels already.
However, portable air conditioners are powered still by a condenser. Therefore they do not need to have water for the cooling needs. But in contrast to evaporative coolers, they also come with exhaust hoses just like typical aircons do to extract hot air out of the room via the vent. There is something important to consider when purchasing a portable aircon.
Check out the following top-recommended portable air conditioners from our list:
FAQs
What is a portable aircon?
Portable aircons gives you the comfort of having an aircon without the hassle of the installation
How much does a portable aircon cost?
The cost for portable aircons starts at 700 RM depending on the brand and model
What are popular portable aircon brands?
Midea, Morgan, EcoCooling, Pensonic, HiSense, and Elba are some of the famous brands there is.
Are Portable Air Conditioners Worth It?
Portable ACs are an effective, cost-sensitive solution to small spaces and humid environs. Unlike window units, they use an exhaust hose to let out hot air through the window. They, therefore, leave the main windows open to allow more natural light into a room, and better yet, can be self-installed.
As such, they can be placed even in small rooms like bedrooms and studies. This makes them a go-to option for people who need spot cooling, those with limited space, or those with strict HOA restrictions. They are certainly worth the money and make a space more comfortable without much hassle.
Are There Portable Airconds Without a Hose?
No, there are no portable airconds without a hose. Portable AC, like all ACs, suck in warm air, pass it through a refrigerant for cooling, then release cool air to a room. As warm air passes through the coolant, its heat is absorbed. From here, the heat is then vented outside a building.
With this in mind, therefore, an exhaust hose is a critical component of a portable air conditioner. Without it, the AC ceases to exist. Ventless air coolers, however, do exist. They make a room cooler but are not actually air conditioners. These are known as vent-free coolers, swamp coolers, or evaporative coolers. They are only minimally effective since they do not rid a room of its heat.
Do Portable Air Conditioners Need To Be Drained Of Their Water?
It's a common question among both owners and potential buyers of these machines. However, the answer is not simple.
Some portable air conditioners do need to be drained from time to time. However, not all models actually have a drain basin that can be drained, so obviously those wouldn't need to be.
Among portable AC units with drain capacity, some still don't need to be drained. The basin doesn't collect enough water or it just evaporates on its own. In many cases, portable AC units vent the moisture with the expelled air.
Do Portable Air Conditions Use A Ton Of Electricity?
A portable air conditioner only uses 1/4th of the electricity a central air conditioner does.
This illustrates the difference in the amount of energy that's generated to push cool air into the property. In general, the portable air conditioner is a more compact solution that is built on providing a targeted amount of cooling.
On the other hand, a central air conditioner tends to provide coverage for the entire property through the vents and as a result, requires more energy to continue to produce this cool air throughout the day. This leads to the difference in how much electricity is used by it.
How Long Would It Take A Portable AC To Cool A Room?
If you don't have a central AC, you may be considering a portable AC to cool a particular room. This is actually very effective and it would typically take the portable unit between 20 minutes to an hour to cool a room. However, do note that this is dependent on the power of the AC, the size of the room, the current temperature of the room, age of the AC unit etc. The great thing about portable AC units is that you can use them in just about any space or room and even move them with you. This would ensure that you're always cool and comfortable, no matter where you are.
Click here for other home appliances related articles.
Latest posts by Aaron Tan
(see all)
This article was brought to you by BestAdvisor.my
Disclaimer: This is the opinion of the writer or publication. We only recommend products or services that we have tested and tried ourselves or have done in-depth research with positive external reviews and find them to be useful for everyone. The products/services shown are available upon the publication date. The availability may change from time to time. If some of them are not available, please email us at [email protected] Thank you!