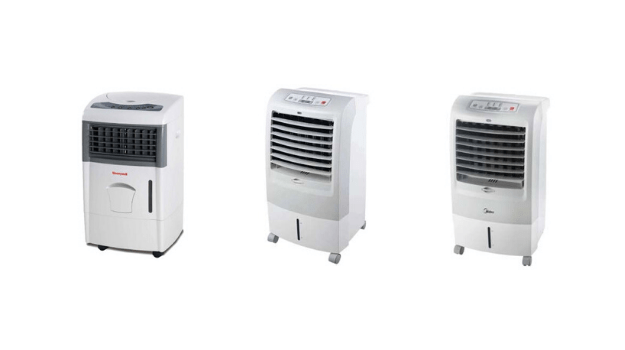 There are many types of air coolers in Malaysia for you to choose from. But which one will work best for you? Here we have a list that includes the 10 best beat air coolers in Malaysia that may be able to provide some relief during this hot weather. This post is also a review of these products and what they do. You can find more information below about how long it takes them to cool down, their noise levels, amount of coverage given, comfortability level and power usage.
Let's look at the 10 best air cooler comparison tables.
Quick Comparison Table
(scroll right for more)
Before we dive into the detail of the best air coolers, let's find out more about air coolers and how to choose the right one.
How Does The Air Evaporative Cooler Work?
Air Cooler is a device that uses evaporative cooling to lower the temperature of the air. The device works by drawing in warm air and passing it over a wet pad.
The water evaporates as the air passes over the pad, cooling the air. The cooled air is then blown out into the room, providing a refreshing blast of coolness.
The Pros & Cons of Cooler
The Pros
Air coolers are a great alternative to air conditioners, and they offer several benefits.
First, air coolers are much more energy-efficient than air conditioners, so they can help to save money on your energy bill.
Second, air coolers help to improve indoor air quality by circulating fresh, clean air throughout the room.
Third, air coolers can also help to reduce noise levels in your home.
And fourth, air coolers are much more environmentally friendly than air conditioners, so they can help you reduce your carbon footprint.
If you're looking for a way to keep your home cool and comfortable this summer, an air cooler is a great option.
The Cons
While air coolers have many advantages, there are also several disadvantages. One of the biggest drawbacks of air coolers is that they require a constant supply of water in order to work effectively.
This means that they must be filled up frequently, and if the water reservoir runs dry, the unit will not work at all. Additionally, air coolers tend to be less efficient than air conditioners, and they can also be noisy.
Finally, air coolers can only cool the air in one specific area, making them less effective at cooling large spaces.
It is important to weigh the pros and cons of air coolers before deciding whether or not to use one in your home.
How to Choose The Best Air Cooler
1. Evaporative Cooler Sizing (Airflow)
To find the right size evaporative cooler, you need to calculate the airflow volume of the room.
To do this, simply multiply the length, width, and height of the room in feet to find the cubic footage. Once you have the cubic footage, divide it by two to find the minimum airflow volume in CFM (cubic feet per minute) that your evaporative cooler should have.
For example, if your room is 20 feet long, 15 feet wide, and 8 feet tall, it has a volume of 2400 cubic feet. Divided by two, that means you need an evaporative cooler with an airflow of at least 1200 CFM.
If you want to be extra comfortable, you can choose an evaporative cooler with a higher CFM rating than the minimum. Just keep in mind that each additional CFM will increase the cost of the unit.
The chart below can help you choose the suitable model for your needs.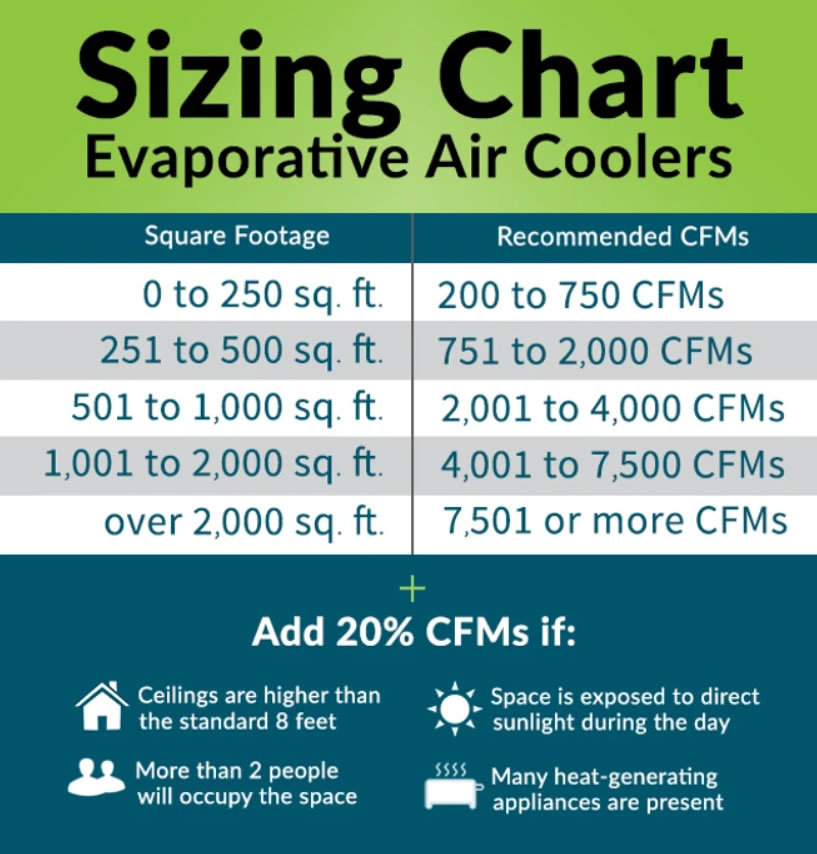 (Images credit to Sylvane)
2. Water Tank Capacity
A properly sized cooler for your room will have a water tank that can hold between 15 litres and 25 litres. A unit that is too small will need to be filled more often, while a unit with a larger tank will be heavier and more difficult to move when the time comes to empty it.
3. Cooling Pads
There are three main types of cooling pads: honeycomb, aspen, and Cellulose. Each type has its own advantages and disadvantages.
Honeycomb cooling pads are the most popular type on the market. They are known for their durability and efficiency. However, they can be more expensive than other types of cooling pads.
Aspen cooling pads are made from wood pulp material. They are less durable than honeycomb pads but are more affordable.
Cellulose cooling pads are made from recycled paper products. They are the most environmentally friendly option but may not be as effective as other types of cooling pads.
4. Ice Compartments
One important factor to look at is the size of the ice compartment. Smaller coolers may only be able to hold a few trays of ice, while larger ones may have room for a large block of ice.
Another thing to consider is how easy it is to access the ice compartment. Some coolers have a front-loading design, while others have a top-loading design.
Lastly, check to see how well the cooler seals. A tightly sealed cooler will keep the ice from melting as quickly, allowing you to enjoy cool air for a longer time.
5. Control Panel
Some air coolers have a timer, which allows you to set how long the unit will run. Others have a remote control, which makes it easy to adjust the settings from across the room.
6. Noise Level
A good rule of thumb is to look for an air cooler that has a noise level of no more than 50 dBa. This is about the level of a quiet conversation. So, it's not likely to be disruptive even if it's running in the background.
(Check out this buying guide if you look for more on how to choose the right air cooler)
Now that you know the tips on how to choose your air cooler, here are the top 10 models in Malaysia
10 Best Air Coolers in Malaysia
Therefore, which are the best air cooler brands in the Malaysian market today?
1. Sharp Evaporative 6L PJA36TVB/ PJA36TVW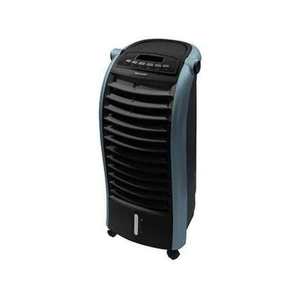 Durable Model
If you're looking for a durable, affordable air cooler that will last long then this Sharp PJA36TVB model should be at the top of your list. It features 4 fan speeds and 3 wind modes to offer maximum customization in terms of temperature preference – which can also change depending on how hot or cold it currently feels outside!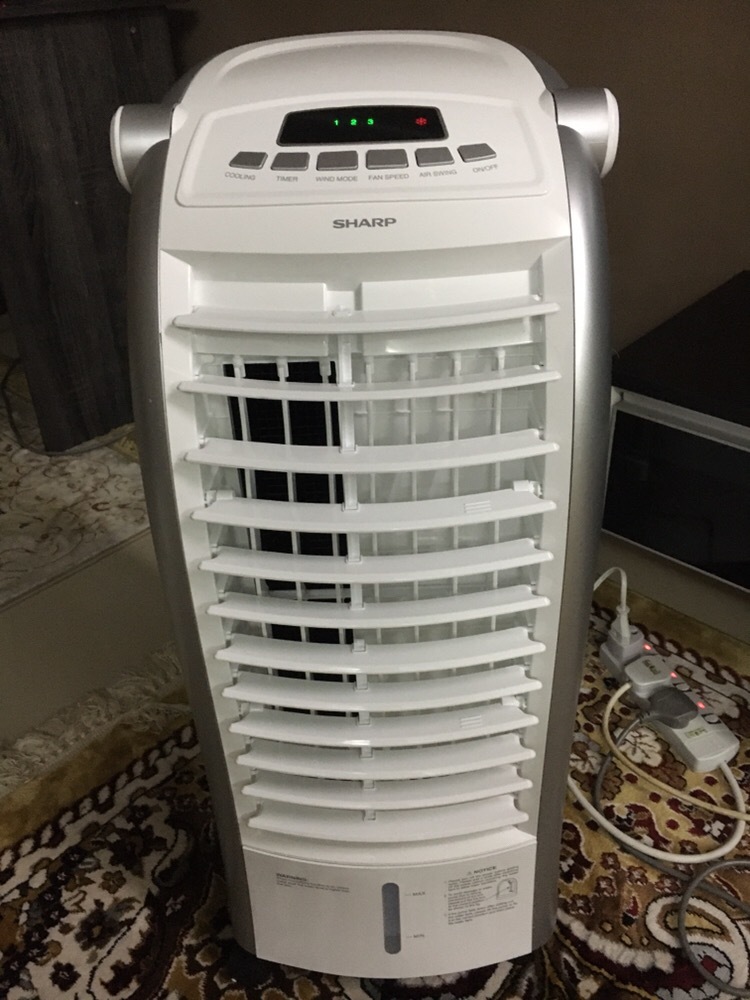 Pros:
Water-lacking protection
Extremely Durable
Affordable
Cons:
Check prices on Lazada
Check prices on Shopee
2. Sharp 20L PJA200TVB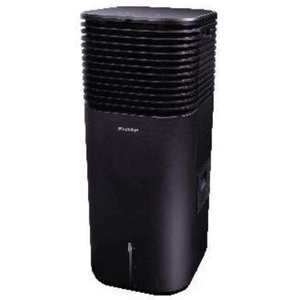 Water Lacking Protection
This Sharp air cooler is perfect for keeping any room cool and comfortable. With its three fan speeds, you can choose the airflow that's right for you. And with its water-lacking protection feature, you can be sure your space stays dry.
Pros:
Easy to move
Comes with 3 modes
Water Lacking Protection
Cons:
Check prices on Lazada
Check prices on Shopee
3. Honeywell TC30PEUI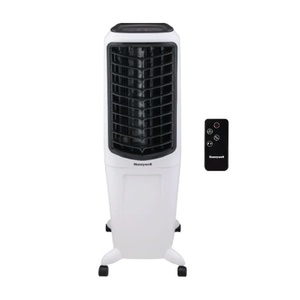 User Friendly
The Honeywell TC30PEUI is a Personal Evaporative Air Cooler that uses honeycomb cooling media for optimum cooling. This unit has three speeds – low, medium, and high – and a remote control so you can change the settings without having to get up. The oscillating louvers evenly distribute cool air throughout the room, and the built-in ionizer helps to freshen the air. Plus, this cooler is easy to move from room to room thanks to its easy mobility feature.
Pros:
Durable casters for easy mobility
Low water alarm alerts
Built in ionizer
Cons:
Can be a bit loud compared to other units
Check prices on Lazada
Check prices on Shopee
4. Midea Ionizer – MAC-215F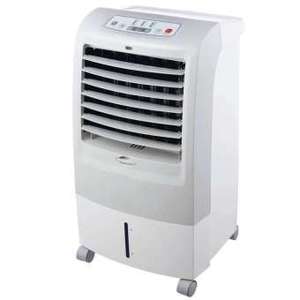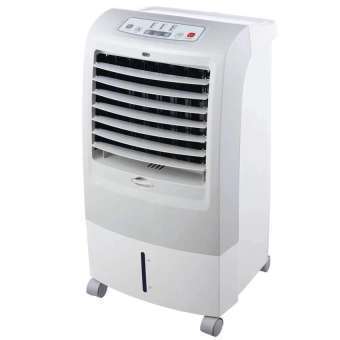 Multi-Purpose
This is another Midea multi-purpose air cooler. This is a 15 litter air cooler that comes with remote control. It has been designed to imitate the natural breeze (natural air blow) rather than the normal icy effect you get with other coolers. It can also be used as a purifier, cooler, humidifier, or fan. It is compatible with aroma oils. It also features an in-built ionizer LED display. In fact, it is one of the most bought products for those living in condominiums or apartments; mainly because of its compact feature and yet accommodating different features. In Malaysia, Midea is the most trusted brand and has been in the electronic market for many years now. This model from Midea can prevent room odor while at the same time preventing mold buildup. You can purchase your own Midea product here.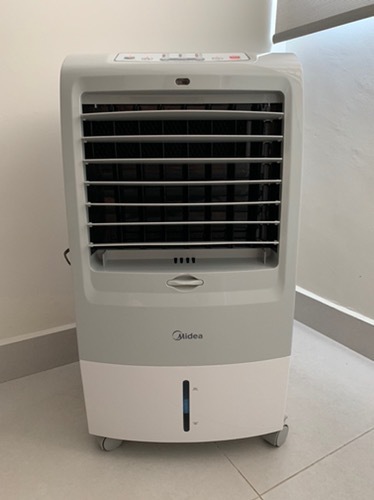 Pros:
Attractive LED display
In-built ionizer
Can work with aroma oils
Can be used as a fan, purifier, cooler, or humidifier
Cons:
It is a little heavy to move around
Check prices on Lazada
Check prices on Shopee
5. The Arctic Air Ultra-Portable Mini Size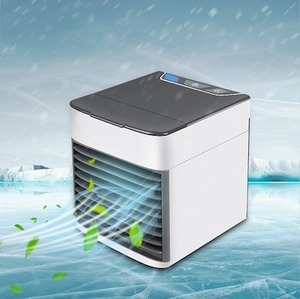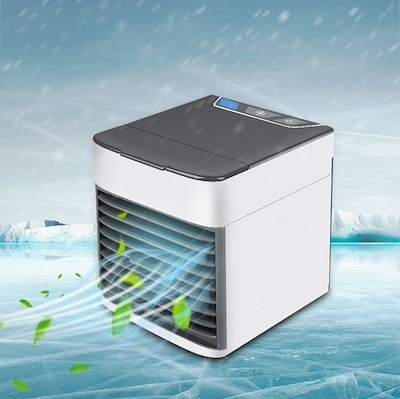 Best for Personal Use
This is the latest model released from the brand and comes with all features useful to consumers. First, it cools a room faster compared to its predecessor. Let us not forget the fact that it is space friendly. It also features double cooling water and a programmable thermostat that can cool for up to 8 hours. However, its most important updated feature is its ability to use less water and still can cool a room for hours. Get the best price here.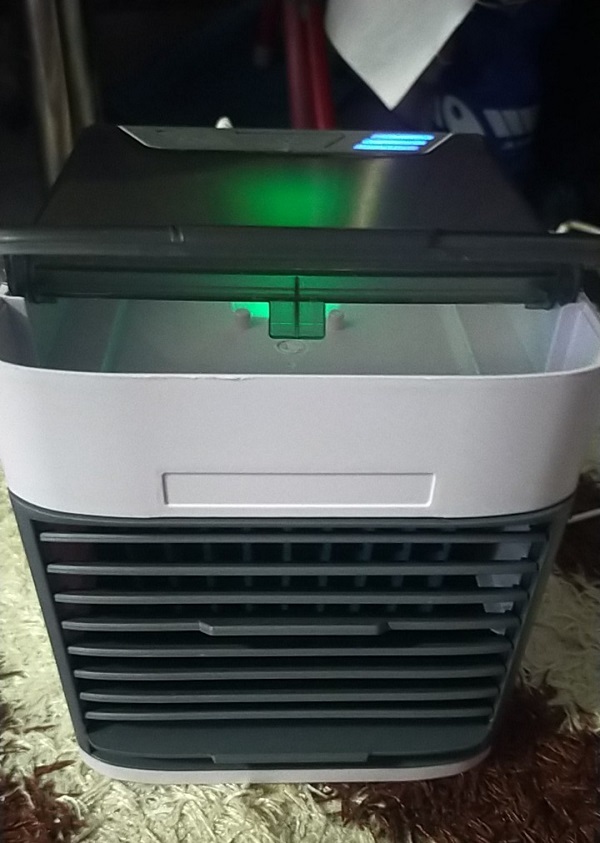 Pros:
Great water capacity given its size
Water tank is easy to fill and maintain
Air conditioning kind of cooling for small spaces
Cons:
Small cooling area
The tank of the cooler is not fully impermeable
Check prices on Lazada
Check prices on Shopee
6.

Morgan 12L MAC-CX12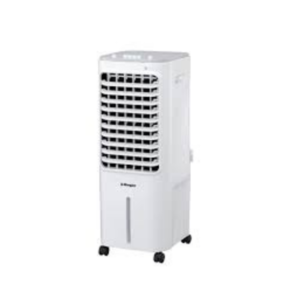 7-Hour Time Setting
This Midea MAC-CX12 air cooler is a must-have for anyone looking for an efficient and multi-functional cooling option. It has a 40mm thick filter, automatic shut-off pump protection, power-off memory, and a 7-hour time setting, making it easy to operate and customize to your needs. Plus, it's able to cool areas up to 12L in size, so you can be confident that this machine will keep you comfortable even on the hottest days.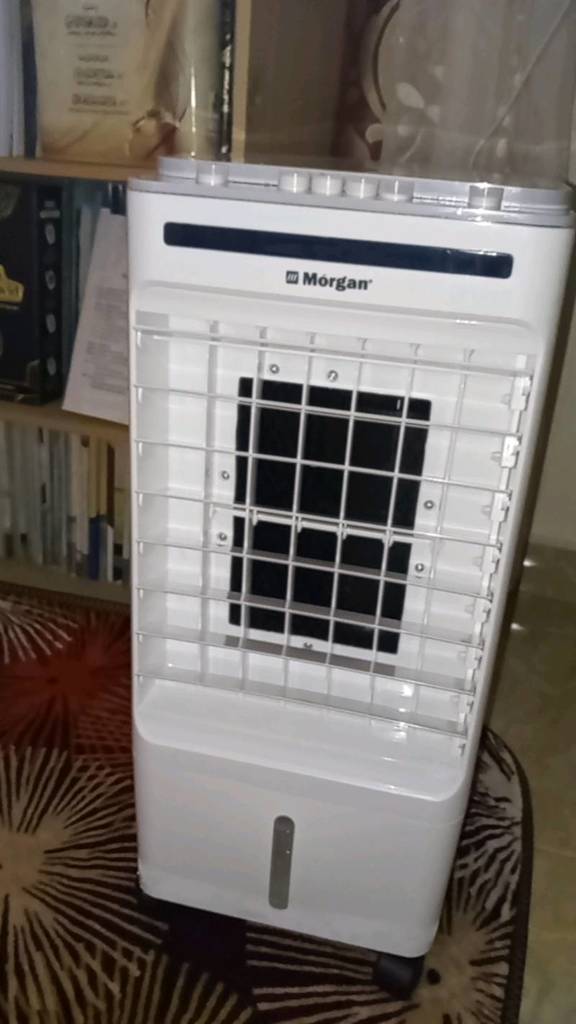 Pros:
Durable Honeycomb filter
With large water tank capacity
With left/ right auto swing louvers
Cons:
Not ideal for large space
Check prices on Lazada
Check prices on Shopee
7. Honeywell CL151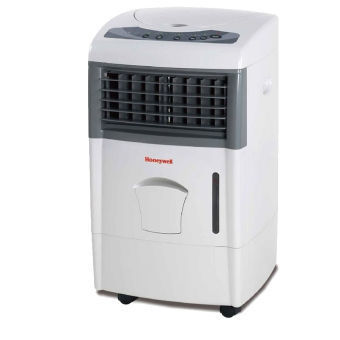 Best for Bigger Room Space
With its 15L tank, this product from Honeywell can cool up to a 100 square meter room while still maintaining a low energy consumption rate. In fact, its best feature is its low every consumption feature, which means you will not pay a huge amount of electric bills. This is one of the easiest-to-use air coolers on the market. You can own yours today by clicking here.
Pros:
A powerful 206 CFM airflow with a 0.5 to 7.5-hour shut-off timer
Comes with a five-speed fan setting
Remote control
Cons:
On the pricier side for its capacity
Check prices on Lazada
Check prices on Shopee
8. The KHIND EAC400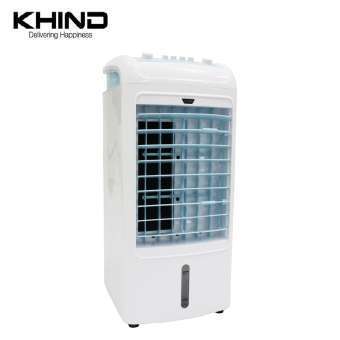 Double Cooling Filter
This product from KHIND is ideal for home use. It is affordable and includes an efficient cooling capacity. It surely delivers the basic requirements you need.
Stay cool this summer with the KHIND EAC400 Air Cooler. This highly effective air cooler is capable of cooling up to 15 Sqm and with a durable cooling filter & filter mesh, it can help reduce allergens (e.g. pollen) and dust from the air so you can keep cool and healthy. This machine also comes with 2 ice packs, so that you can stay cool even when the power goes out!
Pros:
A 3-speed option
Mesh water pump sprinkling system
Double cooling filter
Cons:
Smaller size
User reports leak
Check prices on Lazada
Check prices on Shopee
9. The YET VM45i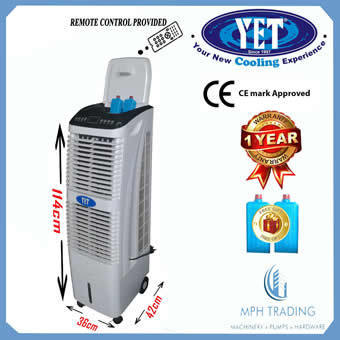 Large Tank Capacity
If you need a dedicated air cooler or do not have an aircon system installed, then this product is for you. It is not only powerful but can keep a home cool for up to six hours. It is also a low energy consuming product.
The VM-45i is specially designed to reduce the temperature of your room rapidly, it can maintain a temperature just 2 degrees higher than the outside temp. You can feel the powerful and fresh air flow from the appliance in just minutes, it will make you feel great and refresh your mood. Featuring a centrifugal fan and enhanced cooling power, this air cooler has been engineered to provide the utmost in reliability and efficiency for your home.
Pros:
Comes with a 30L tank capacity
It can run for 6 hours' straight
It works as an ionizer, air cooler, and airflow fan
Cons:
Check prices on Lazada
Check prices on Shopee
10.

HYUNDAI 4L 70W Energy-Saving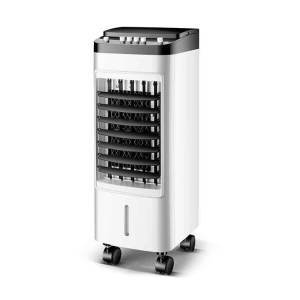 Energy Saver
Looking to keep your home cool and comfortable this summer without spending a fortune on energy bills? Look no further than the HYUNDAI 4L 70W Energy-Saving Air Cooler! This innovative appliance has a dual ice crystal refrigeration system that keeps the air cool and purified, while the three-speed adjustment allows you to customize the cooling power to meet your specific needs. Plus, at just 70W of energy consumption, this air cooler is incredibly economical and environmentally friendly.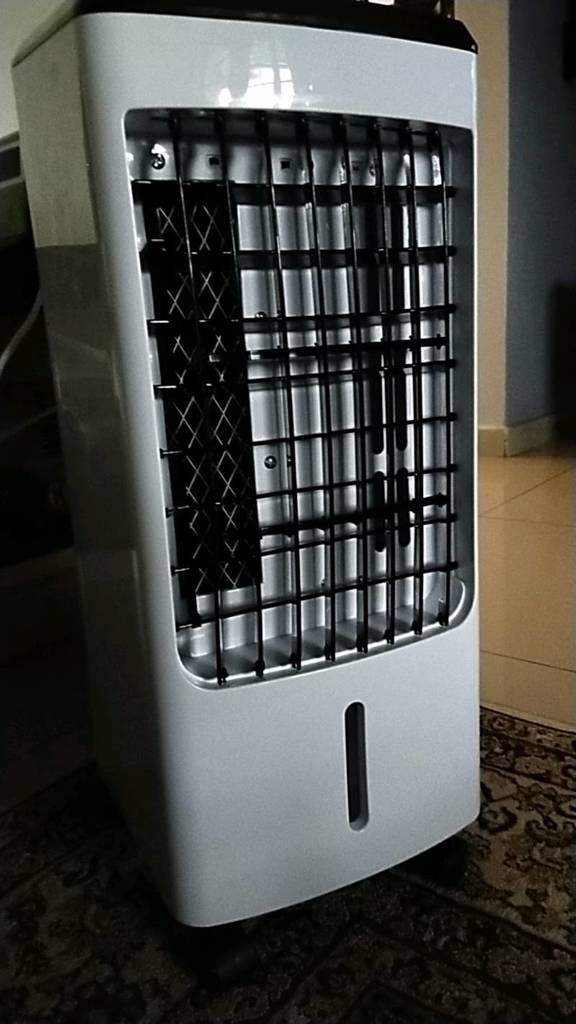 Pros:
High air delivery
Enhancing the safety fan guard
Built-in safety thermal fuse
Cons:
Smaller size for the model
Check prices on Lazada
Check prices on Shopee
Top Air Cooler Brands in Malaysia
Midea
Midea's innovative and high-quality products have made it a popular brand among consumers. The company is constantly winning awards for their design aesthetic, which are recognized internationally as well!
Sharp
If you want an effective purchase and long-term investment, these Sharp air coolers will last your family for a while. Thanks to its waterless protection or ball bearing motor they are one of the most durable in Malaysia!
Honeywell
Honeywell is a major brand in the cooling industry, offering high-quality products with tons of features. The prices vary from middle to higher end models for those looking at top level performance without breaking their budget!
Air Evaporative Cooler Vs. Air Conditioner Vs. Fan Vs. Portable Aircond
When it comes to finding the perfect way to keep cool during the summer months, there are a few different options to choose from. Air coolers, aircons, fans and portable airconds all have their own pros and cons, so it's important to select the option that best suits your needs. Here is the comparison table to help you further.
| Feature | Air Cooler | Air Conditioner | Fan | Portable Aircond |
| --- | --- | --- | --- | --- |
| Effectiveness | Cool | Best | Only Windy | Cool |
| Price | Low | High | Low | Medium |
| Energy Use | Less | High | Less | High |
| Eco-Friendly | Yes | No | Yes | No |
| High Humid Weather | Don't works well | Works well | Don't works well | Works well |
| Portability | Yes | No | No | Yes |
| Indoor/Outdoor Use | Both | Indoor | Both | Both |
| Daily Maintenance | Yes - Refill water | Not required | Not required | Not required |
| Ease of maintenance | Yes | No - Need AC Contractor | Yes | Yes |
Related Read:
How To Clean An Air Evaporative Cooler
In order to work correctly, evaporative coolers must be regularly cleaned and maintained. Here are four easy steps to keep your evaporative cooler clean and functioning at its best.
Start by emptying the cooler of any water that may be inside. Next, remove the pads or screens from the unit and soak them in a mixture of water and vinegar for 30 minutes.
While the pads are soaking, use a soft brush to clean the interior of the cooler. Be sure to remove any dirt or debris that may have accumulated.
After 30 minutes, remove the pads from the vinegar mixture and rinse them thoroughly with water. Allow them to dry completely before replacing them in the cooler.
Once the pads are back in place, fill the cooler with fresh water and turn it on. You should notice an immediate difference in performance! Continue to clean your evaporative cooler monthly to ensure optimal results.
How To Maintain An Air Evaporative Cooler
Maintaining an evaporative cooler is relatively simple and only requires a few minutes of your time each month. By following these tips, you can keep your cooler running smoothly for years to come.
To start, be sure to empty the water reservoir and clean it with mild soap every month. This will help to prevent the build-up of mineral deposits and bacteria.
Next, inspect the pads or screens for signs of wear and tear. If they are damaged, replace them with new ones.
Finally, take a look at the fan blades and make sure that they are not bent or broken. if they are damaged, they should be replaced as soon as possible.
By following these simple tips, you can keep your evaporative cooler running like new.
Final Thoughts
Air evaporative coolers offer many benefits, but there are also some drawbacks to using them. Before deciding whether or not to use an air cooler in your home, be sure to weigh the pros and cons. Additionally, be sure to maintain your evaporative cooler by performing monthly maintenance properly. By following these tips, you can keep your air cooler running efficiently for years to come.
FAQs
❓What are the popular brands of Air Coolers?
Some of the known air cooler brands in Malaysia are Midea, Artic Air, Honeywell, and Khind
❓How much does it cost?
Depending on the model and brand, the price of an air cooler usually starts at RM300
❓Why should I buy one?
They are the perfect combination of fan and air conditioners. It can keep you cool and comfortable, without a huge electricity bill
Click here for other home appliances related articles.
This article was brought to you by BestAdvisor.my
Disclaimer: This is the opinion of the writer or publication. We only recommend products or services that we have tested and tried ourselves or have done in-depth research with positive external reviews and find them to be useful for everyone. The products/services shown are available upon the publication date. The availability may change from time to time. If some of them are not available, please email us at [email protected]. Thank you!
Last Updated on