Last Updated on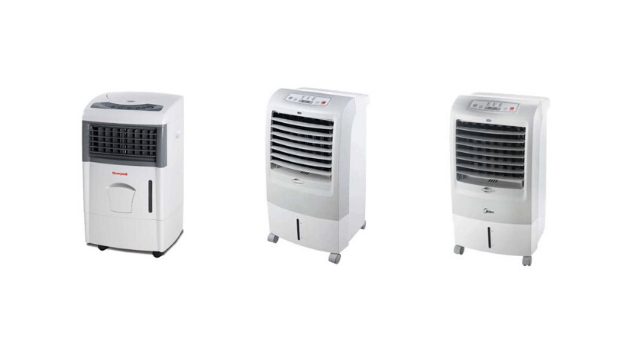 There are many types of air coolers in Malaysia for you to choose from. But which one will work best for you? Here we have a list that includes the 8 best beat air coolers in Malaysia that may be able to provide some relief during this hot weather. This post is also a review of these products and what they do. You can find more information below about how long it takes them to cool down, their noise levels, amount of coverage given, comfortability level and power usage.
8 Best Air Coolers in Malaysia
Therefore, which are the best air cooler brands in the Malaysian market today?
1. Midea Ionizer – MAC-215F
Best of All
This is another Midea multi-purpose air cooler. This is a 15 litter air cooler that comes with remote control. It has been designed to imitate the natural breeze (natural air blow) rather than the normal icy effect you get with other coolers. It can also be used as a purifier, cooler, humidifier, or fan. It is compatible with aroma oils. It also features an in-built ionizer LED display.
In fact, it is one of the most bought products for those living in condominiums or apartments; mainly because of its compact feature and yet accommodating different features.
Why buy this:
Attractive LED display
In-built ionizer
Can work with aroma oils
Can be used as a fan, purifier, cooler, or humidifier
Features/Specification:
15L tank
Built-in Ionizer
Multi-function: Fan/Humidifier/Air Purifier
3-Speed Fan
Visible Cooling
Aroma Smell
40mm Thicker Filter
LED Display
1 year general warranty
In Malaysia, Midea is the most trusted brand and has been in the electronic market for many years now. This model from Midea can prevent room odor while at the same time preventing mold buildup. You can purchase your own Midea product here.
Check prices on Shopee
Check Prices on Lazada
2. The Arctic Air Ultra-Portable Mini Size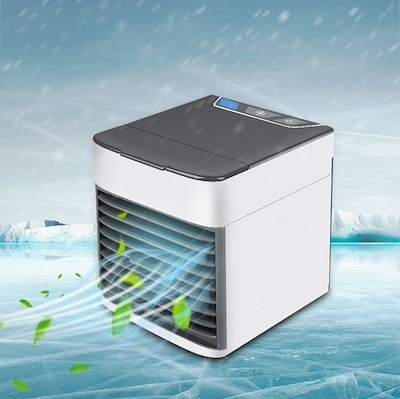 Best for personal use
This is the latest model released from the brand and comes with all features useful to consumers. First, it cools a room faster compared to its predecessor. Let us not forget the fact that it is space friendly. It also features double cooling water and a programmable thermostat that can cool for up to 8 hours. However, its most important updated feature is its ability to use less water and still can cool a room for hours. Get the best price here.
Why buy this:
Great water tank capacity given its size
Water tank is easy to fill and maintain
Air conditioning kind of cooling for small spaces
Features/Specifications:
7 Colours of Lamp can be changed.
Very Light Weight around 0.8Kg.
Three Selection Fan Speed Button.
Small and Portable size 14x16x17cm.
500ml Water Tank Capacity can accommodate up to 10 hours of dissipation (Lo-Speed).
Power Output: 8 watts
Power Input: 5V USB (Not included and use normal USB Port)
Come with one USB Cable 1.5 meter long.
Warranty: 1 Year
Check prices on Shopee
Check Prices on Lazada
3. SIMPLYBEST Arctic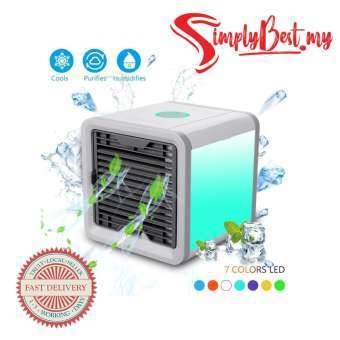 Best USB Model
This product is all about portability, and because of this, it has become a favorite of many. Many of us do not know how much we need a handy cooler anytime we are on the go. They are featured with energy-efficient none-leak design and its own filter for cleaner and healthier air mood lights. This product is particularly designed for office spaces, and consumers are guaranteed a comfortable working temperature.
Why buy this:
Innovative, compact size perfect for home office desks
Accessible water tank
Ambiance light included
Get this desk air cooler here.
Check prices on Shopee
Check Prices on Lazada
4. Honeywell CL151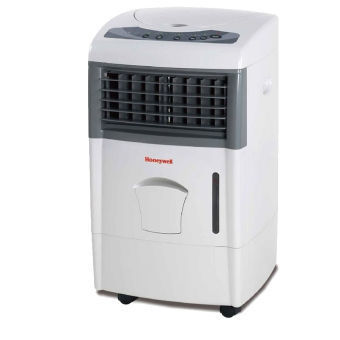 Best for bigger room space
With its 15L tank, this product from Honeywell can cool up to a 100 square meter room while still maintaining a low energy consumption rate. In fact, its best feature is its low every consumption feature, which means you will not pay a huge amount of electric bills.
Why buy this:
A powerful 206 CFM airflow with a 0.5 to 7.5-hour shut-off timer
Comes with a five-speed fan setting
Remote control
Features/Specifications:
3 Speeds – Low / Medium / High
Wind speed – Normal / Natural / Sleep
LED control panel
Off timer
Full function remote control
Water Tank: 15 Litres
Airflow: 350m3/hr (206 CFM)
Power Consumption: 126 Watts
Net weight: 8.2 kg
Unit dimensions : 380 x 365 x 680 mm
This is one of the easiest-to-use air coolers on the market. You can own yours today by clicking here.
Check prices on Shopee
Check Prices on Lazada
5. TINTON LIFE Portable Model
Best portable air cooler
This product is not only attractive or adds beauty to a room, office, or bedside table; it has been designed to deliver a healthy and cool breeze. It has been featured with different fan settings, which may be used depending on your preference.
Why buy this:
LED mood light
Low operation noise
Own filtration system
Power fluctuation
This is another popular air cooler in Malaysia from Tinton's brand line. It is effective and easy to maintain. You can get yours today here.
Check prices on Lazada
6. The KHIND EAC400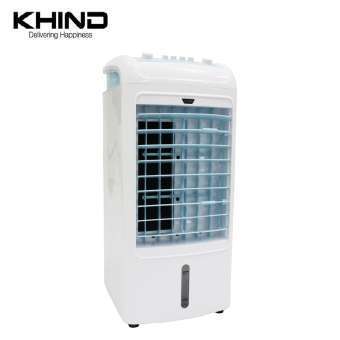 Double cooling filter
This product from KHIND is ideal for home use. It is affordable and includes an efficient cooling capacity. It surely delivers the basic requirements you need.
Stay cool this summer with the KHIND EAC400 Air Cooler. This highly effective air cooler is capable of cooling up to 15 Sqm and with a durable cooling filter & filter mesh, it can help reduce allergens (e.g. pollen) and dust from the air so you can keep cool and healthy. This machine also comes with 2 ice packs, so that you can stay cool even when the power goes out!
Why buy this:
A 3-speed option
Mesh water pump sprinkling system
Double cooling filter
Features/Specifications:
Durable Cooling Filter & Filter Mesh
Durable Casters for Easy Mobility
Suitable for Room Size Up to 15sqm
3-Wind Speed
Come with 2 Ice Packs
Allows for Open Doors & Windows
Cooling by Water Pump Sprinkling System
You can purchase this product at an affordable rate here.
Check prices on Shopee
Check Prices on Lazada
7. The YET VM45i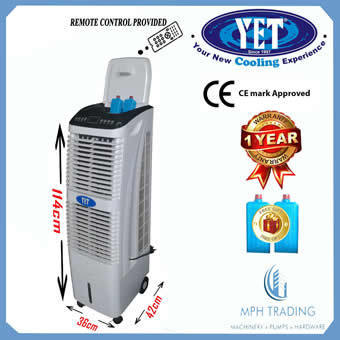 Best for large tank capacity
If you need a dedicated air cooler or do not have an aircon system installed, then this product is for you. It is not only powerful but can keep a home cool for up to six hours. It is also a low energy consuming product.
The VM-45i is specially designed to reduce the temperature of your room rapidly, it can maintain a temperature just 2 degrees higher than the outside temp. You can feel the powerful and fresh air flow from the appliance in just minutes, it will make you feel great and refresh your mood. Featuring a centrifugal fan and enhanced cooling power, this air cooler has been engineered to provide the utmost in reliability and efficiency for your home.
Why buy this:
Comes with a 30L tank capacity
It can run for 6 hours' straight
Includes high-quality cooling pad, fiber, honeycomb pad, and cooling pad
Very powerful with a steady airflow at 4500m3/h
It works as an ionizer, air cooler, and airflow fan
Features/Specifications:
Powerful Air Flow: 4500m3/h airflow
3 Levels Of Speed Control: Low, medium and high speed
4 Swing Directions: Swings left to right and up to down
Longer Operation: Use up to 6hrs with 30L tank capacity
Triple-function: Fan/ Air Cooler/ Ionizer
Simple Command: Remote control provided and possess timer function
High-Quality Cooling Pad: Honey Comb Pad + Fiber, Cooling Pad
Energy Savings: Consumes only 120 watts
It also features remote control and time for convenient use. You can buy this product online here.
Check prices on Lazada
8. Global Air GFLS-120M
Best for ionizer & purifier air
Global Air is a brand that ensures its products include a lot of features useful to the consumer at an affordable price. Furthermore, they ensure its products are energy efficient or energy saving by including a fan mode.
Why buy this:
3-speed fan setting (low, medium, and high)
It works as an air cooler, ionizer, and purifier
Comes with an air filter
Today, it comes with its own ice pack set, which is convenient. Buy one at an affordable price here.
Check prices on Lazada
How Does It work?
An air cooler (evaporative cooler) generally uses evaporated water to cool a room. Unlike an air conditioner, evaporative coolers only cool a particular spot with a specified or given time. Their function is producing and releasing cool mist into the air, which is then dispersed by the fan. For a better cooling experience, some users prefer installing these units on windows or close to an open door.
Air Coolers Vs. Air Conditioners
Air coolers have been proven to be more energy-efficient compared to air conditioners. In fact, the difference is remarkable up to a 75% difference in energy consumption. Furthermore, unlike an air conditioner, they do not make the air dry and generally improve overall air quality.
Air coolers do also have limitations. One of the biggest limitations is cold spreading. In other words, it cannot spread out cold as effectively as an air conditioner. That is because it has something to do with its unique operating mechanism, making air coolers only the best for short-term and immediate cooling needs.
On the other hand, air conditioners are great options for large and consistent cooling needs.
However, if you intend to invest in an air cooler now, below is our recommended list to get:
FAQs
❓What are the popular brands of Air Coolers?
Some of the known air cooler brands in Malaysia are Midea, Artic Air, Honeywell, and Khind
❓How much does it cost?
Depending on the model and brand, the price of an air cooler usually starts at RM300
❓Why should I buy one?
They are the perfect combination of fan and air conditioners. It can keep you cool and comfortable, without a huge electricity bill
Click here for other home appliances related articles.
This article was brought to you by BestAdvisor.my
Disclaimer: This is the opinion of the writer or publication. We only recommend products or services that we have tested and tried ourselves or have done in-depth research with positive external reviews and find them to be useful for everyone. The products/services shown are available upon the publication date. The availability may change from time to time. If some of them are not available, please email us at [email protected] Thank you!