Types Of Refrigerators You Can Consider:
When you're in the market for a new refrigerator, it's that time. You might be wondering what type of refrigerator would best fit your needs. Here is a list of some of the most common refrigerators you can consider. Knowing the different types will help make your decision easier. Plus, it's always helpful to know what's out there! So let's dive into it!
Which one sounds like the right fit for you?​
Types of Fridges:
There are five types of fridges, in general, to choose from; the freezer can either be on top or the bottom of the refrigerator, a french door, side by side and an under-counter fridge. There are also mini-fridges either for your bedrooms or even for skincare products. There are even options for fridges suitable for cars that you can carry around on road trips. Most fridges are freestanding. However, there are few selections for built-in ones.
French Door Fridges
Imagine a pantry that keeps your food fresh. That is essentially what a french door fridge is. There are two doors on top that opens to reveal a single fridge component. These types of fridges have an enormous body and a bigger capacity. The freezer of this particular type is located on the bottom and is a drawer-type door.
Pros:
Easier access to the food inside as french door fridges are more spacious. You can also open the door widely, with allows for easier search.

Wider shelves, a wider shelf provides bigger space for food or even comfortably comfortably storing a full birthday cake.

In connection to a broader shelf, the doors have a bigger door bin which gives more space.
Cons:
Because it provides a bigger space, then it requires a bigger space in you kitchen too.

Becauseof its size as well as more features, then a french door fridge also takes up a lot more energy.

A retro kitchen does not need a French-door refrigerator. Retro kitchens are all about bringing back the simple design of the past without sacrificing beauty or usefulness.
Side-by-Side Refridgirator
Two independent compartments with their own doors are found in side-by-side refrigerators. The freezer section is on one side, while the fresh food section is on the other. There are numerous advantages and disadvantages to this popular design, and we've assembled information on the benefits and drawbacks of side-by-side refrigerators to assist you in your refrigerator quest.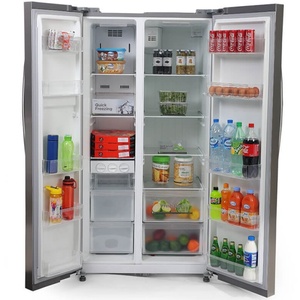 Pros:
These refrigerators, as opposed to standard top or bottom mount refrigerators, offer organization and quick access to your items.

Items can be stored from top to bottom, allowing you to organize frequently used ingredients or beverages at the top for quick access.

When compared to other types of doors, side-by-side doors require less space to swing open.
Cons:
Side-by-side units promote easy organization thanks to an abundance of shelving, but this can prevent you from storing large items in your unit.

Side-by-side fridge models tends to be the pricier model of choice, so make you sure you check you budget before deciding fully
Top Freezer Fridges
The freezer is placed above the refrigerator compartment in this basic refrigerator configuration, which has one side-by-side door for each. This refrigerator has a lot of storage space inside and access to the freezer is simple. Because more sophisticated amenities like exterior ice and water are less common in this style of refrigerator, top freezer refrigerators are often found in the lower price range.
Pros:
A more cost-effective option

Frequently praised for its energy efficiency

The freezer and the top shelf of the refrigerator are both at eye level.
Cons:
There are fewer storage and organization options.

There isn't a freezer drawer that pulls out.

Will not go with any modern kitchen design.

Usually, there isn't a water dispenser.
Bottom Freezer Fridges
Over the last two decades, refrigerators with built-in bottom freezers have grown in popularity. Bottom freezer refrigerators are often more expensive and offer more storage possibilities than top freezer refrigerators, although having similar energy efficiency.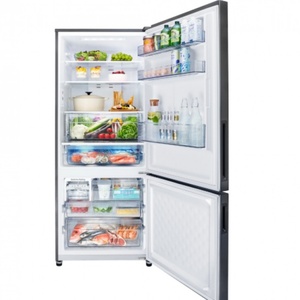 Pros:
More storage and organization possibilities

Product that is more fashionable

Lifting overhead is minimized.

Small kitchens will appreciate it.
Cons:
You have a narrow number of models you can choose from.

Often more costly up initially.

Food can get stuck in the freezer's bottom.

To get to the freezer, you may have to bend down which can be dangerous ergonomically
Mini-Fridge
A compact refrigerator, sometimes known as a mini fridge, is perfect for people who live in small spaces such as studio apartments or dorm rooms. You may put a little fridge in any corner because it doesn't take up much space. If you are planning on getting yourself a mini fridge, check out this list for the best mini-fridges in the market.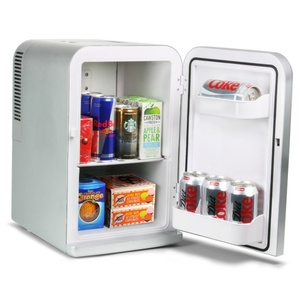 Pros:
Because it is smaller and lighter than a full-sized refrigerator, you can carry and set it up at any time.
It's ideal for student dorm rooms, small offices, and even your own bedroom if you need a fast cold drink.
Much less energy is used than a full-size refrigerator, potentially saving you money.
It can be utilized to fill in any empty corners or spots in your room.
Cons:
Depending on the size of the mini-fridge you choose, it may be quite small, limiting the amount of goods that may be stored within.
You can only store a particular number of items of a given size, which means larger goods won't fit in some plastic containers.
It's possible that your new mini-fridge won't come with a freezer.
————————–
Whatever kind of refrigerator you get for your home, ensure that you are aware of the pros and cons of each of these types. Not every household will suit the same kind, so it is essential that you assess everything, your needs, and the space available in your kitchen.
The kitchen is the heart of every home. It's where we share meals, laughter and memories with loved ones. The more efficient your kitchen is, the better you can help to create those life-enriching moments that make a house into a home. That's why it pays to invest in quality appliances — like refrigerators! Whether they're side-by-side, top-freezer or bottom-freezer models, refrigerators are essential for every home. But with all of the different types and styles on the market, it can be tough to decide which one is right for you.
Last Updated on
Latest posts by Aaron Tan
(see all)