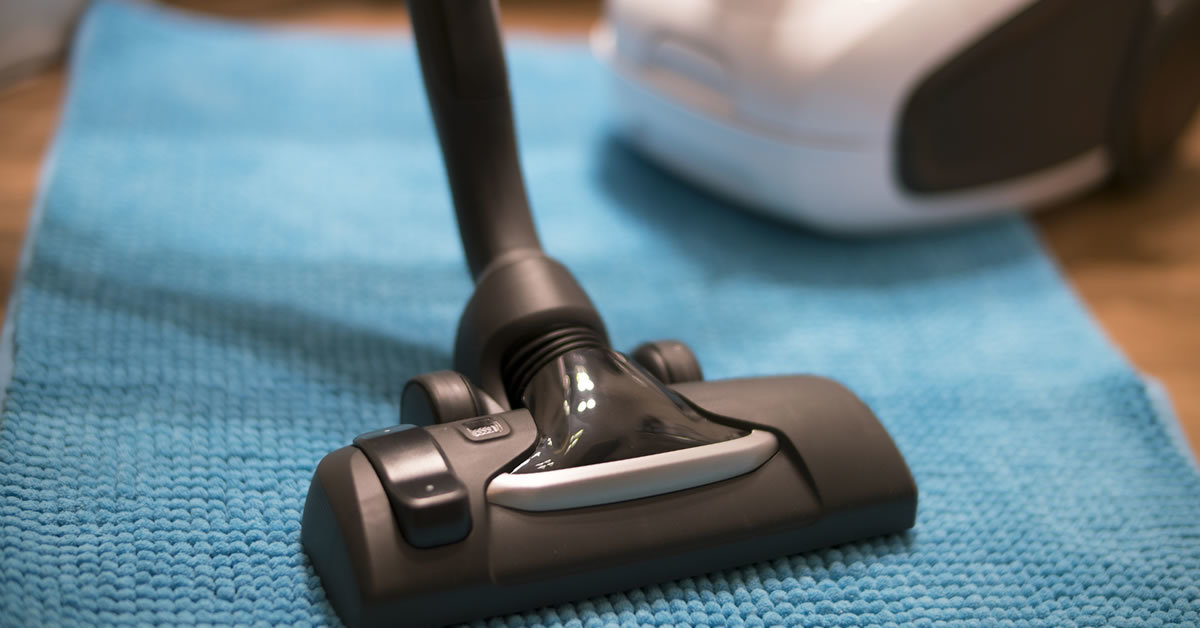 A vacuum cleaner might not be at the top of your list when it comes to buying new appliances when you move into a new home. But, you will soon realize that owning one of the best cordless vacuum cleaners can make it a lot faster and easier to keep your home clean and hygienic.
A vacuum cleaner offers a much more thorough clean of your home, and you can even use it to get into difficult to reach places, and even on your mattresses and your couches.
Here is a list of the best cordless vacuum Malaysia models that we have researched or tested.
Table of Content
Cordless Vacuum Cleaner Comparison Table

How To Choose the Best Vacuum Cleaners Malaysia Model For Your Home
FAQs
Vacuum Cleaner Comparison Table
(Scroll right for more)
15 Best Vacuum Cleaners in Malaysia
1. Corvan K18 Cordless Vacuum & Mop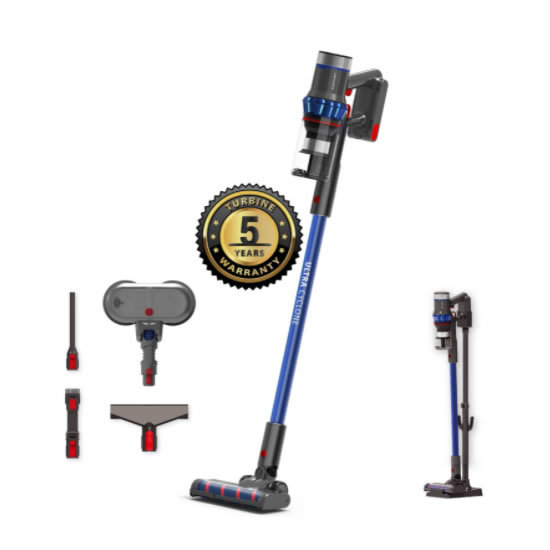 2 In 1 Mop + Vacuum
Introducing the all new Corvan K18 Cordless Vacuum Cleaner & Mop – the perfect cleaning combo for quick and easy cleanups! This flagship model boasts a mind boggling 201 airwatt of suction power, almost two times stronger than the bestselling Corvan K9. It comes with three suction modes to suit any cleaning need, while its electric motorised spin mopping system provides a serious scrub mopping action that quickly cleans floors of all types. The runtime of up to 50 minutes (with option to extend up to 100 minutes) also ensures that you can clean large areas without stopping and recharging. And thanks to the included auto-charging stand, your vacuum is always ready when you need it. Plus, at a mere 1.5kg body weight, this vacuum is easy to carry wherever you go.
This amazing product also has a fade-free suction system that's 15 times more effective in driving dust to the dirt bin, making it ideal for anyone with allergies or asthma. Plus, its most powerful motor delivers 400W of power for any cleaning job – big or small. Best of all, the Corvan K18 is easy to use. Its ergonomic design makes for the best user experience, requiring barely any effort in lifting and gliding while cleaning your floor . Its 1-press quick disposal system means you never have to come in contact with the dirt.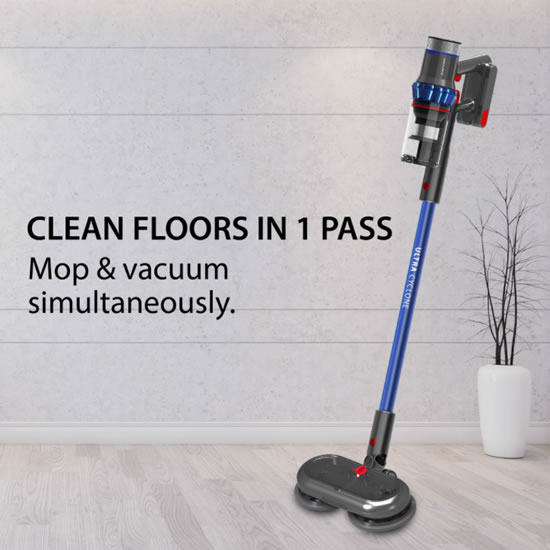 Its colour digital touch screen makes it easy to select and display the suction mode while also displaying the battery level and any error messages. The 1-press operation means that you don't have to press-and-hold buttons to operate it – just a light tap will do! This vacuum is perfect for tight spaces, fabrics, and uneven surfaces with its crevice tool, dusting brush, and bed vacuuming tool included.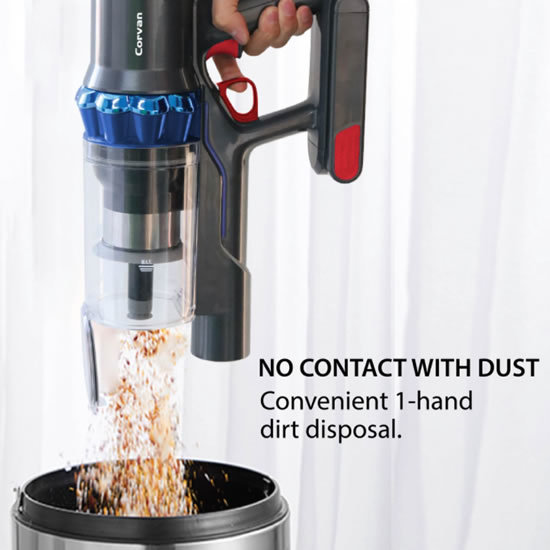 So why wait? Order your Corvan K18 Cordless Vacuum Cleaner & Mop today!
Pros:
A powerful cordless vacuum cleaner with three suction modes
Electric motorised spin mopping system quickly cleans floors of all types
Runtime of up to 50 minutes (with option to extend up to 100 minutes)
The fade-free suction system is 15 times more effective in driving dust to the dirt bin
The most powerful motor delivers 400W of power
Easy to use with ergonomic design and 1-press quick disposal system
Cons
Need to clean the floor mopping pads manually.
Customer Reviews:
"Best vacuum ever! Even better than my expectations. 👍👍👍 I have 2 Dysons v8 &v11. Hands down this vacuum k18 wins. The design is so awesomeee! Suction power can fight with v11. Weighs lighter than my other vacuums. Mom loves it too, getting 1 for her lool." – Nadiah
"Fast delivery. Parcel & product condition tip top. Charging stand so convenient and sleek!! Brush LED very bright. Low Noise. Can vacuum & mop so easily. 2-in-1. SUPER VALUE FOR MONEY. Really really loving it! If you're considering to get one, JUST GET IT ❤️❤️❤️" – 809ycgr7x3
Check prices on Lazada
Check prices on Shopee
2. ALL NEW 2021 MODEL Corvan Cordless Vacuum K9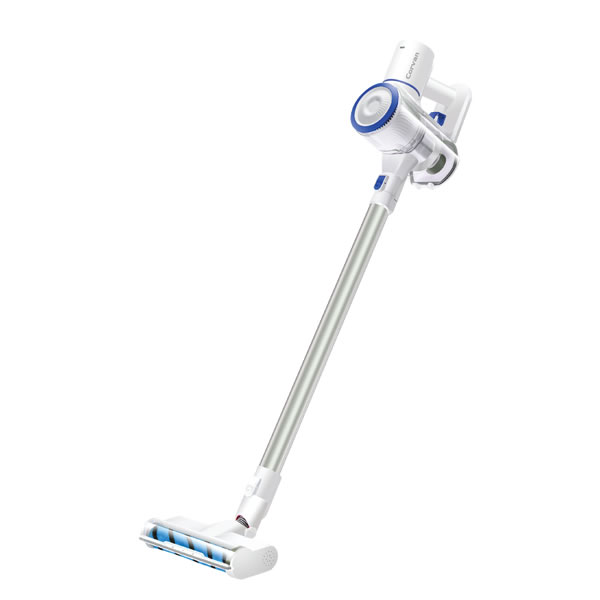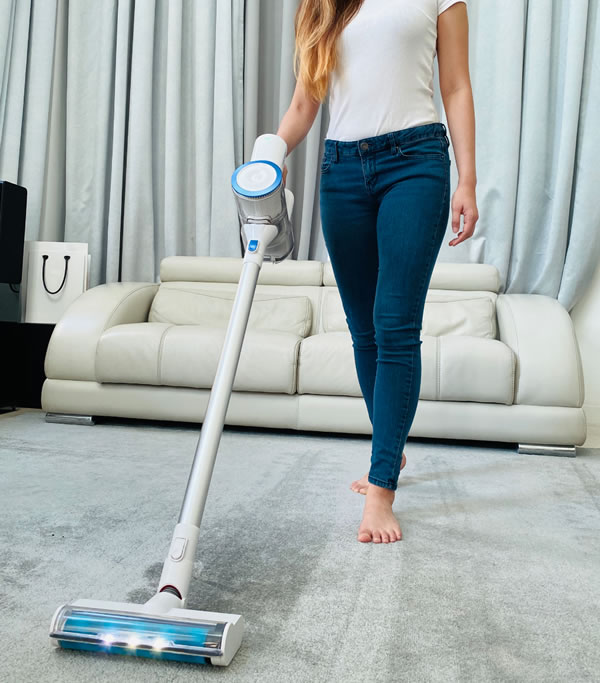 Best local support cordless vacuum cleaner
This cordless vacuum cleaner is one of our top choices due to the features below.
Pros:
Super light weight Brushless Digital Motor
100,000RPM motor speed
Ultra strong suction power at more than 17,000pa
Long run time of more than 40min battery life to clean large space
USA engineered
Cyclonic dust separation system
User-replaceable lithium-ion battery pack
High brightness LED headlight – cleaning dark area is a breeze
2-speed Normal and Turbo suction head mode – to suit various need
3-stage HEPA filtration – stainless steel, HEPA and sponge filter
Washable 3-stage filter set
Ergonomic handle and grip – stress free vacuuming
1 press operation – no more continue pressing the trigger to vacuum
Lowest profile among cordless vacuum at 11.8cm – to clean under tight space
4 type of cleaner head:

Anti-tangle soft fluffy floor brush – no more hair wind up on the brush
Bed and fabric cleaning tool – for mattress, sofa, soft toys
2-in-1 crevice tool – for car, narrow space and corners
Swivel head dusting tool – swivel for wall, hardwood floors and ceiling

Light weight – Machine weight only 2.15Kg
Cons:
You can get this cordless vacuum cleaner here.
Check prices on Lazada
Check prices on Shopee
3. Corvan Cordless Vacuum Cleaner K6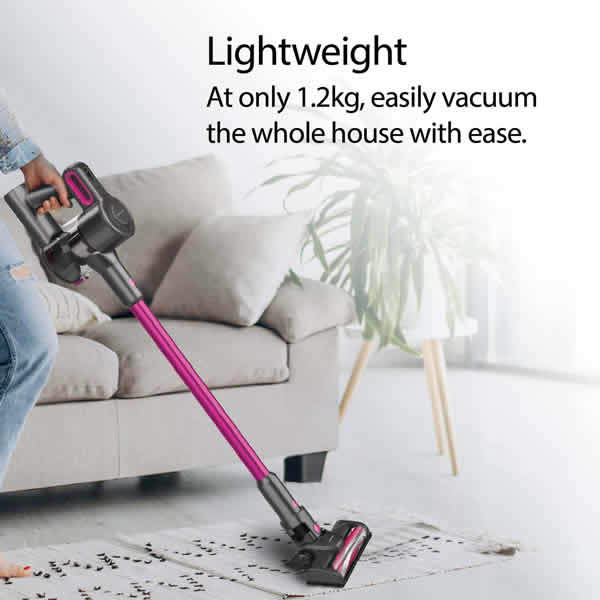 Light Weight
The Corvan Cordless Vacuum Cleaner K6 is the best vacuum cleaner in its class. In our opinion, not only is it budget-friendly, it has the highest value for money, with superior functionality and ease of use.
At only 1.2kg, the Corvan Cordless Vacuum Cleaner K6 is comparatively super lightweight. Its suction power is the strongest in class at 90AW. Even the normal mode has stronger suction than the "max" mode of most other brands in its class. Another rare gem is the double HEPA (H12 rated) filtration to remove allergy-causing particles effectively.
With a long runtime of up to 40 minutes, you can vacuum the entire floors of your 2-storey home within 1 full charge. With the bright LED headlight, no dust can escape your eyesight even in the darkest areas underneath your bed, tables and chairs clearly, so you can see how thoroughly it picks up dirt and fine dust everywhere.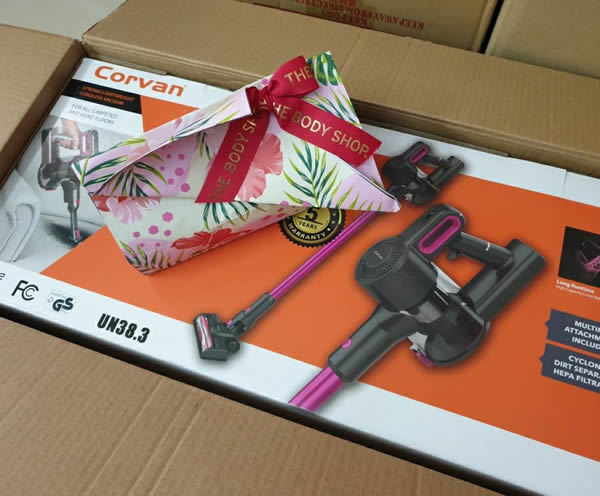 Another one of the vacuum's most loved features is the self-standing feature. With the vacuum's well designed self standing feature, you do not need to spend extra on a stand or drill the wall to hang it up. And if you have any concerns about after-sales support, you can put them to rest as this vacuum comes with an astounding 5 years of warranty for its motor, and 1 year of warranty for its machine and battery. With Corvan's reputable and longstanding history of serving customers, and its service center located in Selangor, assistance is just a phone call away.
Pros:
Strongest in class suction at 90AW
Can vacuum up to double-storey house in 1 full charge
Extremely lightweight of only 1.2kg
Self-standing (no wall-drilling needed)
4-stage double HEPA (H12 air purifier grade), SS pre-filter, to remove allergy-causing particles from your home!
Noise level is acceptable for all users
Cons:
Requires charging for a long spring cleaning session
Does not come with mopping function
Check prices on Lazada
Check prices on Shopee
4. Best Handheld Vacuum – PerySmith Cyclone Series PS8520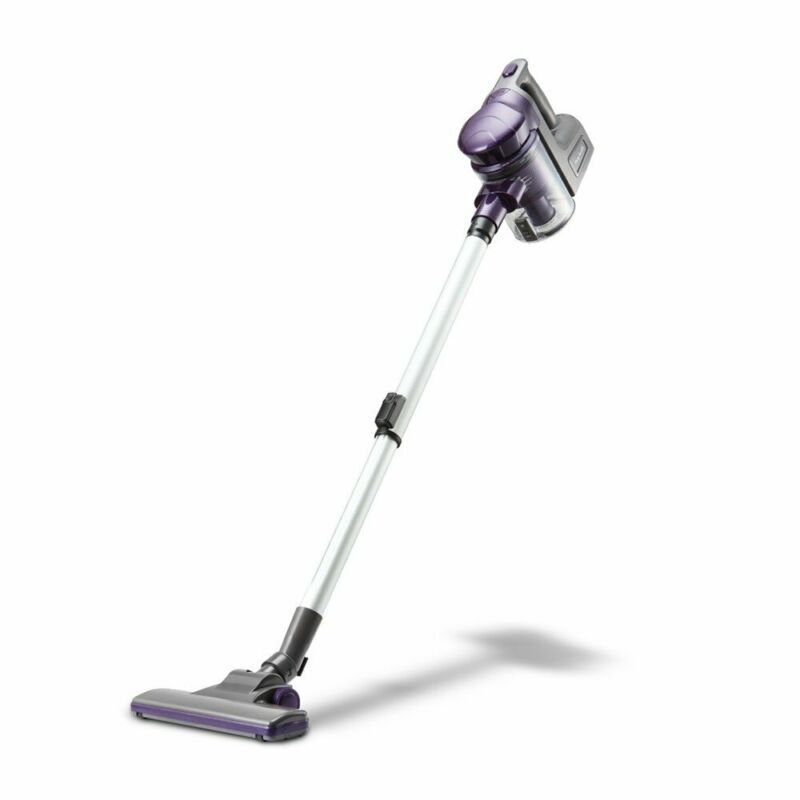 Best portable handheld vacuum cleaner
If you are interested in upgrading from a heavy, traditional vacuum, you are going to love the portable and bagless PerySmith Cyclone Series. This cordless vacuum cleaner operates quietly, which includes all its accessories. You can order your cordless vacuum cleaner online right now at a fantastic price (limited-time offer).
Pros:
Unmatched Suction Power
New Revolutionary Design
0.3 Micron HEPA Filtration system and Cyclone Cleaning Technology
Multi Filtration System
4.8 Meter Insulated Power Cord
BUNA Body Smart Overheat Protection
Cons:
Check prices on Shopee
Check prices on Lazada
5. DIBEA Stick Vacuum D18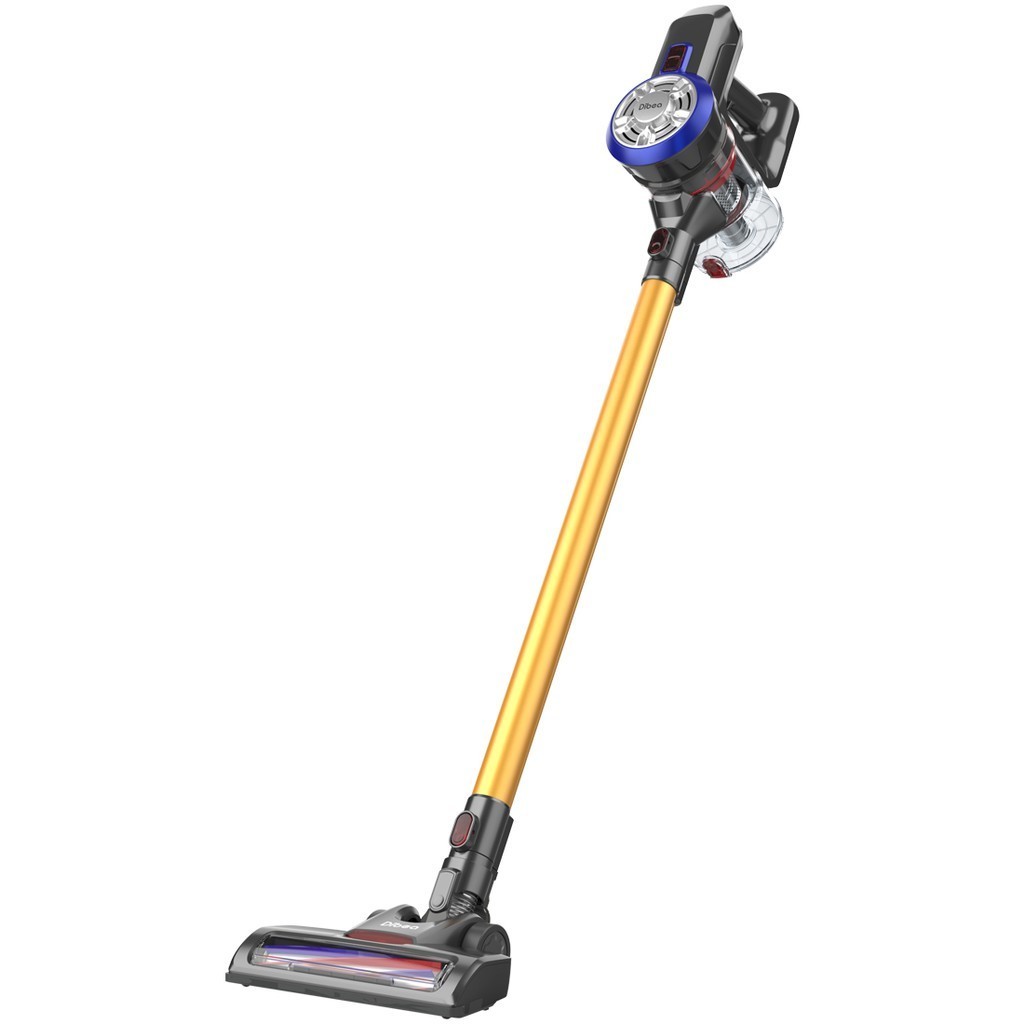 High-performance vacuum for large space
This cordless stick vacuum cleaner is a must-have at home. It's easy to use and ideal for high-traffic areas and larger homes that require a lot of home cleaning. The LED lights make it fun to use, and it comes with 3 different nozzles making it perfect for just about any space (large and small). With a range of 3,000 square feet, you can clean high-traffic areas and larger homes without breaking a sweat.
The DIBEA Cordless Handheld stick vacuum is lightweight and powerful, with suction power that can be adjusted to the perfect level. Equipped with a dusting brush attachment, the Vacuum will pick up everything from crumbs to dirt so you can keep your home clean and tidy. This cordless vacuum cleaner has a large capacity and has a 9000 pa suction power that will have you covered through 45 minutes of uninterrupted use.
This model is one of the best cordless stick vacuum cleaners to get the job done. This product comes with free local shipping if you live in Malaysia and you purchase it here.
Pros:
Perfect for high-traffic areas and larger homes
Large Capacity Vacuum With A Brush Attachment
9000 PA suction power
Large dust capacity bin to collect dirt
45 Minutes Of Uninterrupted Use
Cons:
Check prices on Shopee
Check prices on Lazada
6. Dyson V12 Detect Slim Total Clean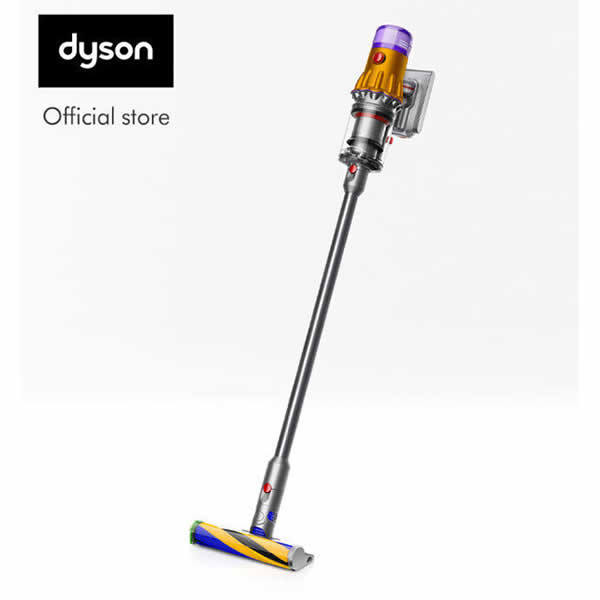 With Laser and Dust Detec Technology
Looking for a vacuum that can detect and eliminate even the smallest pieces of dirt and dust? Look no further than the Dyson V12 Detect Slim Total Clean. This innovative vacuum features laser and dust detect technology, which allows it to accurately identify and remove any non-visible debris from your floor. Plus, with reactive suction power that adapts to the density of the dust, you can be sure that your floors will be thoroughly clean in no time!
And don't forget about those pesky hair tangles – the V12 Detect Slim comes equipped with a hair tangle tool to make quick work of any tangled hair messes. So why wait? Order your Dyson V12 Detect Slim Total Clean today!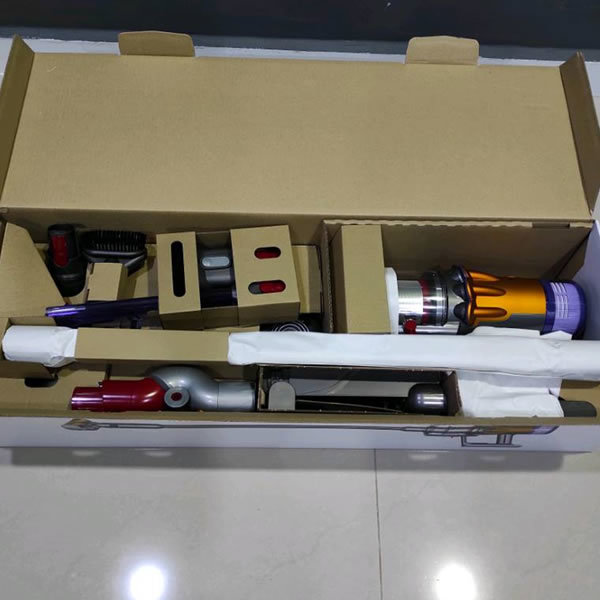 Pros:
Cleans better than any other vacuum on the market.
Has a dust sensor for less work.
The LCD screen will always keep you informed of the readings.
You'll be able to see how much dirt you're getting rid of with your own eyes!
Cons:
Expensive compared to others
Check prices on Lazada
Check prices on Shopee
7. Airbot Vacuum Review – Supersonics Turbo Cordless 17KPa 2-In-1 Mode 45Mins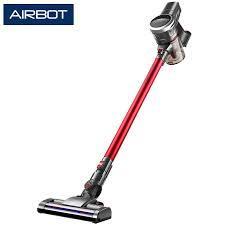 Stylish design vacuum
With this cordless vacuum cleaner, it is easy to reach into the tightest corners of your home. We also enjoyed the compact and stylish design along with its high-powered cleaning capacity to pick up any heavy dust and dirt. There are various colours to choose from to match up ideally to your home.
Pros:
45 Mins of Full Operation
Only weighs 2Kgs
Charge Time: 4 Hours
Two Operating Modes: High Spin or Low Spin
Cons:
Battery run out fast if operate at high speed
As is expected with the Airbot brand, these cordless vacuum cleaners are made from the highest-quality materials. This guarantees that you are investing in a product that will last for many years to come.
Check prices on Shopee
Check prices on Lazada
8. PerySmith Storm Series 700W PS7000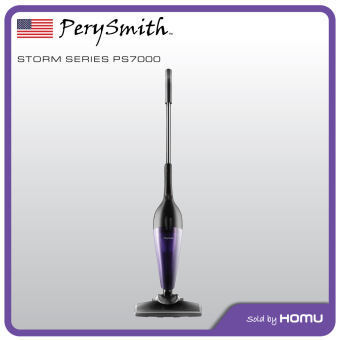 Best dust mite vacuum cleaner
If you live in a small condominium or apartment, you need a compact vacuum cleaner that is easy to store away. The PerySmith Storm Series is a compact, handheld, portable vacuum ideal for smaller spaces.
With a 700-watt motor, the Storm Series is the industry's most powerful handheld vacuum, providing up to 10,000PA of suction power. This compact yet powerful cleaner can filter as much as 0.3 microns at an incredible 10000 suction strength.
The Buna® Advanced Durable Body Filtration System eliminates 99.97% of allergens, and the Storm Cleaning Technology in its cleaner head will suck up dirt like a mini-hurricane. With a handheld, portable design charging dock, it's easy to take it with you everywhere you go! This makes it perfect for cleaning upholstery, stairs, and more.
Pros:
BUNA® Advanced Durable Body Filtration System
700 W Cyclonic Motor
Storm Vacuum Cleaning Technology
Handheld Portable Design
Suction Power: 10000PA
4.2M Insulated Power Cord
Cons:
This product offers value for money, and you can get one for yourself right here at the lowest price offer around.
Check prices on Shopee
Check prices on Lazada
9. REDBUZZ New 700W 2-In-1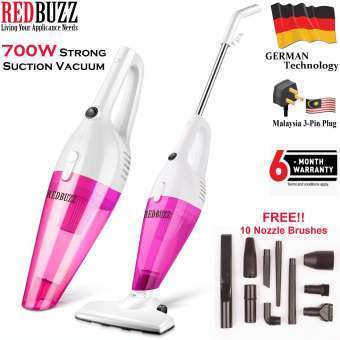 Best budget cordless vacuum cleaner
If you lead a busy lifestyle, you need a fast working and powerful vacuum cleaner to clean your home in less time. With this REDBUZZ model, you will use far less effort and much less time to get your home spic-and-span due to the high-powered suction cleaner head and the dual cyclone technology.
Pros:
Energy-Efficient
Washable Dust Filter
Multi-Stage Filtration System
Low-Noise Design
Convenient And Easy Operation
Powerful suction head
Cons:
The dust bags also make it a less of a hassle thanks to its dust bin capacity to hold up to 1.2 litres of dust particles and debris, which means fewer disposal cycles. This product is on a limited-time discount offer right here.
Check prices on Shopee
Check prices on Lazada
10. REDBUZZ Dual Cyclone Spandy Aux Design 850W Strong Suction Handheld Portable Vacuum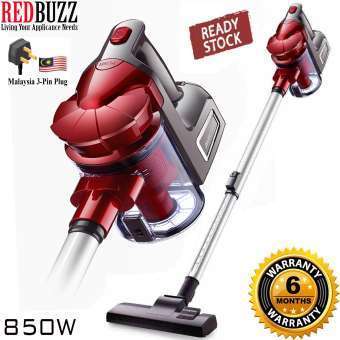 With a large dust bag
If you are always on the go and you have minimal time to clean your home, you need a fast-working, high-power vacuum cleaner to get the job done. The REDBUZZ can clean your home within less time and with less effort with the strong suction and dual cyclone capabilities.
Pros:
Washable Dust Filter
Multi-Stage Filtration System
Low-Noise Design
Convenient And Easy Operation
Cons:
Heavy and feel tire after 20 mins of usage
The dust bag on this cordless vacuum cleaner can hold up to 1 litre, which means fewer disposal cycles. It is on offer at a limited-time discount.
Check prices on Shopee
Check prices on Lazada
11. PerySmith XTREME Series X50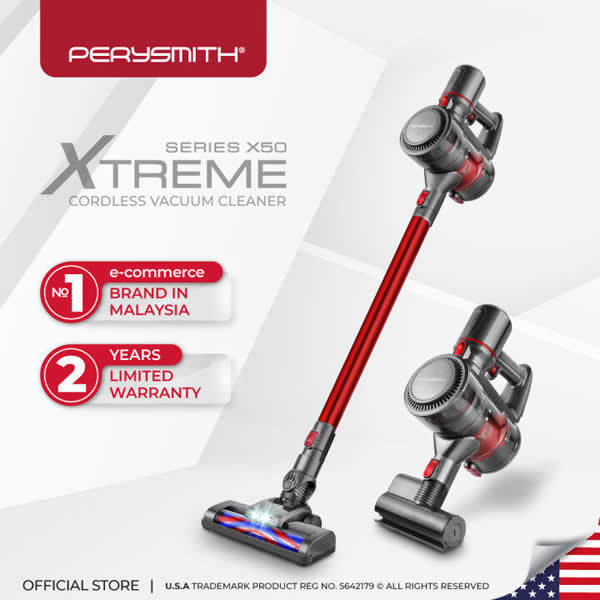 With dust mite brush
The PerySmith XTREME Series X50 Cordless Vacuum Cleaner is perfect for anyone who wants a powerful yet portable vacuum cleaner. This vacuum cleaner can provide up to 45 minutes of run-time with its smart inverter motor and HD lithium-ion battery. It also features a cleanable HEPA filter that captures 99.5% of dust and mites, making it ideal for allergy sufferers.
Swivel steering makes it easy to manoeuvre around furniture and other obstacles, while the motorized floor brush and dust mite brush quickly work dirt and debris. So if you're looking for a powerful and convenient cordless vacuum cleaner, the PerySmith XTREME Series X50 is perfect for you!
Pros:
Powerful motor
Cleanable HEPA filter
Swivel steering
Motorized floor brush and dust mite brush
Cons:
May be too powerful and the noise level is high
Check prices on Lazada
12. HETCH Handheld And Upright Stick HVC-1404-HC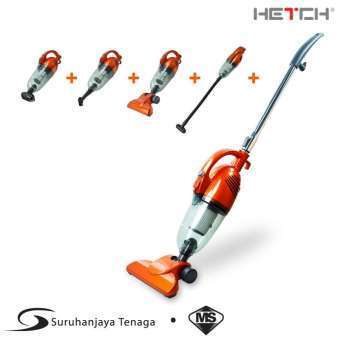 Best affordable portable vacuum cleaner
For simple use and storage, upright vacuum cleaners are the preferable choice. HETCH is a portable vacuum that provides a variety of features and comes in a range of fun colour combinations.
Pros:
Stylish Metallic Orange Color
Use either at full-length or for handheld-cleaning (without the extension tube)
Handheld and Upright 2 In 1 Design
Easy to Remove 1.3 Liter Dust Container
Cons:
The larger capacity container for dust guarantees less maintenance and makes it perfect for large spaces. You can buy this product here.
Check prices on Lazada
13. DEERMA Steel Powerful Steel Cyclone Filter 2-In-1 DX600 Vacuum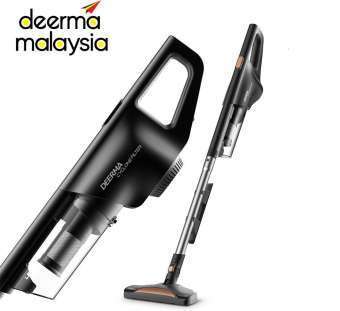 Efficient side spin filter vacuum
The powerful vacuum cleaner doesn't just reach into hard-to-access areas, it also collects dust from every corner in your home, making it so that you can breathe dust-free air. It can be used in both upright and handheld position.
There is a distributor for Deerma vacuum cleaners right here in Malaysia, which makes it easy to purchase one and have the machine services. Take advantage of this discounted price right here.
Pros:
Stainless Steel Duct
Handheld And Upright
Side Spin Filter
Long-Lasting Suction
Cons:
Check prices on Shopee
Check prices on Lazada
14. Xiaomi EcoSystem Deerma VC20/VC20S Handheld Wireless Vacuum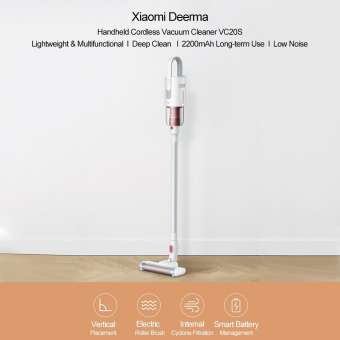 For anti-winding
Xiaomi is a brand that provides the very best cleaning with the anti-winding feature, which is one of the most common issues with many vacuum cleaners. This is an upright vacuum cleaner that takes up very little space.
It has a simply designed and compact body, and it has 30 minute battery life. The 30-minute battery life provides enough power for small-to-medium-sized rooms. This model also offers a smart battery management system that allows for very low consumption.
It has an array of features that work to make your life easier. Some of the features include its anti-winding feature, which is one of the most common issues with many vacuum cleaners.
In addition, it has a HEPA filter and bin size of 0.6 liter dust tank for better filtering. The compact and portable design makes it easy to take it with you anywhere you need it! This cordless vacuum cleaner is an excellent choice for the person who doesn't want to spend hours lugging around a heavy vacuum.
Pros:
Auto-vertical Convenient Placement
30 Min Battery Life
Smart Battery Management For Very Low Consumption
HEPA Filtration and Bin Size of 0.6 Liter
Built-In Cyclone Filtration
Compact and Portable Design
Cons:
Buy the Xiaomi in Malaysia here.
Check prices on Shopee
Check prices on Lazada
15. Midea MVC-SC861B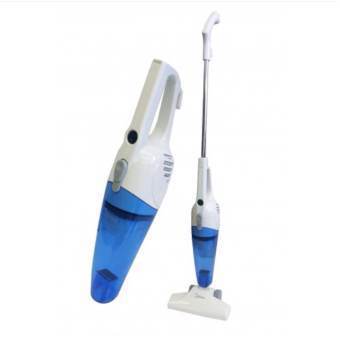 Affordable stick vacuum
It is among our top choices due to its sleek design, which makes it compact and easy to pack away. We really enjoyed the transparent dust cup, which allows you to see how much dirt and debris the vacuum cleaner is picking up. You can get it at an incredible discounted price here.
Pros:
Affordable choice
2 In 1 Handheld And Stick Design
Power: 600W
Detachable Dust Cup and Transparent HEPA Filter
Cons:
Need to recharge frequently
Check prices on Shopee
Check prices on Lazada
How To Choose the Best Vacuum For Your Home
Among all the devices available in the market today, cordless vacuum cleaners are becoming popular nowadays because of their lightweight feature, which makes it easier for one to bring them anywhere they go. However, there are things that you ought to put into consideration if you want to ensure that you get only the best cordless vacuums for your home. Below are some of these factors for a good vacuum cleaner.
1. Design and Size
Before venturing out to purchase a cordless vacuum cleaner, make sure that you determine first the size of your house and the place where you will use it first. For instance, if you want to clean up your garage area first, then perhaps a big and bulky type like Dyson V12 Animal might not be appropriate for this task.
You can opt instead for small-sized ones such as Dirt Devil Simpli-Stik or Black & Decker Pivot. On the other hand, if you intend to clean up your living room first, then perhaps an upright type like Dyson DC25 Animal is more ideal than using handheld cleaners which are inherently smaller and lighter. Another good thing about upright types of cordless vacuums is that they can clean up more dirt as compared to those handheld types.
Try to avoid the heavy and bulky models that may take up valuable space in your home. If you are interested in the multi-functional vacuum cleaners, go for the stick and handheld models, that you can use for both your car and your home. If you wish to be fully automated, you can check out the robotic vacuum cleaners.
2. Battery Life and Charging Time
Before buying a cordless vacuum cleaner, you have to determine first the place it will be used most often. If you intend to use your new device in a big house, then perhaps a model with long-lasting battery life is ideal for you.
However, if this device will only be used most often in the office or small room, then perhaps battery life isn't really an issue any longer. In addition, if ever there's an electric failure or power outage, at least you still have one backup option, which is fully charged outside your house where electricity resides most of the time. In terms of battery life, most models of cordless vacuums have an average battery life which depends on the size of its bin.
3. Accessories and Attachments
If you are an avid fan of pet hair, perhaps one model that has a power brush tool is appropriate for this task. However, if you intend to clean up your car more often than your house, then perhaps opting for a handheld version with a crevice tool can get rid of dirt between your car's seats or any other tight spaces.
Also, ask the salesperson regarding the number of attachments that come with the device you want to purchase so that you will be able to determine better if it is affordable enough for your budget or not. Moreover, sure also that these attachments are easy to attach and detach when you clean up your house.
4. Ease of Use and Maneuverability
The last factor that you have to consider in choosing a cordless vacuum cleaner is its ease in using it to clean up your house. Most models today come with an ergonomic design for one user to easily move on any surface they want to clean, such as carpets or hardwood floors, without any difficulty at all.
As much as possible, make sure also that this model is lightweight so it will be easier for you to carry it around while cleaning up different parts of your house. In addition, choose a good brand like Dyson, Roborock, Electrolux or Eureka, which provides excellent customer service support every time its device breaks down after a few months or years of using it.
FAQs
What are the popular vacuum brands in Malaysia?
Some of the best vacuum brands in Malaysia are PerySmith, Midea, Dibea, Airbot, Redbuzz, Hetch, Deerma, and Xiaomi.
Why should I buy a vacuum ? 🤔
Vacuum cleaners helps you clean hard to reach places and even the mattresses and couches
How much does a vacuum cost?
Depending on the brand and model, a vacuum cleaner cost usually ranges from RM 300 – 2500
Are Bag Vacuums Better Than Bagless Ones?
Bag vacuums are convenient for those who prefer to discard the bag and replace it with a new one without having to clean up any mess. The biggest problem of bag vacuums, though, is that different models have different types of bags. This can make it hard to find replacement bags.
On the other hand, bagless vacuums are convenient because you don't need to bother with anything else than empty the garbage container, wash it a little and put it back into the appliance. Deciding which vacuum type is better is a matter of personal preferences. Both are great if they suit you.
Is A Vacuum Worth Buying?
Are you wondering whether or not you should spend money buying a vacuum cleaner? Here are a few benefits you can enjoy.
1. Use the vacuum cleaner to clean sofa upholstery, dirty carpets and mattresses to remove any pollutants or particles. It's the best way to provide allergy relief for your family and pets.
2. It will helps clear out dust mites that are not visible to the eye. If not cleaned properly, dust mites always contribute to allergy attacks.
3. Finally, it is a good investment because it allows proper cleaning process of your home including stains, dust or debris.
How Many Different Types Of Vacuum Are There?
There are many different types of vacuum, depending on a series of features and capabilities. For instance, there are bag vacuums and bagless ones. There are vacuums that can work only on dry surfaces and vacuums that work on both wet and dry garbage.
There are corded and cordless vacuums. There are specialty vacuums such as auto, carpet or leaves ones. Then there are differences in terms of suction power, range of accessories, technology, and even shape, size and weight. Choosing the right type of vacuum is a matter of specific needs and preferences. Handheld and cordless vacuums, for instance, are ideal for cleaning task including windowsills, curtains and room corners.
Are Cordless Vacuums Worth It?
While cordless vacuum cleaners might sound like they are very useful, some people find that they don't fit with their lifestyles. Generally speaking, most cordless vacuums need to be charged and are useful for small to medium size spaces. If you think that you can remember to put your vacuum on to charge and that you aren't working with a very large space they can be a great investment.
People with large spaces or who are forgetful often find that cordless vacuums are too much of a hassle for their needs. People who just want to clean up small spaces or who want to be able to take their vacuum into areas that doesn't have an electric plug find them useful. Simply put, your lifestyle determines if they are a useful addition to your cleaning routine.
Click here for other home appliances related articles.
Latest posts by Aaron Tan
(see all)
This article was brought to you by BestAdvisor.my
Disclaimer: This is the opinion of the writer or publication. We only recommend products or services that we have tested and tried ourselves or have done in-depth research with positive external reviews and find them to be useful for everyone. The products/services shown are available upon the publication date. The availability may change from time to time. If some of them are not available, please email us at [email protected]. Thank you!
Last Updated on