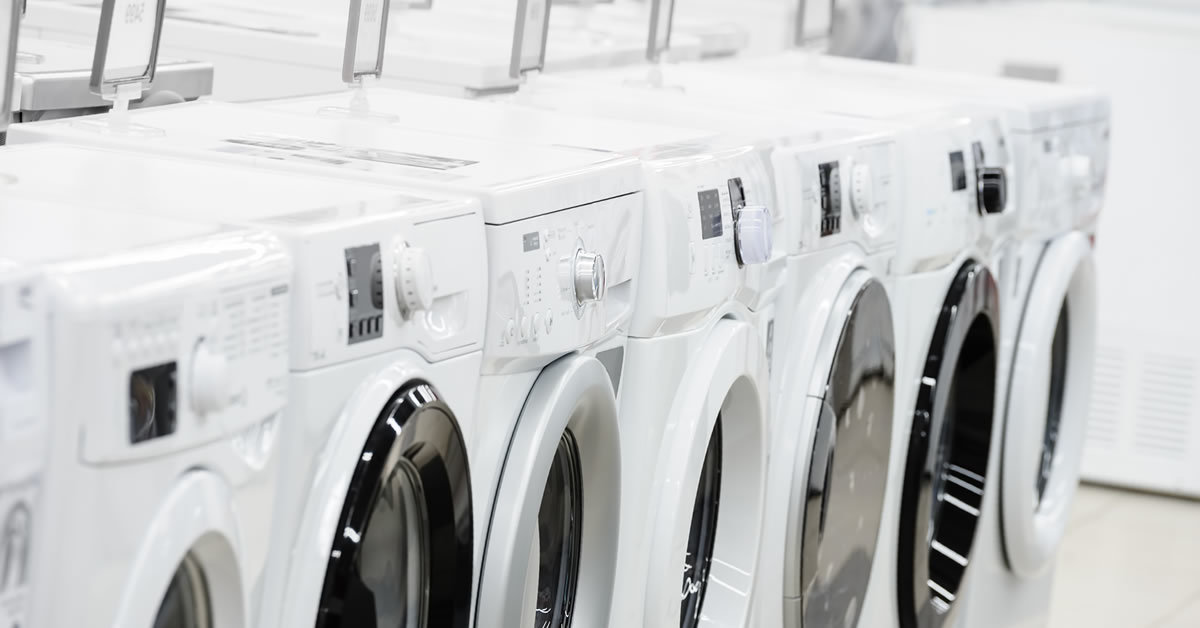 Are you looking for buying a washing machine? Doing the laundry may seem like a daunting task. But the new washing machine models have made laundry day more bearable, especially with the multi-tasking and large capacity features.
This is why a reliable washing machine proves to be a great investment for your home. The best part is, you can now buy a washing machine regardless of the type of residence you live in Malaysia. Latest washing machines are now made to be more space, save energy and come with a minimum 1-year warranty.
Table of Contents
Best Washing Machine Comparison Table

How do I choose the best washing machine in Malaysia?
Best brands of washing machines in Malaysia
FAQs
Washing Machine Comparison Table
(scroll right for more)
10 Best Washing Machines in Malaysia
1. Samsung WD70J5410AW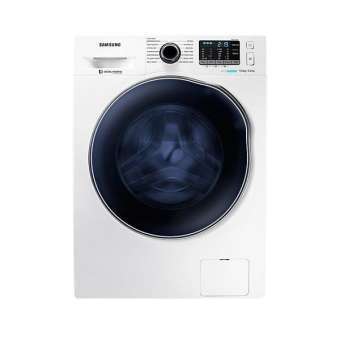 2-in 1
If you want to upgrade your washing machine, it is highly recommended to go for a washer dryer. You get to save more than buying them separately, and this Samsung dual-function machine is definitely a great steal, already, and one of the best dryers available online.
Samsung's two-in-one washer and dryer lets you care for your clothes with a single appliance. A traditional washer gently washes your clothes and a dryer tumbles them to a natural, dry state utilizing hot air inside the tub. You can also dry your clothes faster with Samsung's Turbo Drum Dryer, which uses vibration technology to reduce drying time by as much as 50%.
Pros:
Wash Cool, Save Energy while you dry your clothes
Intensive Stain Removal
Save Time on Smaller Loads
Cons:
The machine might look large compared to your old washer, but it can't hold as much clothes as other models.
Check prices on Shopee
Check Prices on Lazada
Check out more Samsung Washing Machines.
2. Sharp ES718X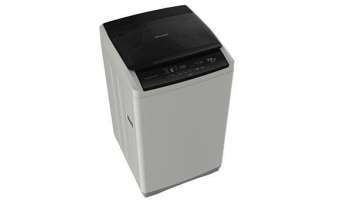 Best Value for Money
Looking for a top loading washer that can handle all of your fabric safe needs? Another crowd favourite is this Sharp washing machine.
For residences with limited space, this washing machine also fits well. Look no further than the Sharp ES718X. This 7kg fully automatic washer comes with both soak and wash functions, as well as fuzzy control to ensure that your clothes come out clean every time. Plus, if there's ever a power outage, the auto-start feature will kick in so you don't have to worry about laundry piling up.
The washer drum of Sharp is meant to prevent your clothes from rubbing on the drum, so you can be assured of gentle care for your clothes.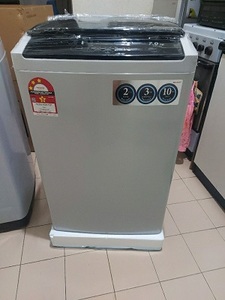 Pros:
Fabric safe drums
Soak wash
Fuzzy Control
Auto-start after a power interruption
Cons:
Small Load Capacity, Noisy when in use
Check prices on Shopee
Check Prices on Lazada
3. Electrolux EWF7525EQWA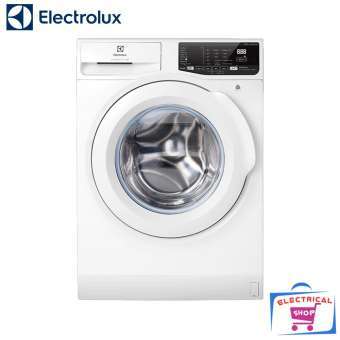 Elegantly compact front load
When we first saw this Electrolux washing machine online, we immediately wanted to have this in our home. The size is simply elegantly compact, without any compromise for load capacity. This particular electrolux washing machine has a 3-star energy rating. The ultimate Care technology also ensures the gentle wash of your clothes, with a significantly smoother finish.
With its innovative front cover design, it's easy to load your clothes without creasing them. Despite being gentle on the fabric, the front load washing machine guarantees the removal of 99% of allergens and germs.
Pros:
Fewer wrinkles
Front cover makes for easier loading
Add clothes feature
Care technology gentle wash your clothes
Cons:
Some users reported that it's not as sturdy as other models
Check prices on Lazada
4. Bosch Series 4 WOA104X0SG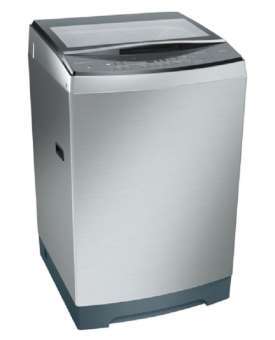 Best textile care tech
For those who prefer a top load washing machine, this can go on your cart. A top load Bosch Washing machine that fits an elegant aesthetic and is definitely friendly for any height as the feet is adjustable. This is also entirely safe for a household with children as it provides a child lock and won't get opened if a cycle is ongoing. There is an option for gentle cleaning for darker coloured fabrics like jeans.
The top closes slowly to avoid any accidents with the hands. There is also a delay timer for 24 hours to schedule the washes and an automatic tub cleaning. The top closes slowly to avoid any accidents with the hands. There is also a delay timer for 24 hours to schedule the washes and an automatic tub cleaning.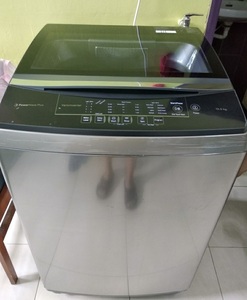 Pros:
PowerWave Plus that ensures top-notch textile care.
Easy Start button that only requires a press of a button for the machine to automatically detect what each load needs.
Power Memory to pick off where it left in case of power shuts down in the middle of a cycle.
8 programs and 8 water levels
Cons:
Users reported that the machine can be quite noisy especially on "spin" mode.
Check prices on Lazada
5. LG WD-MD8000WM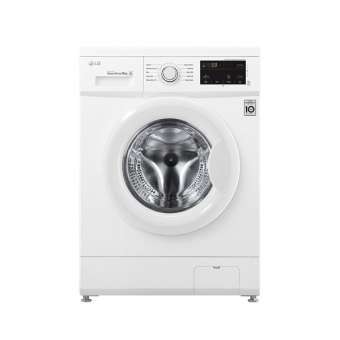 Best front load
Here's another powerful yet compact front load washer from LG that is sure to make your life more convenient. For those who want a top loader machine with a direct drive motor, this washing machine from LG is definitely something to consider. This is the only model where machines have been tested till 500 washes without any change in performance and thus promises long term use.
The front-load door allows you to put in a huge load of clothes without struggling, and the inverter technology provides that much-needed energy saving. It has 10 main washing programs to choose from. There is definitely a setting that will work for all sorts of fabric that you have, including baby clothes and other delicates.
Pros:
Inverter Direct Drive Motor
6 Motion Washing Technology
Embossing Drum
Child Lock Function
Cons:
Program features are quite challenging to figure out for first time users of LG washers
Check prices on Lazada
6. Sharp ESX958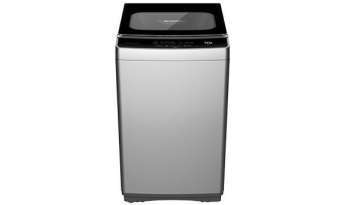 Best top load
The Sharp 9KG Top Load ESX958 is the perfect washer for families with furry friends. The fabric safe drums keep your clothes from getting snagged on any stray hairs, and the fuzzy control setting ensures that all of those pesky pet hairs get washed away. Plus, if there's ever a power outage, the Auto-start feature will make sure that your wash cycle starts right back up again.
This model is a tad larger with the previous one, but sleek design, nonetheless. It has more than 5 wash programs that you can easily adjust through its soft-touch buttons. The washer drum of Sharp is meant to prevent your clothes from rubbing on the drum so that you can be assured of gentle care for your clothes.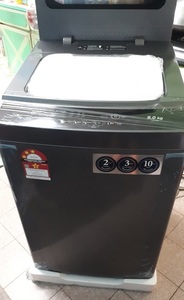 Pros:
Fabric safe drums
Soak wash
Fuzzy Control
Auto-start after a power interruption
Cons:
Quite complicated to use and can get noisy with longer spins
Check prices on Shopee
Check Prices on Lazada
7. Toshiba TW-BH85S2M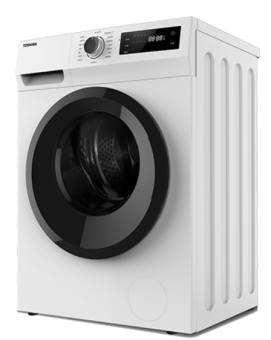 With Great Waves Technology
A handy delayed start feature will let you set your wash cycle days in advance, so it'll be ready when you are; an intelligent sensor detects the type of laundry inside and automatically adjusts the cycle time
Toshiba has been gradually introducing high-quality home appliances, and this inverter Toshiba washing machine is one of their best. It makes laundry day less draining. It also facilitates better penetration of water level and detergent to your clothes, ensuring that dirt thoroughly removed. This is done through their great waves technology.
Pros:
Hot Wash (Hot Water) – Anti Bacteria
Cold Wash (Cold Water) – Colour Protecting
15 Minutes Quick Wash Function
Great wave technology
Cons:
Installation is quite challenging with this model and may require professional help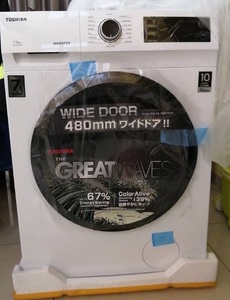 Check prices on Shopee
Check Prices on Lazada
8. Midea MFW-EC750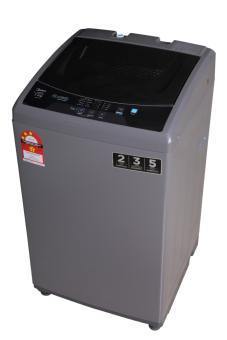 Affordable
Midea promises powerful, simple to operate, and fully automated washing machines. In terms of pricing, this is one of the models that get you the most value for your money.It's like having your own smart washing machine but for more than half the price. One of the best things, when you choose Midea washing machine, is their local warranty in Malaysia. You can easily contact their tech support in-country, too.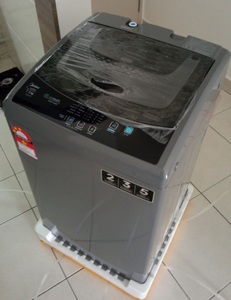 Pros:
Magic Filter
Power – Off Memory
Fuzzy Logic Control
Child Lock
3D Waterfall Current
Auto-Balance
Cons:
Still not as energy-efficient as earlier models
Check prices on Shopee
Check Prices on Lazada
9. LG T2108VS3M
Best inverter
The washing machine has everything you can possibly ask for. It comes with 8kg Load Capacity, 5 Motion DD Motor, 10 Programmes, Turbo Wash Function and more to make sure it meets your needs. With its 500rpm spin speed, the LG Top Loading Washing Machine's strong performance is balanced by energy saving. This makes it an instant favourite for people living in Malaysia who are looking at a sturdy wash quality that does not break your wallet.
It comes with 1 Year Warranty to provide buyers with peace of mind when purchasing this product.
Pros:
Enery-saver
Standby powersave and auto-restart feature
Quiet operation
Cons:
Heavy and expensive, especially the top-load version.
It is also difficult to find a replacement if there is a problem with this machine.
Check prices on Shopee
Check Prices on Lazada
10. LG TH2113DSAK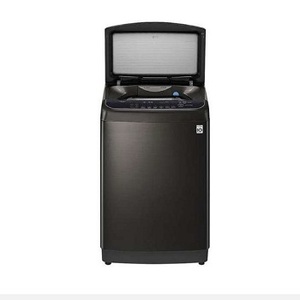 Best LG
The washing machine is very sturdy and can hold heavy clothes without breaking down or being damaged. It is made out of high-quality materials so you are sure that it will last for a long while. However, do take note that there may be some rattling sound when the machine is in use but nothing too bothersome to me since it does not affect the wash quality at all. Another great feature about this washing machines is that it comes with a bigger lint filter which makes sure to capture more dirt, grime and dust.
Pros:
The design is simple yet looks sleek and modern
Buttons are easy to navigate through
Great for large laundry loads
Cons:
No major flaws, apart from its price and space requirement
Check prices on Shopee
Check Prices on Lazada
How do I choose the best washing machine Malaysia model?
Whether it is your first time to buy a washing machine or the simply want to upgrade to a new one, there are now new and crucial features that you need to be aware of. One of these features is the gentle fabric care.
Throughout the years, washing machines, particularly top load ones, have long been associated with damaged clothes due to the harsh spinning mechanism. This is why it is essential to look for this feature in your new washing machine.
Make sure to also look for washing machines that use lesser water per wash cycle, to be more responsible in your consumption. Lastly, space availability in your home should be considered before buying the best washing machine Malaysia picks. To read further regarding this, take a look as our buying guide!
You may also interested in our dryer machine reviews here.
Top Washing Machine Brands in Malaysia
LG is a well-known brand that makes washing machines, refrigerators, air conditioners and other appliances.
LG's top-of-the-range washing machine uses inverter technology to reduce noise during the spin cycle. It also comes with an NFC tag which can be scanned by your Android smartphone to download the latest version of LG Smart ThinQ application. The app can remotely control your washer through Wi-Fi or mobile network connection to receive alerts when laundry has completed its cycle, schedule for wash cycles and it even has an inbuilt feature called 'Fuzzy Logic', which balances load size based on types of clothing and how dirty they are so you don't have to manually adjust settings every time you do a load of laundry.
Samsung's top-load washing machines have a special feature called 'WaterWall' which sprays water from the entire surface area of the drum. The WaterWall is so powerful that it can wash a 7kg load in just 20 minutes, even with cold water!
This brand also uses NFC technology for their smart washer. You can merely tap your smartphone on the machine to transfer data between Android devices installed with Samsung Smart Home App and it will prompt you what needs to be done next.
Midea is a Chinese home appliances company that manufactures washing machines, refrigerators and other appliances. Their washers uses inverter technology to reduce noise during spin cycles. Also, their Midea Smart WiFi Enabled Washing Machine has multifunctional app which can send notifications when the laundry is done washing, automatically adding detergent based on settings, being able to receive alerts when it's time to do laundry even if you are not near or remote control the machine via mobile phone.
Sharp is a Japanese technology company that manufactures appliances such as air conditioners, TVs and microwaves. Their washer has a feature called 'Fuzzy Logic' which detects the size of your load and detergent usage to evenly distribute water within the drum so you don't have to manually adjust settings every time you do a load of laundry.
Conclusion:
So, if you are looking for a washing machine that is not only top-of-the-line but also affordable, then be sure to check out the 10 machines we have mentioned in this article. And don't forget to take into account your specific needs and preferences before making your purchase – after all, the perfect washing machine for one person may not be the best choice for another. With that said, we hope you find the ideal model for your home within our list of the best washing machines Malaysia has to offer in 2022!
FAQs
What are the best brands of washing machine in Malaysia?🇲🇾
The Best washing machines Malaysia brands are Samsung, Panasonic, Sharp, LG, and Toshiba.
Can I buy a unit that is more energy-efficient?
Latest models of washing machines are now designed to be more energy efficient especially the inverter ones. Front load washing machines are made to be even more efficient and save water usage.
What are the types of washing machines?
You can choose between either a top load and front load washing machines. Depending on your budget, you can also upgrade to a fully automated washing machine with pre-installed washing programs.
How much does a model cost in Malaysia?
The latest washing machine Malaysia's model can cost around RM900.00-2,000.00
What to Consider When Buying A Washing Machine?
Washing machines are an essential part of our modern lives - but before you make that all-important purchase of your ideal washing machine you should think carefully about what model you need.
Firstly you need to take into account how many people are in the household - will the washing machine be able to handle the load all in one go - or will you require multiple loads - time is valuable.
Do you require a machine that will be eco-friendly? Check out the manufacturer's claims.
Lastly, there's cost. If you want to buy a brand you trust then go ahead - but there might be other brands that offer better value - and are trusted by consumers. Keep an eye out for special offers - especially online.
Research is the key to making the right buying decision. Some time set aside to do that research will not only save you money, but allow you to find the perfect washing machine for you and your family.
What Is The Best Size Washer For A Family Of 4?
If you have a family of 4, you may may be wondering what size washing machine you need to purchase. The best size would be a washer that is 7.5kg or 8.5 kg. This size of washer would allow you to wash approximately 35 pieces of clothing at a time, which is about 8 or 9 items of clothing per family member.
This is a medium sized washing machine that will easily handle the necessary load. With that said, if youtypically wash more than 35 pieces of clothing per load, then you may want to up-size and get a bigger washer or simply do more loads of laundry.
Should You Pay More For A Washing Machine?
If you are in the market for a new washing machine, you might be wondering why you would pay more for a newer model. After all, most machines work the same and the only difference between machines is more advanced features, right? Wrong!
More expensive washing machines are gentler on your clothing, offer more space in some cases so you can wash bigger items, and most importantly use better quality components. This means that they use less energy and water in each wash and will break down less often. Combined with a longer life for your clothing, they end up saving you money in the long run.
Are Top Loaders Better Than Front Loaders?
It comes down to what a user wants more.
Front loaders are known for being gentler on clothes, offering a more affordable setup, and remaining energy-efficient during the washing process.
On the other hand, top loaders are all about a simpler loading/unloading process, easy access in the middle of a wash cycle, and faster wash cycles.
In the end, it is all about finding a solution that is in tune with your usage patterns. For those who want premium cleaning, it is best to go with a front loader.
For those who just want a simpler process that is fast, it is likely smarter to go with a top loader.
Should You Run A New Machine Empty Before You Do Laundry?
Before you throw a load of laundry into a brand new washing machine, it's a good idea to run your new washing machine through a wash cycle. Even if it's just a short wash cycle, you'll want to take the time to do this.
There is no telling how long your new washing machine sat on the show room floor. How long was the lid open? Did it sit in the back of a warehouse for a time? All of these possibilities leave your new washing machine open to the atmosphere where it can collect dirt, dust, and debris. You don't want this on your clothes.
Click here for other home appliances related articles.
Latest posts by Alice Yeoh
(see all)
This article was brought to you by BestAdvisor.my
Disclaimer: This is the opinion of the writer or publication. We only recommend products or services that we have tested and tried ourselves or have done in-depth research with positive external reviews and find them to be useful for everyone. The products/services shown are available upon the publication date. The availability may change from time to time. If some of them are not available, please email us at [email protected]. Thank you!
Last Updated on