Last Updated on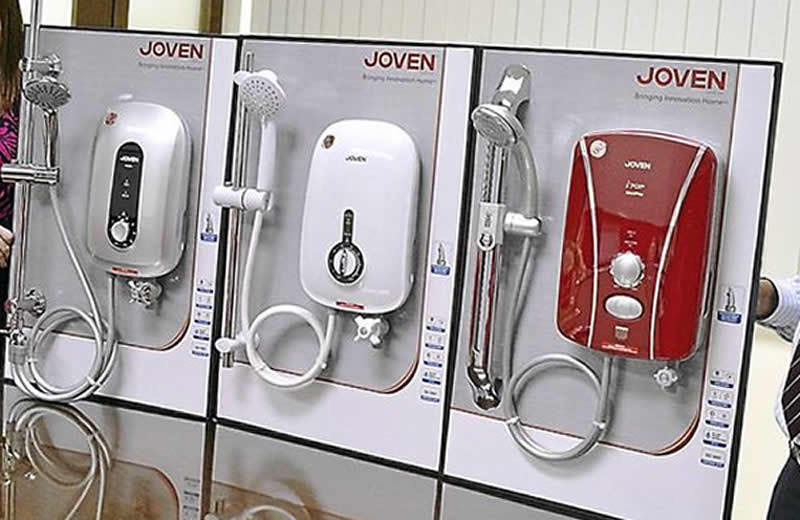 Joven water heaters are the latest in heating technology. They provide high-quality hot water for every household need, whether it's cooking or bathing. This article features 6 of the best Joven water heater reviews to help you find one that suits your needs perfectly. It also includes a buying guide and FAQs section to answer your most pressing questions about these new products from Malaysia.
The Joven Water Heater is perfect for those who want an environmentally friendly way of providing hot water to their households while saving money on gas expenses. The energy efficiency means that they're less expensive to operate than traditional storage tank units as well as more efficient in terms of space consumption! With all these benefits, it's no wonder why this innovative product has one of the best brand in Malaysia.
6 Best Joven Water Heaters in Malaysia
To help you make an informed decision, here is a list of the most popular and recommended Water Heaters to date by Joven in Malaysia:
1. Joven Water Heater SA8E with Filter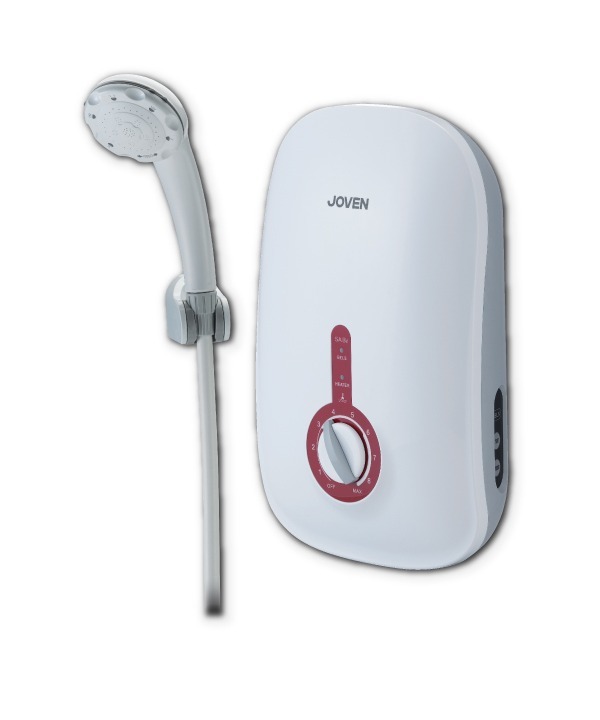 Comes with Filtering System
With the SA8E you won't have to install your own water filter as it has its own filtering system for your convenience and safety. It has the following features:
Why buy this
Built-in water filter
Water and electricity saving feature
Quarter-turn valve with long-life ceramic seal
IP25 Splash-proof protection
5 Spray patterns for the optimal shower experience
The Joven SA8E water heater guarantees your safety as it is IEC 60529 certified for your protection.
Check prices on Shopee
Check prices on Lazada
2. Joven Instant Water Heater with Pump 880 Series – 880P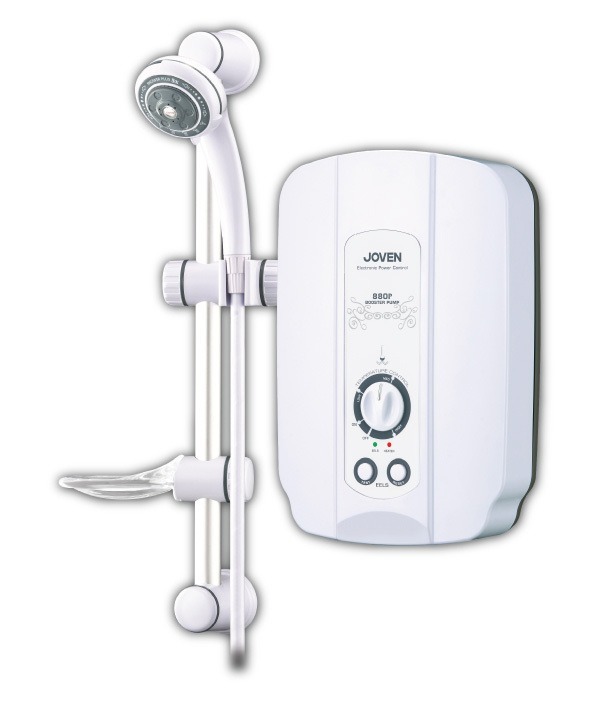 Consistent Water Temperature
Enjoy a refreshing shower experience without the annoying inconvenience of inconsistent water temperature with this Instant Water Heater by Joven that features:
Why buy this
Booster Pump built-in with double ball bearings
EELS system with a surge protector
Electronic Stepless power control
Stylish JOMET colour casing
Splash-Proof protection IP25
Get your Joven Water Heater with Pump here.
Check prices on Shopee
Check prices on Lazada
3. Joven Water Heater with Pump PC 838P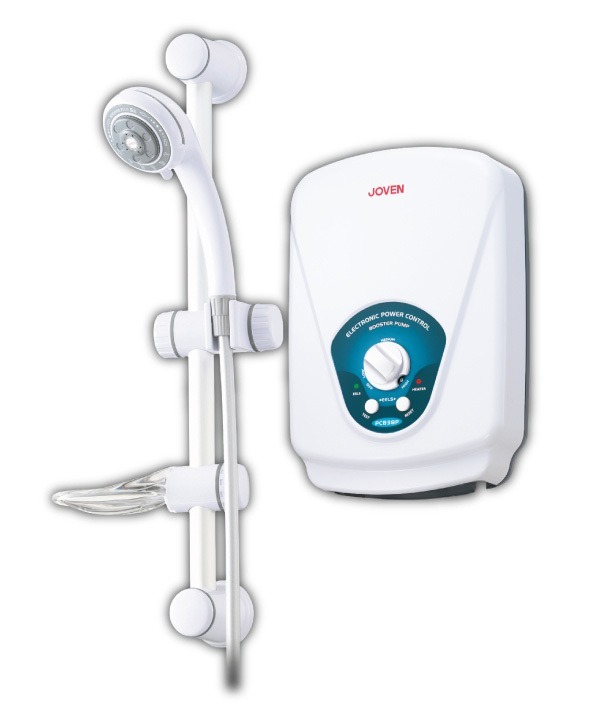 Changeable Shower Settings
Our favourite feature of this water heater is that all 3 parameters of shower settings can be changed on the hand shower head. If you have ever wished that you could change the shower settings with just one click while showering, this instant water heater is for you. It features:
Why buy this
Change setting with one click on the hand shower
Booster Pump built-in with double ball bearings
Stepless electronic power control
EELS system built-in with a surge protector
Splash-proof protection IP25
Classic slider bar set and soap tray
Quarter-turn ceramic SF valve
A durable and hygienic hose that allows a comfortable shower
Don't miss the best selling price on the Joven Instant Water Heater by getting it here.
Check prices on Shopee
Check prices on Lazada
4. Joven Electric Water Heater SB11P with Turbo Booster and Low Noise Pump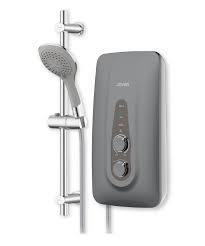 Best Water Heaters for High Rise Apartments
If you enjoy strong pressure in your shower the SB11P water heater is a good choice – especially if you live in a high-rise apartment. It also has the following features:
Why buy this
5-Spray pattern hand shower
Splash-proof protection IP25
Slim slider bar set design
3-Layer durable, hygienic and safe Flexi-Hose
While most turbo-boosted water heaters can be noisy, Joven has designed the SB11P to provide low-noise operation.
Check prices on Shopee
Check prices on Lazada
5. Joven Electric Rain Shower with Inverter Pump i90PRS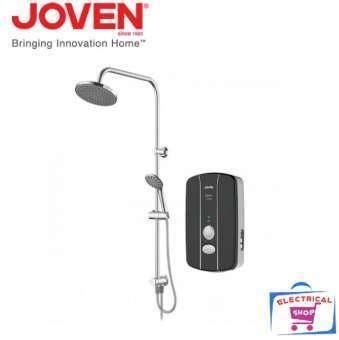 Silent Water Heaters
The Joven Rain Shower features a showerhead that offers a truly relaxing rain shower experience. The inverter pump features the latest technology that makes the shower almost entirely silent.
Why buy this
Rain showerhead
Silent inverter DC pump
Surge protector
EELS system built-in
Splash-proof protection IP25
Joven has definitely managed to perfect the accuracy and temperature control of their latest water heaters which is why their products are among our favourites. You can get your Joven Rain Shower Water Heater here.
Check prices on Shopee
Check prices on Lazada
6. Joven SA15M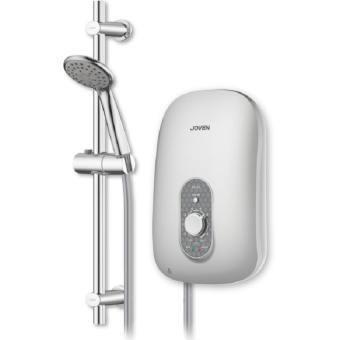 One of the best Stylish Design water heaters
This is currently the most stylish of the water heaters on the market which makes it easy to love. It comes in a choice of white or silver to perfectly accentuate your current bathroom décor. The Joven SA15M features:
Why buy this
Stylish JOMET casing
EELS system built-in
Electronic Stepless power control
Splash-proof protection IP25
The Joven SA15M Water Heater allows you to set the water temperature to your ideal preference and keeps it consistent throughout use. Get yours here.
Check prices on Shopee
Check prices on Lazada
How to Choose The Best Joven Water Heaters?
A good water heater can add a lot of convenience and comfort to your shower experience; however, not all water heaters will work for your lifestyle or the space you have available. Essential factors to consider when buying a water heater is the space you have available and your installation area.
Ideally, the installation area should be close to outlets and inputs and if you live in a high-rise building, you should find out whether the water heater you intend to buy has a pressure valve. Water heaters with a 6-bar rating or more are usually suitable for condominiums and elevated properties.
Here are our 3 Best Joven Water Heater Price & Picks:
FAQs
How much does a Joven Water Heater Cost?
The Joven water heaters usually cost from RM 200 onwards.
How do I choose the right Joven Water Heater?
You should consider the space available and the installation area before choosing water heaters that is good for you
Is Joven Water Heater a good brand? 🤨
Yes. They have a proven record of being safe and durable. They are focused on their product development so that customers can then the most out of their products.
What are the top models of Joven water heater?❔
- Joven Water Heater SA8E with Filter
- Joven instant water heater 880P with Pump 880 Serie
- Joven PC 838P with Pump
- Joven Water Heater SB11P with Turbo Booster and Low Noise Pump
Click here for other home appliances related articles.
Latest posts by Alice Yeoh
(see all)
This article was brought to you by BestAdvisor.my
Disclaimer: This is the opinion of the writer or publication. We only recommend products or services that we have tested and tried ourselves or have done in-depth research with positive external reviews and find them to be useful for everyone. The products/services shown are available upon the publication date. The availability may change from time to time. If some of them are not available, please email us at [email protected] Thank you!